Cheap Wax Wednesday Box Breaks: 1997 Score All-Star Fanfest Baseball
The MLB All-Star Game. – the unofficial midpoint to the baseball season. Every year there is some controversy around the voting. Some fan bases put in a lot more effort than others, and get a not-so-deserving player elected as a starter. A high performer gets snubbed and doesn't earn a selection. It happens, but I still love the All-Star Game, and all of the festivities around it. I was lucky enough to attend all the events in 2014 in Minnesota and hope to someday see it all in person again. Having said all of that, let's talk about this week's featured product, 1997 Score All-Star FanFest Baseball.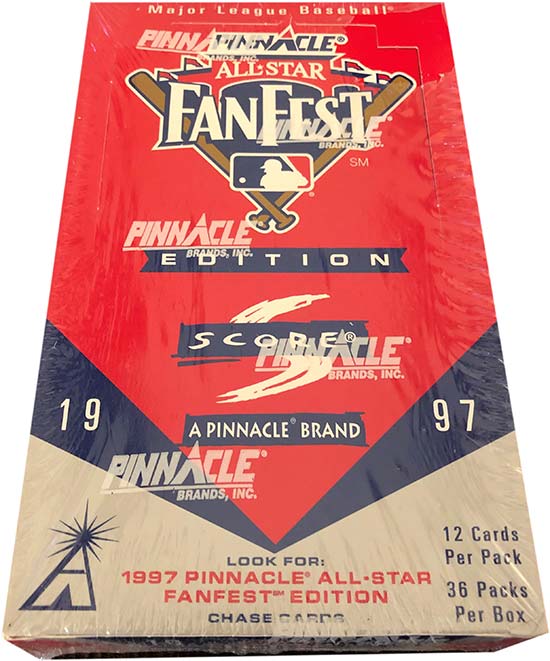 Isn't this just 1997 Score Baseball in a different box? Almost. The base checklist is made up of the same 330 cards as 1997 Score Series 1. FanFest also features the same parallel set (Showcase Series) and most of the same inserts, though with different odds of finding them. The only major difference between this and Series 1 is the All-Star FanFest insert set. The set is made up of 20 cards, and is found only in FanFest boxes. Looking at pack odds, I should pull at least one of these inserts, two if I am lucky. 
1997 Score All-Star FanFest Baseball Box Break
Cards per pack: 12
Packs per box: 36
Price paid: $36

Pack 1 highlights:
Ryne Sandberg, Rafael Palmeiro, Jason Isringhausen & Mark Grace
Sandberg was elected to 10 straight All-Star teams 1984-1993.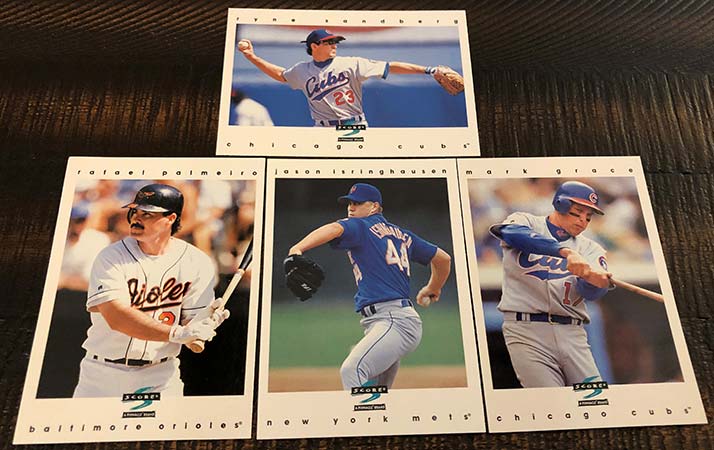 Pack 2:
Bobby Bonilla, Darryl Strawberry & Bernie Williams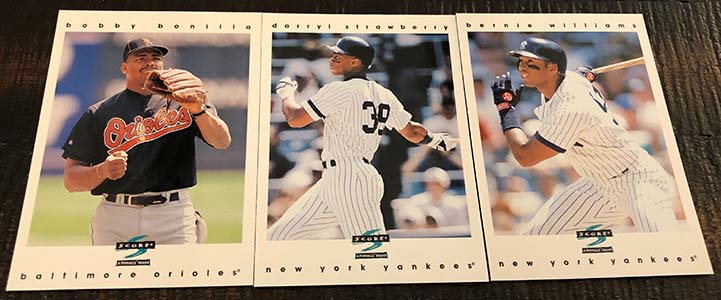 Pack 3:
Raul Mondesi, Barry Larkin, Tino Martinez, Jason Giambi & Mike Piazza All-Star FanFest (1:29 packs)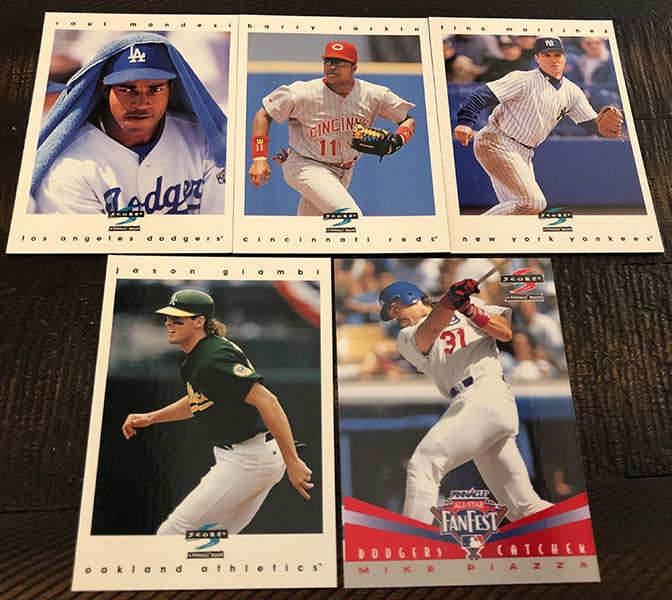 Pack 4:
Harold Baines, Mark McGwire, David Cone & Robb Nen Showcase Series (1:6 packs)
Robb Nen was one of the best closers in the game during a 10-year major league career. During his last nine seasons, Nen recorded 314 saves and posted a 2.66 ERA.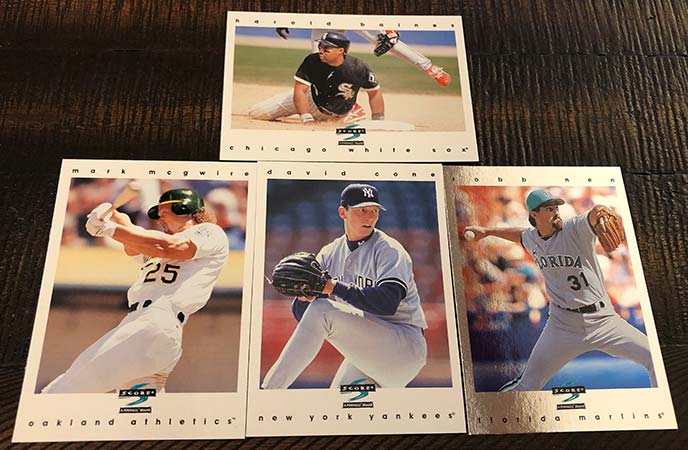 Pack 5:
Jeff Conine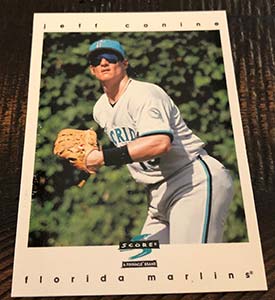 Pack 6:
Mike Piazza, Mike Cameron & Paul Molitor CL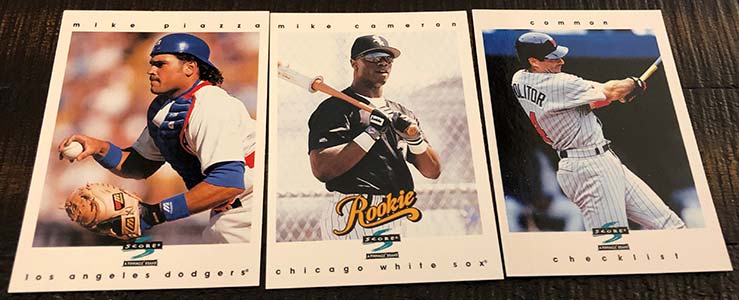 Pack 7:
Jack McDowell, Dennis Eckersley & Carlos Delgado
Ah yes, Carlos Delgado the catcher. Delgado appeared in just two major league games behind the dish, totalling five innings.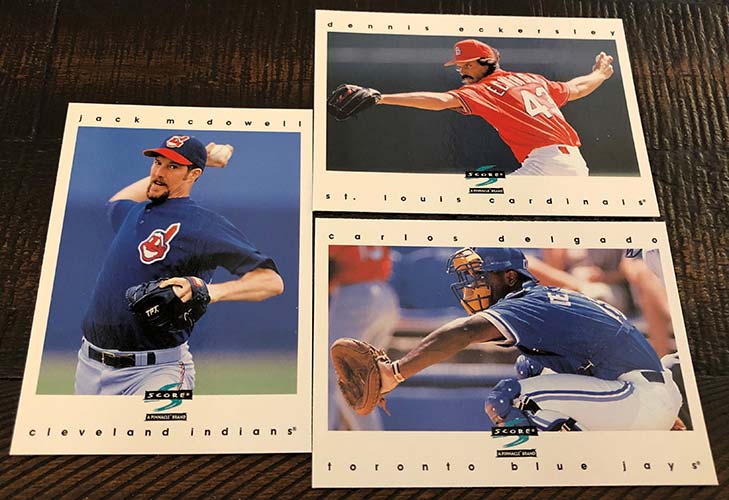 Pack 8:
Johnny Damon, Albert Belle & Greg Maddux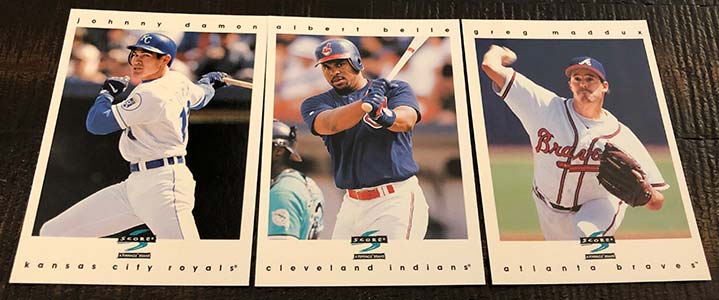 Pack 9:
Alan Trammell, Eddie Murray CL, Chipper Jones, Larry Walker & Cal Ripken, Jr. Pitcher Perfect (1:19 packs)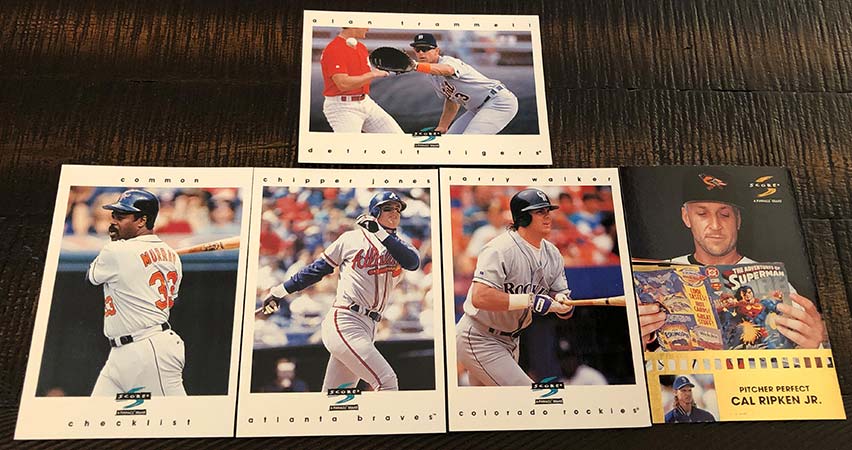 Pack 10:
Mike Mussina & Tony Gwynn
These two Hall of Famers combined for 20 All-Star selections.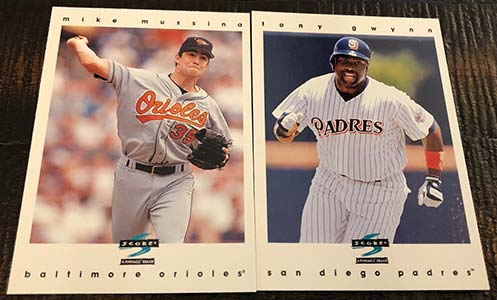 Pack 11:
Fred McGriff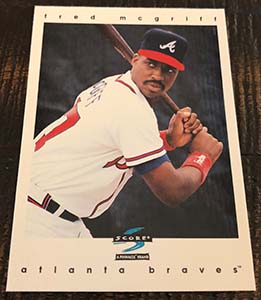 Pack 12:
Jeff Bagwell & Chuck Finley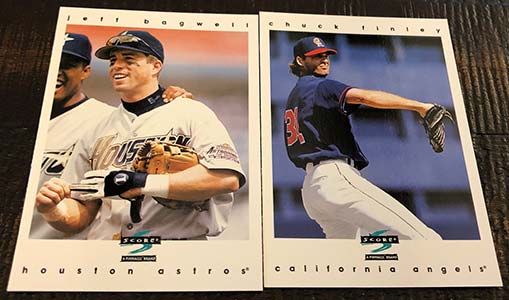 Pack 13:
Edgar Renteria, David Wells, Omar Vizquel, Hideo Nomo & Osvaldo Fernandez Showcase Series (1:6 packs)
Osvaldo appeared on the mound in 76 major league games. He holds a career 4.93 ERA.

Pack 14:
Shawn Green, Dwight Gooden & Gary Sheffield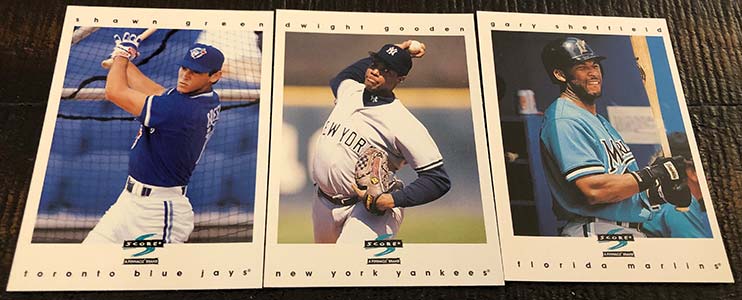 Pack 15:
Matt Williams & Joe Carter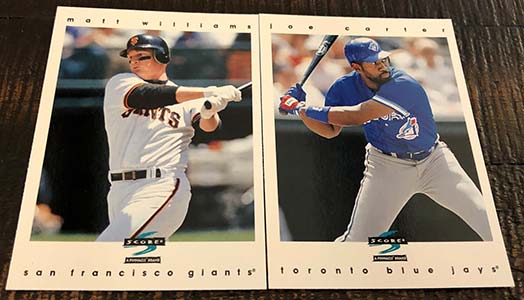 Pack 16:
Trevor Hoffman, Wade Boggs, Wally Joyner & Mark Wohlers Artist's Proof (1:29 packs)
Mark Wohlers is now a real estate agent in the Atlanta area. 

Pack 17:
Randy Johnson, Eric Davis, Jose Canseco & Mark McGwire Pitcher Perfect (1:19 packs)

Pack 18:
Kevin Brown & Cal Ripken Jr.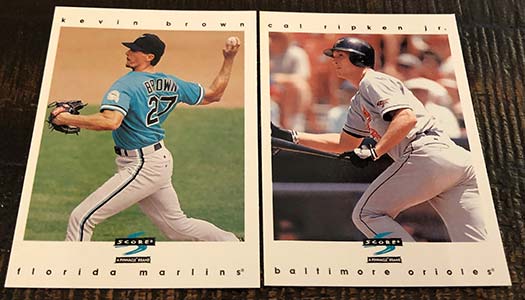 Pack 19:
Barry Bonds, Andruw Jones & George Williams Showcase Series (1:6 packs)
Andruw's son, Druw Jones, was just selected by the Diamondbacks with the second pick in the MLB draft. Are we that old already?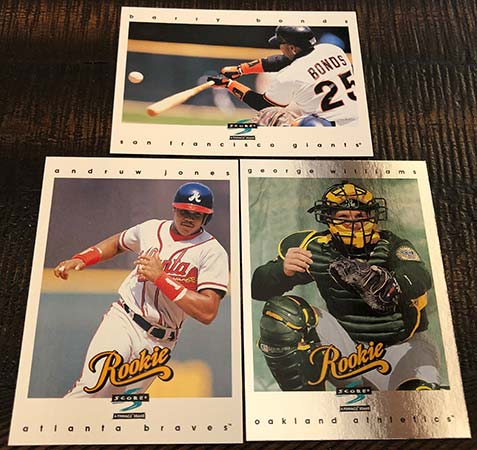 Pack 20:
Roberto Alomar, Tony Gwynn & Mike Mussina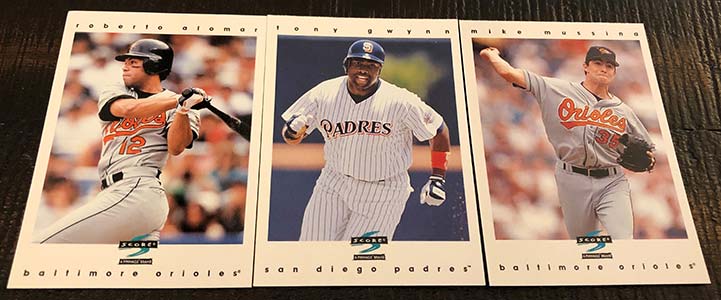 Pack 21:
The Crime Dog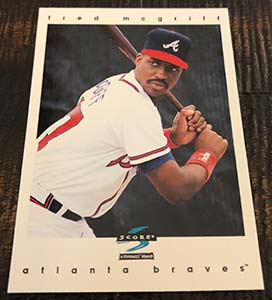 Pack 22:
Omar Vizquel
The 11-time Gold Glove winner was selected to the All-Star team just three times.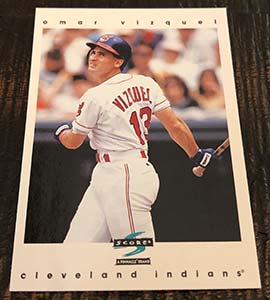 Pack 23:
Jeff Bagwell, David Wells, Hideo Nomo & Dwight Gooden

Pack 24:
Edgar Renteria, Gary Sheffield & Tom Gordon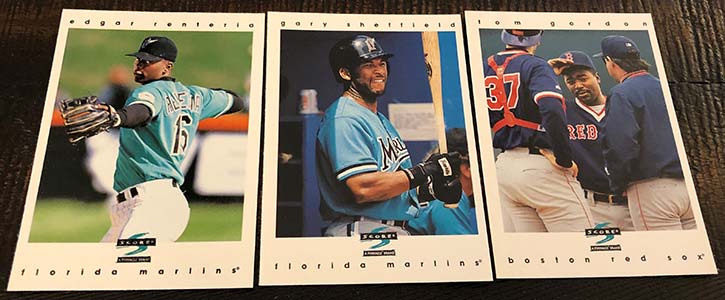 Pack 25:
Matt Williams, Joe Carter & LaTroy Hawkins Showcase Series (1:6 packs)
Williams finished his career with exactly 7,000 at bats.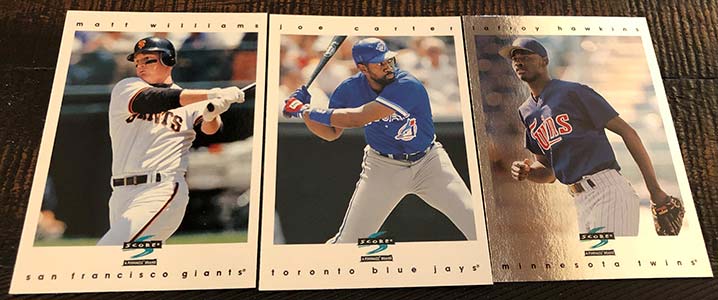 Pack 26:
Eric Davis, Trevor Hoffman, Randy Johnson, Wade Boggs & Jose Canseco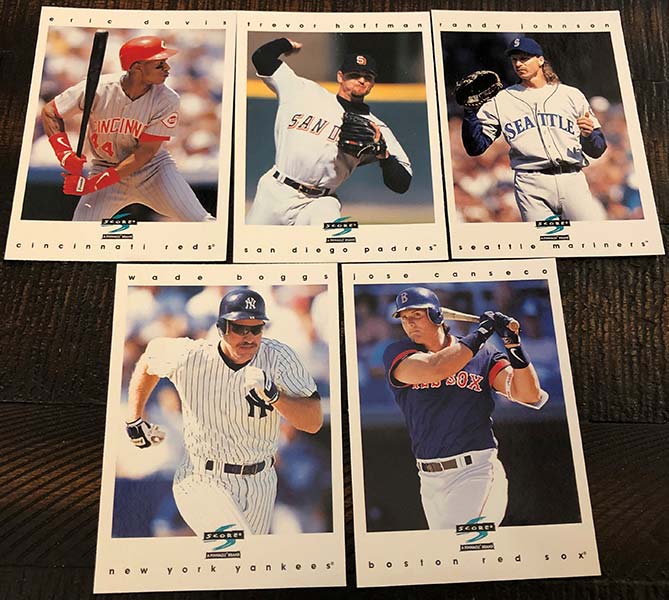 Pack 27:
Vinny Castilla & Mike Grace Artist's Proof (1:29 packs)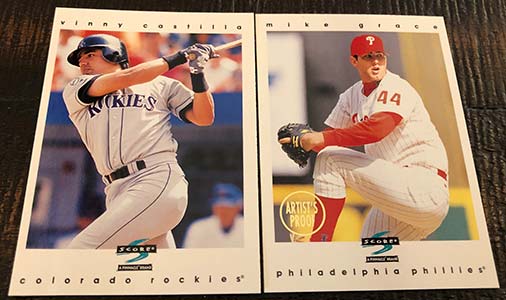 Pack 28:
Derek Jeter, Kenny Lofton, Manny Ramirez & Nerlo Rodriguez Showcase Series (1:6 packs)
Jeter, Lofton and Manny combined for an amazing 32 All-Star selections. 

Pack 29:
Andy Pettitte & John Smoltz
Pack 30:
Cecil Fielder, Frank Thomas, Troy Percival & Paul O'Neill

Pack 31:
Moises Alou, Edgar Martinez, Ken Griffey, Jr. & Juan Gonzalez
Can you imagine a lineup with Edgar, A-Rod and Griffey in it? Tough to beat those three guys hitting back-to-back-to-back. 

Pack 32:
Tom Glavine, Mariano Rivera, Roger Clemens & Pedro Martinez

Pack 33:
Dante Bichette, Craig Biggio, Sammy Sosa & Andres Galarraga

Pack 34:
Alex Rodriguez, Eddie Murray, Rickey Henderson & Derek Bell Showcase Series (1:6 packs)
Rickey is, and probably always will be, the all-time leader in three categories: runs scored (2,295), stolen bases (1,406) and caught stealing (335). The active steals leader is Dee Strange-Gordon with just 336 stolen bases.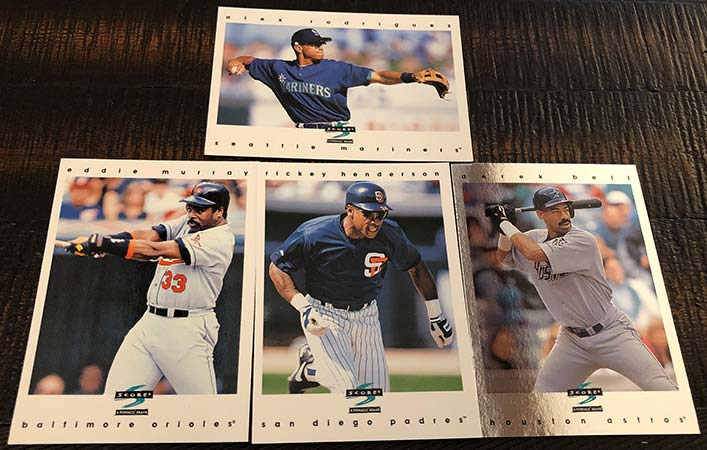 Pack 35:
Will Clark & Jermaine Dye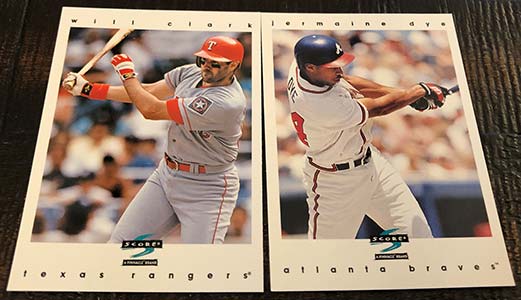 Pack 36:
Ivan Rodriguez, Billy Wagner & Paul Molitor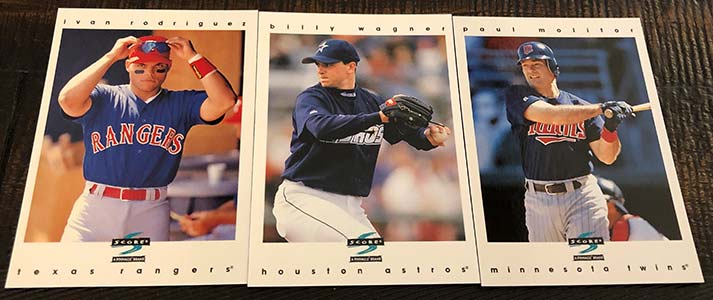 Lastly, the Ivan card back. Pudge came up short on making the Hall of Fame by the time he was 30, but he did get inducted in his first appearance on the ballot.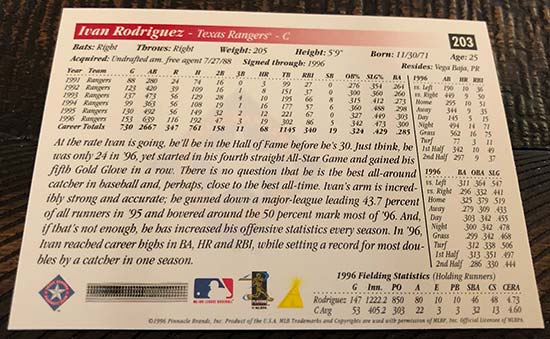 I was hoping I would find two All-Star FanFest cards in this one, but I pulled just the expected one. I also missed out on one of the awesome (and tough-to-pull) The Franchise inserts. These are found just once in every 60 packs. They also have glow-in-the-dark versions, found just once in every 200 FanFest packs. Those two inserts are actually easier to pull in FanFest packs than they were in regular 1997 Score Series 1 packs. So if you are looking to pull The Franchise inserts for yourself, FanFest may be the way to go. These boxes can still be found online for under $40.
Want more installments of Shane Salmonson's Cheap Wax Wednesday? Check out his other breaks in the archives.