Cheap Wax Wednesday Box Breaks: 1999 Collector's Edge Football Trios
When you click on links to various merchants on this site, like eBay, and make a purchase, this can result in this site earning a commission.
Collector's Edge got its start in the trading card business with a single 1992 football release, simply called Collector's Edge. By 1999 they were releasing a variety of attractive products. In 1999 alone they released seven football products: Advantage, First Place, Fury, Masters, Odyssey, Supreme, and Triumph. This week's box, Collector's Edge Trio, combined three of those products into a single box. 1999 Collector's Edge Fury, First Place and Odyssey have four packs each, making this a sampler of sorts.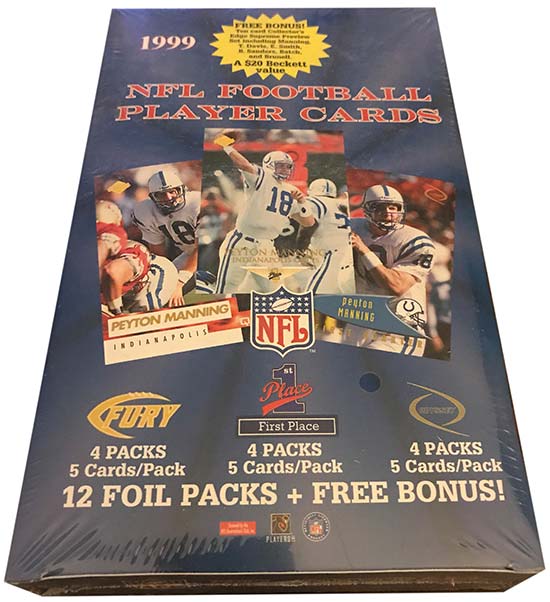 Over the years, the card maker would test the waters in other sports as well. In 1995 they made a two card baseball set for Ball Park Franks. The set featured autographed cards of Yogi Berra and Frank Robinson (and now that I know that, I need to buy both!). In 1996 they expanded onto the basketball court, releasing a set called Rookie Rage. They even tried a set in 2000 featuring just women athletes. The set, simply titled Collector's Edge Women, featured female athletes from multiple sports, including tennis, gymnastics, softball, golf and even speed skating.
1999 Collector's Edge Trio Box Break
Cards per pack: 5
Packs per box: 12 total, 4 of each brand
Price paid: $20 (I got two of these during a LCS closeout sale)

As a bonus, each box also included a ten-card Collector's Edge Supreme Preview Set. Some big names were included like Randy Moss, Peyton Manning, Terrell Davis, Emmitt Smith & Barry Sanders.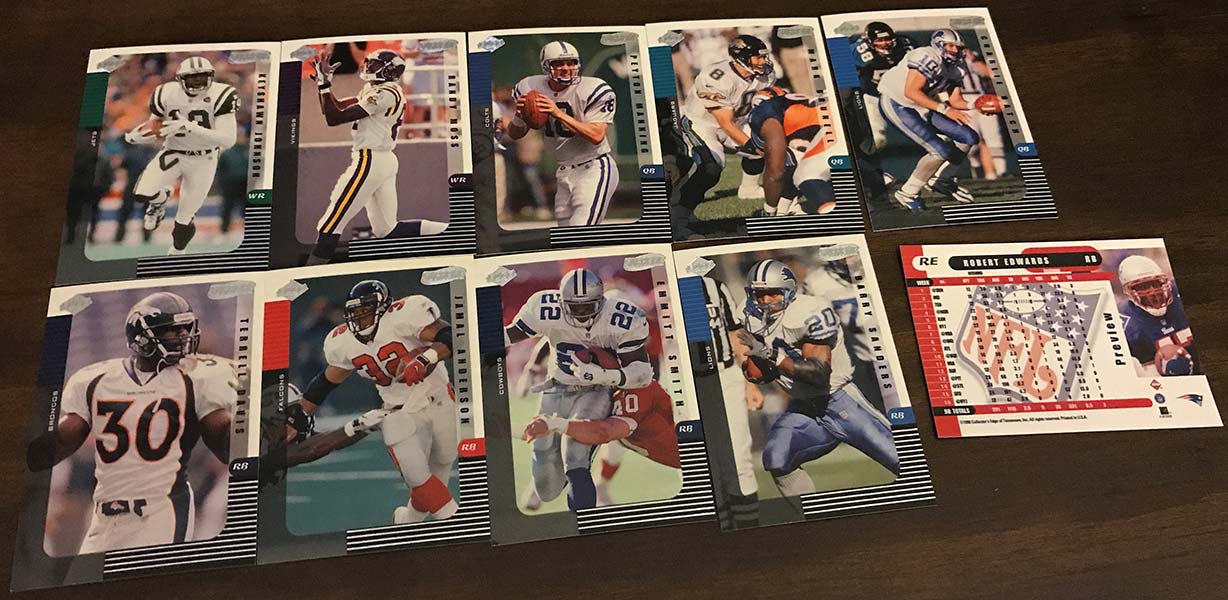 First Place
Pack 1:
Charles Woodson, Champ Bailey, Terry Glenn Gold Ingot Parallel (1:2 packs) & Donovan McNabb Future Legends (1:6 packs)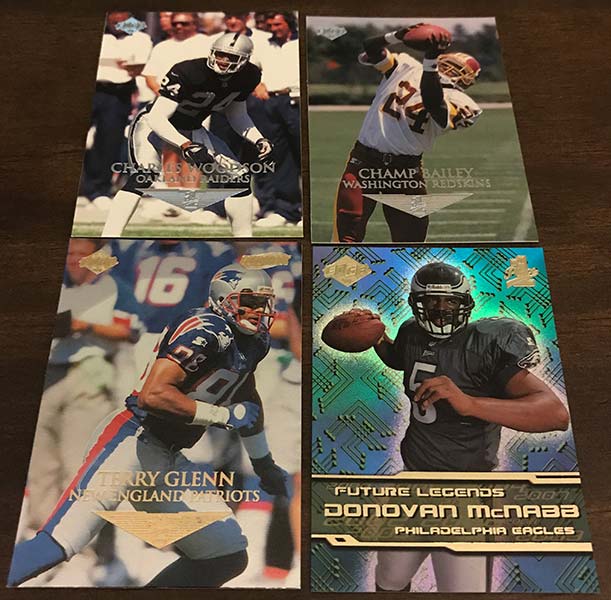 Pack 2:
Kordell Stewart, Ty Detmer Gold Ingot (1:2 packs) and a beat up Edgerrin James Excalibur (1:24 packs)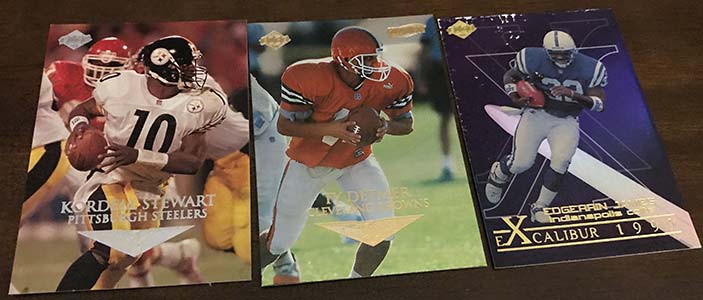 Pack 3:
Eric Moulds, Lawrence Phillips & Doug Flutie Gold Ingot (1:2 packs)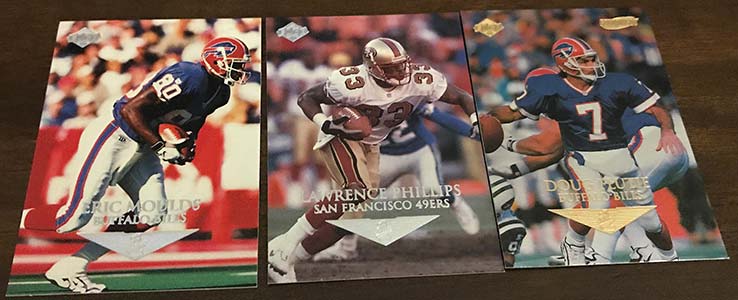 Pack 4:
Ernie Mills Gold Ingot (1:2 packs) & Fred Taylor Loud and Proud (1:12 packs)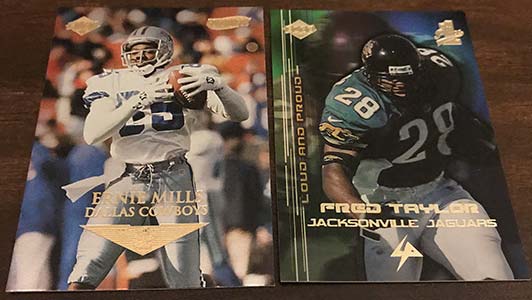 Fury
Pack 5:
Fred Taylor, Adrian Murrell Gold (1 in each pack) & Dan Marino Xplosive (1:12 packs)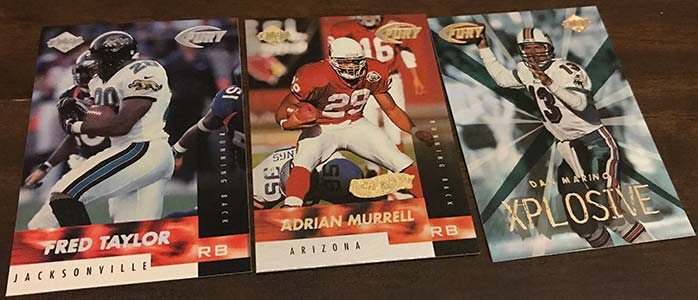 Pack 6:
Trent Dilfer, Dilfer Gold & Emmitt Smith Forerunners (1:8 packs)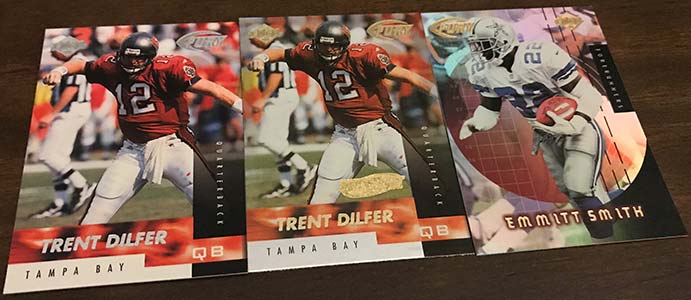 Pack 7:
Dorsey Levens & the #3 pick in the 1999 Draft, Akili Smith Gold. That Akili Smith card was a nice pull back then.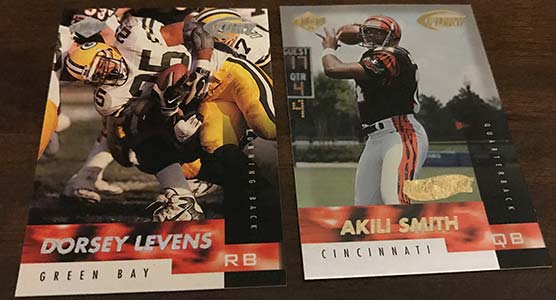 Pack 8:
Randall Cunningham, Antowain Smith, Torry Holt RC & Dan Marino Gold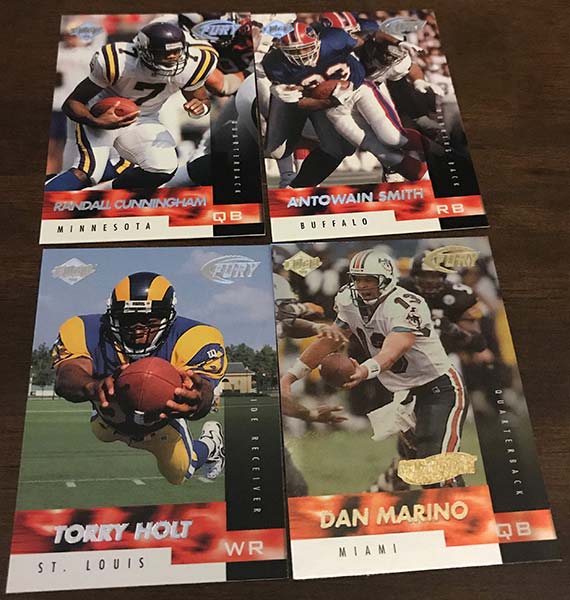 Odyssey
Pack 9:
Edgerrin James, Torry Holt & Jerry Rice End Zone (1:9 packs)

Pack 10:
Junior Seau & Troy Aikman Third Quarter parallel (1:8 packs)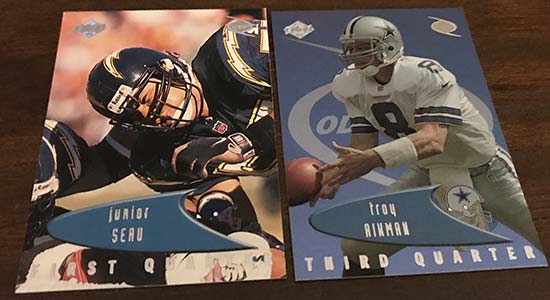 Pack 11:
Ricky Williams Fourth Quarter (1:24 packs) & Amos Zereoue Cut 'N Ripped (1:11 packs)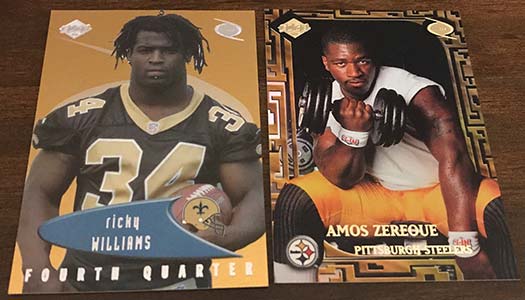 Pack 12:
Jevon Kearse, Marshall Faulk & Chris McAlister Two-Minute Warning (078/600)

That was fun! Collector's Edge really did make some nice cards. This box was loaded with parallels and inserts, too. I have featured a few Edge products before, but I think I am going to have to track down some more boxes to bust here. I was also able to continue my streak of pulling Emmitt Smith insert cards, which is not a bad thing. This was a fun idea to combine multiple products into one box. Topps did something similar with 2001 Topps Fusion, but that was combining multiple brands into each pack, not a box containing packs of different products. Fusion was also different as each brand combined into one product.
As the NFL season begins to come to a close, so too will football products being featured here. February 10th, the Wednesday after the big game, will be the last football post of the season. Baseball will be back!
Want more installments of Shane Salmonson's Cheap Wax Wednesday? Check out his other breaks in the archives.