Cheap Wax Wednesday Box Breaks – 1995 Action Packed Monday Night Football
Action Packed was known for one thing — embossed card fronts that give players a raised texture. The cards are actually two layers, with the card stock folded over. Because of that, the backs are smooth, and don't show the embossing shown on the fronts. The cards also feature something that many collectors aren't a huge fan of, rounded corners.
1995 Action Packed Monday Night Football features a 126-card base checklist. Included in the base set are a couple of subsets, Monday Night Classic and The Night is Young, which features all rookies. There is a full parallel set, Highlights, which features a mirror finish on the card fronts.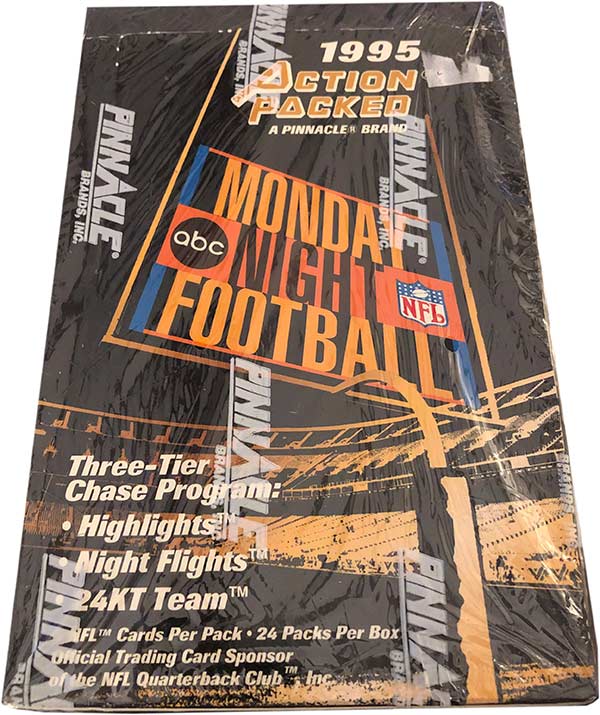 There are also two inserts to chase, and both are tough. Night Flight inserts are found just once in every two boxes, with a 12 card checklist featuring all quarterbacks. 24KT Team inserts get even tougher at 1:3 boxes.
There are some decent rookies in this one, including quarterbacks Jeff Blake, Kerry Collins, Steve McNair and Kordell Stewart.
1995 Action Packed Monday Night Football Box Break
Cards per pack: 8
Packs per box: 24
Price paid: $38

Pack 1 highlights:
Marcus Allen, Rocket Ismail, Michael Westbrook RC, Carl Pickens, Emmitt Smith & Steve Beuerlein Highlights (1 in every 6 packs)
Steve Beuerlein had a career year in 1999. He threw 36 touchdown passes. His second best career mark? Just 19.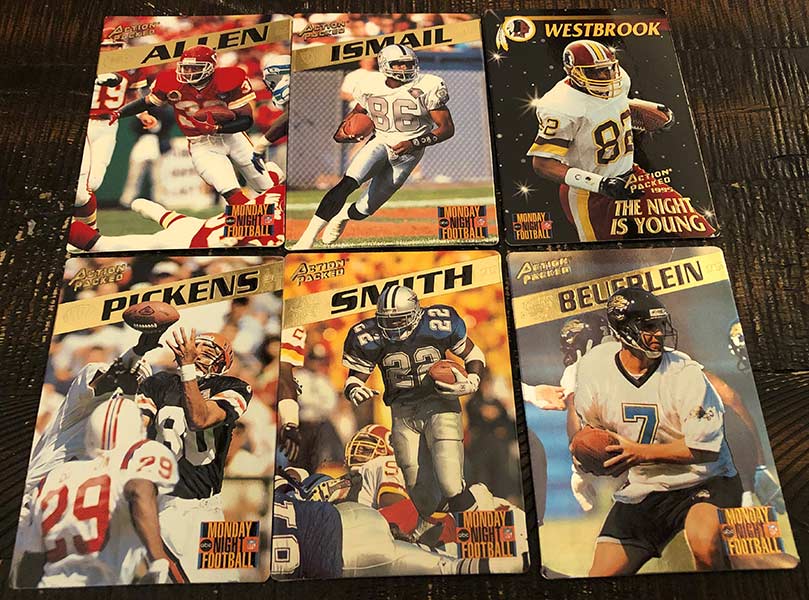 Pack 2:
Cris Carter, Jerome Bettis, Steve McNair RC, Drew Bledsoe, Jerry Rice & Rick Mirer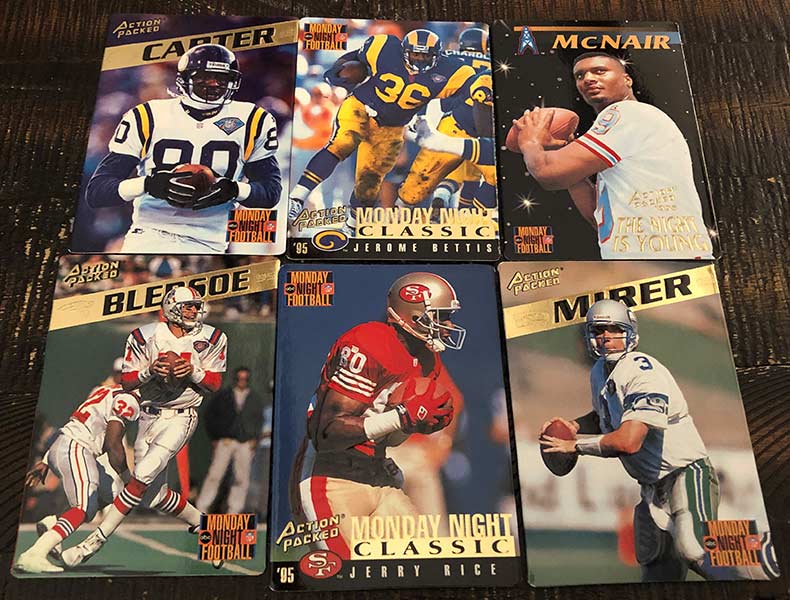 Pack 3:
Warren Moon, Michael Irvin, Rodney Hampton & Brett Favre
Michael "The Playmaker" Irvin set a career high in receiving yards in 1995, racking up 1,603 yards. He cleared 1,000 receiving yards in seven different seasons.

Pack 4:
Jim Everett, Andre Reed, Ricky Watters & John Elway

Pack 5:
Barry Sanders, Terance Mathis, Shannon Sharpe, Ricky Watters, Andre Rison & Michael Irvin
What is left to be said about Barry "The Human Joystick" Sanders? He played just 10 seasons in the NFL, clearing 1,000 rushing yards and making the Pro Bowl in all of them. He ranks fourth all-time with 15,269 rushing yards. All three players in front of him on that list played 13 seasons or more.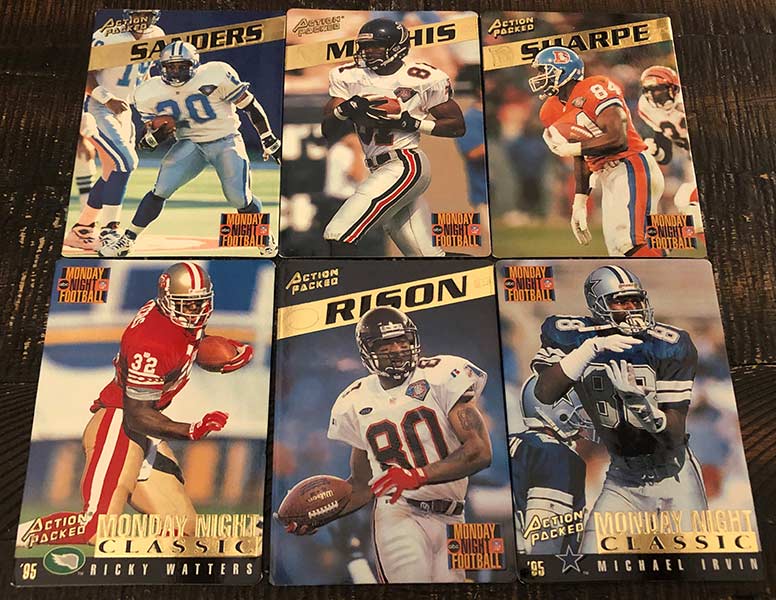 Pack 6:
Vinny Testaverde, Joe Montana & John Elway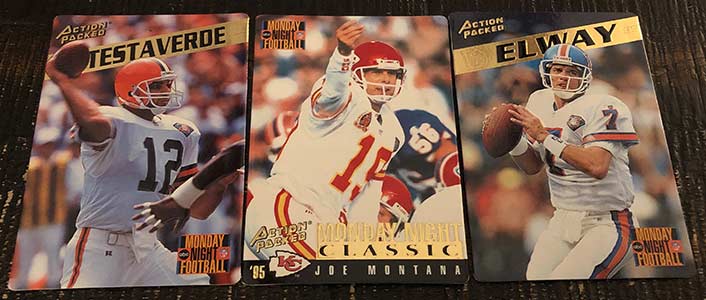 Pack 7:
Emmitt Smith, Boomer Esiason & Troy Aikman
As we all know, Smith sits atop the career rushing list with 18,355 yards. The closest active player, Mark Ingram, is over 10,000 rushing yards behind.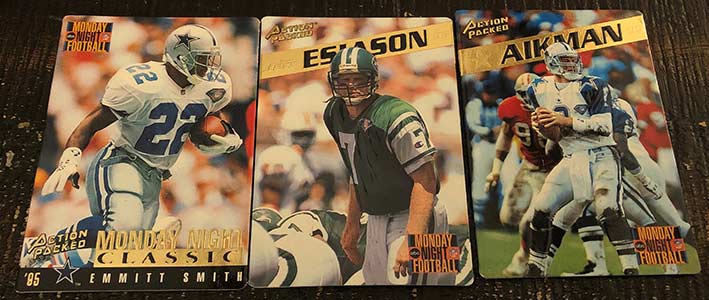 Pack 8:
Jerry Rice, Tyrone Wheatley RC & Chris Spielman Highlights (1:6 packs)
Pack 9:
Barry Sanders, Trent Dilfer, Brett Favre, Jim Kelly & Herschel Walker
Kelly played his entire Hall of Fame NFL career in Buffalo after being drafted 14th overall in 1983.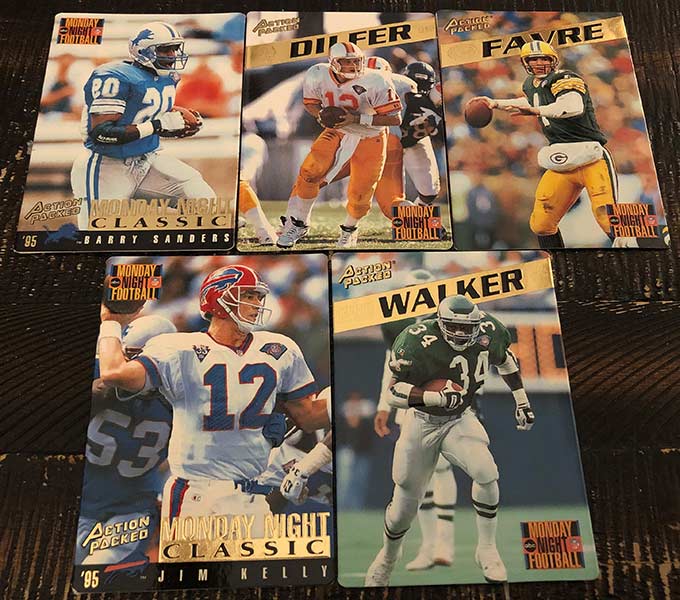 Pack 10:
Jeff Blake RC, Steve Young, Jim Kelly, Ben Coates, Daryl Johnston & a different Steve Young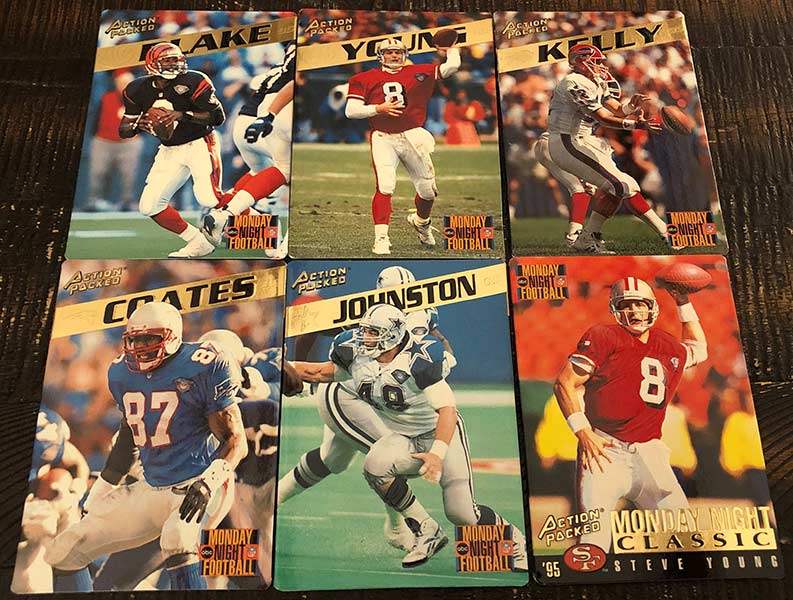 Pack 11:
Rodney Hampton, Marshall Faulk & Garrison Hearst
Is there a better football name than Garrison? That is actually Hearst's middle name. His first name is Gerald.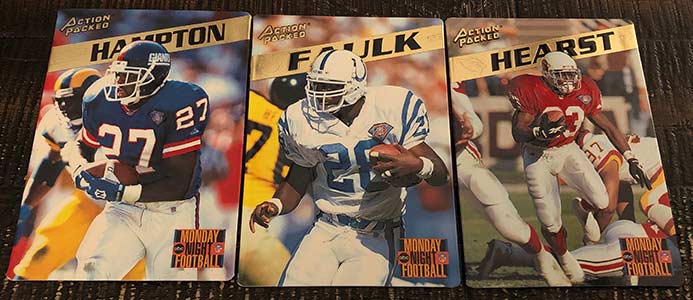 Pack 12:
Dan Marino, Bruce Smith & Kordell Stewart RC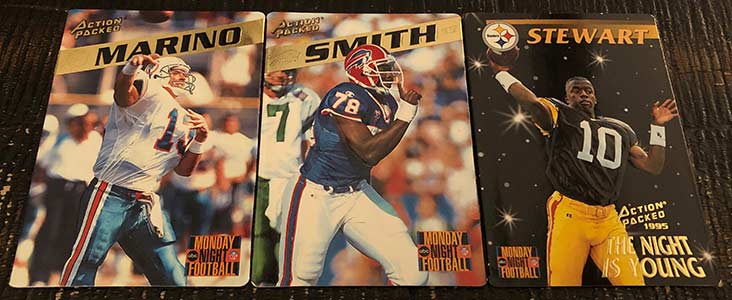 Pack 13:
Greg Lloyd & Marcus Allen Highlights (1:6 packs)
Allen broke 1,000 rushing yards three straight seasons from 1983-1985, including 1,759 yards during an MVP season in 1985. He would play another 12 seasons after that, never rushing for 1,000 yards again.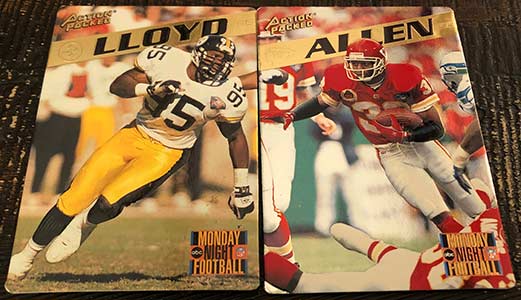 Pack 14:
Troy Aikman, Warren Moon, Boomer Esiason & Drew Bledsoe

Pack 15:
Jerry Rice & Marshall Faulk
Rice's career numbers are ridiculous. He currently sits atop the all-time rankings in receptions, receiving yards, and receiving touchdowns.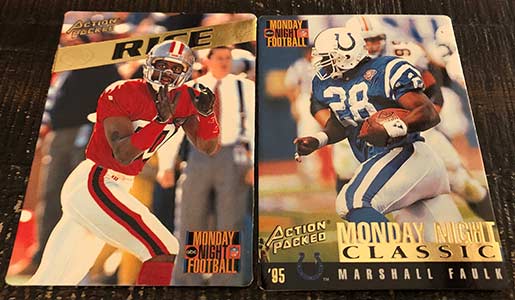 Pack 16:
Herschel Walker, Brett Favre, Trent Dilfer & Barry Sanders

Pack 17:
Reggie White, Jim Kelly, Joey Galloway RC, Herman Moore & Emmitt Smith
Galloway was selected eighth overall in 1995. He would prove to be worth the high draft selection, putting up 1,039 receiving yards his first season.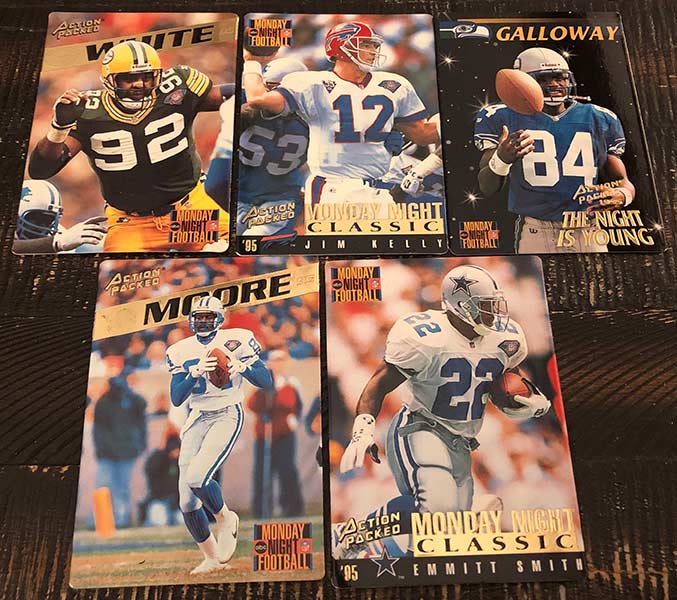 Pack 18:
Eric Metcalf, Kerry Collins RC, Deion Sanders, Tim Brown & Emmitt Smith 24KT Team (1:72 packs)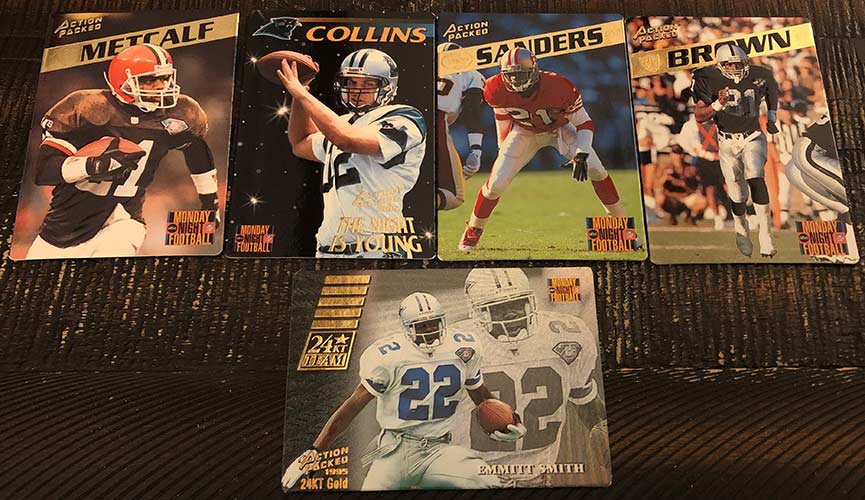 Pack 19:
Jerome Bettis, Errict Rhett, Rodney Hampton, Junior Seau & Randall Cunningham
Jerome "The Bus" Bettis cleared 1,000 rushing yards eight times in his first nine NFL seasons.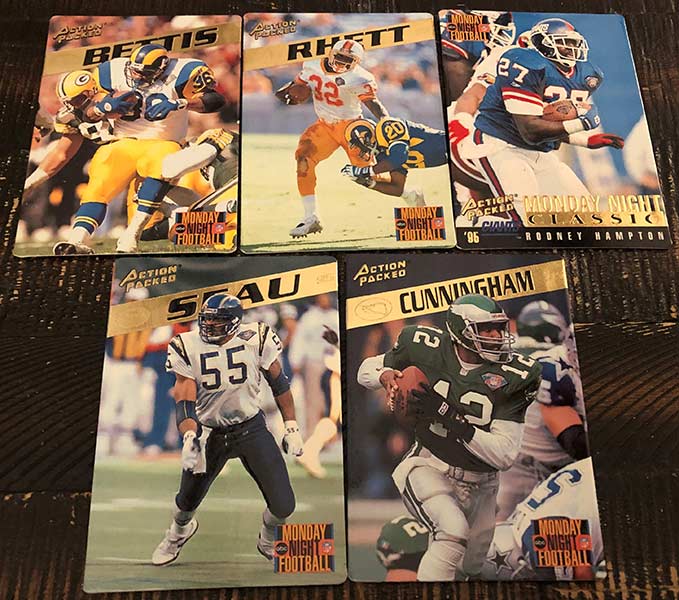 Pack 20:
Warren Moon, Michael Irvin, Andre Reed & J.J. Stokes Highlights (1:6 packs)

Pack 21:
Shannon Sharpe, Ricky Watters & another Watters
A five-time Pro Bowler, Watters currently ranks 24th all-time in rushing yards, ahead of every active player.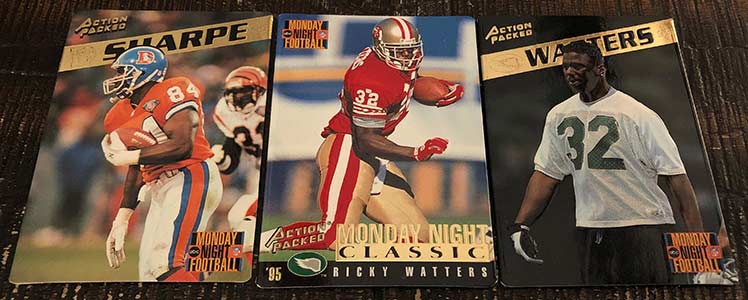 Pack 22:
Joe Montana, Andre Rison, Barry Sanders, Terance Mathis & Vinny Testaverde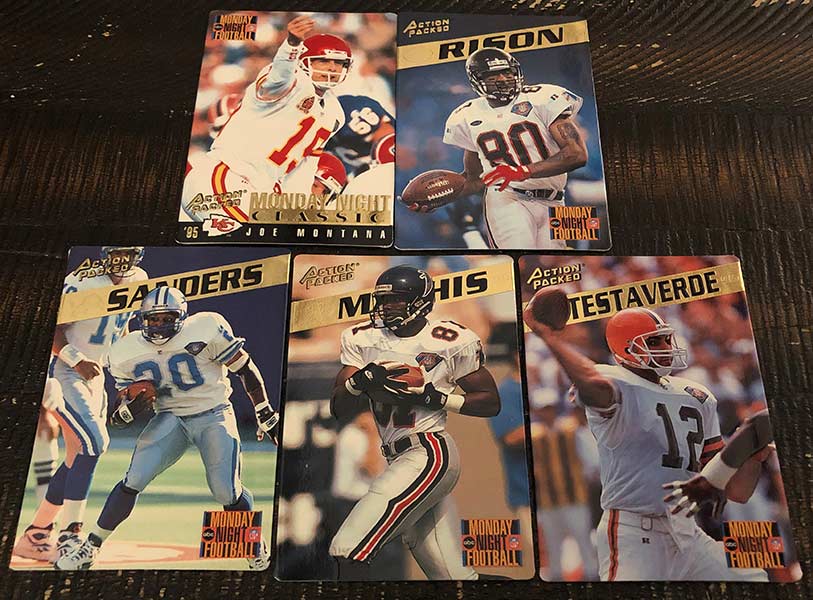 Pack 23:
Steve Young & John Elway
These two gunslingers combined to throw for 84,599 yards and 532 touchdowns in their Hall of Fame careers.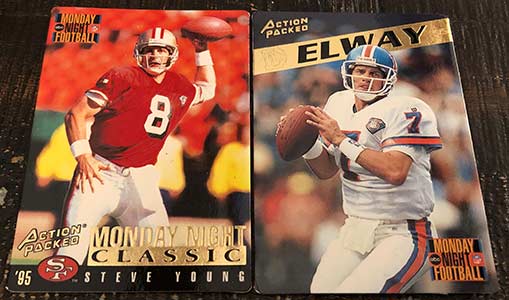 Pack 24:
Jerry Rice & Warren Moon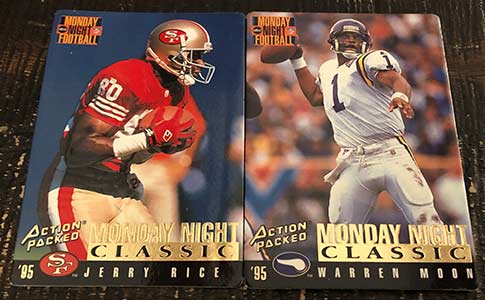 Lastly, the Marino card back. It is tough to see, but the seam where the layers are folded over is the white line between the blue and black.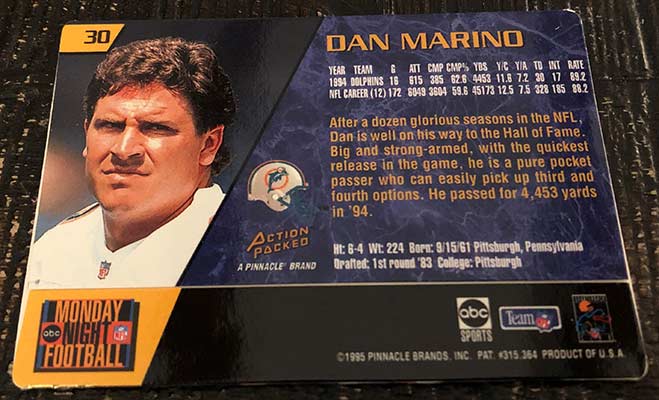 I did well in this one. I pulled the expected four Highlights parallels, including a Stokes rookie and a Marcus Allen. I also pulled the tough 24KT Team Emmitt Smith card. These inserts found just once in every three boxes. Just 12 cards on that checklist as well, and I certainly could have done a lot worse than Smith.
Action Packed has always gotten kind of a bad rap with some collectors. I get it, but I do still appreciate the cards. The embossed card fronts add something different and fun to them. There aren't a ton of these boxes out there. The last one to sell this past weekend went for $30 plus shipping.
Shop for 1995 Action Packed Monday Night Football on:
Want more installments of Shane Salmonson's Cheap Wax Wednesday? Check out his other breaks in the archives.