Cheap Wax Wednesday Box Breaks: 2003 Donruss Team Heroes Baseball
In 2003 Donruss debuted their self-proclaimed "Ultimate Set," Donruss Team Heroes. Team Heroes consists of a 540-card base set and includes both current and retired players. Some of the legends included in the base set even appear on multiple cards. For example, Nolan Ryan has four base cards in the set, one each for the Angels, Astros, Mets and Rangers. In addition to the base set, there are Glossy parallels, found one per pack.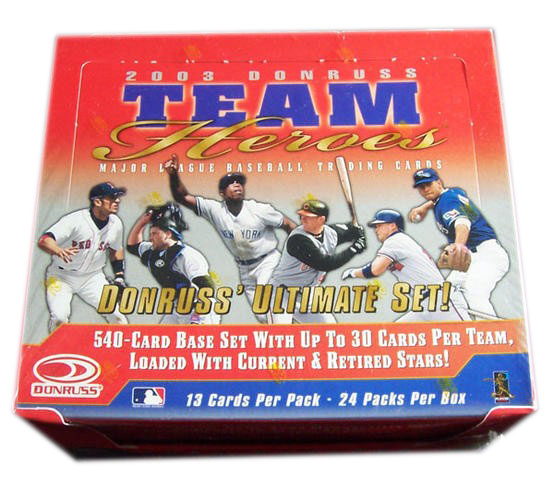 At release, packs cost about $3 each.
Also randomly included in are a couple of different redemptions. Pulling a Master Team Set redemption card would get you every card from that specific team, which is limited to just 15 sets, and foil stamped "Master Team Set" on the card front. There are also redemption cards for a complete Team Heroes Master Set, which included all 540 cards, limited to just 20 foil-stamped "Master Set" sets. If that wasn't enough to take in, of the 20 Master Sets, ten are stamped in gold and ten in silver. Are you confused yet? Me, too.
A fan of relic cards? Timeless Threads is a 50-card relic set featuring a mix of retired legends and current star players. Lastly, and possibly the most impressive, there are 345 autographs.
Fun Facts are provided by Bleacher Report National MLB Columnist Joel Reuter. You can follow Joel on Twitter (@JoelReuterBR) and check out his work at Bleacher Report.
2003 Donruss Team Heroes Baseball Box Break
Cards per pack: 13
Packs per box: 24
Price paid: $39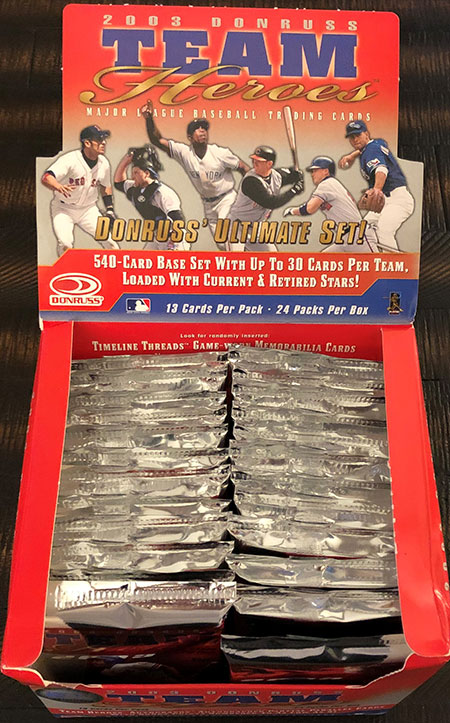 Pack 1 highlights:
Carlton Fisk, Nolan Ryan, Will Clark & Abraham Nunez Glossy (one per pack). The Glossy parallels were sensitive to damage, as you can see the "gloss" pulling up off the base of the card.
Pack 1 fun fact: Carlton Fisk struck out 24 times against Nolan Ryan in his Hall of Fame career. That was the highest total against any single pitcher.

Pack 2:
Rafael Furcal, Johnny Damon, Roy Oswalt, Mike Piazza, David Wells, Orlando Cepeda, Don Sutton, Jeff Kent & Wade Boggs Glossy
Pack 2 fun fact: Don Sutton played 23 seasons and his 5,282.1 innings are the seventh-highest career total in MLB history. Only Phil Niekro (5,404), Nolan Ryan (5,386) and Gaylord Perry (5,350) are ahead of him among Modern Era pitchers.
Pack 3:
Jose Cruz, Jr., Todd Helton, Andres Galarraga, Steve Carlton, Edgar Martinez, Ken Griffey, Jr. (great early shot), Harold Reynolds & Brandon Claussen Autograph
Pack 3 fun fact: Brandon Claussen was traded from the Yankees to the Reds in the deal that sent third baseman Aaron Boone the other way at the 2003 trade deadline.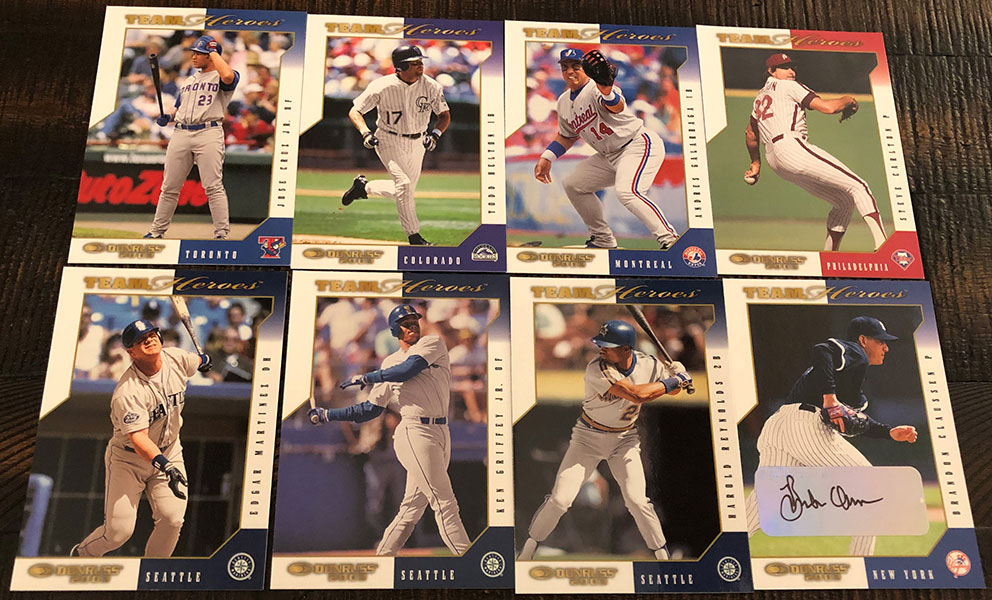 Pack 4:
Kerry Wood, Mark Buehrle, Alfonso Soriano, Alex Rodriguez, Paul Molitor, Dennis Eckersley & Reggie Jackson Glossy
Pack 4 fun fact: Dennis Eckersley (197 wins, 390 saves) is one of two players in MLB history with 150 wins and 150 saves in his career. John Smoltz (213 wins, 153 saves) is the other.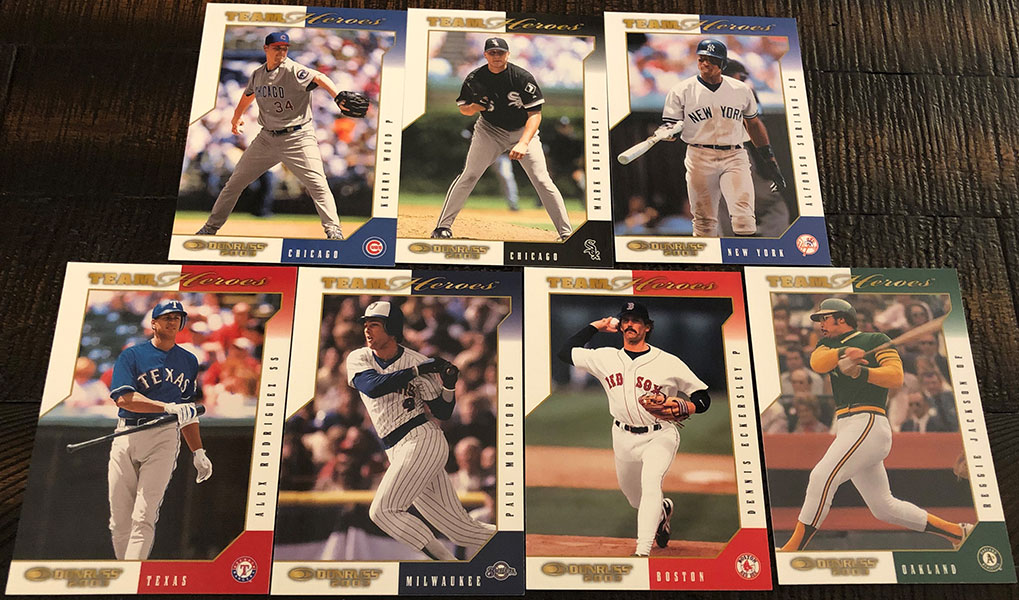 Pack 5:
Jake Peavy, Rafael Palmeiro, Yogi Berra, Doc Gooden & Enos Slaughter Glossy
Pack 5 fun fact: Enos Slaughter ranks seventh in Cardinals franchise history with 52.2 WAR. He spent 13 of his 19 MLB seasons in St. Louis.

Pack 6:
Jason Varitek, Tim Hudson, Lou Boudreau, Carlton Fisk, Harmon Killebrew & Kirby Puckett Glossy
Pack 6 fun fact: Harmon Killebrew was fifth on the all-time home run list when he retired in 1975. His 573 long balls now rank 12th on the career leaderboard.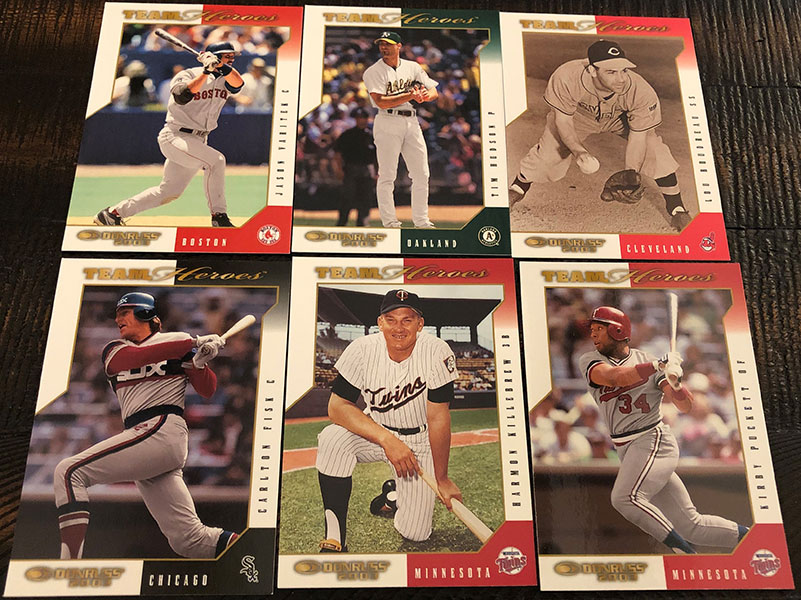 Pack 7:
Steve Garvey, Joe Torre, Brooks Robinson & Greg Maddux Glossy
Pack 7 fun fact: Joe Torre is one of three people in MLB history to win an MVP Award and a Manager of the Year Award. He's joined by Don Baylor and Kirk Gibson.

Pack 8:
A.J. Burnett, Jorge Posada, Luis Aparicio, Will Clark & Jason Lane Glossy
Pack 8 fun fact: Jason Lane played his final game as an outfielder in 2007, but returned in 2014 at the age of 37 to make one start and two relief appearances as a pitcher for the San Diego Padres.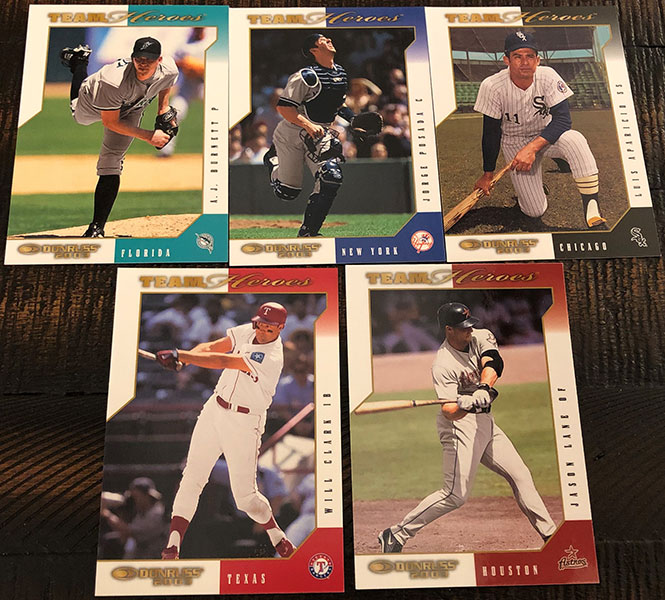 Pack 9:
Tim Salmon, Cliff Lee, Tino Martinez, Mark Teixeira, Willie McCovey, Joe Carter & Hideo Nomo Glossy
Pack 9 fun fact: Hideo Nomo ranks 100th on the all-time strikeout list with 1,918 punchouts. He led the league in that category in 1995 (236) and 2001 (220).
Pack 10:
Julio Lugo, Robin Yount, Mike Schmidt & Fernando Rodney Glossy
Pack 10 fun fact: Fernando Rodney was already 26 years old when this set came out. He was still pitching last season and just signed a minor league deal with the Houston Astros on July 31st.

Pack 11:
Nomar Garciaparra, Jackie Robinson, Willie Stargell & Nolan Ryan Glossy
Pack 11 fun fact: Willie Stargell won 1979 NL MVP honors at the age of 39. He remains the oldest player in MLB history to win the award, with Barry Bonds winning it when he was four years younger in his own age-39 season.

Pack 12:
Randy Johnson, Josh Beckett, Vladimir Guerrero, Ichiro Suzuki, Pee Wee Reese, Tony Perez, Roger Clemens & Tony Gwynn Glossy
Pack 12 fun fact: Josh Beckett was the No. 1 prospect on Baseball America's Top 100 list at the start of the 2002 season. Mark Prior, Hank Blalock, Sean Burroughs and Carlos Pena rounded out the top five.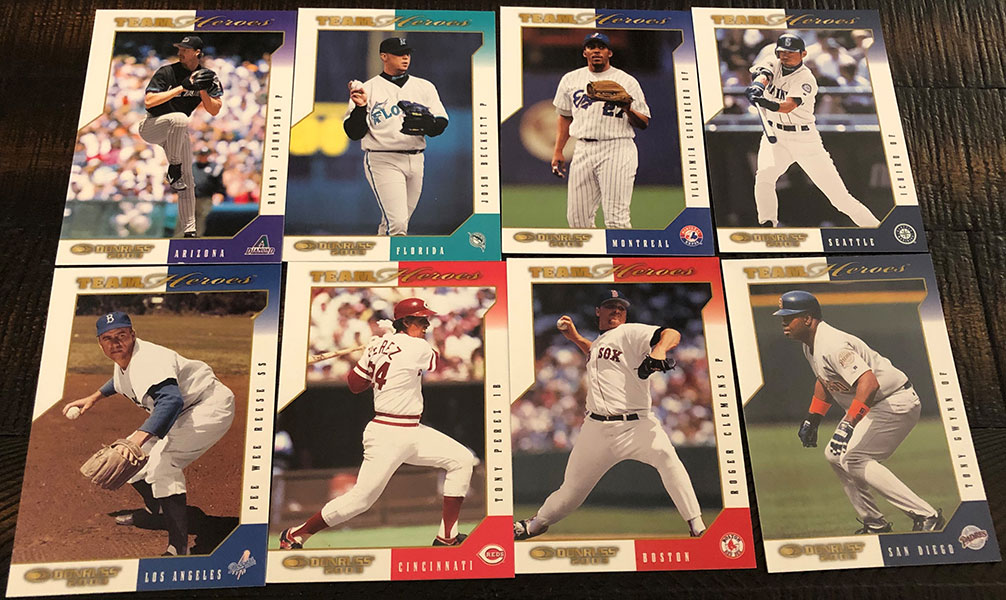 Pack 13:
Derek Lowe, Julio Franco, Billy Wagner, Kevin Brown, Jimmy Rollins, Carlos Delgado, Cal Ripken, Jr., Ozzie Smith & Enos Slaughter Glossy
Pack 13 fun fact: Julio Franco went 6-for-27 with a double in seven games with the indy ball Fort Worth Cats in 2014. He was 55 years old.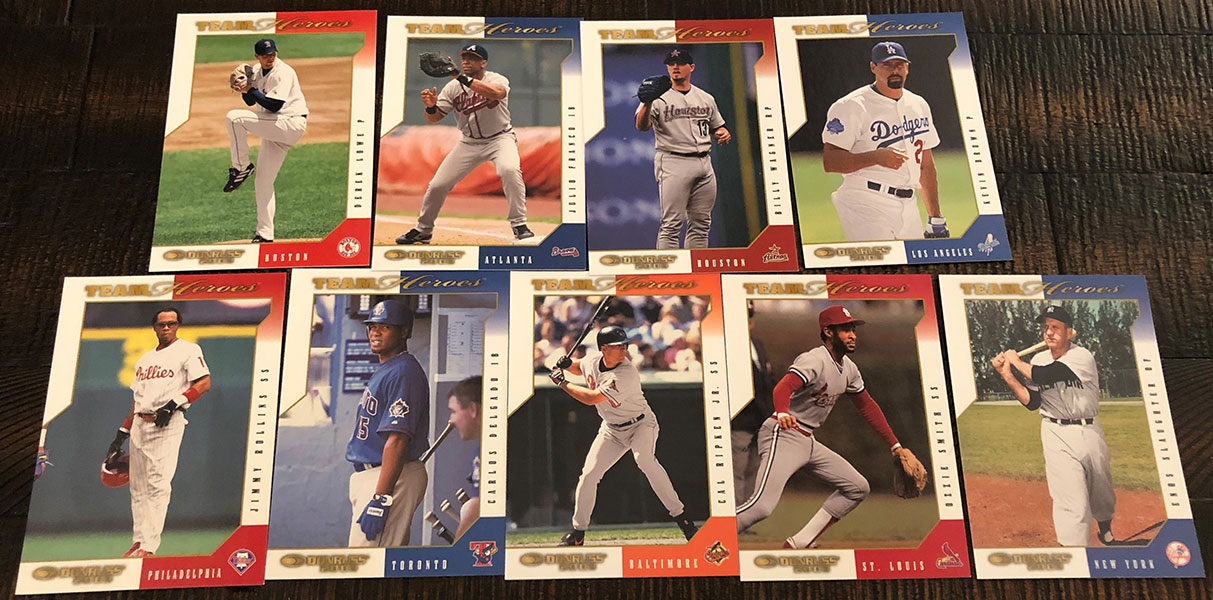 Pack 14:
Gary Sheffield, Brian Jordan, Roberto Alomar, Roger Clemens, Michael Young, Gary Carter, Billy Williams & Ryan Drese Glossy
Pack 14 fun fact: Ryan Drese was part of the trade that sent a young slugger named Travis Hafner from the Rangers to the Indians prior to the 2003 season.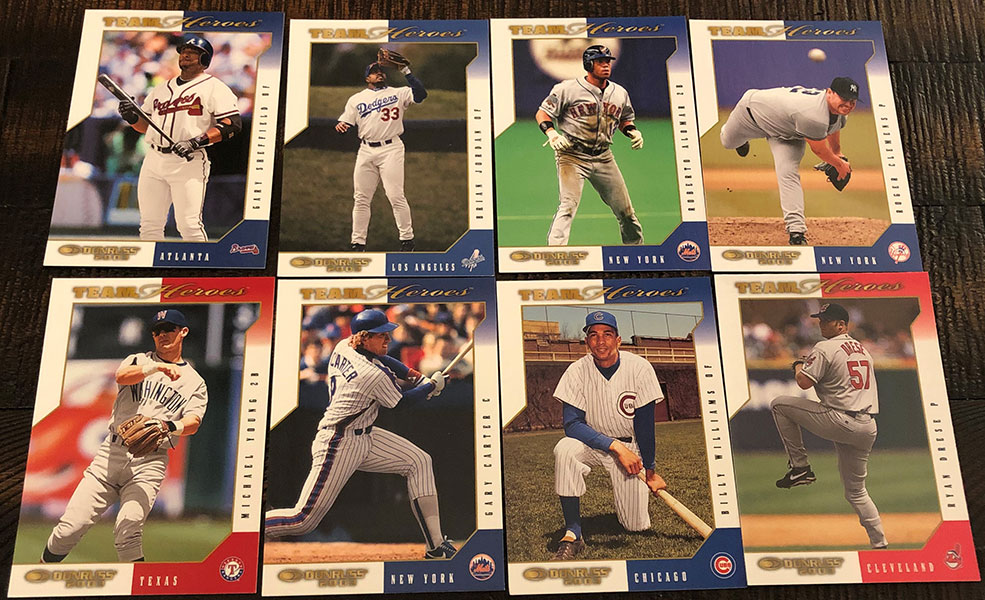 Pack 15:
Trot Nixon, Matt Williams, Fred Lynn, Warren Spahn & Carlos Beltran Glossy
Pack 15 fun fact: Warren Spahn went 23-7 with a 2.60 ERA in his age-42 season in 1963. He still stands as the oldest 20-game winner in MLB history.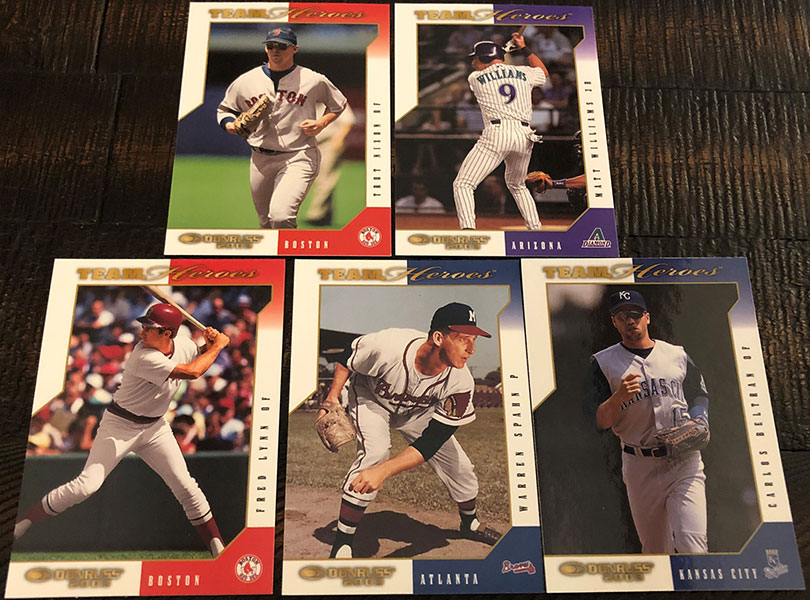 Pack 16:
Jim Thome, Mariano Rivera, Kenny Lofton, Roberto Clemente, Duke Snider, Omar Vizquel Glossy & Darin Erstad Stat Line Parallel (011/177)
Pack 16 fun fact: Darin Erstad had 240 hits during the 2000 season, tied for 13th on the single-season leaderboard. That was a big deal before Ichiro Suzuki came along.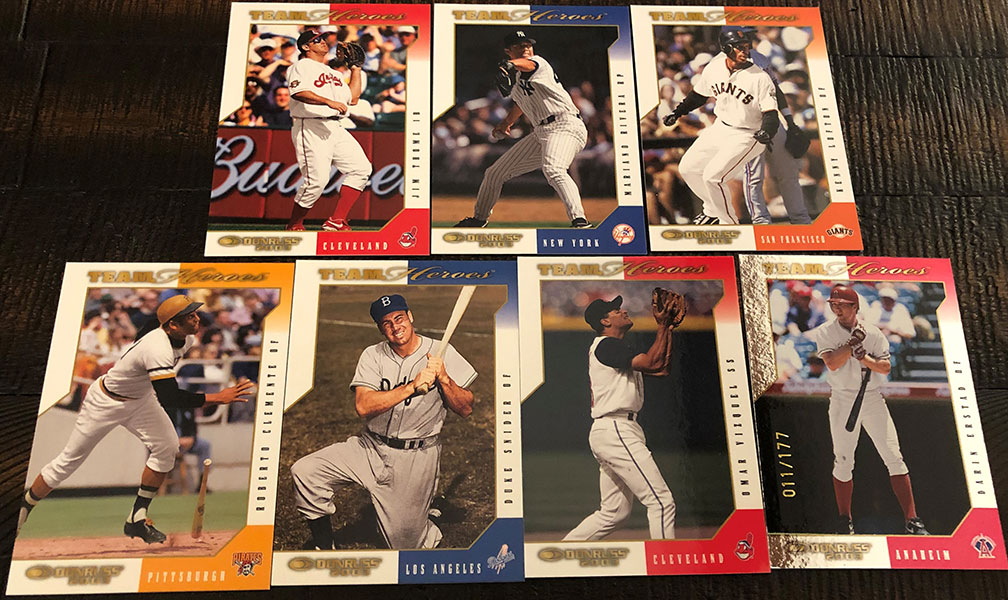 Pack 17:
Moises Alou, Bobby Abreu, Juan Gonzalez, Phil Rizzuto, Bob Feller & Corky Miller Glossy
Pack 17 fun fact: Bob Feller led the league in strikeouts four times before he turned 23 years old. Had he not missed his age-23, 24 and 25 seasons serving in the Navy during World War ll, he might be talked about as the best ever.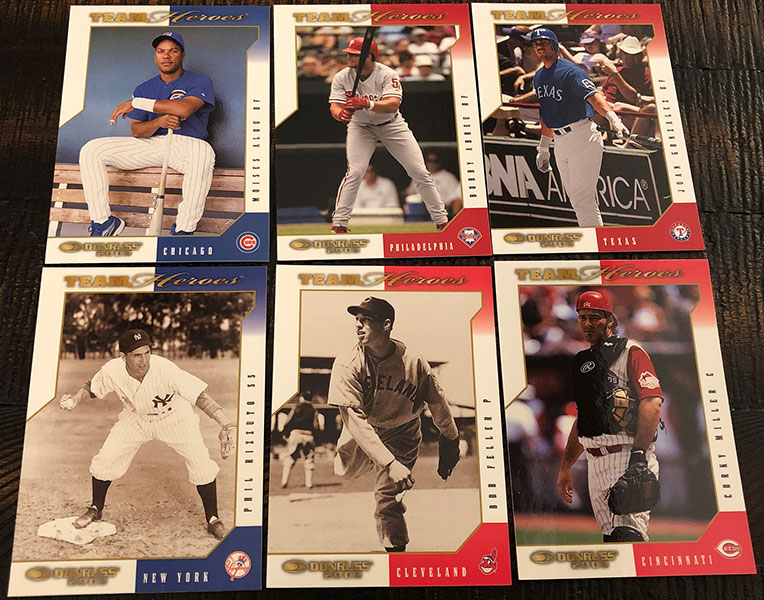 Pack 18:
Carl Crawford, Jack Morris, Honus Wagner & Lance Berkman Glossy
Pack 18 fun fact: Jack Morris led all pitchers with 162 wins during the 1980s. Dave Stieb (140), Bob Welch (137), Charlie Hough (128) and Fernando Valenzuela (128) round out the top five.

Pack 19:
Vinny Castilla, Jeff Bagwell, Jason Giambi, Scott Rolen, Randy Johnson, Nolan Ryan & Joe Thurston Glossy
Pack 19 fun fact: While his seven no-hitters are common knowledge, Nolan Ryan also twirled an MLB record 12 one-hitters and 18 two-hitters.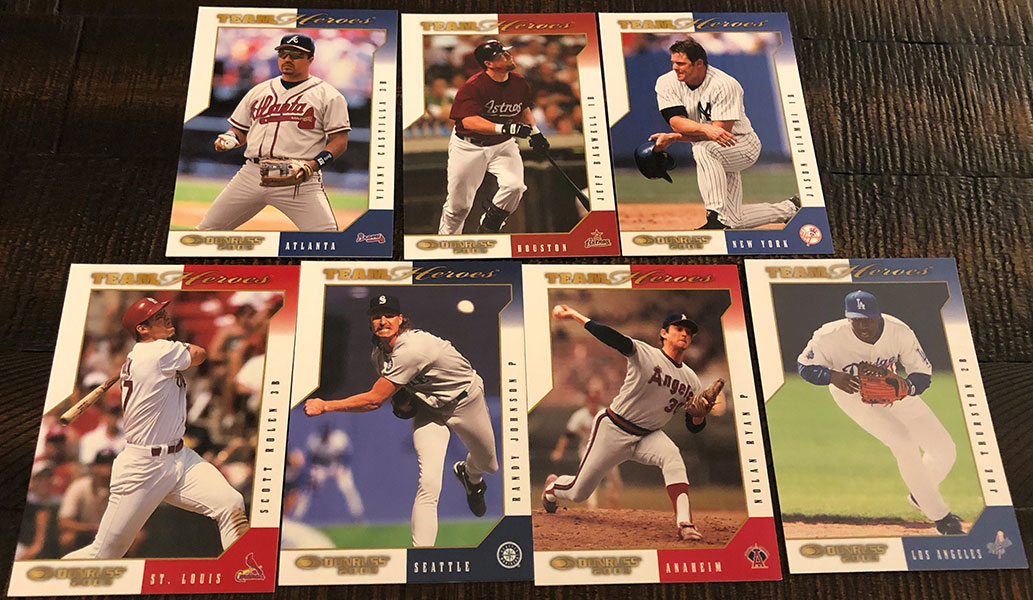 Pack 20:
Rickey Henderson (you don't see many Rickey Red Sox cards!), Torii Hunter, Kazuhiro Sasaki, Bo Jackson, Reggie Jackson, Rickey again & David Espinosa Glossy
Pack 20 fun fact: Rickey Henderson played 72 games with the Red Sox in 2002 in the penultimate season of his career. He had a .369 on-base percentage and stole eight bases in 10 attempts.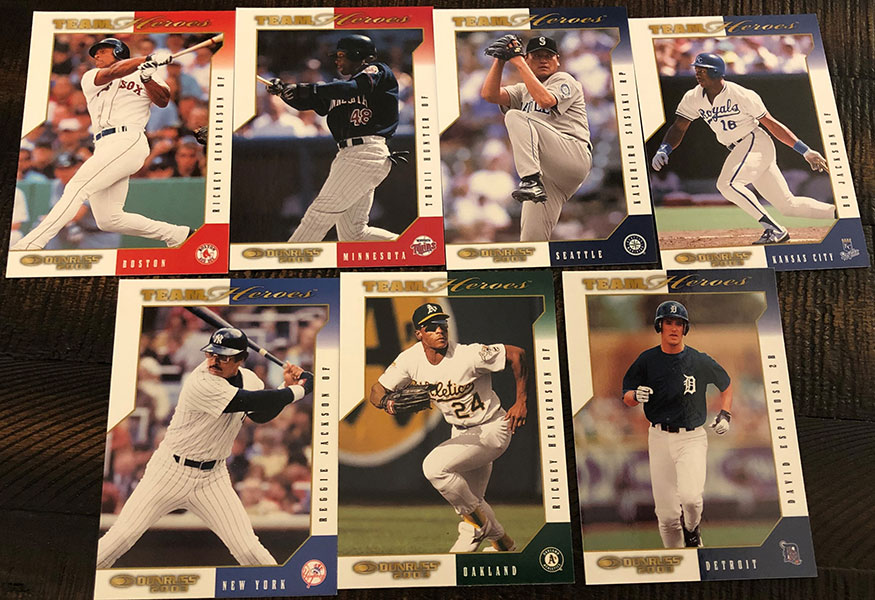 Pack 21:
Derek Jeter, Jack Morris, Robin Roberts, John Buck Glossy & Mike Cameron Stat Line (097/130)
Pack 21 fun fact: In back-to-back offseasons, Mike Cameron was traded from the White Sox to the Reds for Paul Konkero, then from the Reds to the Mariners for Ken Griffey Jr. as he played a key role in reshaping the MLB landscape.
Pack 22:
Fred McGriff, Carlos Lee, Adam Dunn, Barry Zito, Al Kaline, Ryne Sandberg & Ellis Burks Glossy
Pack 22 fun fact: Acquired at the 2001 trade deadline, Fred McGriff hit .273/.353/.505 with 30 home runs and 103 RBI in his only full season with the Cubs in 2002. That was his final season as a full-time player.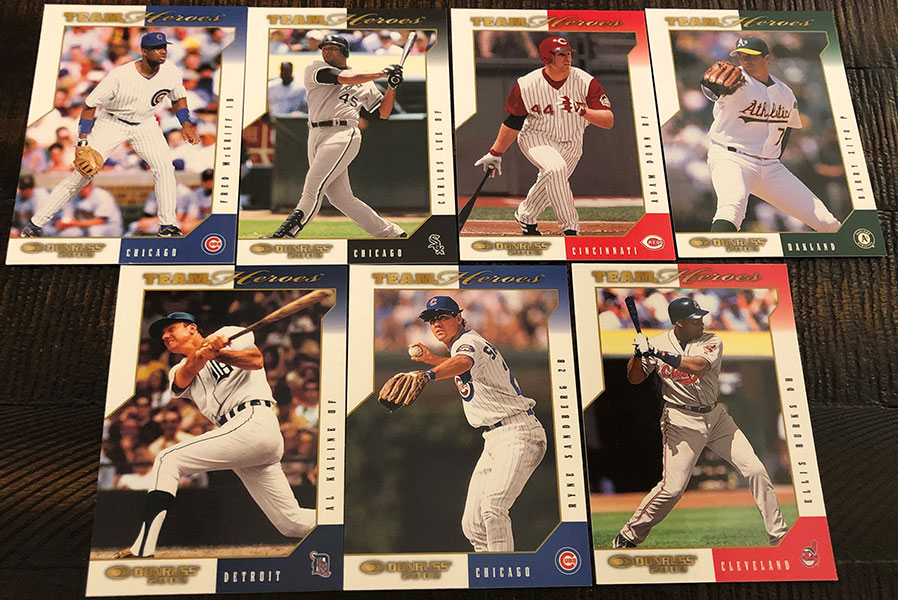 Pack 23:
Andruw Jones, Craig Biggio, Eddie Mathews, Wade Boggs & Richard Hidalgo Glossy
Pack 23 fun fact: Andruw Jones finished his career with 434 home runs and 10 Gold Glove Awards. How in the world is he not already in the Hall of Fame?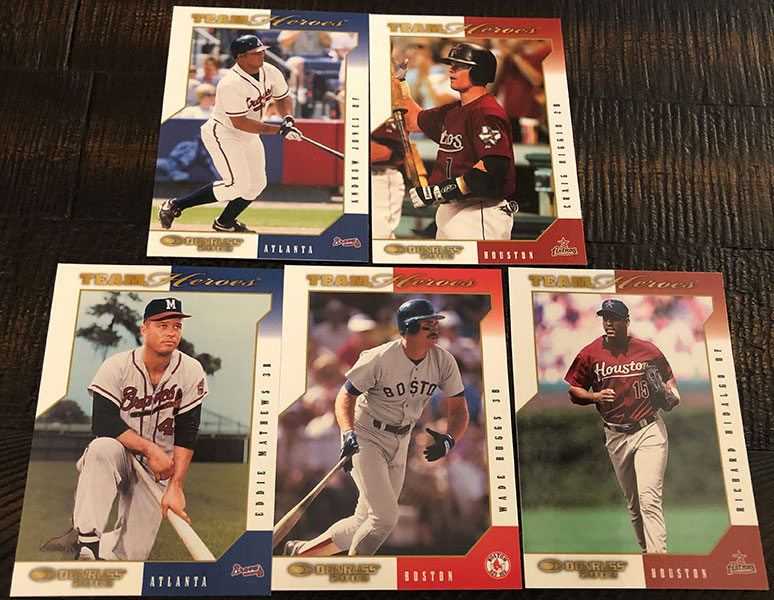 Pack 24:
Troy Glaus, Mike Lowell, Jim Edmonds, Eric Davis, Stan Musial & Jose Ortiz Glossy
Pack 24 fun fact: Stan Musial won seven batting titles and three MVP Awards while earning a ridiculous 24 All-Star selections. He was, indeed, The Man.
Lastly, the Stan The Man card back. I typically prefer to see his yearly stat lines but I can certainly appreciate the career highlights included here.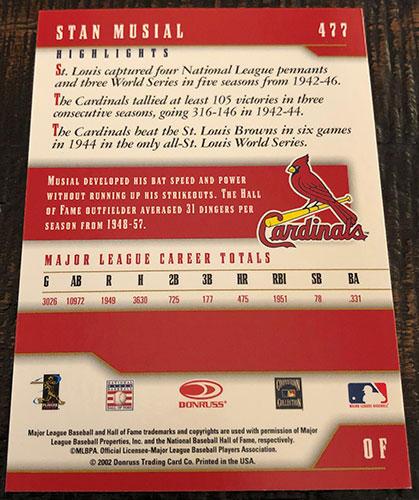 As I have stated before, I love the inclusion of the game's legends into modern products. In turn, I really like this product. Pulling an autograph, some numbered parallels, Honus Wagner and Roberto Clemente in the same box? Count me in! Rickey on the Sox? Love it! I also appreciate them including multiple cards of the legends and some of the photos. An early shot of Griffey in a 2003 product just adds to the fun. I bought this box back in November, but if you can find it for this price today, I say grab one. I may even try to find another.
Shop for 2003 Donruss Team Heroes Baseball on:
Want more installments of Shane Salmonson's Cheap Wax Wednesday? Check out his other breaks in the archives.