Cheap Wax Wednesday Box Breaks: 1996 Fleer Football
When you click on links to various merchants on this site, like eBay, and make a purchase, this can result in this site earning a commission.
1996 Fleer Football is made up of 200 base cards with 40 of those cards being Rookie Cards. The rookie class in 1996 is absolutely stacked and includes names like Mike Alstott, Brian Dawkins, Eddie George, Terry Glenn, Kevin Hardy, Marvin Harrison, Keyshawn Johnson, Ray Lewis, Eric Moulds, and Lawrence Phillips. The cards featured highlights from each players' "greatest game" in the bottom corner.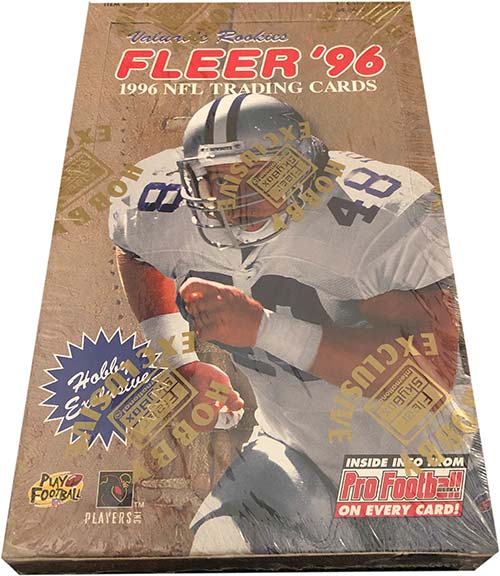 Of course, being Fleer, the release is also full of inserts. Most aren't all that easy to pull. Breakthroughs are the easiest to pull, found once in every three packs. Rookie Write-Ups are the next most common, but found just once in every 12 packs. Rac Pack inserts were found once every eighteen packs. After that, the remaining inserts are found just once in every couple boxes. Statistically Speaking inserts land about once in every one and a half boxes. Lastly, Rookie Sensations cards are 1:3 boxes.
1996 Fleer Football Box Break
Cards per pack: 11
Packs per box: 24
Price paid: $25

Pack 1 highlights:
Mark Brunell, Bobby Engram RC, Terrell Davis, Andre Rison, Thurman Thomas, Jim Kelly PFP & Jake Reed Breakthrough (1 in every 3 packs)
Bobby Engram started just two games during his rookie season but still hauled in six touchdown catches.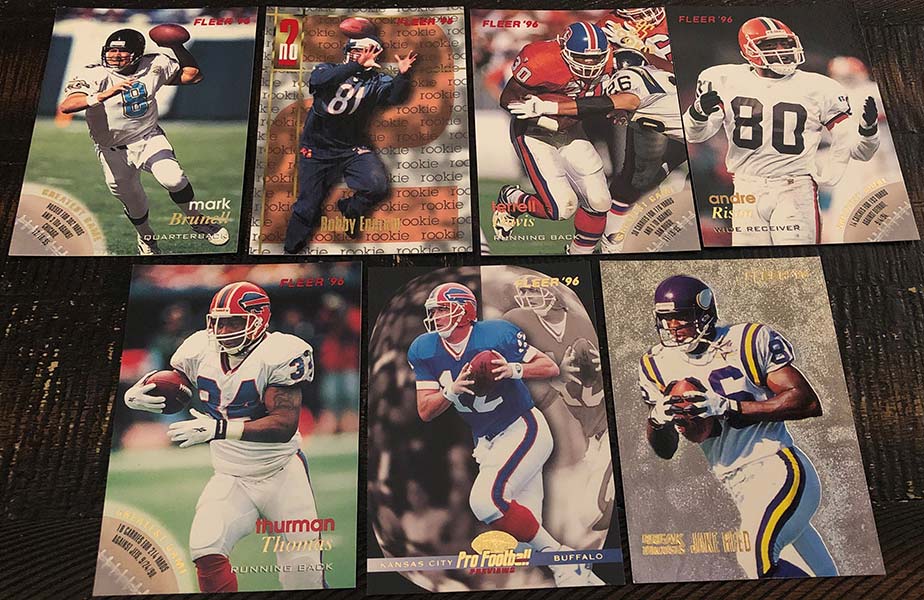 Pack 2:
Marvin Harrison RC, Kordell Stewart, Marshall Faulk & Eric Metcalf Rac Pack (1:18 packs)

Pack 3:
Emmitt Smith, Terance Mathis, Jerome Bettis, Jerry Rice PFP, Herman Moore & Tim Biakabutuka RC
I remember loving Tim Biakabutuka's name when he was a first round selection out of Michigan. He didn't do a whole lot in the NFL, though, and his best season saw him rush for 718 yards in 1999.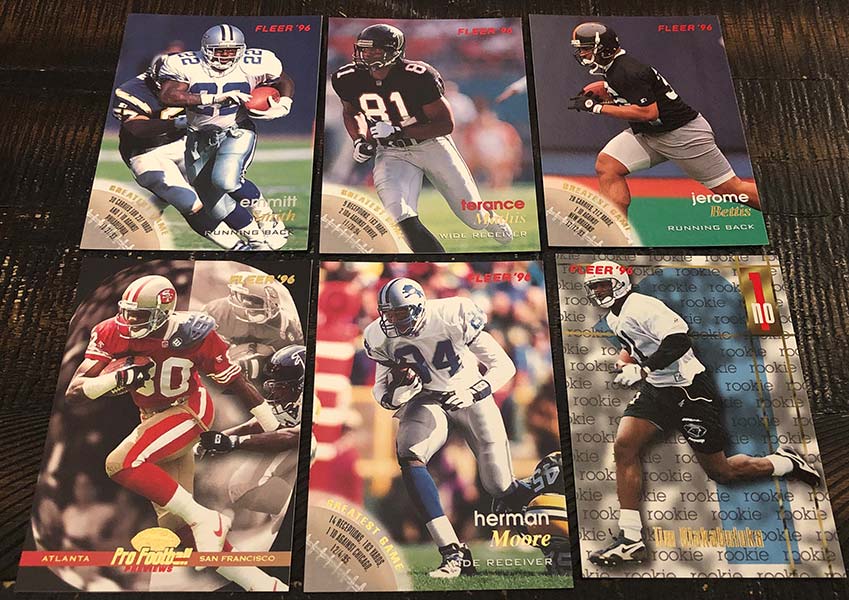 Pack 4:
John Elway, Curtis Martin, Terry Glenn RC, Kevin Hardy RC & Craig Newsome Breakthrough (1:3 packs)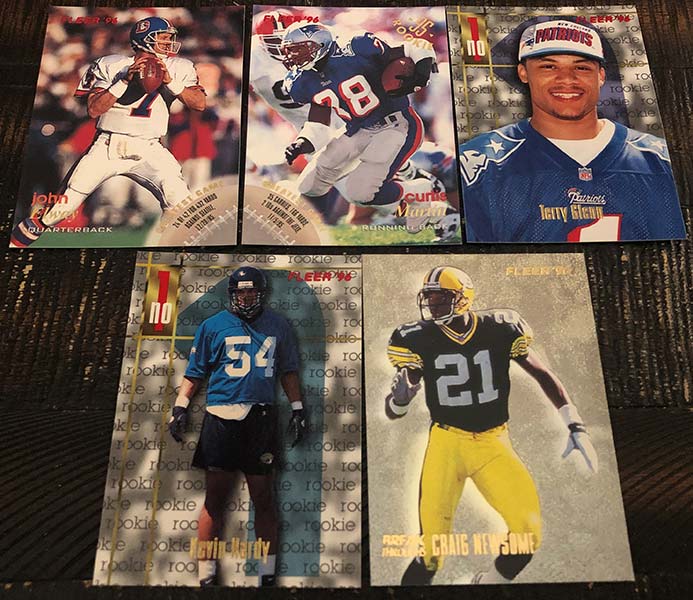 Pack 5:
Marcus Allen, Thurman Thomas, Simeon Rice RC, Deion Sanders & Craig Heyward
Simeon Rice was selected to the Pro Bowl just three times during his career, even though he racked up double digit sack totals in eight different seasons.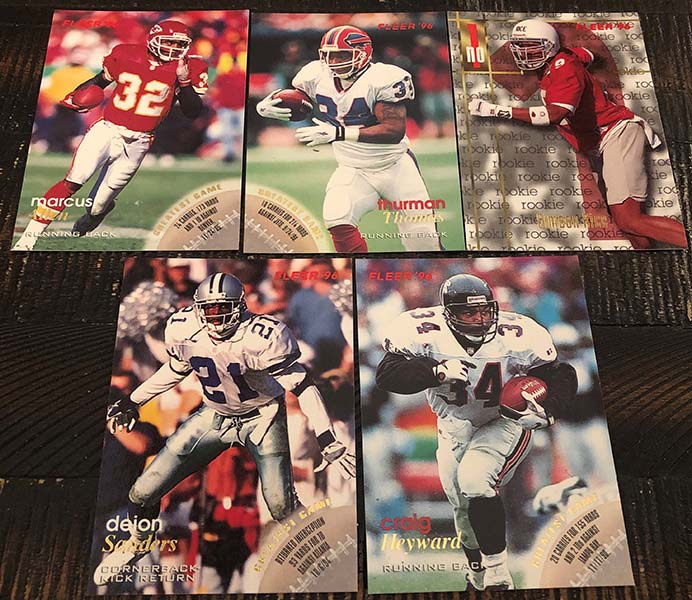 Pack 6:
Eddie George RC, Vinny Testaverde, Steve McNair, Bruce Smith, John Elway/Jeff Hostetler PFP & Tyrone Poole Breakthrough (1:3 packs)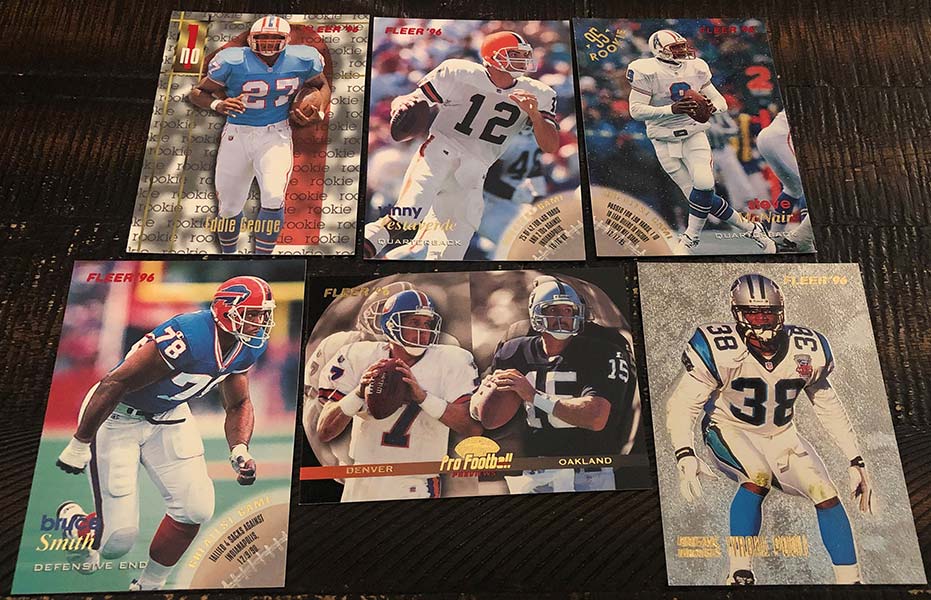 Pack 7:
Trent Dilfer, Jeff George, Steve Young, Reggie White & Jim Kelly PFP
Speaking of double-digit sack totals, Reggie White accomplished that feat a dozen times.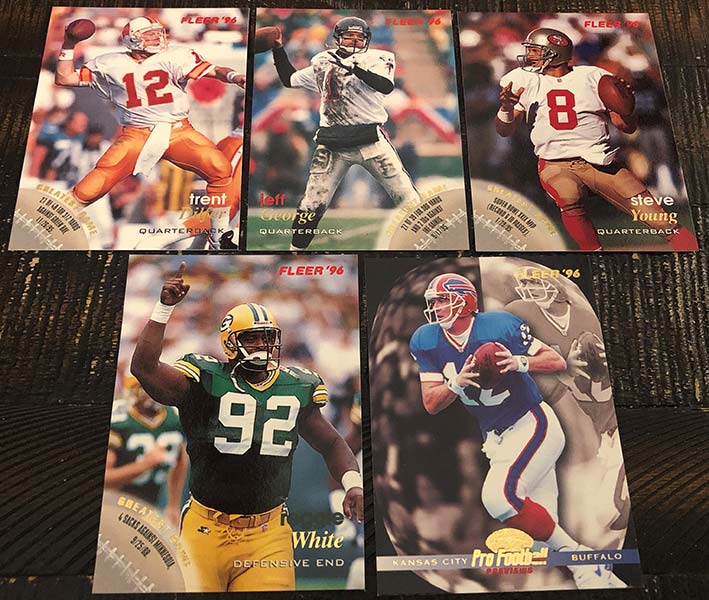 Pack 8:
Brian Blades, Rodney Hampton, Dan Marino PFP, Ben Coates & Jake Reed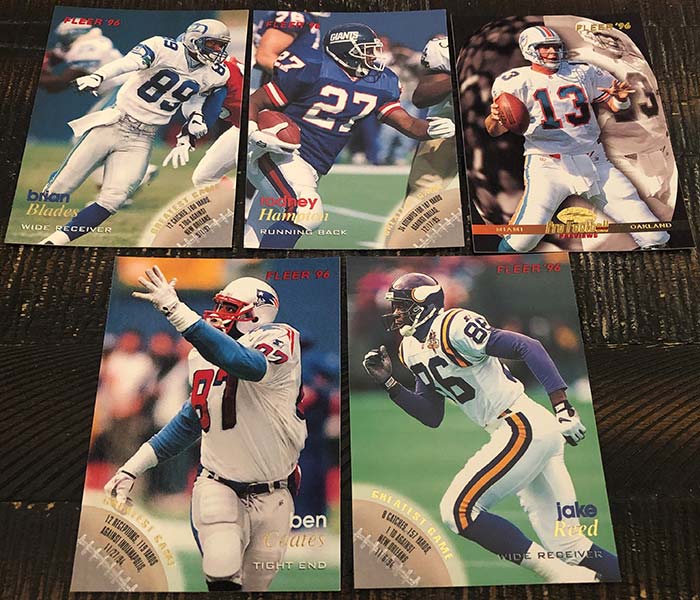 Pack 9:
Eric Moulds RC, Troy Aikman, Jeff Blake, Tim Brown, Karim Abdul-Jabbar RC & Emmitt Smith PFP
Eric Moulds went on to play ten seasons in Buffalo and racked up over 9,000 receiving yards.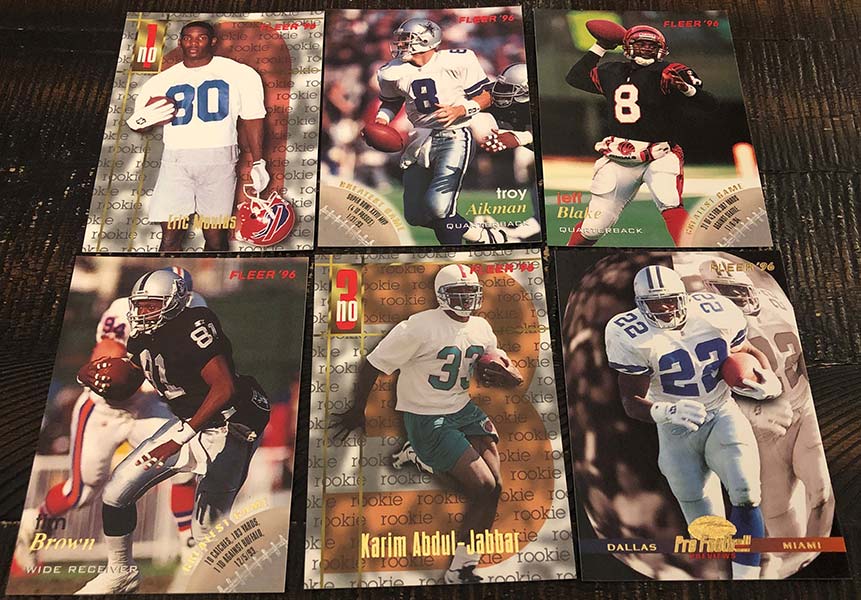 Pack 10:
Eddie Kennison RC, Ray Lewis RC, Warren Moon, Troy Aikman/Steve Young PFP & Tamarick Vanover Breakthrough (1:3 packs)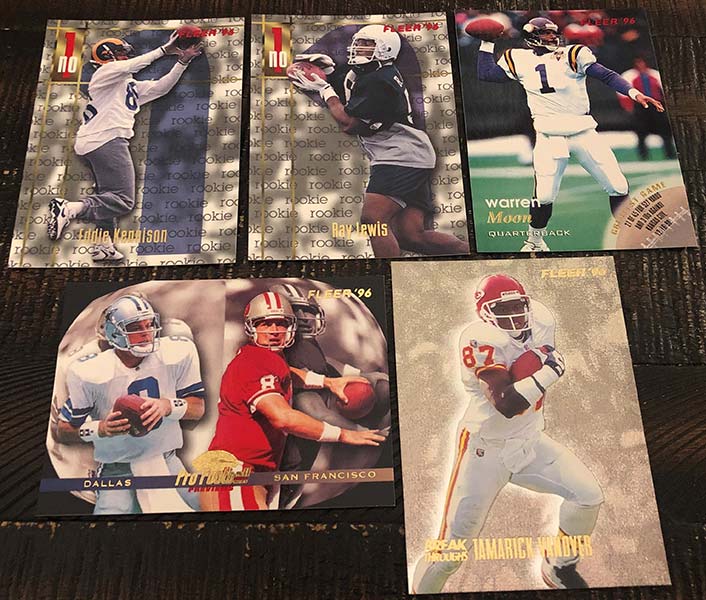 Pack 11:
Qadry Ismail, Rashaan Salaam, Ricky Watters, Barry Sanders, Napoleon Kaufman & Brian Dawkins RC
Hall of Fame safety Brian Dawkins intercepted at least one ball in each of his first 15 seasons. He failed to do so just once, in his final year. Dawkins finished his career with 37 picks.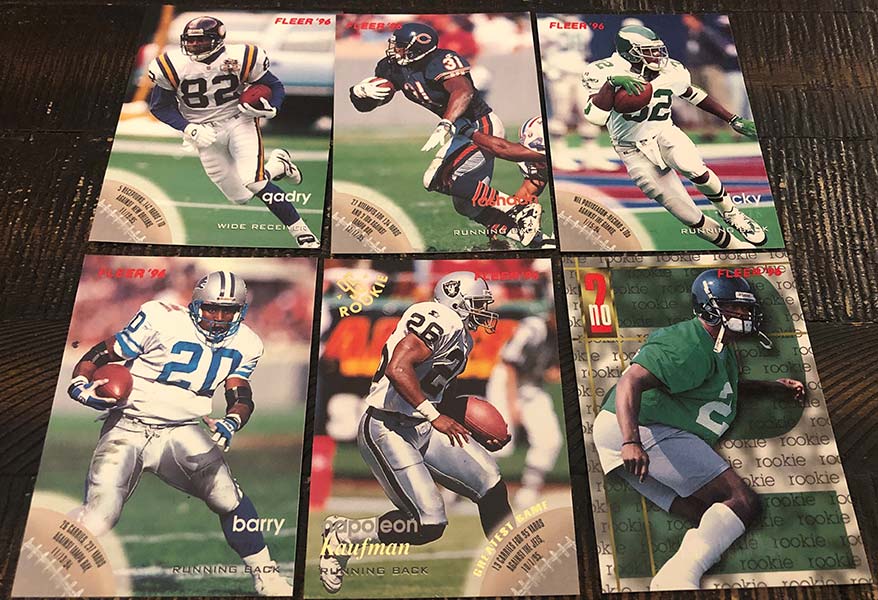 Pack 12:
Garrison Hearst, Shannon Sharpe, Marshall Faulk PFP, Drew Bledsoe & Michael Timpson Breakthrough (1:3 packs)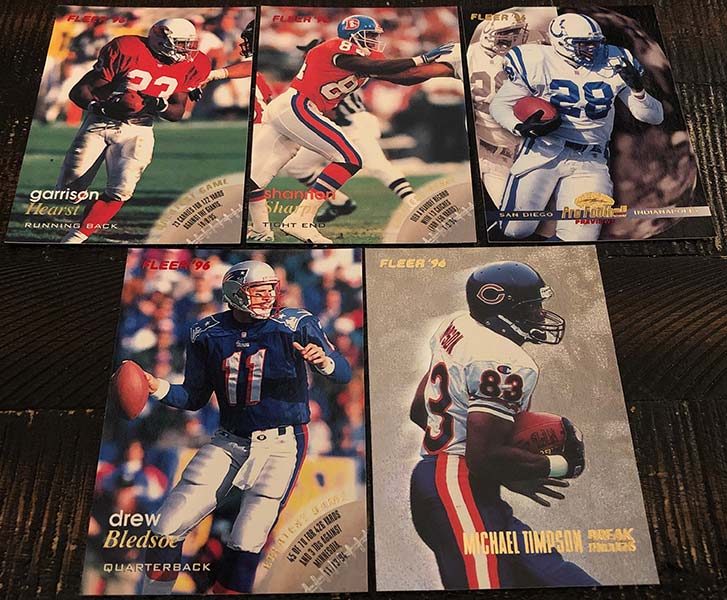 Pack 13:
Cris Carter, Derrick Thomas, Kerry Collins & Dan Marino
Cris Carter put together back-to-back 122 catch seasons in Minnesota in 1994 and 1995. He finished his career with 1,101 catches. 

Pack 14:
Lawrence Phillips RC, Daryl Johnston, Jerry Rice, Brett Favre & Favre PFP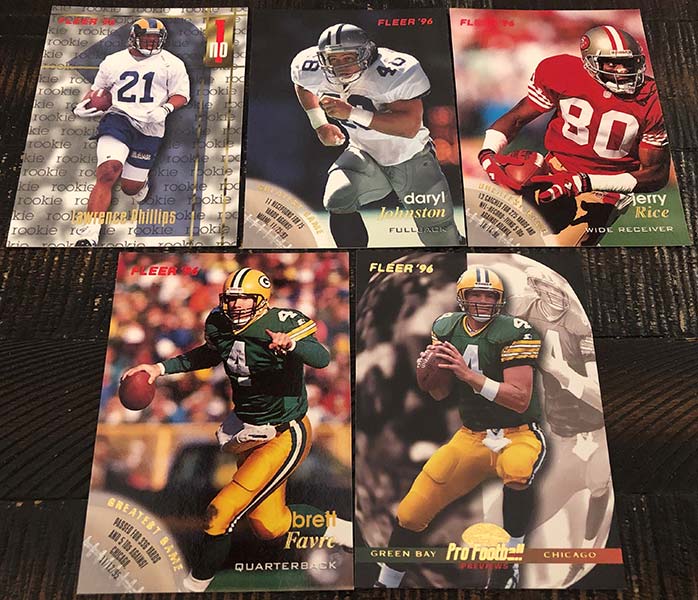 Pack 15:
Steve Atwater, Jim Kelly, Aaron Glenn & Rashaan Salaam Breakthrough (1:3 packs)
Rashaan Salaam didn't quite live up to the Breakthrough prediction. After a 1,000 yard rushing season his rookie year, he totaled just 496 rushing yards in his sophomore season. 

Pack 16:
Isaac Bruce, Jonathan Ogden RC, Michael Irvin, Carl Pickens, Ken Norton, Dan Marino & Mike Alstott RC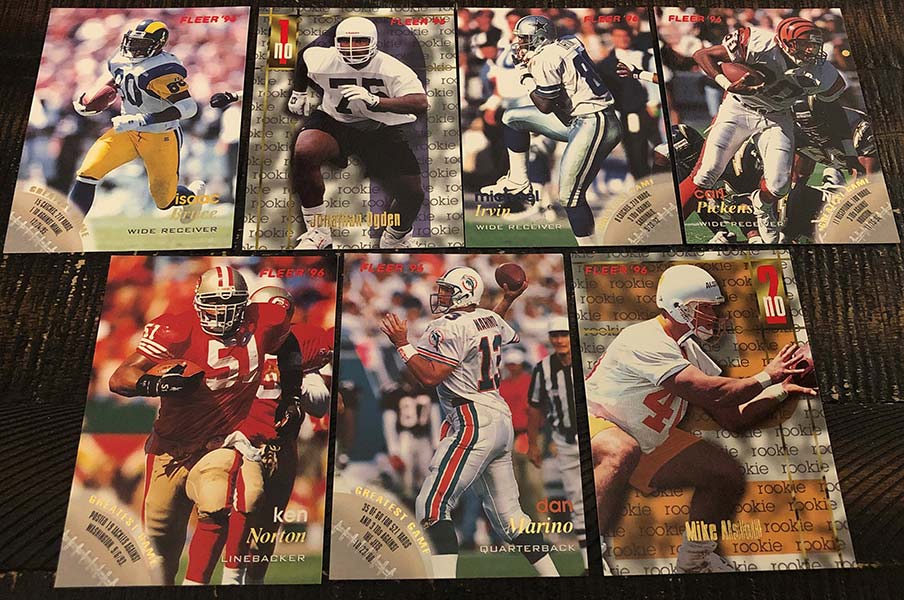 Pack 17:
Rick Mirer, Junior Seau, Robert Smith, Rod Woodson & Leeland McElroy Rookie Write-Up (1:12 packs)
An early second round pick following three good seasons at Texas A&M, McElroy played just two seasons in the NFL.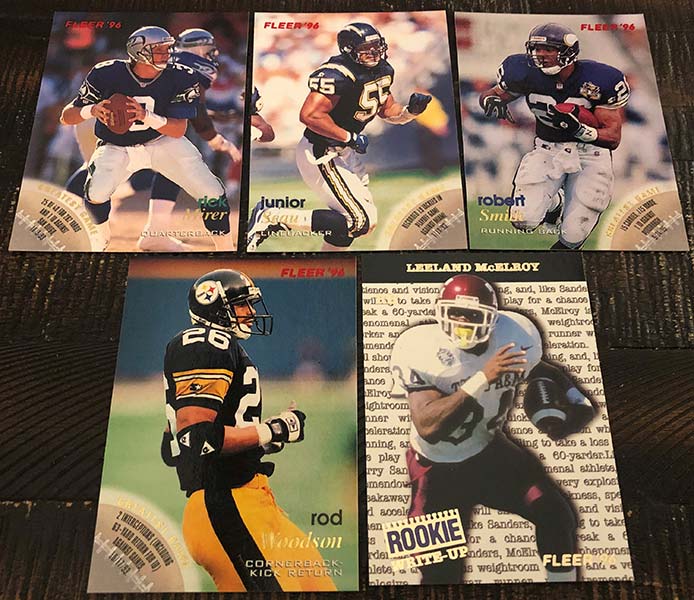 Pack 18:
Muhsin Muhammad RC, Charles Haley, Ki-Jana Carter, Robert Brooks, Ken Norton & Jeff Blake PFP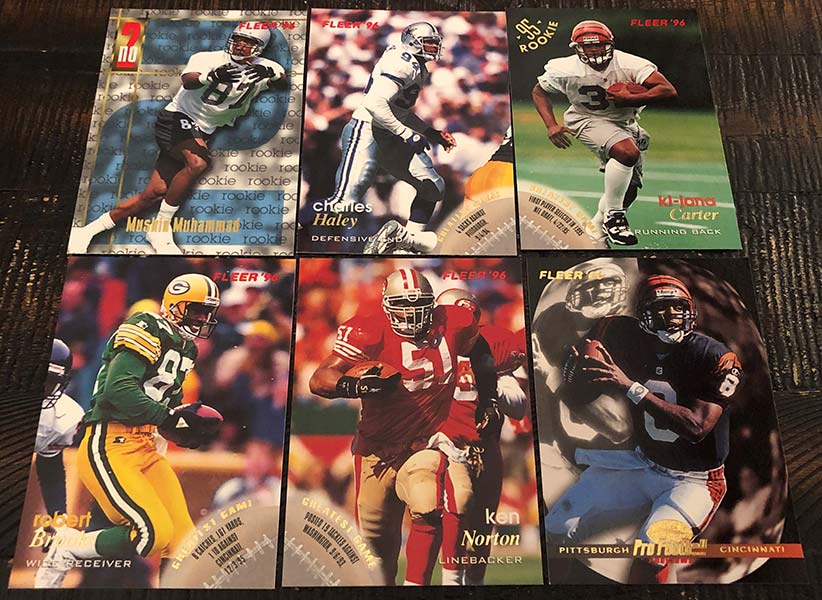 Pack 19:
Joey Galloway, Terry Allen, Keyshawn Johnson RC, Jim Harbuagh & Orlando Thomas Breakthrough (1:3 packs)
Contrary to what you may have heard, Johnson was thrown the ball a lot during his NFL career. He was targeted 1,426 times in eleven seasons, catching 814 of those passes.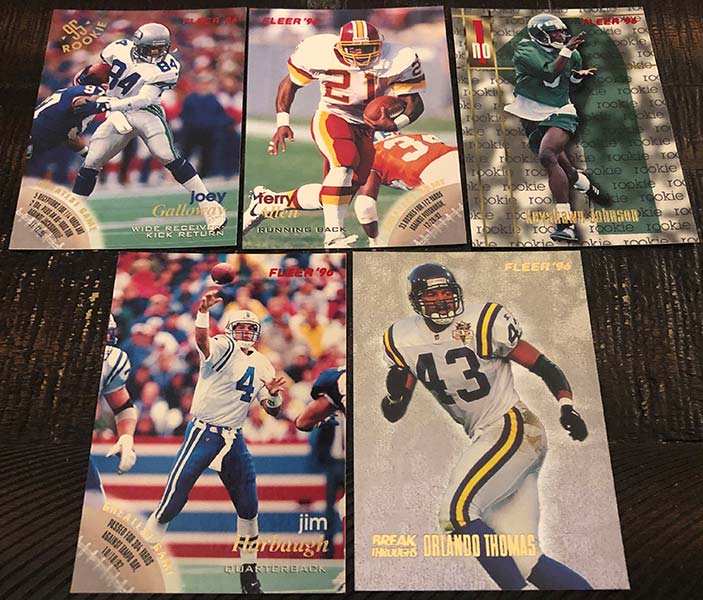 Pack 20:
Errict Rhett, Amani Toomer RC, Eric Metcalf, Aeneas Williams, Barry Sanders PFP & Johnnie Morton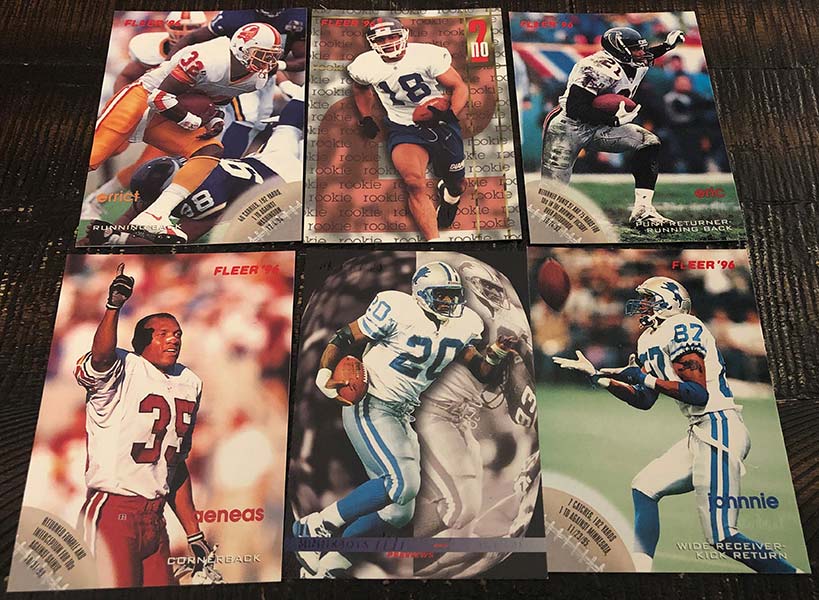 Pack 21:
Marvin Harrison RC, Kordell Stewart, Marshall Faulk & Napoleon Kaufman Breakthrough (1:3 packs)
Harrison had his best season in 2002, leading the NFL with 143 catches and 1,722 receiving yards. He broke 1,000 receiving yards every season from 1999 to 2006. 

Pack 22:
Emmitt Smith, Terance Mathis, Jerry Rice PFP, Jerome Bettis, Herman Moore & Mike Alstott RC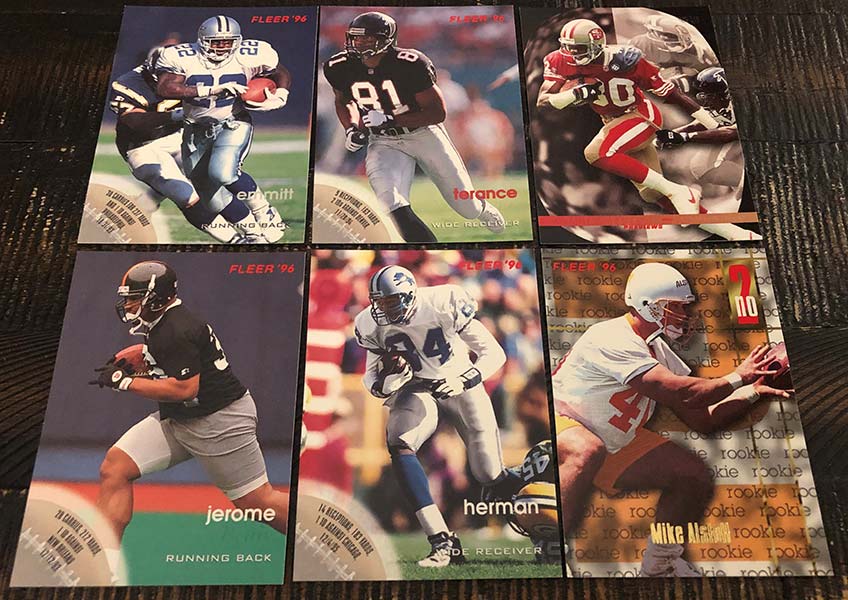 Pack 23:
Terry Glenn RC, John Elway, Curtis Martin & Lawrence Phillips Rookie Write-Up (1:12 packs)
Terry Glenn had one of the best seasons of his career in his rookie year with New England when he racked up 90 receptions for 1,132 yards and six touchdowns. 

Pack 24:
Simeon Rice RC, Deion Sanders & Marcus Allen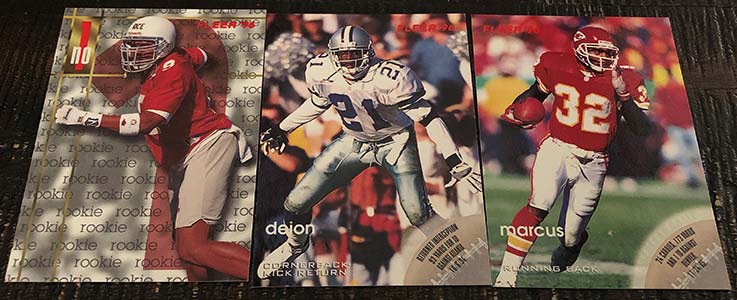 Lastly, the Sanders card back. Deion was, typically, not challenged much in the passing game, but still picked off multiple passes every year. It's interesting that Fleer also included each player's contract status on the card backs.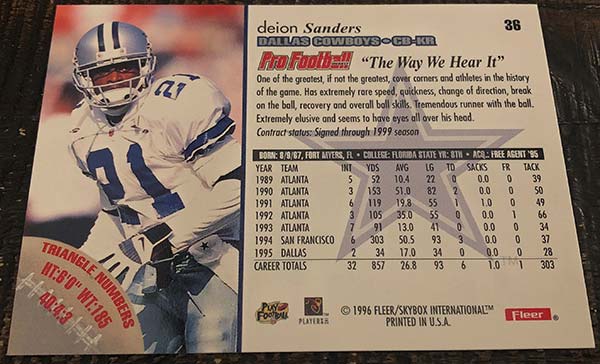 In the '90s, Fleer was known for their inserts and this release was no different. I can't even recall ever seeing this base card design before opening this box. As I mentioned, some of the inserts are really tough pulls. I found everything we should have expected to in this box, but nothing extra. Luckily, the Breakthrough and Rac Pack inserts are really good. Loaded with Hall of Famers, the rookie class really made this break for me.
Shop for 1996 Fleer Football on:
Want more installments of Shane Salmonson's Cheap Wax Wednesday? Check out his other breaks in the archives.