Cheap Wax Wednesday Box Breaks: 1994 Pacific Baseball
Through the late '90s, Pacific Trading Cards was known for innovation. There seemingly wasn't an insert idea that they wouldn't try. Christmas ornaments, anyone? It all started in 1993, with their first full MLB release. That set featured Prism inserts that really popped, similar to Donruss' Elite Series cards. Pacific was required by Major League Baseball to print their cards using Spanish. This week, delve into their sophomore release, 1994 Pacific Baseball.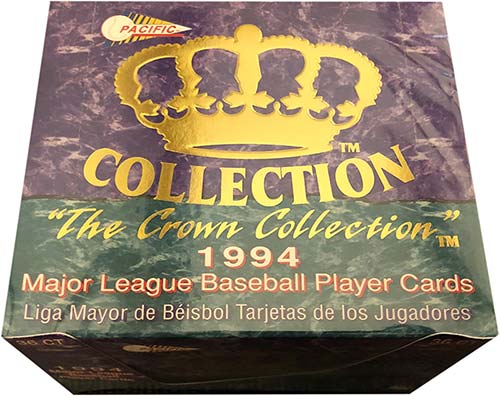 The set has 660 base cards using a design that reminds me of 1992 and 1993 Fleer Ultra. Both use a marble-like design at the bottom, and feature gold accents.
The main chase in this product are the Prism insert cards. The Prism inserts were found in Gold, as well as two different Silver versions. Hobby boxes, like this one, have Silver Prism cards with triangle shapes in the background. Retail packs contain Silver Prisms featuring circular shapes in the background. The circular Silver Prims are much more common, and found once in every Retail pack. Both versions of Silver Prisms have the same checklist, but the triangular versions are much more rare.
1994 Pacific Baseball Box Break
Cards per pack: 12
Packs per box: 36
Price paid: $46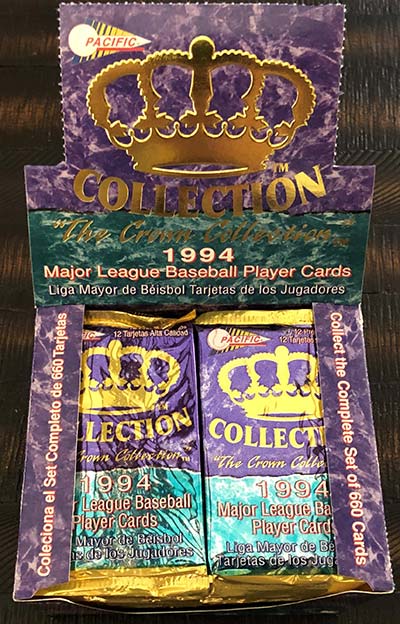 Pack 1 highlights:
Kenny Lofton & Lou Whitaker
Would you believe me if I told you that Whitaker is actually tied with Johnny Bench with 75.1 career WAR? Believe it.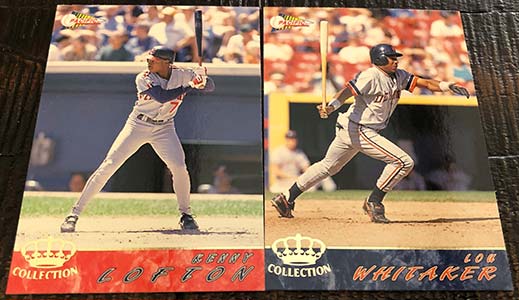 Pack 2:
Ron Gant, Mike Greenwell & Chipper Jones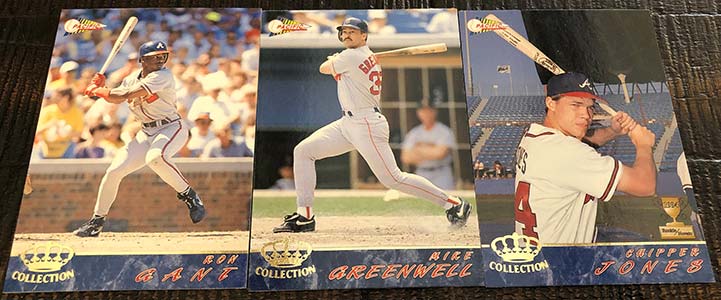 Pack 3:
Two lights-out relievers, Trevor Hoffman & Tom Henke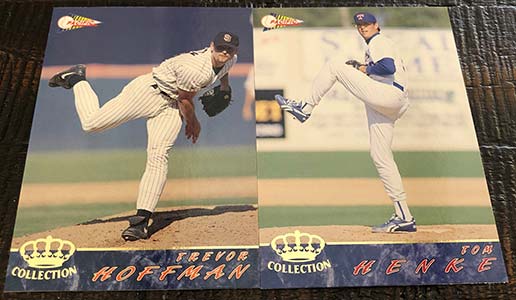 Pack 4:
Fernando Valenzuela, Eric Davis & Ron Darling
This Darling card is a reverse negative. Darling was a right-handed pitcher.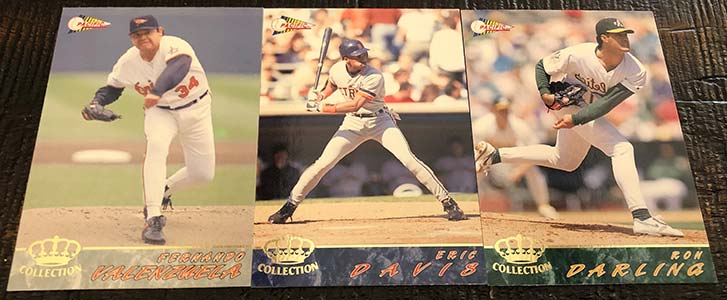 Pack 5:
Jay Buhner & Will Clark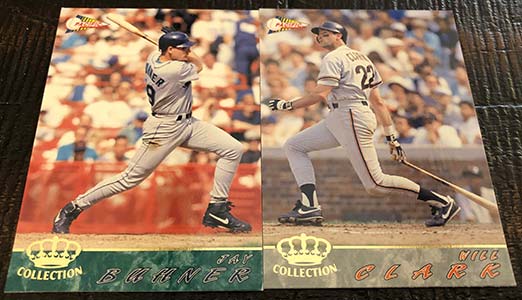 Pack 6:
Mark McGwire, Randy Johnson & Matt Williams Gold Prism (1:25 packs)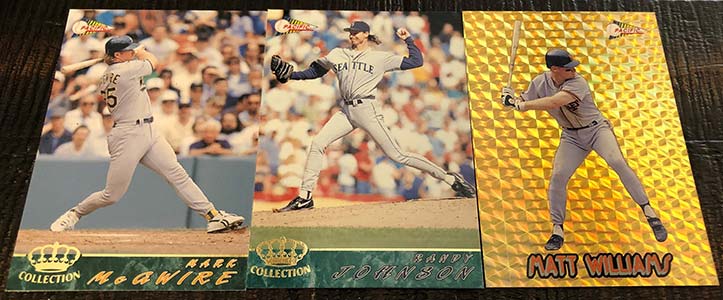 Pack 7:
Darren Daulton & Todd Zeile
Todd Zeile ended his career following the 2004 season, with 2,004 career hits. He collected his 2,000th career hit on September 19th, 2004. Nothing like waiting for the last minute.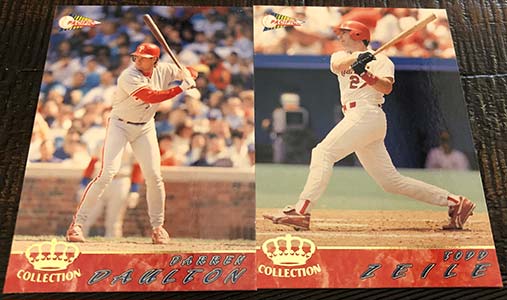 Pack 8:
Cal Ripken, Jr. & Paul Molitor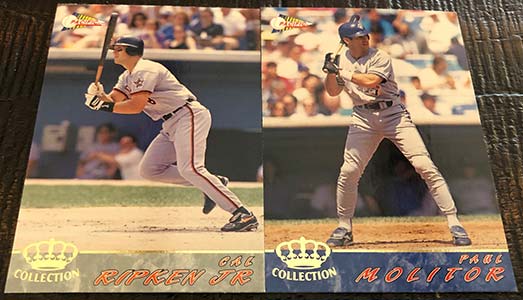 Pack 9:
John Olerud & Orestes Destrade Silver Prism
The Cuban-born Destrade put together a nice 1993 season, finishing with 20 home runs and 87 RBI. He would play in just 39 more major league games after 1993.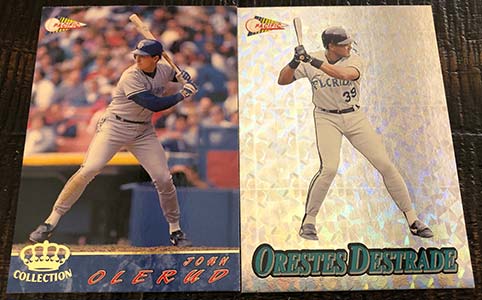 Pack 10:
John Smoltz, Manny Ramirez, Tom Glavine & Andre Dawson

Pack 11:
The same four players as pack 10. These back-to-back duplicate packs happened a few times in this box.

Pack 12:
Steve Avery & Ellis Burks
Do you remember Ellis Burks playing on the White Sox? Me neither. He played just one season on the South Side of Chicago.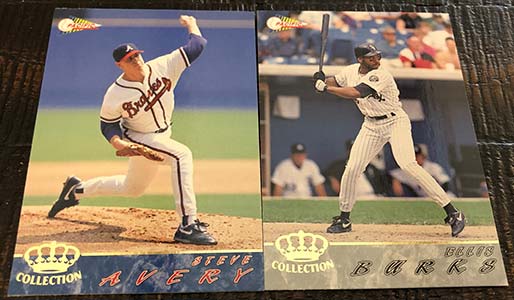 Pack 13:
See what I mean? Same as in the previous pack.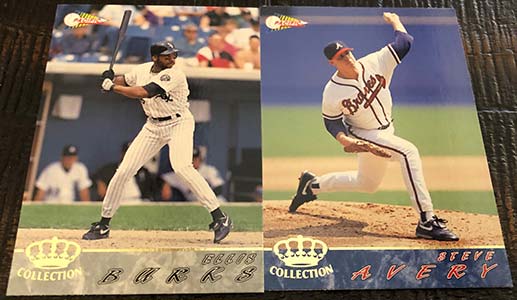 Pack 14:
Pre-Red Sox Tim Wakefield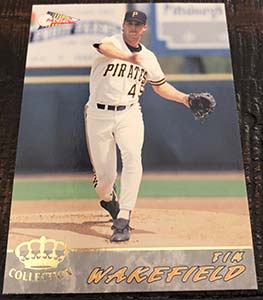 Pack 15:
Dwight Gooden & Jimmy Key
Gooden and Key finished their careers with very similar numbers. Aside from their identical 3.51 career ERAs, Gooden won just eight more games than Jimmy, while Key lost just five more games than Doc.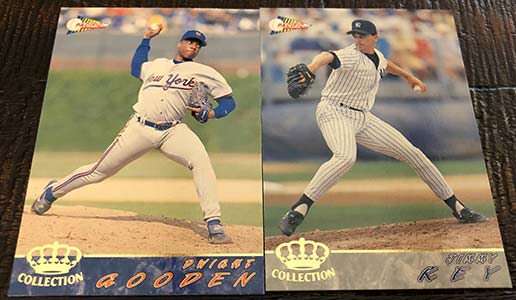 Pack 16:
Sammy Sosa & Robin Ventura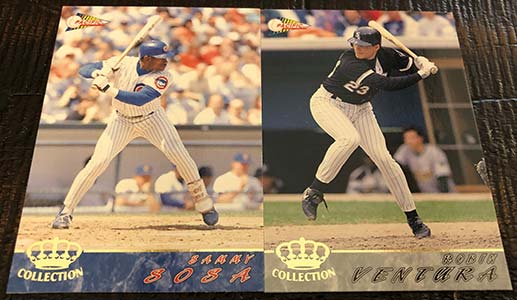 Pack 17:
Kirby Puckett, Eddie Murray & Raul Mondesi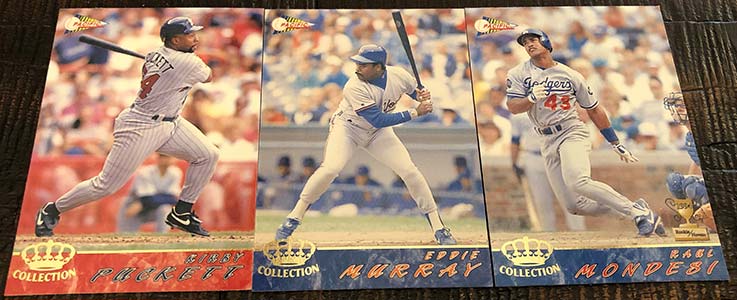 Pack 18:
Darryl Strawberry, Moises Alou & Dave Justice Gold Prism (1:25 packs)
Justice finished out his playing career with those magical 2002 Oakland A's. You know, the ones featured in Moneyball.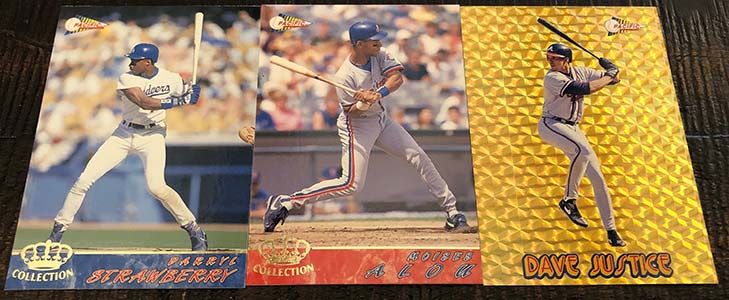 Pack 19:
Jeff Bagwell & Howard Johnson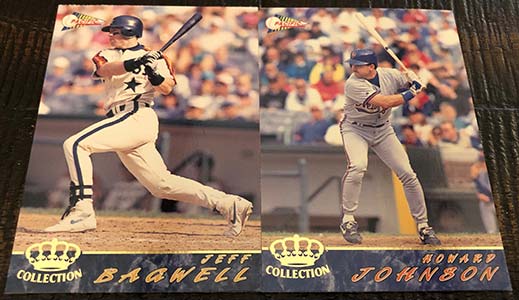 Pack 20:
Greg Vaughn & Wally Joyner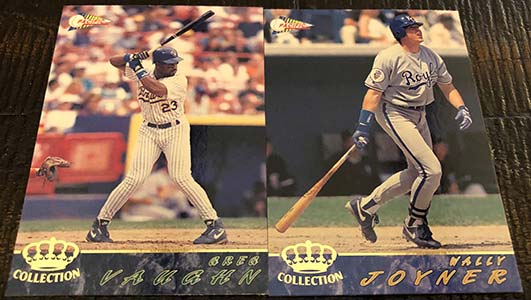 Pack 21:
Larry Walker, Bret Saberhagen & Mike Piazza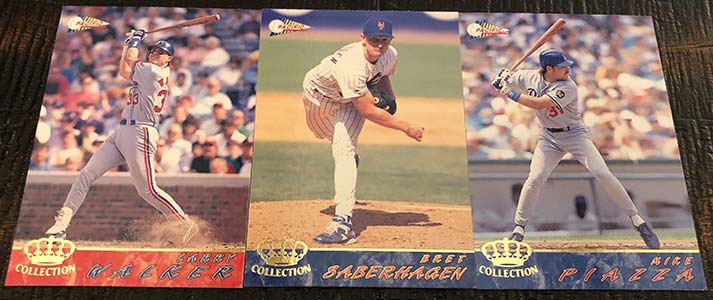 Pack 22:
Tony Phillips & Jeff Bagwell
Phillips was a solid, but not spectacular, major leaguer. His best season came in 1993, when he finished 16th in the AL MVP voting. He led the AL with 132 walks while scoring 113 runs.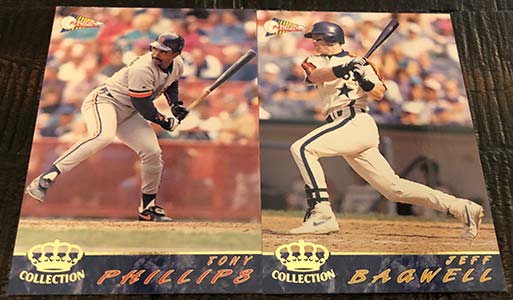 Pack 23:
Tim Salmon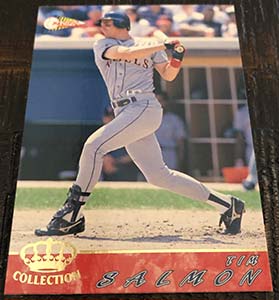 Pack 24:
Deion Sanders & Rickey Henderson
Though Deion could never keep up with Rickey, both were speed demons. Deion stole 56 bases for the 1997 Cincinnati Reds. That same season, a 38-year-old Henderson stole 45 bases.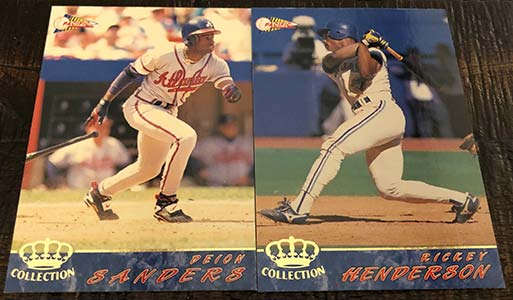 Pack 25:
Alan Trammell & Andres Galarraga Silver Prism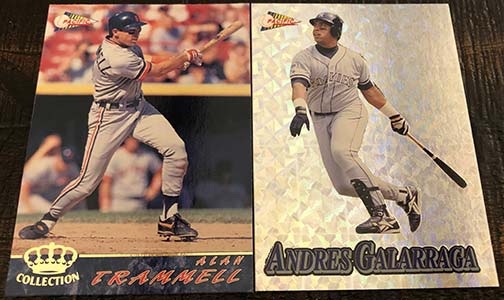 Pack 26:
Terry Pendleton & Cal Ripken Jr.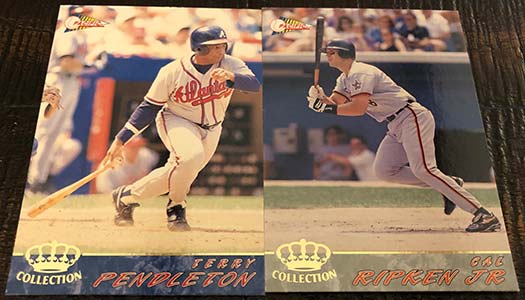 Pack 27:
Kevin Brown, Ozzie Smith & Edgar Martinez
The Wizard won 13 straight Gold Glove awards at shortstop. He was also a 15-time All-Star while stealing 580 career bases.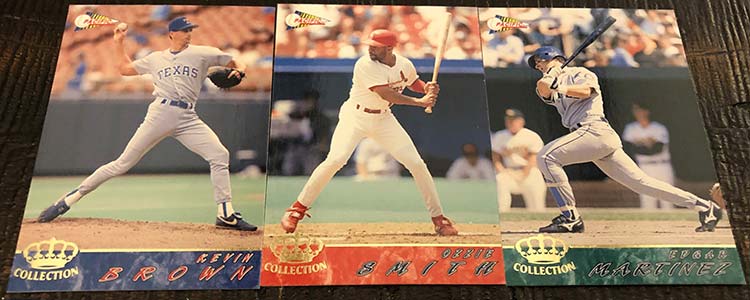 Pack 28:
Ryne Sandberg, Barry Bonds, Joe Carter & Harold Baines

Pack 29:
The same foursome as found in pack 28

Pack 30:
Ozzie Guillen & Sandy Alomar Jr.
Sandy Alomar started his career with a bang, earning an All-Star appearance, a Gold Glove, and the AL Rookie of the Year Award in 1990, his first full season in the majors.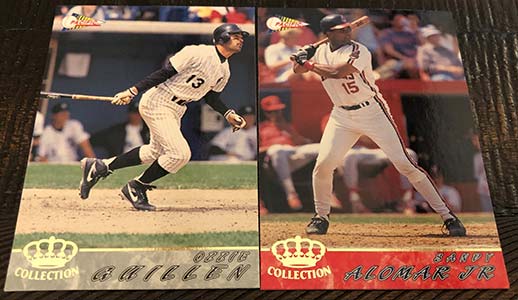 Pack 31:
Ozzie & Sandy again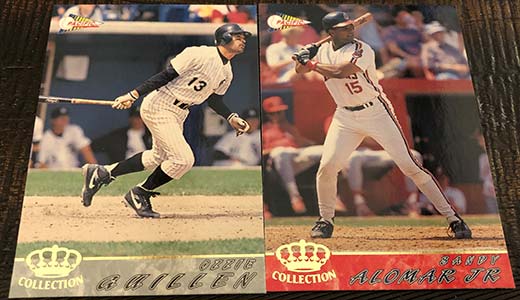 Pack 32:
Tim "Sushi-Grade" Salmon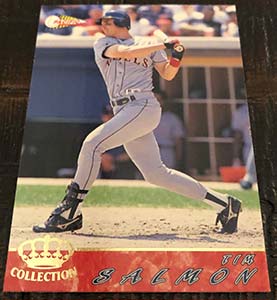 Pack 33:
Deion Sanders & Rickey Henderson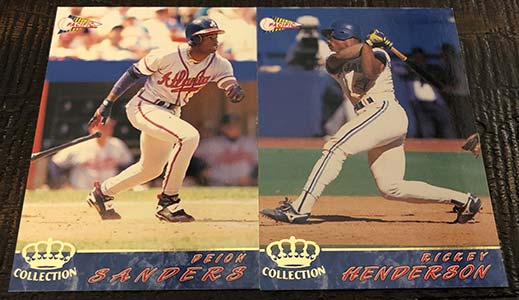 Pack 34:
Delino DeShields & Alan Trammell
Delino "Bop" DeShields stole 463 bases over a 13-year major league career.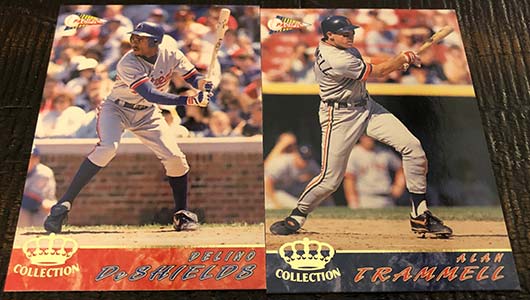 Pack 35:
John Olerud, Paul Molitor & Otis Nixon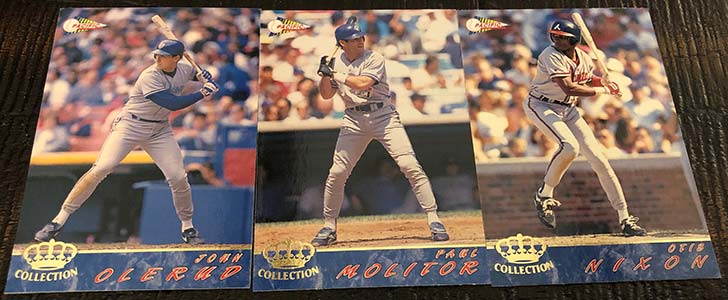 Pack 36:
Larry Walker, Bret Saberhagen & Mike Piazza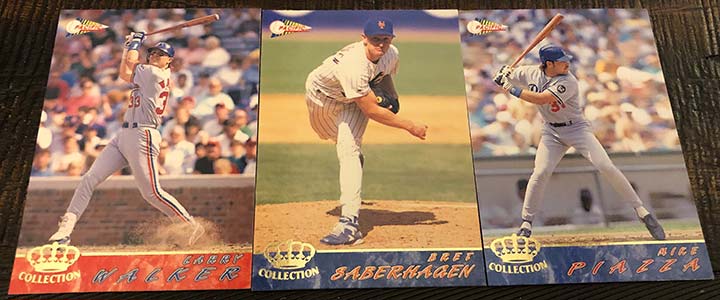 Lastly, the Piazza card back. Here you see the bilingual writing. I find it interesting to see catcher labeled as Receptor, something I am not sure I have ever heard when discussing baseball.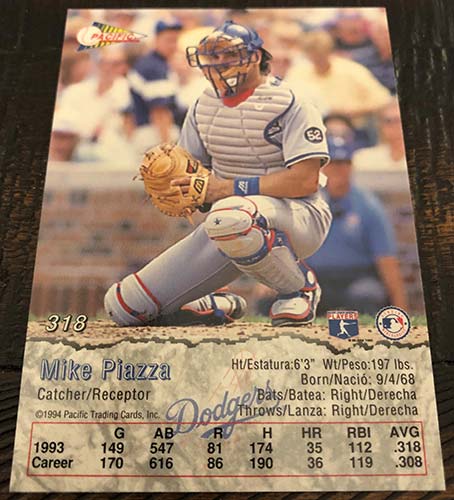 This box is really all about the prisms, and they don't disappoint. They were great looking cards back then, and they still hold up 27 years later. If you happen to stumble across some Prism singles from this set, keep in mind the Silver Prisms with a circular background are much more common than the ones with the triangle background.
This will be the second-to-last Cheap Wax Wednesday of the year featuring a baseball product of the year. In a couple of weeks, Cheap Wax Wednesday will switch over to football through to the end of the NFL playoffs.
Buy 1994 Pacific Baseball cards on:
Want more installments of Shane Salmonson's Cheap Wax Wednesday? Check out his other breaks in the archives.