Cheap Wax Wednesday Box Breaks: 2018 Panini Stars and Stripes USA Baseball
I know we are now past the 4th of July, but it isn't too late to break out the Stars and Stripes, right?
Panini America first signed an exclusive trading card agreement with USA Baseball in 2012. That same deal was extended in 2017, allowing Panini the exclusive rights to produce trading cards featuring USA Baseball players at multiple age levels, all the way down to the 14U National Team Developmental Program. Not only that, but the Panini America logo has been featured on some USA Baseball uniforms during international competition.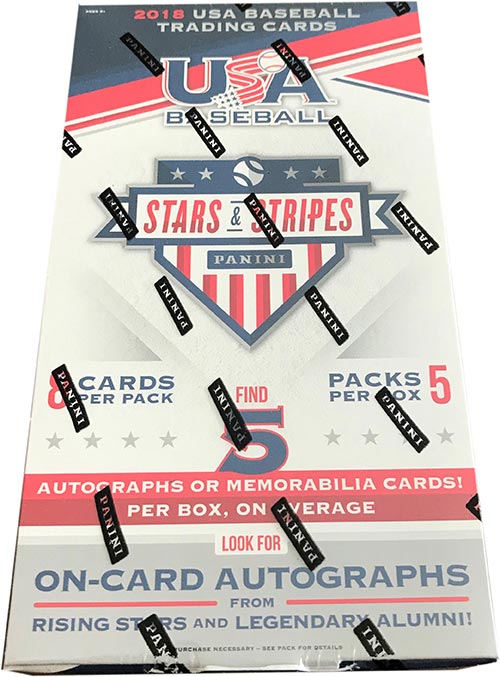 Initially, Panini released USA Baseball cards only in boxed sets. That changed in 2015, as Panini debuted Stars and Stripes baseball in hobby boxes. Those boxes contained 24 packs. The feel of the set has remained the same, while the format has changed since then. 2018 Panini Stars and Stripes has just five packs per hobby box, with an autograph or memorabilia card promised in each pack. While the set does feature some big name alumni, Ken Griffey, Jr. included, many of the featured players are major league prospects. 
2018 Panini Stars and Stripes USA Baseball Box Break
Cards per pack: 8
Packs per box: 5
Price paid: $44

Pack 1 highlights:
Jeren Kendall, Ryan Vilade Longevity parallel & Carter Young Silhouettes Jersey Autograph (41/69)
Carter Young just finished his sophomore season at Vanderbilt University. He was the starting shortstop for the national runner-up Commodores. In 61 games he hit 16 home runs and drove in 52 runs. 
Pack 2:
Travis Swaggerty, Tyler Holton Longevity, J.B. Bukauskas Blue Longevity (70/99) & Nick Madrigal Autograph (094/499)
Nick Madrigal was a 2018 first round draft selection of the Chicago White Sox. He was hitting .305 in the big leagues this season before suffering a season-ending injury.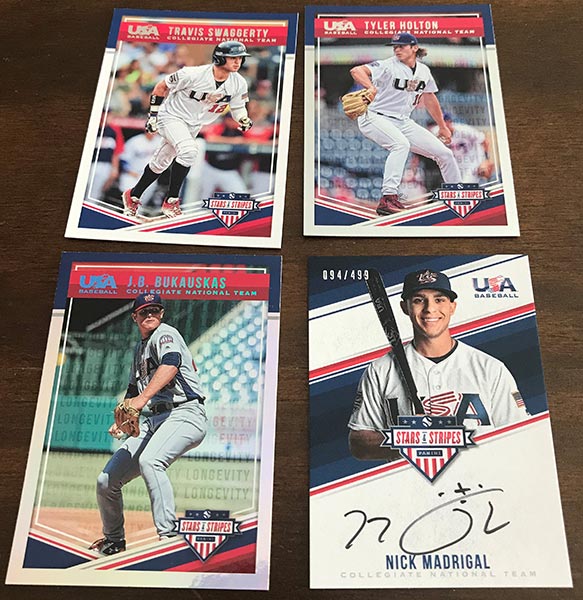 Pack 3:
Ken Griffey, Jr., Carter Young Longevity, Brandon Dieter Silhouettes Bat Green Ink Autograph #ed 11/49 & Grant Koch Jersey Autograph (173/299)
Brandon Dieter played two seasons at Stanford before transferring to New Mexico State prior to this season. In 54 games this season, Dieter hit .287 with eight home runs and 48 RBI.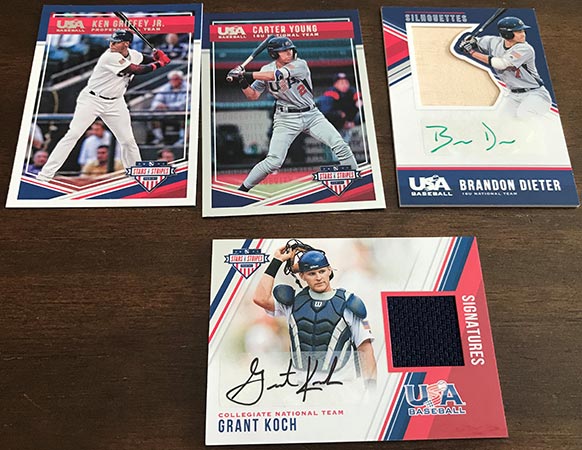 Pack 4:
Royce Lewis, Brendan McKay, Jake Burger Longevity & Anthony Seigler Silhouettes Patch Autograph (09/10)
Anthony Seigler was a first round draft pick out of high school for the Yankees in 2018. He is currently playing for the Hudson Valley Renegades, in High-A ball. Seigler is having a rough time, hitting under .200 in 21 games thus far.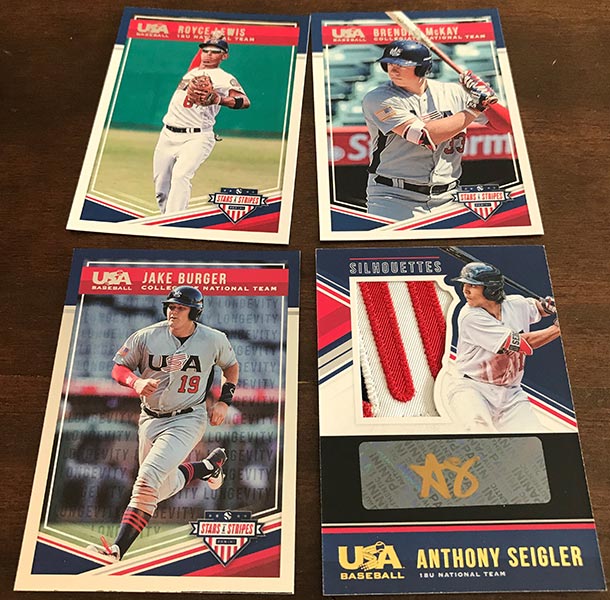 Pack 5:
Casey Mize, Nick Madrigal, 2018 18U National Team, Kyle Wright Longevity & Steven Gingery Patch Autograph (12/25)
Gingery was a fourth round selection by the Cardinals in the 2018 draft. He threw in just one rookie league game in 2019, and has not appeared in a minor league game since then.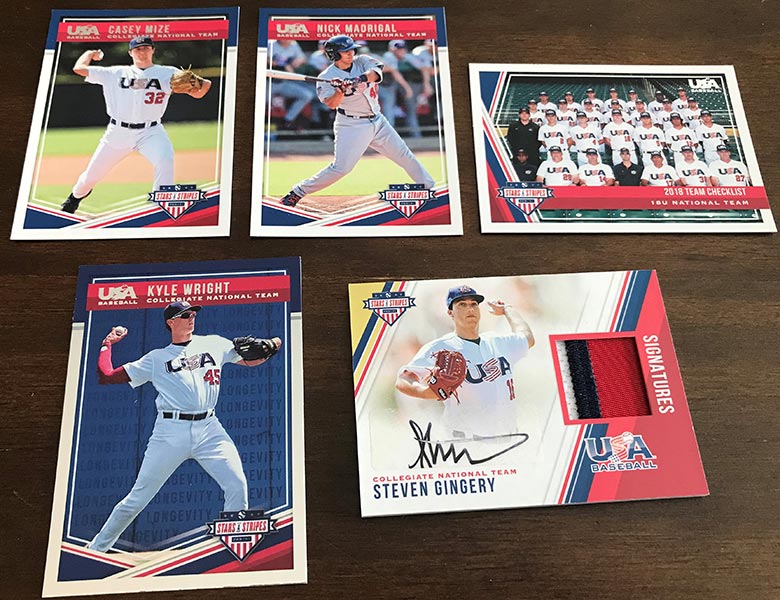 Lastly, the Casey Mize card back. Each card back highlights some of the player's USA Baseball highlights.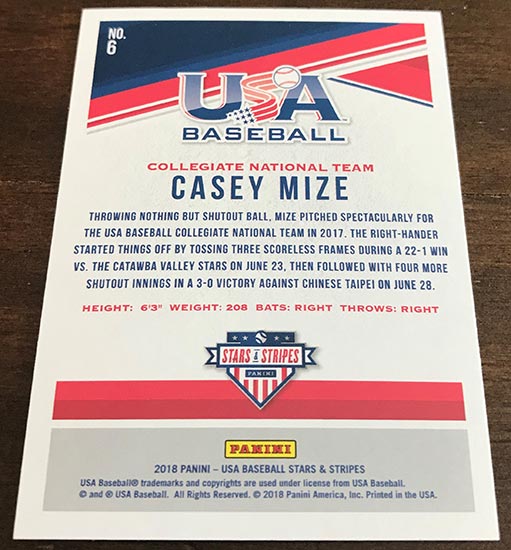 While my hits weren't exactly star-studded there are a ton of notable names included in this set. Just from the 18U team alone, this set features autographs of prospects like Triston Casas, Nolan Gorman, Jarred Kelenic, Matthew Liberatore, and 2021 draft hopeful Kumar Rocker.
The chance at pulling some early autographs of hot up-and-coming players make this product a yearly purchase for me.
Shop for 2018 Panini Stars and Stripes USA Baseball on:
Want more installments of Shane Salmonson's Cheap Wax Wednesday? Check out his other breaks in the archives.