Cheap Wax Wednesday Box Breaks: 2015 Elite Extra Edition Longevity Baseball
Even though Panini doesn't currently have a MLB license they do produce some great looking products. Typically, they be found at reasonable prices. As far as this specific product is concerned, the difference between regular 2015 Elite Extra Edition hobby boxes and Longevity is basically that Longevity is half the size. EEE hobby boxes feature 20 five-card packs, with Longevity holding just ten packs.
Do I wish these cards had MLB logos and marks? Of course. However, these Elite boxes often give you a chance to find some of the best prospects before they make it big. Some of the names included in the 2015 set include Yoan Moncada, Alex Bregman, Andrew Benintendi, Austin Riley, Ketel Marte, Aristides Aquino, Vladimir Guerrero, Jr., Fernando Tatis, Jr., Gleyber Torres and Rafael Devers. In other words, this set is loaded with some of today's best young players.
Luckily for me, I ordered this product over two years ago, before a lot of these guys made their major league debuts.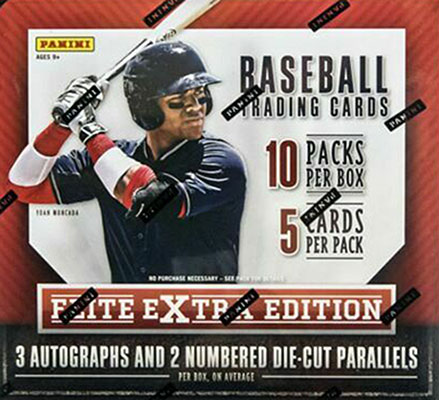 2015 Panini Elite Extra Edition Longevity Baseball Box Break
Cards per pack: 5
Packs per box: 10
Price paid: $29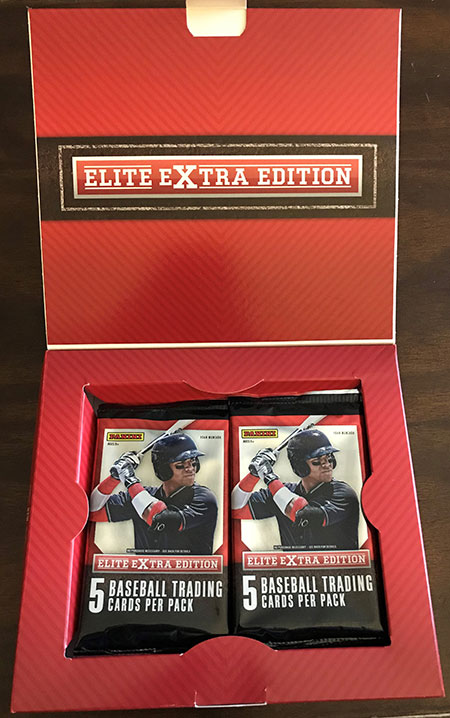 Pack 1 highlights:
Manuel Margot (now a Tampa Bay Rays outfielder) & Luis Severino Hype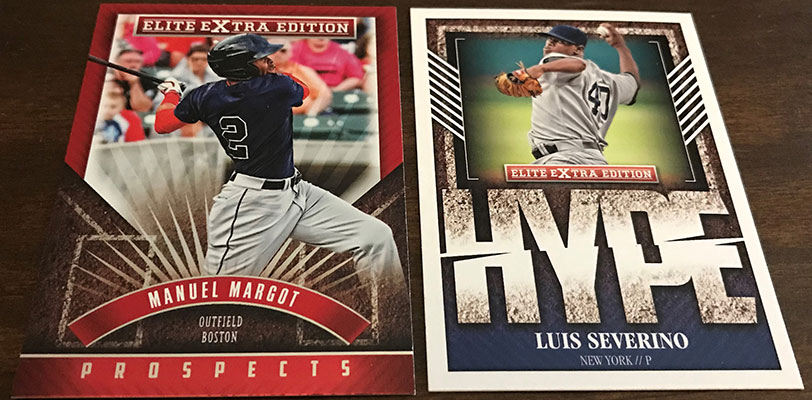 Pack 2:
Breckin Williams, Franklin Reyes, Austin Smith, Donnie Dewees & Franklin Barreto Prospect Status. No big names in this one, but it's still possible these guys progress to the major league level.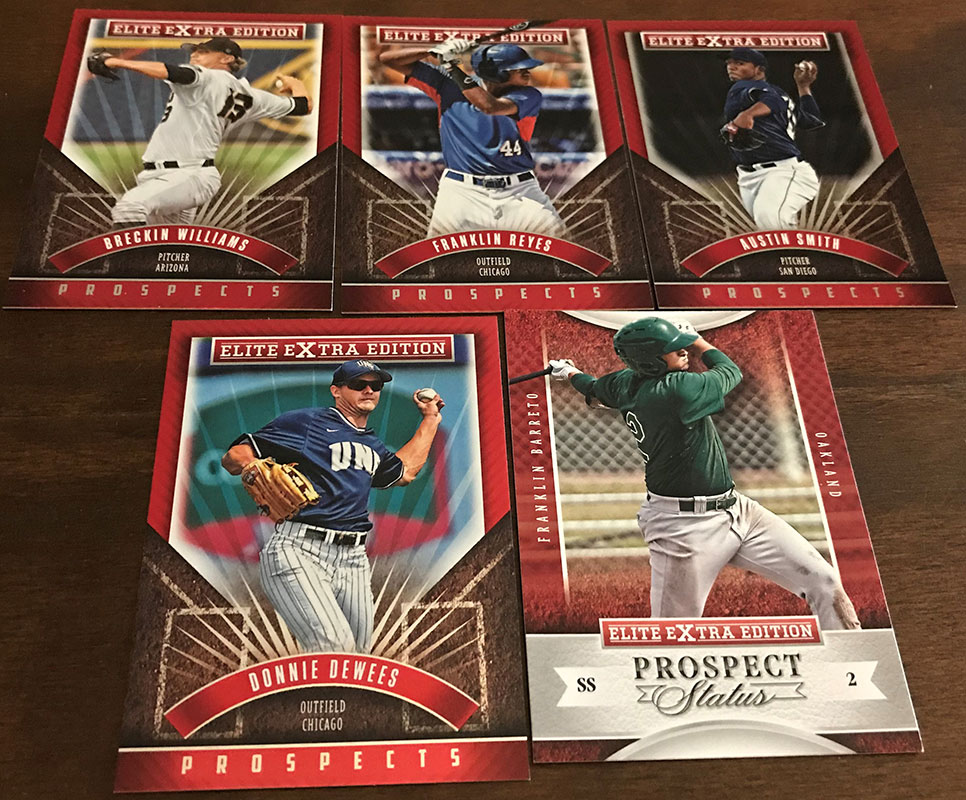 Pack 3:
Aaron Nola Collegiate Legacy. New to 2015 Elite was the inclusion of players in their college uniforms.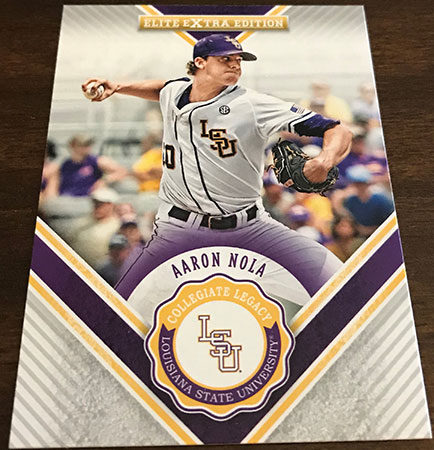 Pack 4:
Javier Guerra, Wander Javier & Mike Nikorak Status Emerald Die-Cut (08/25)

Pack 5:
Alex Bregman, Josh Naylor & Fernando Tatis, Jr. Status Orange Die-Cut #ed (04/10)

Pack 6:
Beau Burrows Aspirations Die-Cut Autograph #ed 073/100. Last season Burrows pitched to a 5.51 ERA at the AAA level.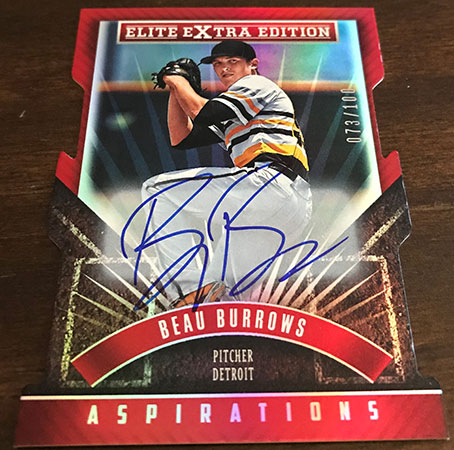 Pack 7:
Scott Kingery, Jharel Cotton, & Jorge Alfaro International Pride

Pack 8:
Kyle Holder, Daz Cameron (Mike Cameron's son) & Reynaldo Lopez Future Threads Jersey Autograph (22/49)

Pack 9:
Mauricio Dubon & Zack Erwin Status Purple Die-Cut (143/150)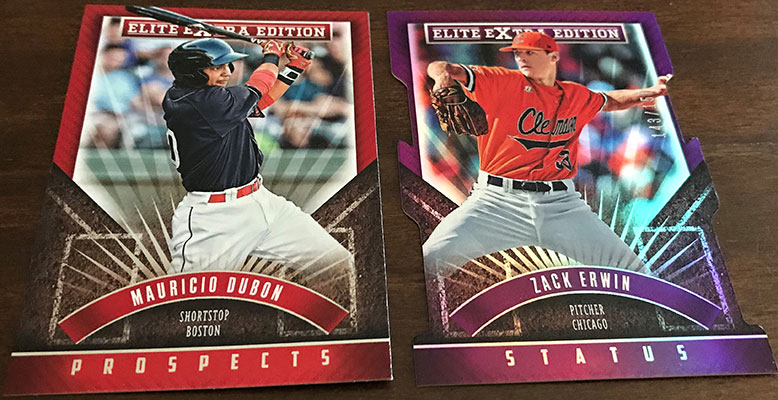 Pack 10:
Brendan Rodgers and 150 Panini Rewards points. These points can be saved up and redeemed through Panini's Rewards program. This reminds me, I need to try to find something to spend them on because I have quite a few saved up.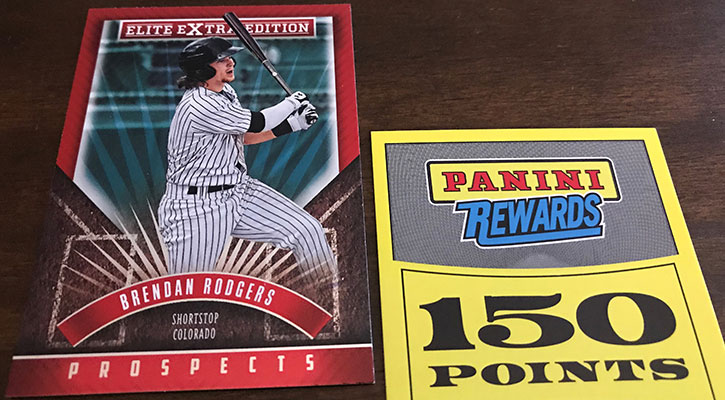 Lastly, the Brendan Rodgers card back. I do appreciate a short write-up on the back because it helps me to learn more about some of the lesser-known players.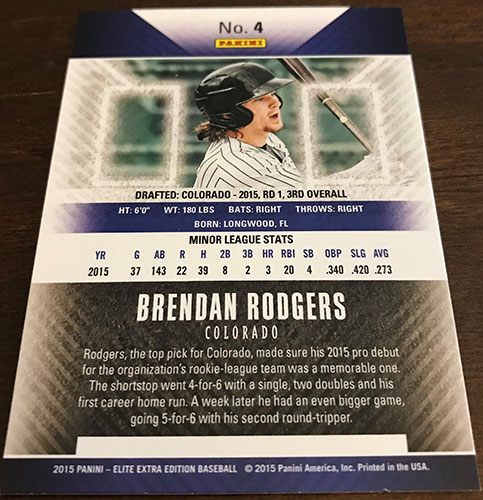 All in all, not a bad way to spend $29. Now, considering how some of the prospects in this set have panned out, I would be lucky to find another box at that price. The Tatis die cut card alone could easily fetch me my $29 back. Lately this product has changed a bit to more of a hit-driven box. 2019 Elite Extra Edition boxes featured just 5 packs of 5 cards, with each box delivering eight autographs and two memorabilia cards. A quick search for these and I find them available under $90 a box. That's not bad considering the number of autographs. I may just have to order one for myself.
Shop for 2015 Elite Extra Edition Baseball cards on:
Want more installments of Shane Salmonson's Cheap Wax Wednesday? Check out his other breaks in the archives.