2022 Upper Deck AEW Checklist, Odds and Details
When you click on links to various merchants on this site, like eBay, and make a purchase, this can result in this site earning a commission.
2022 Upper Deck AEW is the follow-up to the hit debut. While there are some of the same elements, many of the inserts have changed, not to mention an ever-evolving roster of wrestlers to draw from.
2022 Upper Deck AEW Checklist Overview
At 100 cards, the size of the base set remains the same. Standard wrestler cards take up the first 80 spots on the checklist. Tag Teams and Crew split the final 20 cards with one landing in every hobby pack.
Parallels include Gold (1:2 packs, Tag Teams/Crew 1:10), Pyro (1:4, Tag Teams/Crew 1:32), Dynamite (/299), Purple Pyro (/199), Exclusives (/100), High Gloss (/10) and Black (1/1).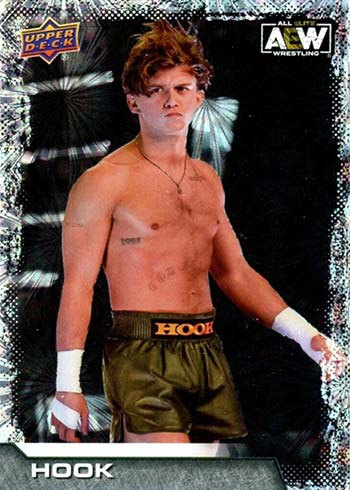 Much of the product's autographs and memorabilia cards stem from the base set as well.
For select base wrestlers there are Gold Mat (1:45 packs), Autographs (Tier 1 1:216, Tier 2 1:432), Mat Red (/50), Pyro Autographs (/25), Dynamite Autographs (/5) and Gold Autographs (1/1). It's the same levels for the Tag Teams and Crew cards but with smaller print runs and longer odds.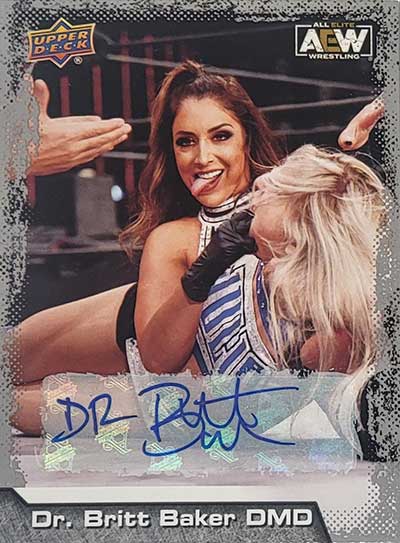 Inserts
While not every 2022 Upper Deck AEW hobby box is guaranteed to have an autograph or memorabilia card, there's no shortage of other inserts.
UD Canvas returns with its textured stock and stellar photography. Standard cards are 1:5 packs while short prints are 1:40. Upper Deck has added addition Gold parallels at a rate of 1:18 packs and 1:160 for SPs.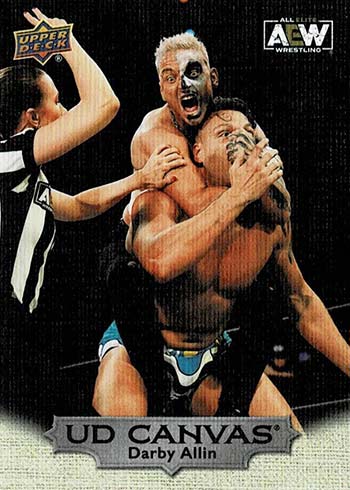 Debut Dates (1:10 packs) are one of places where AEW's expanded roster can be found. These cards highlight the first appearances of new signings. Parallels include Silver (1:54), Red (/50) and Gold Spectrum (1/1).
Returning for a second year is Main Features (1:2), a place to find some of the marquee names in the company. These have Silver (1:7), Green (/199), Red (/50), Purple (/25) and Gold Spectrum (1/1) parallels.
Outside the Ring (1:10) show that wrestlers do more than what we see in the ring. Silver (1:54), Red (/50) and Gold Spectrum (1/1) versions are also available.
AEW Breakouts come printed on acetate stock. Tougher than other inserts, these are 1:72 packs and 1:512 for short prints.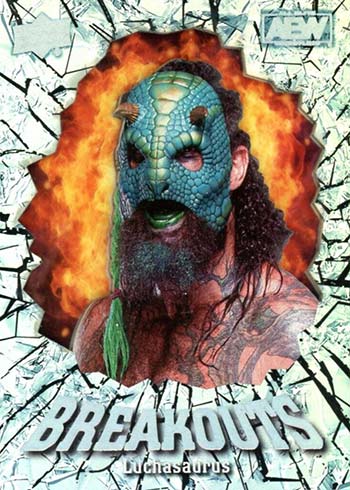 Jumbo Mat Relic Signatures live up to their name just for their sheer size. Numbered to 10, each of these measure 3″ by 5″. This makes them impossible to fit into packs so instead they're a planned redemption.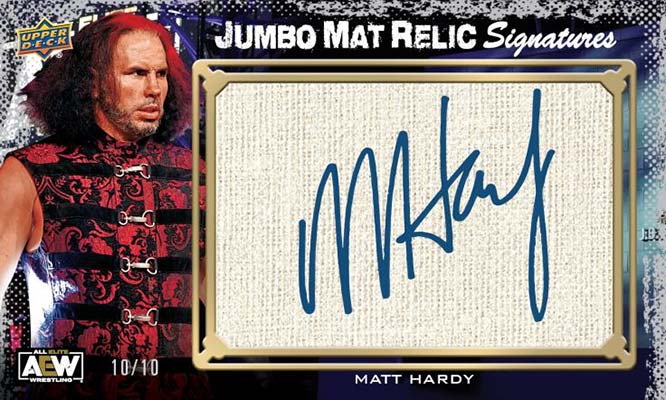 2022 Upper Deck AEW wrestling cards at a glance:
Cards per pack: Hobby – 8
Packs per box: Hobby – 16
Boxes per case: Hobby – 16
Set size: 100 cards
Release date: November 30, 2022
Shop for 2022 Upper Deck AEW boxes on eBay:
What to expect in a hobby box:
Gold Parallels – 16
Debut Dates, Main Features and Outside the Ring – 16 Total
Debut Dates, Main Features and Outside the Ring Silver – 3 Total
UD Canvas – 4
UD Canvas Gold – 1
Pyro Parallels – 5
Dynamite or Purple Pyro Parallels – 1 Total
2022 Upper Deck AEW Checklist
You can also download a customizable spreadsheet copy of the checklist:
Please note that print runs for cards without serial numbers have not been announced.