Cards & Kicks: Larry Johnson
When you click on links to various merchants on this site, like eBay, and make a purchase, this can result in this site earning a commission.
Get ready for true '90s era NBA love as we dive into the Cards & Kicks: Larry Johnson edition. For what it's worth, Larry Johnson was the first high school player that I can remember there being hype around. However, to be fair, that was because he was from the area that I'm from.  We all know that football is king in Texas, but basketball is never far from the front of our collective minds. In the late '80s that meant everyone and their grandmother was excited for homegrown talent Larry Johnson to debut at SMU.
Well, as it turns out, that's not quite how it happened as the future NBA star started his collegiate career at little known Odessa College before transferring to UNLV. How he may have arrived there is a whole different conversation, but what is not debatable is the Runnin' Rebels were a force to be reckoned with. Just ask Duke.
With the first pick in the 1991 NBA Draft, the upstart Charlotte Hornets selected Johnson to be the face of their franchise, and Converse was watching. Charlotte was new to the NBA having been part of league expansion in 1988. As one might imagine the first few years were rough for the team, but all of that was about to change. At the height of the team's popularity through the early and mid-90s, there might not have been a more fun squad to watch.  Dell Cury was lethal from range. Muggsy ran the point as well as anyone in the league, and Zo and LJ formed a wall in the paint.
As most of these dream pairing do, that Hornets team was destroyed by egos. Zo was traded to Miami prior to the '95-96 season and LJ was shipped off to the Knicks the following July. It was over as quickly as it began but it was a lot of fun to watch while it was happening. Here's Jake with a little more in this week's Cards & Kicks: Larry Johnson edition.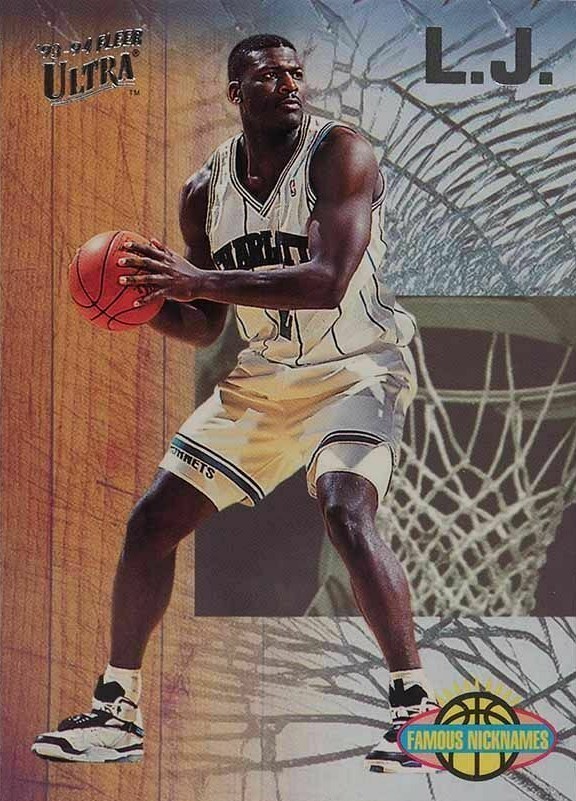 Jake Roy – '90s BBall Cards:
For those asking who this guy is, why did he have a signature shoe, and why do '90s NBA fans love him, let me help paint the picture. Larry Johnson coming into the 1991 Draft was possibly the most hyped prospect we had seen since Len Bias. For context, think of him as the Zion Williamson of the '90s. No, that is not an exaggeration. In fact, LJ and Zion had an extremely similar skill set coming into the league. If you compare their collegiate stats, they are also very similar.
With all that in mind, let's look at these kicks. Why were they the envy of every kid in 1993? Well, Converse had a masterful advertisement campaign with Grandma Ma. This was the original Uncle Drew! With her winged glasses, floral dress, and gold tooth she would dunk on anyone in the way of the hoop. Of course, Grandma Ma was rocking the Converse Aero Jam the whole time! Usually, she had the black pair on. Larry Johnson seemed to prefer the white/black/teal/purple for in-game action. How cool was Grandma Ma? She showed up alongside Urkel on the TGIF Prime Time staple Family Matters.
She was on posters. There were even a few cards from Front Row with Grandma Ma. Outside of the Jordan Nike campaigns, this was the most successful and most popular advertising campaign of the 90s. Yes, even better than my beloved Penny and Half Cent ads.
To also compete with Nike and their popular Air technology, these had some of their own special features. The heel had the Converse React Juice cushioning. The lace cover was also removable because…. It's the '90s!
Larry Johnson, his shoes, and Grandma Ma were stars and wildly popular amongst young fans. This classic card also fits that bill. As the set name implies, these cards highlight the most popular players and their well-known nicknames. People you may know just by those monikers such as Sir Charles, Muggsy, Penny, Air Jordan, The Mailman, Baby Jordan, Zo, The Dream, Shaq, The Admiral, and The Human Highlight Film.
The Penny was one I would have traded just about anything to get! The Jordan is a must-have for any Jordan fan. Can you believe the Charlotte Hornets had three guys in this one set of just 15 cards! That highlights how popular the Hornets team was and Larry Johnson was the leader of the squad.
The '90s memories that this card brings back are overwhelming. LJ, The Hornets, The kicks, Grandma Ma, and Family Matters are some of the very best of the era. Maybe if I show this to my wife she will let me get a black pair that I wanted as a kid ?….Probably not, but it's always worth a shot!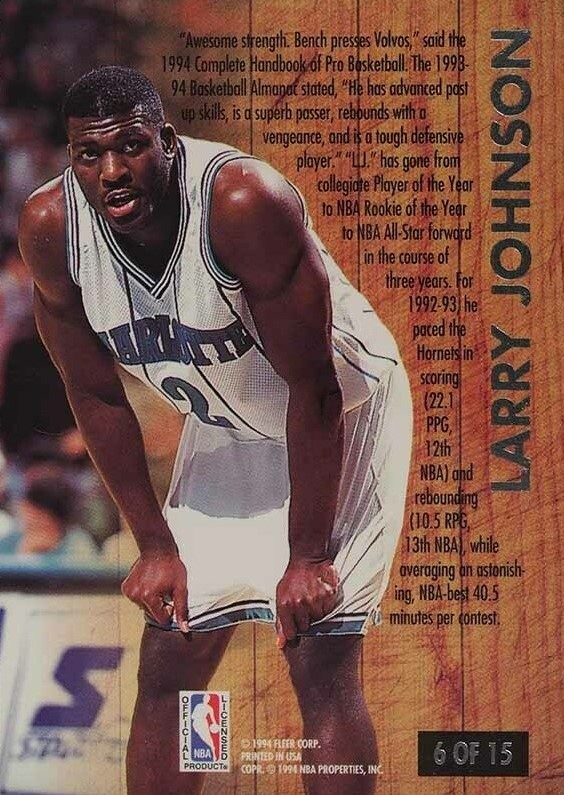 Before LJ's back injury forced him to become more of an all-around player, he was an absolute beast in the paint. This fact is made even more impressive when you consider the era of basketball we're discussing. Giants roamed the paint in the '90s, so what this 6′ 7″ power forward lacked in height, he more than made up for with ferocity. Maybe that's was Converse put him in a dress.
Johnson's,  cultural importance cannot be overlooked either. Grandma Ma was a Top 5 ad campaign of the '90s and a major success for Converse as they were struggling to stay relevant. What Converse and Johnson did for each other's brand was a marketing match made in heaven. It all culminated with Larry Johnson being featured on the first cover of SLAM.
As far as the card goes, I believe you get a better feel for it if you look at the set as a whole. As Jake mentions above, this is just a 15 card set, with Jordan carrying the weight. However, the names in the set are what make it, literally. Currently, the high book-value is $110 for the set, but collectors can pick most of these cards off at a buck or two apiece.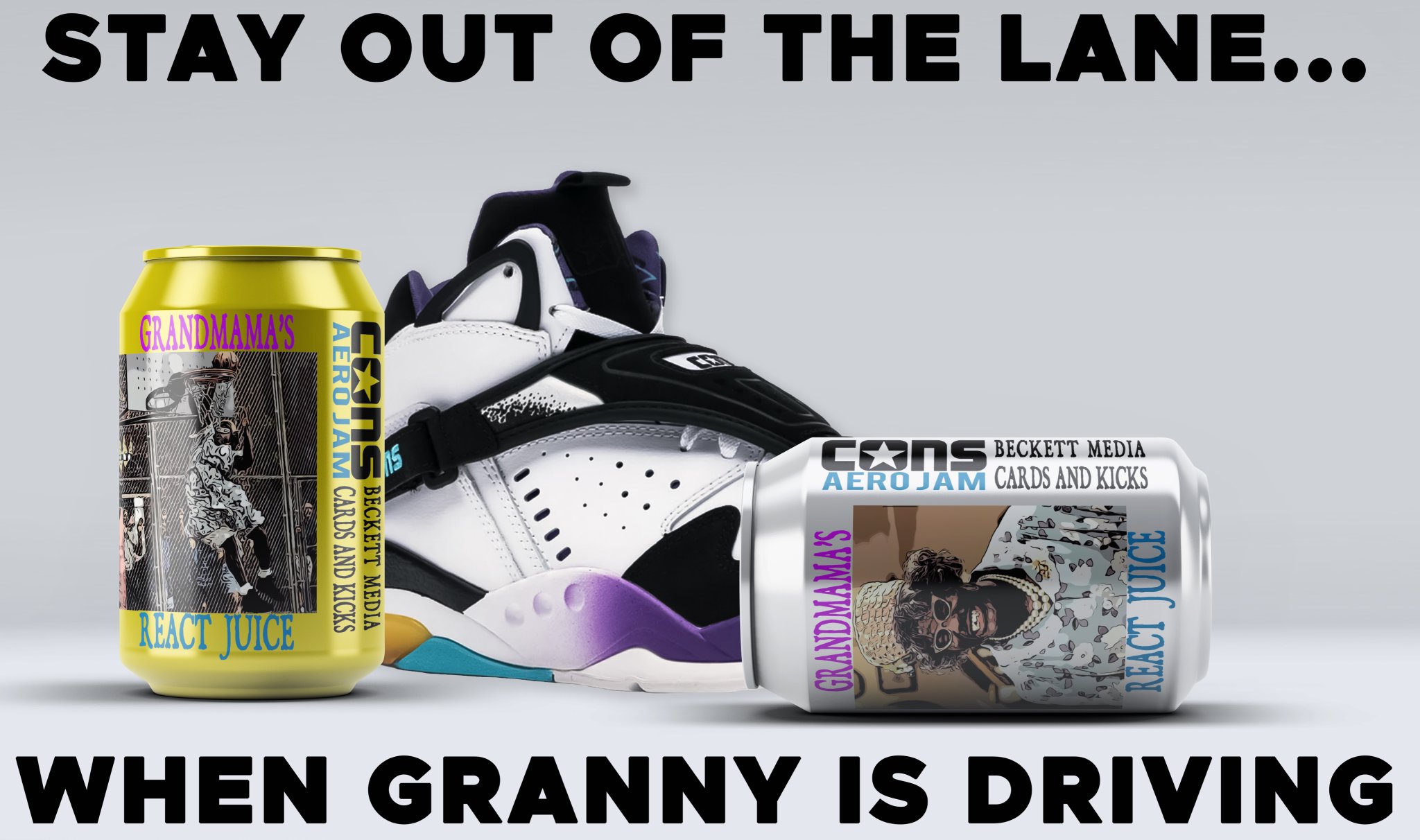 Thank you for checking in this week. Jake and I would love to know your thoughts about LJ, so please share them in the comment section. Also, if you aren't following Jake already, please check out his YouTube channel and hit that subscribe button. You will find great basketball content there. Also, the Cards & Kicks: Larry Johnson edition art was created by Scott Hodges. Make sure to check out Scott over on his site as well.