2020-21 Upper Deck Synergy Hockey has a lot going on. Traditional base cards aren't one of them, though. Similar to SP Game Used, they're one of the toughest elements in the product. Autographs aren't a guarantee in every box, either. But there are several insert sets and parallels to give Synergy hobby boxes their variety. Collectors have another Bouty challenge as well should they choose to accept it with exclusives not available in packs as a reward.

2020-21 Upper Deck Synergy Hockey Checklist Details
Synergy has a 135-card main set. That said, all are exceptionally rare. Split into a handful of sections, Veterans are numbered to 21. Legends have just 11 copies each. Depending on the player, there's either 21 or 11 of each Rookie. Adding another wrinkle into the mix, some of these base cards have autographs.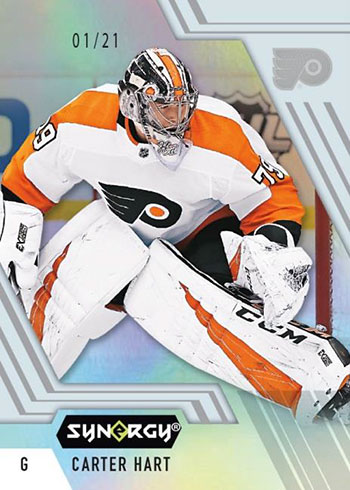 Red parallels are the most plentiful cards in the product run. Veterans are 1:3 packs. Legends fall 1:6. Rookies are every other pack. Rookie SP parallels make completing the set more challenging with non-holdovers landing 1:133 packs and holdovers who debuted late in 2019-20 1:200 packs. All together, Red parallels average out to one per pack.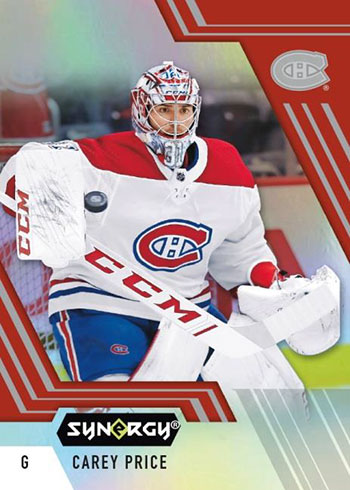 The only other base parallels in 2020-21 Synergy hobby packs are Purple, which come with varying print runs.
Inserts and Autographs
With base cards in short supply, inserts make up a big portion of the 2020-21 Upper Deck Synergy Hockey checklist. And these come in several forms.
Synergy FX (/749) is new this year. Totalling 50 cards, there's three per box. Parallels include Purple (/349), Green (/99) and Gold (1/1). Select cards also have autographs that are numbered to 99 or less.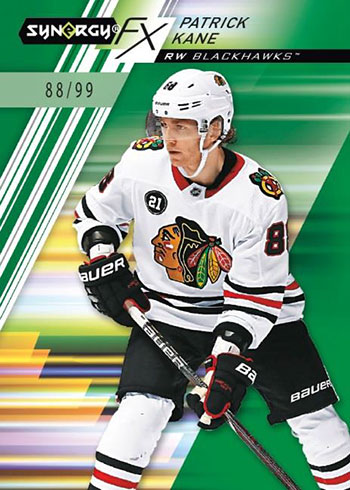 More numbered inserts are available in Exceptional Stars (/749), Exceptional Young Stars (/749) and Exceptional Futures (/749). There's four total in each hobby box. This set is a big one with 100 total cards. All are done on acetate.
Constant Threats (1:7), Perennial All-Stars (1:12) and Roaring 20's (1:8) are also new. Combine these together and there's three per hobby box.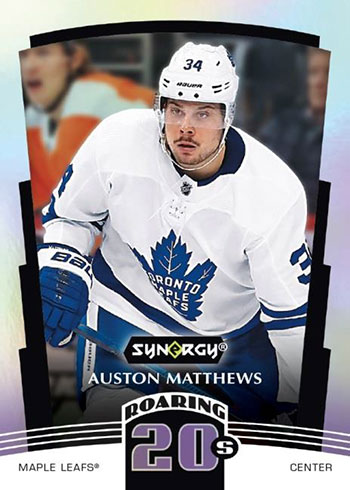 Rookie Journey has three different cards for each player: Draft (/999), Away (/899) and Home (/799). Similarly, there Stanley Cup Journey with Regular (/999), Post Season (/899) and Winning the Cup (/799) tiers.
Star Quest (1:64) and the metal stock Cast for Greatness (1:60) round out the inserts. Both of these have signed versions, but they're tough. Star Quest Gold Autograph parallels are numbered to 5. Cast for Greatness Signatures have 25 copies each.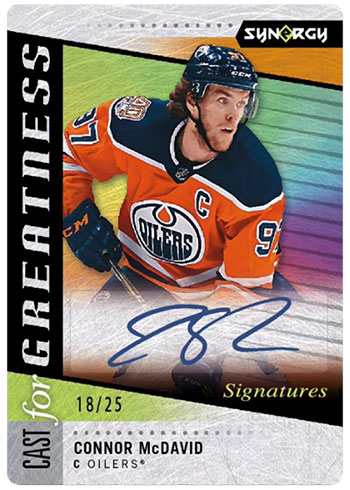 Since debuting in 2017-18, autographs have been somewhat tough in Synergy Hockey. That doesn't change for 2020-21. Besides signed versions of some of the inserts and base cards, Synergy Autographs (1:160) are the only signatures in the product. Rookies and veterans are both on the checklist.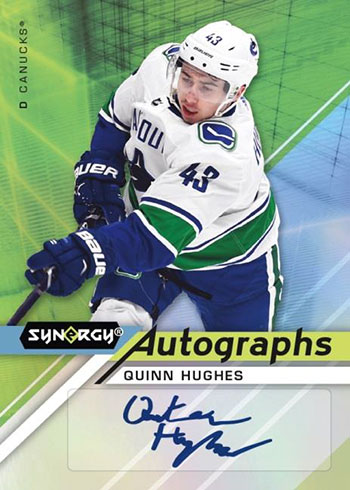 2020-21 Upper Deck Synergy Bounty Program
The 2020-21 Upper Deck Synergy Bounty program revolves around the base set's Red parallels. Those that complete it fast enough get exclusive cards not in packs.
The first 23 people get a Cast for Greatness card #36.
For those among the first ten, there's an additional full set of 36 Cast for Greatness Gold cards.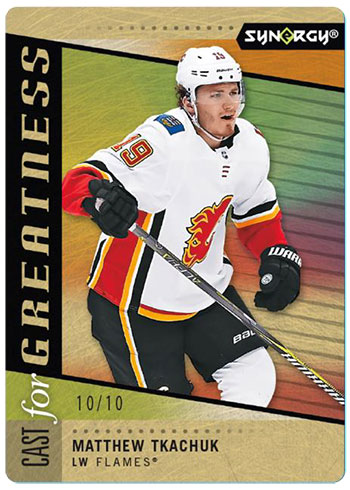 On top of these, the first five collectors get an additional Cast for Greatness Purple #36.
2020-21 Upper Deck Synergy Hockey cards at a glance:
Cards per pack: 3
Packs per box: 8
Boxes per case: 20 (two 10-box inner cases)
Set size: 135 cards
Release date: January 7, 2021
Shop for 2020-21 Upper Deck Synergy Hockey boxes on eBay:
What to expect in a hobby box:
Red Parallels – 8
Constant Threat, Perennial All-Stars or Roaring 20's Inserts – 3 Total
Exceptional Stars, Futures or Young Stars Inserts – 4 Total
Synergy FX Inserts – 3
2020-21 Upper Deck Synergy Hockey Checklist
Please note that print runs have not been announced for cards without print runs.
You can also download a customizable spreadsheet copy of the checklist:
Base
Autographs
Inserts
Team Sets