Cards and Kicks: 1996-97 E-X2000 Cut Above #2 Anfernee Hardaway
We started this series with a fairly common card that could be had for less than $5. However, we're bucking that trend with the second entry in the series with Afernee Hardaway's 1996-97 E-X2000 A Cut Above. Much like my co-author, Jake Roy, I'm a fan of all things '90s basketball culture. From the collecting side of that coin, it means inserts, parallels, and die-cuts.
Oh die-cuts, everyone loves them but getting them in penny sleeves can be heart-stopping. So many angles to consider when attempting that task and precision is key. One wrong move and your cards are worthless. With that being said, the 10 cards in the 1996-97 E-X2000 A Cut Above set carry an average high book value of $706. If you are doing the math at home that's $7,006 for the set. Outside of Glenn Robinson, the checklist is full of '90s era NBA stars, and Penny Hardway has to be considered towards the top of that list.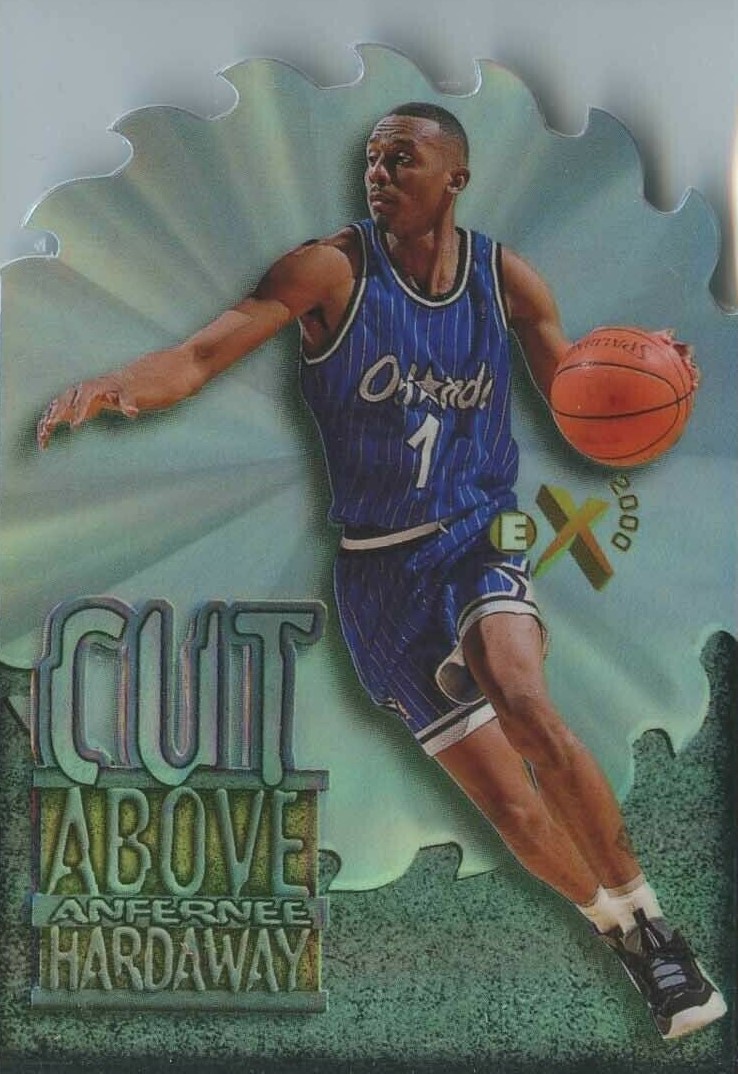 To say these cards were tough would be an understatement. They were randomly inserted in packs at a rate of 1 in 288 in a product that most would consider the height of '90s basketball collecting.  At 24 packs a box and two cards per pack, the Cut Above insert was almost impossible. Then there are the shoes.
Air Penny 1's are great for many reasons, but the least of them is "Lil Penny". In a brilliant marketing scheme by Nike, Chris Rock was came bursting through TV screens as a puppet. Everything about that character was great, well, until he broke up the Magic. Just ask Shaq.  Here's Jake with a few thoughts as well.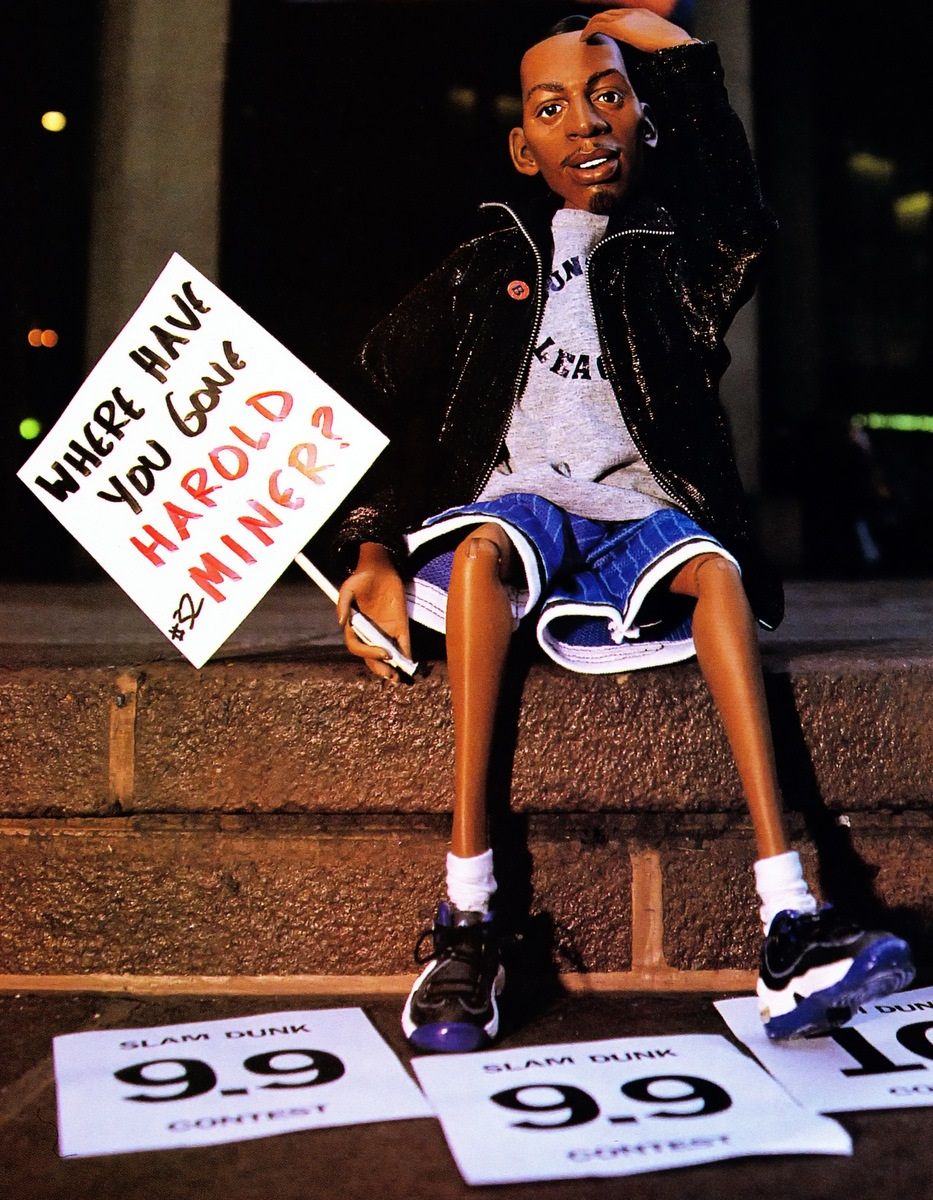 JR: The 1996-97 E-X2000 A Cut Above is a beautiful card! The precision die-cut saw blade. The colorful holofoil. Penny's Blue alternate Magic Away uniform plays perfectly with the foil finish. Then you get to the shoes. Penny's first-ever signature shoe from Nike that carried his name, the Air Penny 1. While it was his first show it would not be his last.
This shoe ushered in a lot of what we came to recognize and love in the best signature series from the 90s without a Jumpman logo. In fact, many prefer Air Penny's over Jordans. But it's not a competition, Penny's kicks were and still are great in their own right.
The molded foam wing on the lateral side was eye-catching with the Nike Swoosh. This was modeled after an eagle's wing. The heel air unit paired with the forefoot Zoom Air became a familiar and comfortable standard for the Air Penny line. The heel air unit and the use of foam were a significant divergence from MJ's line. This simultaneously highlighted Nike's technology and Penny's talent, both of which were new and revolutionary in their respective arenas.
As was typical in the '90s, there were only a few colorways available. This "Orlando" colorway was the most popular with the black, white, and blue from the Magic uniform with a small dose of silver/grey. The other option was the "Home" colorway. This was almost entirely white with just some blue in the logos and the same black and silver/grey striped tongue. In recent years, Nike has blessed us with numerous colorways of these classic kicks
Zooming back out to look at the whole card, I remember dreaming of it as a kid. It seemed like a card I'd never be able to obtain. The Beckett Book Value fluctuated over the years. Despite all the driveways I shoveled or leaves I raked to save up, even if I had the required funds, I couldn't even find one for sale at my local card shop. Later I'd search eBay but to no avail, somewhat due to my search tactics.
Up until 2018 if you could find one, they could be purchased for at or a little below $100. But that is no longer the case, the last copy sold in September for north of $500! It's no wonder why. This card is relatively hard to find and absolutely beautiful.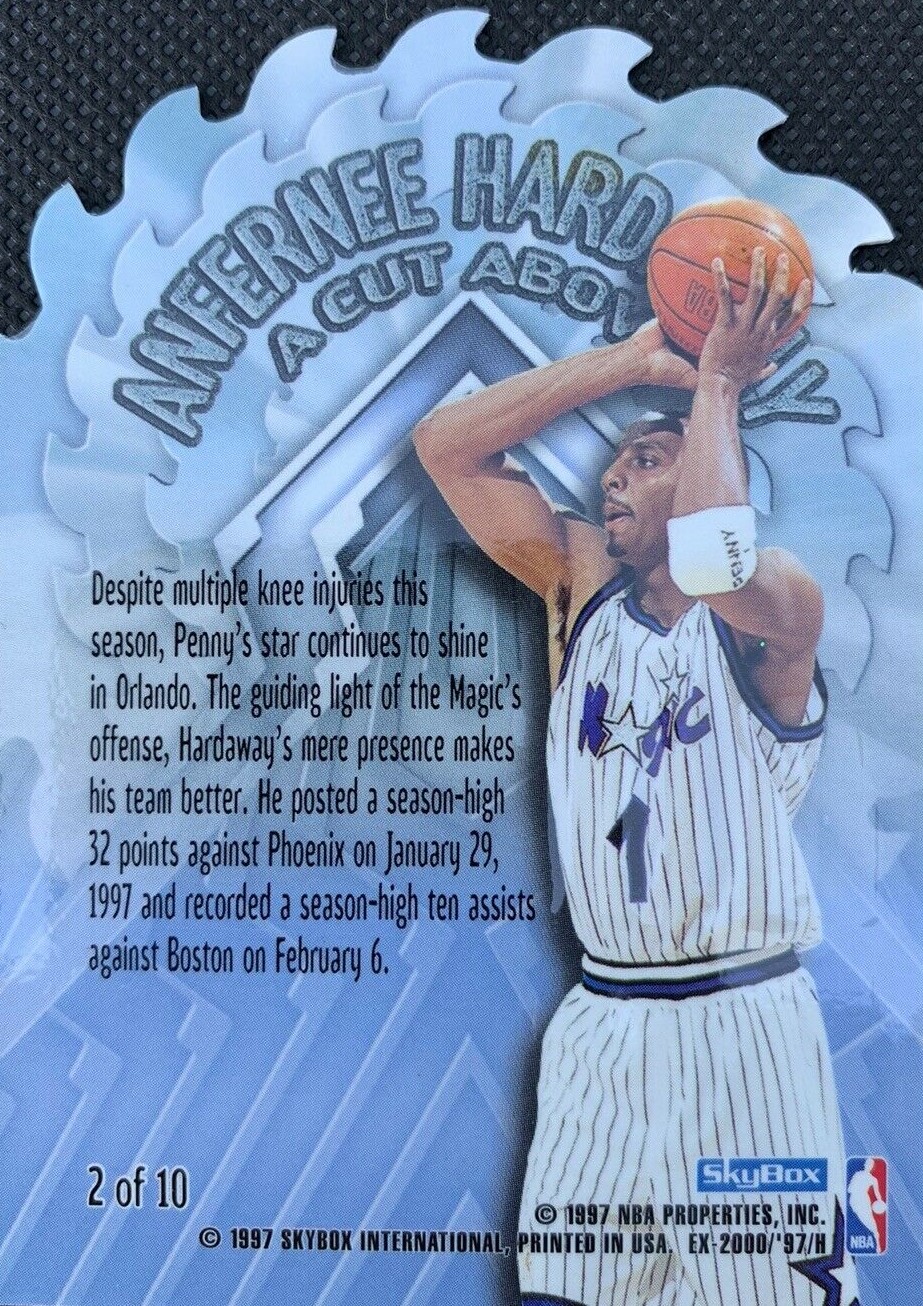 Like the reverse of the card suggests, knee injuries plagued Penny's career, but not before he made a lasting impact in the NBA and sneaker culture. Guys our age remember how great he was on the court. Penny was dynamic and innovative on the court. His best game ever came in the '94-95 season against the Nets. He dropped 39 points that night, grabbed 13 boards, and dished out 19 assists. He was just as dynamic and innovative off the court as seen in those great Nike commercials.
Week two is in the books here as we close out Penny Hardaway and his Air Penny 1's. Thanks for checking it and let us know what you remember about Penny in the comments.