Cards & Kicks: Kobe Bryant
So, there is this general consensus in the hobby that when an athlete passes away there is a moratorium on sales of their cards for a given period of time. Typically, that given time is a week, perhaps two. Facebook group admins and Twitter threads alike are quick to let you know what's up. Some say it's out of respect for the deceased, while others may just need time to search their inventory.  Either way, a momentary pause across the hobby is implemented. Typically. However, the passing of Kobe Bryant wasn't typical, nor were the sales of his cards immediately following the news. This week in our Cards & Kicks: Kobe Bryant edition we're going to take a look at those Adidas Crazy 8s and his 98-99 Fleer Ultra, just one of his cards that drove sales after his tragic death.
Now, about those sales. Without giving away exact numbers, the Beckett Marketplace had a record day January 26th, 2020. Collectors seemed to have flocked to their computers and phones snatching up every Kobe Bryant card they could.  Dealers were doing the same as they tried to adjust to the market in the moment.  Other secondary sales sites saw the same influx in demand, and quite frankly, everyone was scrambling to do what they could to adjust. Whatever moratorium that may have existed for other athletes, did not for Kobe.
I'll have a little more on that after the jump, but, first, here is Jake with his thoughts, this week in the Cards & Kicks: Kobe Bryant edition.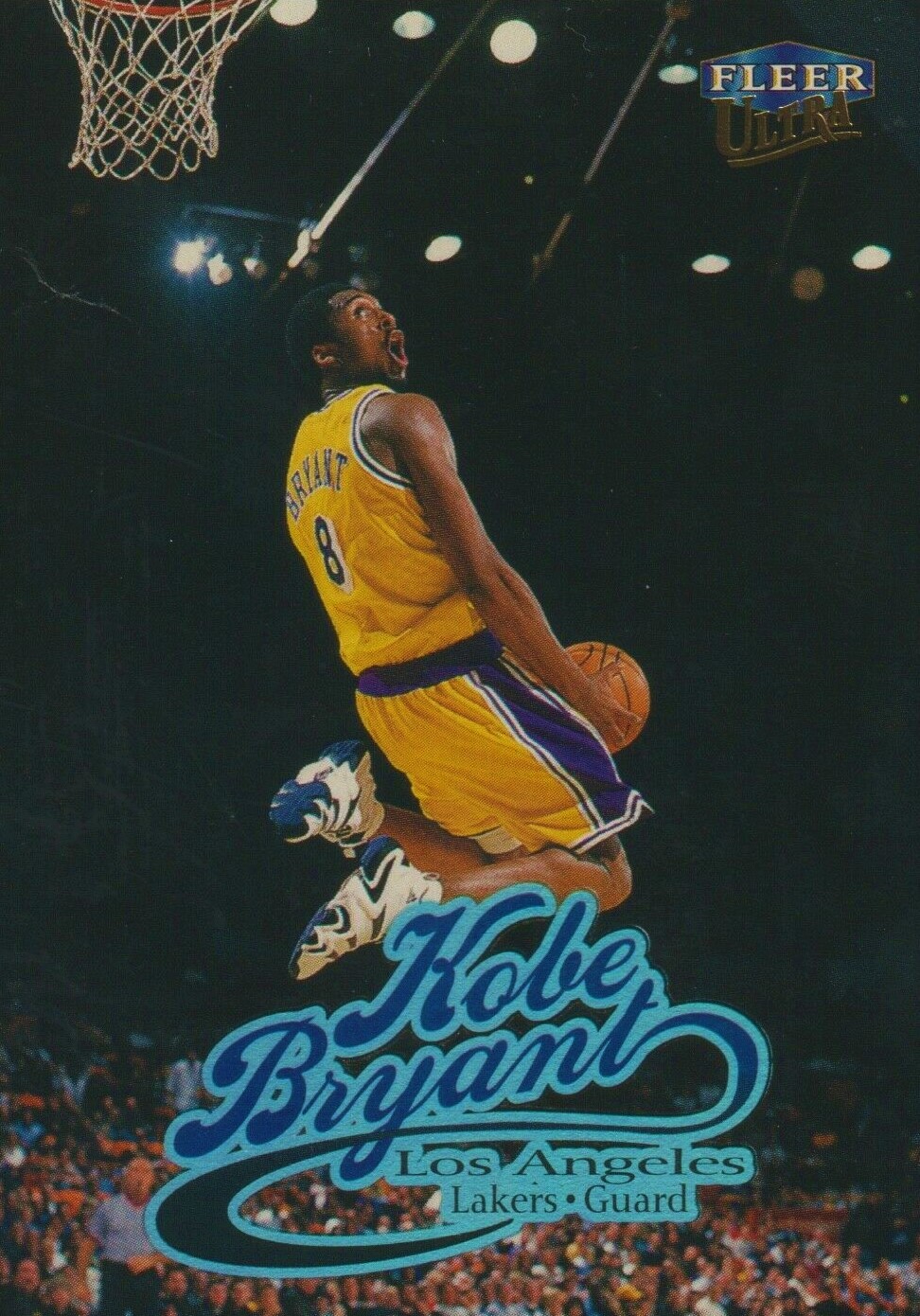 Jake Roy – '90s BBall Cards
The man, the myth, the legend. What can be said about Kobe that has not yet been said? A year ago, tragedy struck, and his cards were bought up faster than they could be listed for sale. For many others as well as myself, our Kobe cards seemed even more precious to us. A small piece to remember him through. Some of his cards provide a bigger punch of excitement and nostalgia than others. This is one of those. Fleer Ultra was known for featuring great photography. The photo on this card may be one of their all-time best! Just take a look at it and let all the Kobe greatness sink in! The classic Kobe mini-fro. The #8 jersey, which is my favorite. The flashy dunk! One could assume this was from a dunk contest, but it wasn't. And then we get to the shoes!
The Shoe
The Adidas Crazy 8 wasn't officially a signature shoe for Kobe but let's be honest, these are Kobe's! In terms of tech, there wasn't anything earth-shattering in them. The cushioning was simple foam and it used the Adidas TORSION system. That system was designed in 1989 and could adapt to the ground dynamically to add stability and reduce foot fatigue. Nothing wild but it worked and made a visual statement for Kobe while he was making his own statement with his play on the court.
Today you can find these in a plethora of colorways. The original release saw just 2 colorways. The "Home" colorway you see here is white with black stripes and purple outsole. However, my favorite and I think the most popular colorway was the exact inverse, black with white stripes and purple outsole. Later they introduced the All-Star colorway that was essentially all black with black patent leather stripes, the white midsole, and keeping the purple outsole.
The Card
Just a quintessential Kobe shoe and an absolutely timeless card. If you want to take it up a notch, you can also grab the gold medallion version. Not too rare but the gold color seems very fitting for Kobe. Want to take it a step further? You can try to find the platinum medallion. I say try because those are serial-numbered to just 99. Many of the owners are holding onto those tightly. In the case you can find it, this one will cost a pretty penny. Regardless of which version you choose to go with, Kobe and his shoes are captured brilliantly.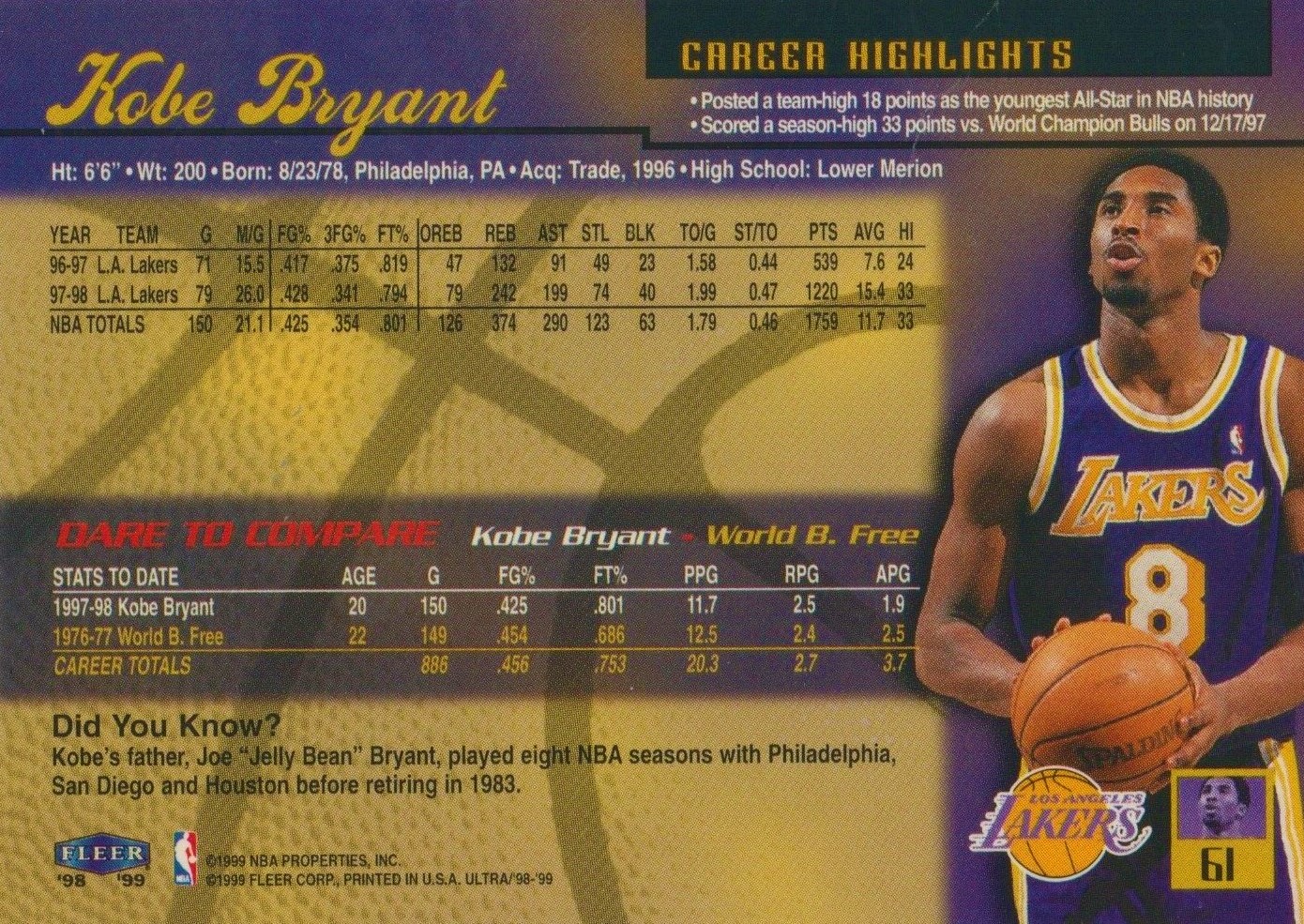 Final Thoughts
As Jake and I both mentioned above, the sales of Kobe cards immediately after his passing were substantial. Mamba was a generational player that defined an era of the NBA. Guys my age had never experienced the passing of a sports figure from our childhoods as great as he was. Sure, seeing the icons of our fathers and grandfathers era pass was sad, but Kobe was our guy. This hit differently. It hurt.
The answer to that pain was to buy as many Kobe Bryant cards as possible. Yes, a lot of people made a lot of money in the days immediately following his death, but I don't think that matters. You can have your fist full of dollars if it makes you happy. What I have are cherished memories of one the greatest to ever do it, and I'm alright with that.
This Cards & Kicks: Kobe Bryant edition isn't really about those Adidas or the 98-99 Fleer Ultra. No, it's about his mini-fro. It's about Kobe dropping 81 on the Raptors (someone check on Jalen Rose) or 60 the night he retired. It's about five rings, 18 All-Star appearances, and a Hall of Fame career that a generation of basketball fans got to experience. Mamba Forever.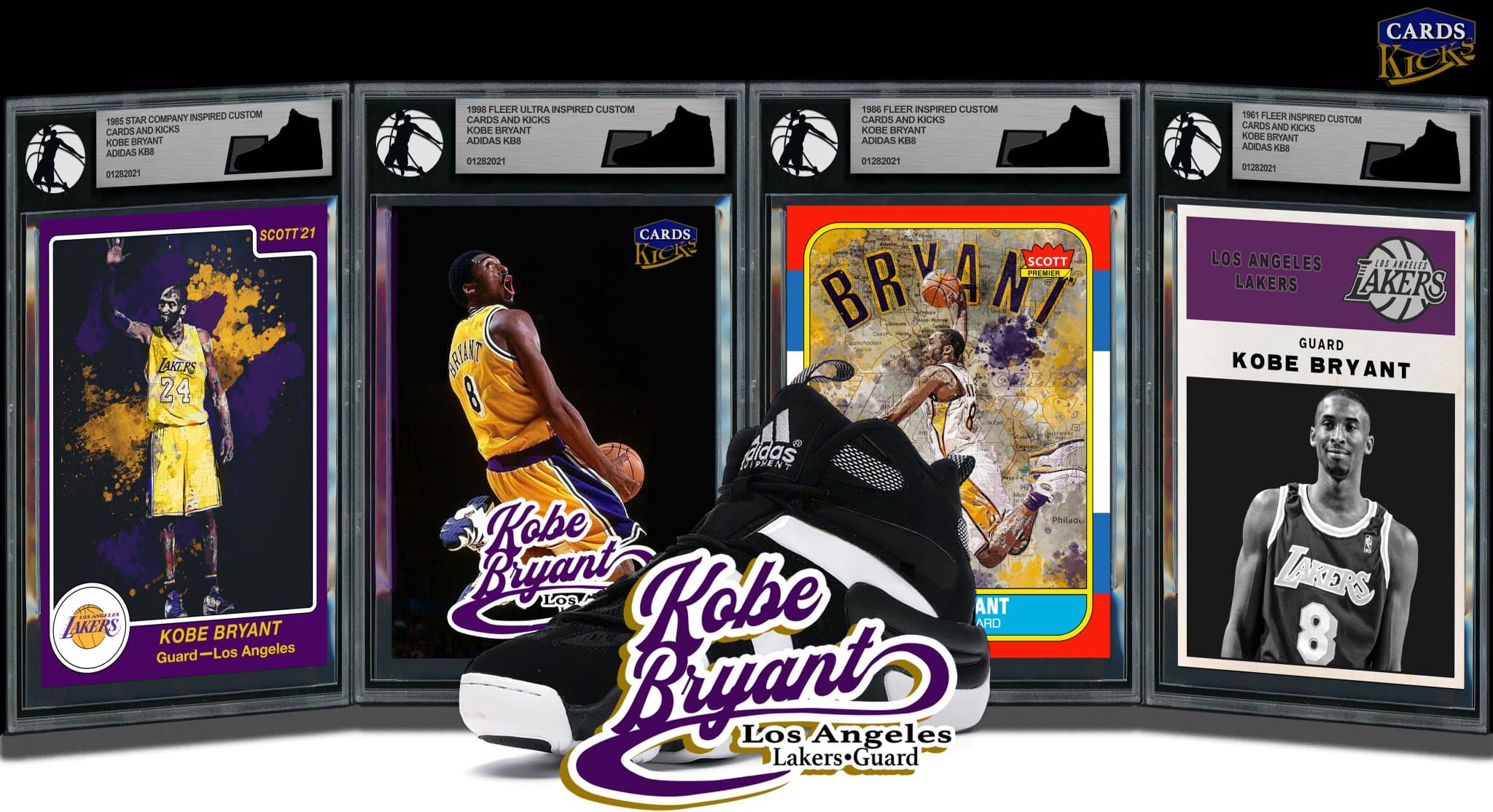 Thank you for checking in this week. Jake and I would love to know your thoughts about Kobe Bryant, so please share them in the comment section. Also, if you aren't following Jake already, please check out his YouTube channel and hit that subscribe button. You will find lots of great basketball content there. Also, the Cards & Kicks: Kobe Bryant edition art was created by Scott Hodges. Make sure to check out Scott over on his site as well. Finally, if you missed our Grant Hill piece, go back and check it out here.