The Daily: 1996-97 E-X2000 Kobe Bryant Rookie Card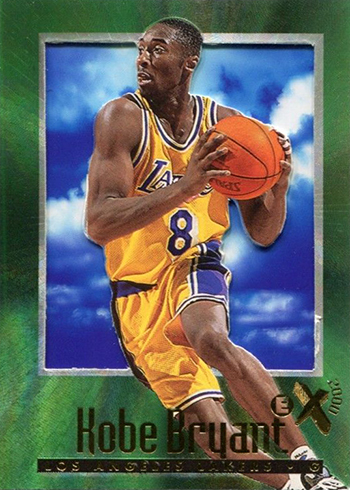 If you're like me and connect Kobe Bryant with youth (even in retirement), prepare to feel a little bit older. Black Mamba turns 40 today.
40!
His Hall of Fame career included five NBA Championships, 18 All-Star appearances, an MVP Award, an apparent beef with teammate Shaquille O'Neal and even an Academy Award.
Needless to say, there are highlights.
Bryant has over a dozen Rookie Cards
(not counting inserts from his first season). While the 1996-97 E-X2000 is on the same level as the 1996-97 Topps Chrome Kobe as far as value goes, it's still among the top. And from a design and construction standpoint, it's arguably the best.
Mixing acetate, etched foil and a little layering magic, it's a beautiful Rookie Card. And with that construction comes some condition sensitivity. It's along those foil edges that even the smallest bits of wear show. So consider mint copies to be somewhat scarce.
The card's Credentials parallel (/499) is extremely tough to find today and ranks high on the list off all Bryant cards from his first season.
The Daily highlights a key player or personality in the world of sports or collecting from the past 24 hours along with one of their key cards.