Cards & Kicks: Grant Hill
What do you get when you cross a great shoe, a popular card set, and one of the greatest MCs of all time? Well, the Cards & Kicks: Grant Hill edition, of course.  I have to be honest here, my hip-hop loving heart almost can't take it, and the '90s NBA fan in me is more than a little excited. This card, these shoes, and the two men in question are exactly where my love for all those things culminates.
We'll start with the card. There isn't a whole lot to say about SkyBox's Autographics set that hasn't already been said. To keep it real simple, collectors love it. The checklist reads like a Who's Who of '90s NBA players, and Grant Hill is toward the top of that list. The distribution of these autographs across several products was a genius way to get them into collectors' hands. It kept us coming back for more.  25 years later the Autographics are still chased in the hobby.  Nice examples of the Grant Hill card still regularly fetch $200 on the market.
As for the shoes and Tupac, well, a lot is going on there. For a little more on that, here's Jake with a few thoughts on the Cards & Kicks: Grant Hill edition.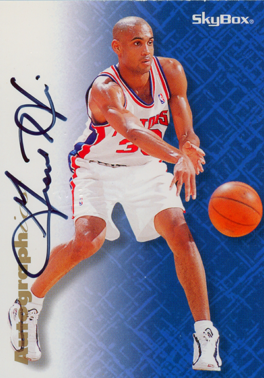 Jake Roy – '90s BBall Cards:
Oh man, where do we start? Grant Hill, the Autographics, the Filas, Tupac, there is just so much nostalgia. For those that might not know or may not remember the greatness that was Grant Hill, this guy could do it all on the court! Think of LeBron James with less power but more finesse. At 6'8'' he had the handles and passing skills to control the point. The quickness to take his defender off the dribble and straight to the rim. A smooth jumper. A good perimeter defender with long arms to disrupt passing lanes. Also, the springs to always be a factor on the boards. He was the complete package and then his knees failed him. But we aren't here to talk about that.
The Shoe
Grant Hill was one of the biggest stars in the league. In 1996-97 he was entering his 3rd season. He was like Luka Doncic in his popularity. In an era where all the NBA stars were wearing Nike or Reebok, Grant Hill wasn't interested in following the trend. He was setting trends! He started wearing Fila during his rookie season, but these were his 2nd signature shoe. The all-white shoe with a simple navy-blue patent leather design stood out.
Fila wasn't known for basketball shoes or their technology like the two leading companies. Despite that, they put an impressive yet little known cushioning in these. The 2A foam cushioning was very "springy" for foam in the heel of the shoe. You may be tempted to compare it to Adidas Boost but it's not that. This was only 1996 after all. The Fila 2A foam compares very favorably to the modern Nike Lunarlon foam. Very impressive for the '90s!
It wasn't just Grant Hill, the design, and the comfort of these kicks that made them wildly popular. Tupac also wore these in pictures featured inside of his iconic All Eyez On Me album. The story goes, Hill was a big fan of Tupac and the two had a mutual friend. When Tupac was coming home from his stint in prison Hill wanted to give these shoes to him as a sort of welcome home gift. Tupac loved them and the rest, as they say, is history! There Grant Hill goes setting trends again. That's influencer marketing WAY before we had Instagram models to hawk countless products.
The Card
This one is a classic. Truth be told, it is one of the few cards that is not of a player I collect but feel as though I really need in my collection. 1996-97 was the 1st year of the iconic Skybox Autographics set and the Grant Hill was the pinnacle of that set. It was a pretty incredible feat. They had to capture all these autographs, on-card, and insert them into packs across all their products. That's correct, every single product made by Skybox gave you a chance to pull and on-card auto! Each product also had unique odds for the Autographics. Also, the boxes of 1996-97 NBA Hoops featured a picture of this card on the front of the box rather than a picture of any of the NBA Hoops base or inserts.
Some of the players had SP or SSP autos in the Autographics set. Grant Hill is an example of one of the SPs. Some of the rarest players include George McCloud, Rod Strickland, Alonzo Mourning, Hakeem Olajuwon, Scottie Pippen, Damon Stoudamire, and Kevin Garnett.
There we have it! An Iconic set featuring one of the biggest stars of the 90s wearing some classic 90s kicks!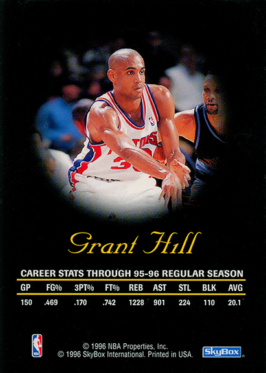 Final Thoughts
Like Jake mentioned above, Grant Hill was a trendsetter, both on and off the court. On the court, Hill's game spoke for itself, and off the court, he was just as poised to dominate as well. Those skills were most likely learned by observing his father, Calvin Hill, at the end of his NFL career, and his time spent under Coach K's wing at Duke. More than any other player from Duke during that era, Grant Hill was NBA ready when he walked across that stage on draft night, and it showed.
Had Hill's knees held up we are most likely having a very different conversation about his NBA career. As it is now, Hill is a fan favorite and holds a respectable place in the hobby. However, in his early career, Hill put NBA fans everywhere on alert.  The Pistons weren't the Bad Boys any longer, rather a team that was led by an on-court assassin that wouldn't think twice about dropping a bucket on you from anywhere on the court. "All Eyez" was definitely on Grant Hill.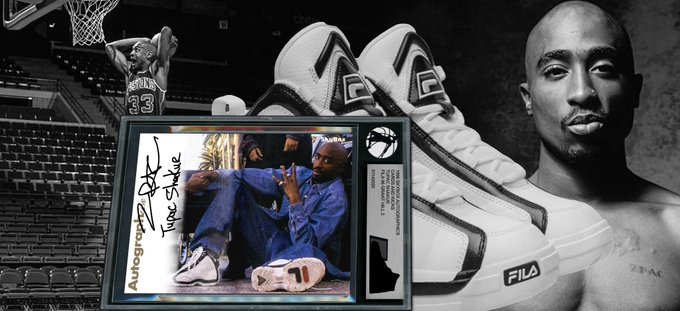 Thank you for checking in this week. Jake and I would love to know your thoughts about Grant Hill, so please share them in the comment section. Also, if you aren't following Jake already, please check out his YouTube channel and hit that subscribe button. You will find lots of great basketball content there. Also, the Cards & Kicks: Grant Hill edition art was created by Scott Hodges. Make sure to check out Scott over on his site as well.