The Last Dance Collection: Dennis Rodman
Part 6 – Dennis Rodman
David Aldridge said, "Dennis Rodman was the best on-ball defender he had seen in 30 years". Phil Jackson gave him high praise stating "Rodman was the glue that held the Bulls together while Pippen was out". From what I remember of his playing career, Rodman was all that and more. We all know about The Worm and his antics, or we have least heard the stories, but Rodman was much more than that.
He has five NBA Championship rings, he was a two-time All-Star, a seven-time rebound champ, and an eight-time All-Defensive team member. He was also named Defensive Player of the Year twice for good measure. Rodman was more than crazy hair, nose rings, and wedding dresses. When he was on top of his game, no one did it better.
During the Bulls '97-98 championship run he may have shared minutes with Longley but that made him no less important to their success. He grabbed 15 boards a game that season and did everything that was asked of him. Rodman may have rotated in off the bench after Pippen's return but he made the most of every minute he played.
Let's take a look at some Dennis Rodman cards to add to your Last Dance collection.
This card has seen a nice price jump in recent weeks. However, it's still affordable and is Rodman's lone rookie. Before the nose rings, tattoos, and hair this was Dennis. Chuck Daly did wonders for this young man and it paid off with championship rings and a Hall of Fame career. This card is where it all started though, making it a must-have for any Rodman collector or fan.

There are a lot of reasons to love this card. There is so much going here that isn't depicted in the art. Yes, it's from 2014 but it calling back to Rodman's wrestling "career" in WCW. As a member of the nWo The Worm was just "Too Sweet", so as a huge wrestling mark myself I couldn't help but add this card to the list. There are a couple of different variants and parallels to look for but everything about this card is right. It's a look back at his role in Double Team alongside Jean-Claude Van Damme,  his fling with Madonna, and brief marriage to Carmen Electra. It's taking us back to when Rodman became a pop icon and I love it.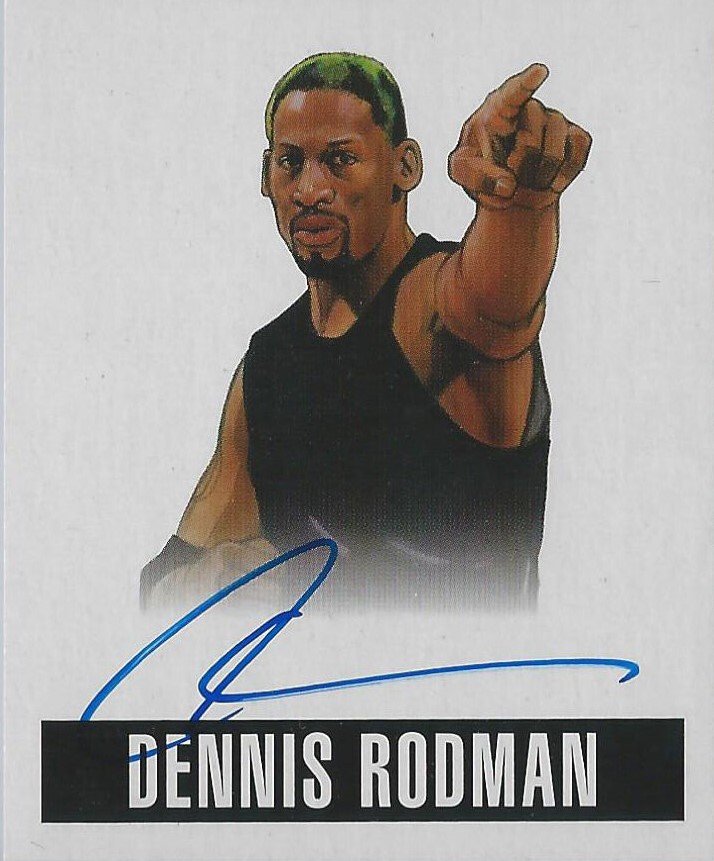 For the high-end collectors out there, it really doesn't get any better than this dual autograph with Michael Jordan. Upper Deck brought their "A" game when putting these two together on a card. It's a premium product and tough to put a value on, but with the hype of the Chicago Bulls at an all-time high right now, there is no telling what a collector might be willing to pay for it. If you're going to swing for the fences you may as well go as big as you can.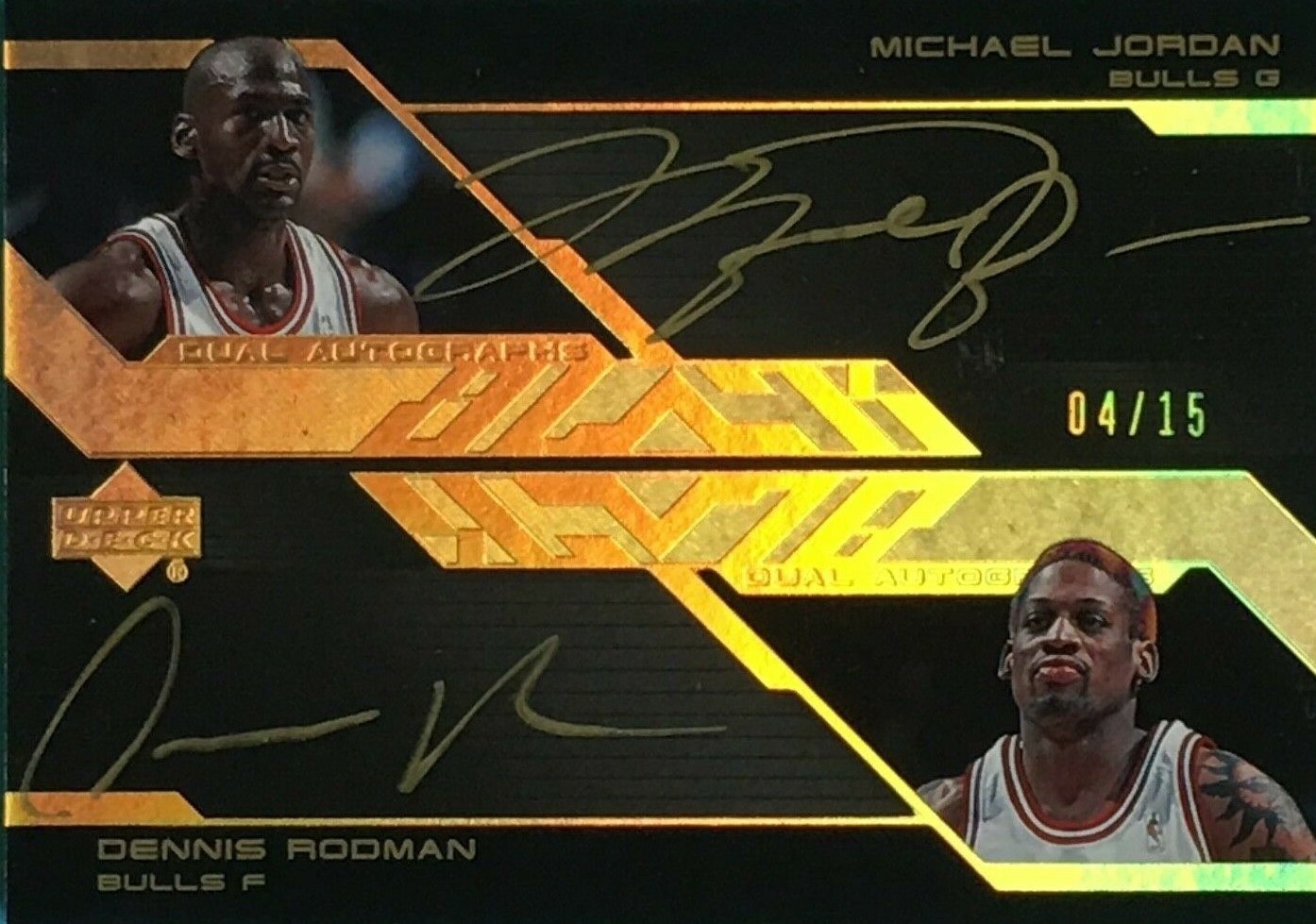 For more Dennis Rodman cards check out the over 5000 available on the Beckett Marketplace.