Cards & Kicks: Jason Kidd
I feel like I just need to be completely honest here and tell you that I don't like Jason Kidd. I mean I'm sure he's a great guy. His career speaks for itself, and there are those would put him in a Top 10 All-Time Point Guard list. Still, none of that matters to me because he broke up the Three-J's in Dallas. Well, it was either him, Jim Jackson, or Toni Braxton, depending on who you believe. Either way, I'm still a little bitter about it all these years later. However, I'll put that aside for the Cards & Kicks: Jason Kidd edition.
Here's Jake Roy with a few thoughts to get us started.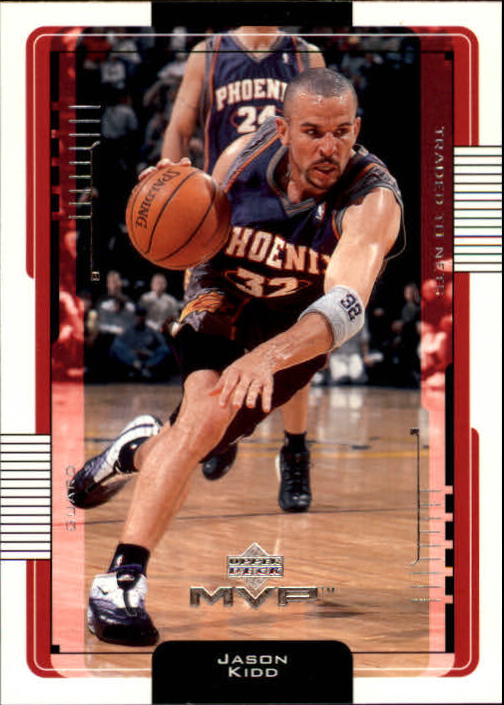 Jake Roy – 90s BBall Cards
Jason Kidd was the triple-double king of the 90s as well as the early 2000s. One of the all-time great point guards in NBA history, Kidd was a capable scorer, a great rebounding guard, and most notably an incredible floor general with superior passing abilities. To date, Jason Kidd sits at 2nd place all-time for Assists and Steals. John Stockton leads both lists. Kidd's play on the court and the numbers he amassed rightfully overshadowed any other feature of Kidd as a star in the NBA.
One feature of Kidd's that has been more celebrated in hindsight was his shoe game. He wasn't known for a signature shoe line like other 90s favorites. He wore other very significant shoes that he would become known for. This card shows him with the one signature shoe Nike made him. The Nike Air Kidd MORF was a very unique shoe today and during the era, which serves as a nice juxtaposition on this card which was very common for the same era.
Notice his armband? The customized 32 on there is also a relic of that era. Gone are the days of NBA players rocking customized sweatbands. They were becoming a thing of an on-court fashion trend that Commissioner Stern cracked down on. Oh, the 2000s were a wild time for fashion. It was also a wild time for shoes. Nike continued trying to push the limits and innovate.
The Shoe
The Nike Air Kidd MORF is not the most popular pair of shoes Kidd wore, they are not the best, what they are is unique and interesting as well as innovative. MORF stands for Multiple Option Replacement Footwear. What does this mean? Let me try to explain.
The shoe you see here on this card is actually a "skin". The shoe itself goes inside of this booty type of skin. The internal shoe for the Kidd is built on a large heel air unit and forefoot zoom air which is very good. The upper is made of a bright blue mesh overlayed with the silver "monkey paw" support system and a standard lacing system. Sounds like a shoe you could wear and play in all by itself without the skin. However, the outsole wasn't made of a typical rubber. The material was intended to lock into the skin as best as possible. The traditional rubber outsole was on the skin.
So, did the other 2 players with MORF signature shoes have unique shoes inside? Not really. The Pippen was the same as the Kidd but red and the Gary Payton was silver. The player-specific designs were all contained on the skins. Nike's concept was you could buy one shoe with one skin and then purchase additional skins for $50 each. Eastbay offered the skins for buy one get on for 50% off, 2 skins for $75 in addition to your initial shoe purchase. Interestingly enough, the Pippen and the Payton shoe were $135 but the Kidd was only $125. Altogether there were 9 skins available. Presumably, this could have been a more environmentally friendly way of making and replacing shoes. As long as the cushioning remains durable, once the skin wears out you could have a new shoe for $50.
For the Win
In theory, this was a win for everyone. In practical application, these weren't ideal and this technology only lasted one year. The inner shoe and the outer skin outsole didn't lock down perfectly so slipping was common. The slipping could also lead to the sides of the skin being worn down faster than ideally intended. The skins fit extremely snugly, as expected, however, this made it difficult to replace the skins and made it hard for some to get the shoe on. In addition, the skins offered little to no breathability so your feet would get quite hot while playing in these. You could unzip the skin to allow breathability through the mesh tongue but then you lose the structural integrity of the skin and inner shoe.
Out of the 3 designs, I think the Kidd was the coolest looking. The colors offered to the public were a two-tone blue which lent itself better to the Nets, where he would play the following season. Kidd wore those but also had a purple version that matched his current Suns uniform better.
The Card
On this card, you can see Kidd in the Suns uniform with his purple pair on. The card coming from Upper Deck MVP, was a lower-end, entry-level product. It was made to replace the Collector's Choice product but offered collectors more of what was becoming popular, low numbered parallels, very hard to pull autographs and various memorabilia cards. This year, however, didn't offer any base set parallels. With a design consisting of an assortment of lines and dots along the borders, resembling barcodes offered a more digital aesthetic. This was thought to be more appealing to younger collectors than the prior Collector's Choice product.
For me, Collector's Choice was my jam! This wasn't my speed. The rookies featured more collegiate pictures and draft-day photos than the rookie photoshoot pictures I loved. But for my brother and many of my friends that collected with us, they were big fans of Upper Deck MVP.
Sets like these were fun because they allowed young collectors to discover more about the players. The back had a full readout of their statistics from each year. The card showed if a player was on a new team now. They did their best to feature more action photos as well. Of course, I found a reason to enjoy them, and seeing the new shoes in many of the full-length photos used on these cards did the trick for me.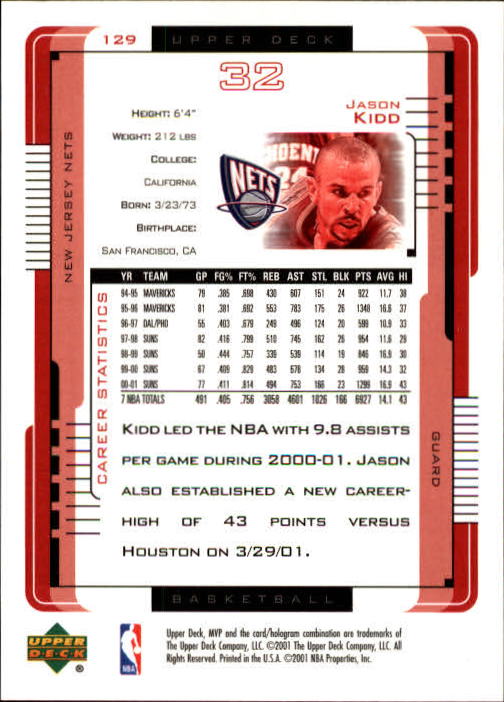 Final Thoughts
To be honest, again, these shoes aren't for me, but I don't think they were meant to be. Just like the MVP brand, Nike marketed the MORF's to a younger generation. That is all well and good. So, in the first-ever "Get Off My Lawn" moment on Cards & Kicks, they can have them. In reality, that's just me still being bitter.
Thank you for checking in this week. Jake and I would love to know your thoughts about Jason Kidd, so please share them in the comment section. If you aren't following Jake already, please check out his YouTube channel and hit that subscribe button. You will find lots of great basketball content there. Finally, the Cards & Kicks: Jason Kidd edition art was created by Scott Hodges. Make sure to check out Scott over on his site as well.
Also, don't forget to check out last week's Cards & Kicks: Larry Bird edition here.