2016-17 Upper Deck Black Hockey Checklist Highlights Hard-Signed Autographs and Rookies
With every signature being on-card and a new configuration, 2016-17 Upper Deck Black Hockey has have plenty of rookie content. It also delivers at least two autographed cards per box.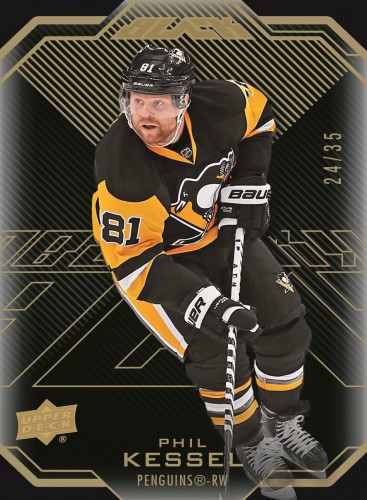 Additionally, box prices are expected to be lower compared to 2015-16 as there are now five cards inside instead of six.
Base Set
A small set at just 40 base cards, 2016-17 Upper Deck Black Hockey has a strong focus on star players. Base cards are limited to 299 copies each. There are also Gold Spectrum (/35) or Black & Blue Spectrum (one-of-one) parallels.
As expected, Lustrous Rookies Signatures return as well with three levels to collect (Level 1 /299, Level 2 /199, and Level 3 /99). Those cards will have two levels of Gold Spectrums numbered to 15 or 35 along with a Black & Blue edition where only five copies are produced.
Autographs and Memorabilia
The freshman theme continues on with hard-signed collections like Signature Rookies that have multiple levels to collect (/25, /149, or /249 with parallels /5, /10, or /35). Rookie Trademarks (1:3), with oversized memorabilia pieces, could be an interesting pull and have scarcer Jersey Auto (varied numbering), Patch (/10), and Auto Patch (/15) versions to collect. The biggest set featuring this year's newest talents are the Fresh Gear Rookie Booklets (/25) and the signed parallel (/5) is going to be a challenging item to find.
Moving on to the veterans, Lustrous INK Autographs are sure to get a lot of attention from collectors and they can also be found with jersey or patch pieces. Pro Penmanship (1:3) is a collection that could stand on its own with signatures appearing on a shining acetate surface, but there will also be Pro Penmanship Combos and Pro Penmanship Trios offering up even more ink.
Cup Coronations and Star Trademarks (1:5) return for another season, but new for this season are Color Coded and Obsidian Signatures (1:5). The latter promises multiple variations which include jersey or patch pieces for one or two players. Another debuting concept are the Black Hole cards. The jersey version of these drops once in every three packs and the jersey auto is a relatively easy find at a 1:5 ratio with additional Premium Relics (/15) and Autographed Premium Relics (/10).
Finally, there are non-rookie booklet cards coming in 2016-17 Upper Deck Black Hockey. Quad Jersey Booklets are found at a very reasonable 1:10 packs. The Patch version, however, is not as plentiful and are either numbered out of 5 or 10.
2016-17 Upper Deck Black Hockey at a glance:
Packs per box: 1
Cards per pack: 5
Boxes per case: 10
Set size: 75 cards
Release date: December 13, 2017
What to expect in a hobby box:
• Autographs – 2
• Additional Autographs, Memorabilia or Booklet Cards – 2
• Base or Parallel Cards – 1
2016-17 Upper Deck Black Hockey Checklist
Base
Autographs
Memorabilia
Updates
Team Sets
Stephen Laroche can be found on Twitter @Stephen_Laroche.