2017 Topps Star Wars Stellar Signatures Checklist and Full Details for the $10,000 Set
With a suggested price tag of $10,000, Boba Fett probably could have collected his bounty on Han Solo with a box of 2017 Topps Star Wars Stellar Signatures.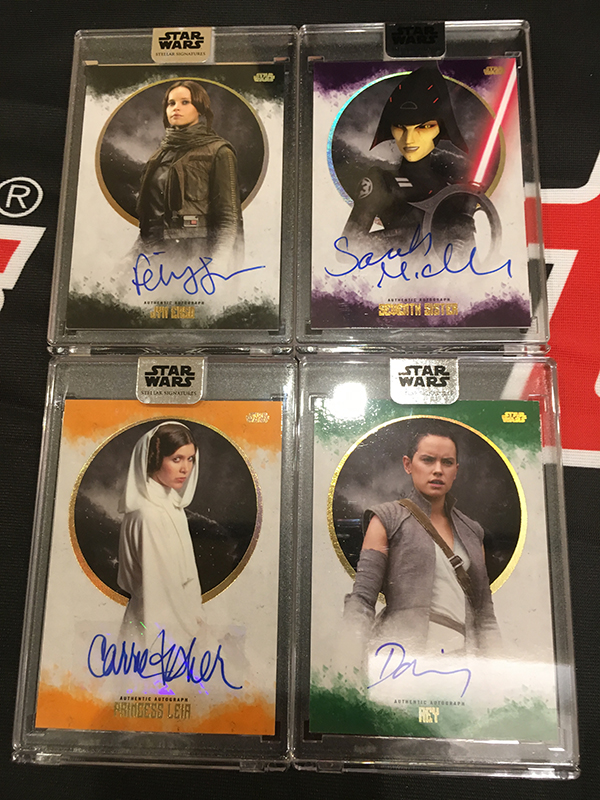 The product, which was first revealed at the 2017 National Sports Collectors Convention, takes high-end to the extreme corners of the galaxy, especially for a license that has never topped out at higher than $300 per box at its time of release.
So what does $10,000 get a hardcore Star Wars collector?
Every 2017 Topps Star Wars Stellar Signatures box has 40 autographs. The focus is on big names from the franchise, which should be expected with such an extreme price tag.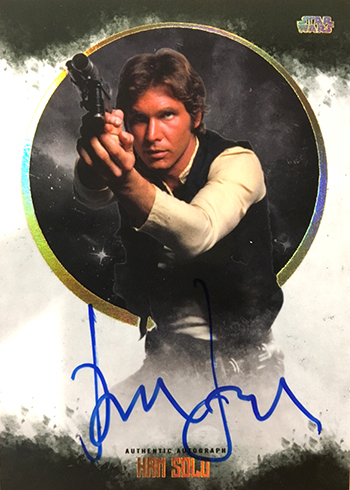 The list of signers includes Harrison Ford, Daisy Ridley, Hayden Christensen, Felicity Jones, Forest Whitaker and Billy Dee Williams. There are also some autographs from actors that are relatively new to Topps. Sarah Michelle Gellar, Alan Tudyk and Tim Curry fall under this category.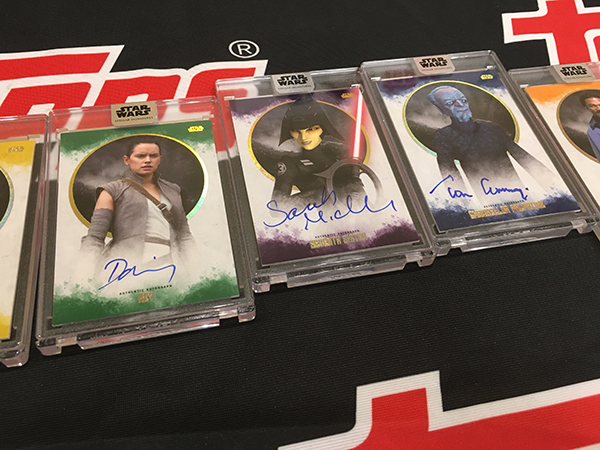 Mark Hamill, who plays Luke Skywalker, is also part of the product. However, he's one of two redemptions (along with Stephen Stanton). As a make-good of sorts, Topps added a bonus autograph of Ben Mendelsohn who played Director Krennic in Rogue One. Mendelsohn won an Emmy in 2016 for his supporting role in the Netflix series Bloodline. The Mendelsohn autographs, his first certified signed cards, will be sent with the final Hamill cards. 
While virtually all of the 2017 Topps Star Wars Stellar Signatures autographs are signed on-card, there are a couple of exceptions. Carrie Fisher and Kenny Baker both recently passed away making hard-signed cards impossible. They're still in the product via unused sticker autographs.
Cards are printed on thick 48 pt. card stock. They're also individually encased.
Base autographs have 40 copies. They're joined by several levels of parallels.
2017 Topps Star Wars Stellar Signatures has a production run of just 100 boxes. Each comes with an autograph from each of the set's signers. The only big variable is which version.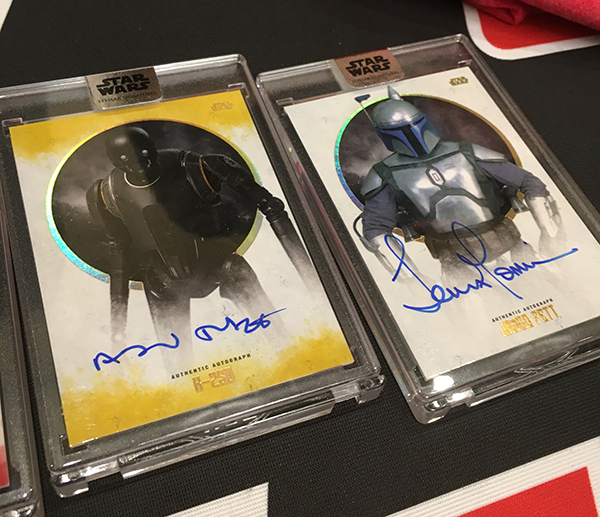 2017 Topps Star Wars Stellar Signatures at a glance:
Cards per box: 40
Release date: December 6, 2017
What to expect in a hobby box:
• 1/1 Autographs – 1
• Additional Autographs – 39
2017 Topps Star Wars Stellar Signatures Checklist
41 cards.
Hamill and Stanton are redemptions. Mendelsohn cards will come with the Hamill autographs when they are ready.
Versions:
• Base – /40
• Blue – /25
• Green – /20
• Purple – /10
• Red – /5
• Galactic Black – 1/1
• Imperial Red – 1/1
• Rebel Alliance Orange – 1/1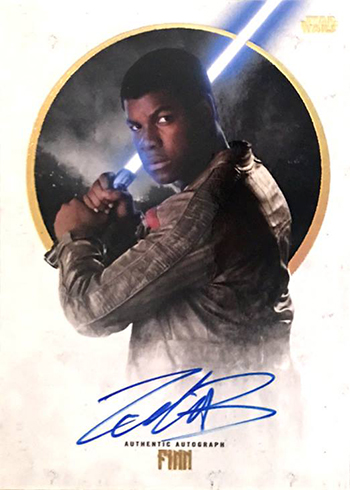 Riz Ahmed as Bodhi Rook
Kenny Baker as R2-D2
Tom Baker as Bendu
David Barclay as Jabba The Hutt
John Boyega as Finn
Jeremy Bulloch as Boba Fett
Hayden Christensen as Anakin Skywalker
Gwendoline Christie as Captain Phasma
Tim Curry as Chancellor Palpatine (The Clone Wars)
Warwick Davis as Wicket
Adam Driver as Kylo Ren
Ashley Eckstein as Ahsoka Tano
Carrie Fisher as Princess Leia Organa
Harrison Ford as Han Solo
Sarah Michelle Gellar as Seventh Sister
Julian Glover as General Veers
Taylor Gray as Ezra Bridger
Mark Hamill as Luke Skywalker
Brian Herring as BB-8
Felicity Jones as Jyn Erso
Matt Lanter as Anakin Skywalker
Denis Lawson as Wedge Antilles
Ken Leung as Admiral Statura
Peter Mayhew as Chewbacca
Ian McDiarmid as Emperor Palpatine
Ben Mendelsohn as Director Krennic
Lars Mikkelsen as Grand Admiral Thrawn
Temuera Morrison as Jango Fett
Genevieve O'Reilly as Mon Mothma
Ray Park as Darth Maul
Freddie Prinze Jr. as Kanan
Daisy Ridley as Rey
Andy Serkis as Supreme Leader Snoke
Stephen Stanton as Admiral Raddus
Joonas Suotamo as Chewbacca
James Arnold Taylor as Obi-Wan Kenobi
Alan Tudyk as K-2SO
Forest Whitaker as Saw Gerrera
Billy Dee Williams as Lando Calrissian
Matthew Wood as General Grievous
Donnie Yen as Chirrut Îmwe
Comments? Questions? Contact Ryan Cracknell on Twitter @tradercracks or by email.