2017-18 Upper Deck Black Diamond Hockey Checklist and Team Set Lists
All that glitters is not gold, but 2017-18 Upper Deck Black Diamond Hockey definitely sparkles and shines with the new crop of rookies and more.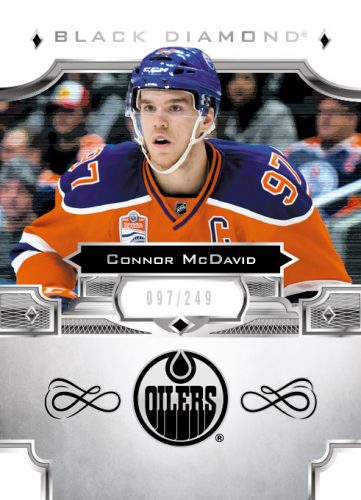 With each box containing five cards plus a one-card 2017-18 Upper Deck Exquisite Collection Hockey bonus pack, the potential is high to pull a limited Diamond Relic card. Coming once per case, they are looking to dazzle – especially those featuring freshman players and the biggest stars.
Base Set and Parallels
The 2017-18 Upper Deck Black Diamond Hockey base set begins with 50 veteran players that are numbered to 249 copies apiece. Diamond Relic Rookie Gems (/99) are treated as the Rookie Card portion of the set.Split into tiers which are based on the number of diamonds embedded into the cards, these range from single to quad.
As for parallels, each base set card now has a Diamond Relic version that is numbered to five and these cards have one to four diamonds. For the biggest chase of all, there are one-of-one Pure Black Diamond parallels for the vets, rookies, and the Retro Rookie cards.
There is even more parallel action without diamonds with the Pure Black (/99) and Pure Black Signatures (varying quantities). Look for a Relics parallel, too, with both veterans (/149) and retired players (/49). Pure Black Premium Relics will exist as well (varying quantities).
Inserts
There are some strong options available when it comes to non-memorabilia inserts in 2017-18 Upper Deck Black Diamond Hockey. Championship Rings (1:5) are back and the chase is enhanced with a slightly-tougher gold parallel (1:12). Championship Banners could be a fun collection, too, but its gold version features an autograph as well. Both are produced in varying quantities.
Other cards which may fall under the insert banner include Run For The Cup Silver (/99), Hardware Heroes (Silver /99, Gold one-ones), and Diamond Cutters (1:40). Rookie Gems (/399, Pure Black /25) are an in-depth look at the carryover class and early debuts and have a signed Pure Black version that is limited to either 99 or 199 copies.
Autographs and Memorabilia
With a strong program of autograph and memorabilia cards, 2017-18 Upper Deck Black Diamond Hockey has the potential to yield some excellent hits. The ink portion begins with Silver on Black Rookie Signatures (/49 or /125) and continues with sets like Signature Placards (1:5), and Silver on Black Signatures (varying quantities).
Returning for another year are the Team Logo Jumbos (1:5) and Rookie Team Logo Jumbos (1:3). While opinions on these manufactured patch cards are mixed among collectors, there are limited parallel versions to collect like Alternate Logo (/99 for Rookies, /5 for Gold veterans) and NHL Shield (/5 for Rookies, Gold one-of-one for vets). As an extra bonus, there are Autograph Rookie Team Logo Patches featuring alternate logos (/49 or /99) or the NHL shield (/5).
Diamond Mine Relics and Diamond Debut Relics (both /299) appear to be a fairly standard, but there is potential for some nice swatches with the Prime Material parallels for each.
Finally, we come to the always-popular Rookie Booklet Relics (/199). If a thick booklet with a piece of memorabilia was not enough to pique your interest, there are Patch and Autograph Patch parallels (both /99) to consider.
Exquisite Collection
There is potential for some major hits inside of the 2017-18 Upper Deck Exquisite Collection Hockey bonus pack. Expected to be released over several of this coming season's products, the first installment sees every card have a serial number. The fun starts with Exquisite Material (/35, Spectrum /10), which also comes in a Quad edition (/25, Spectrum /5).
As for the rest of the content in these packs? It is all about the rookies. There are two Tiers of Exquisite Rookies which are either numbered out of 199 or 299. They are joined by Exquisite Rookie Draft Day (/99) cards which show the players on the day they were selected by an NHL club. Both of these sets have Spectrum parallels as well (varying quantities). This is the first place to get memorabilia cards of several young prospects as well.
The most plentiful of the bunch are the Exquisite Rookie Patches (/99 or /299, Spectrum /25) but there are Rookie Dual Material (/99, Spectrum /10) and Rookie Quad Material (/49, Spectrum /5) options as well. The big draw here are the Exquisite Rookie Jumbo Materials (/10) which have a one-of-one Shield parallel – a rarity for an early-season release.
2017-18 Upper Deck Black Diamond Hockey at a glance:
Packs per box: 1 Black Diamond pack, 1 Exquisite pack
Cards per pack: 6
Boxes per case: 5
Set size: 50 base cards, at least 30 Rookies
Release date: November, 2017
What to expect in a hobby box:
– 5 Black Diamond cards
– 1 Exquisite Collection card
2017-18 Upper Deck Black Diamond Hockey Checklist
Base
Autographs
Memorabilia
Inserts
Exquisite
Team Sets
Stephen Laroche can be found on Twitter @Stephen_Laroche.