2021-22 Upper Deck Black Diamond Hockey Set to Sparkle
The first super-premium product of the season, 2021-22 Upper Deck Black Diamond Hockey brings jewels, technology, autographs and memorabilia to the forefront. It's a familiar approach since the line changed things up in 2015-16.
It's also home to the first installment of 2021-22 Upper Deck Exquisite Hockey.
2021-22 Upper Deck Black Diamond Hockey Checklist Overview
The base set has a couple of sections. The main shell set has 100 cards, combining veterans and retired stars. These are numbered to 349 copies each.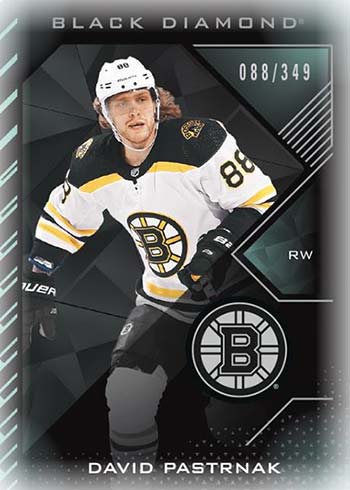 Pure Black (/50) marks the start of the parallels. Pure Black Autographs can also be found. Select cards also have Premium Relics.
There are also Diamond Relics (/5) that have between one and four lab-created diamonds embedded in them. Pure Black parallels for these are all one-of-ones.
Diamond Relic Rookies give first-year players some bling. Although all are numbered to 99, there is a tiered approach to the number of diamond on each card. These start with one gemstone and go all the way up to four for the top prospects heading into the season.
Parallels include Ruby (/49), Emerald (/10) and Pure Black (1/1).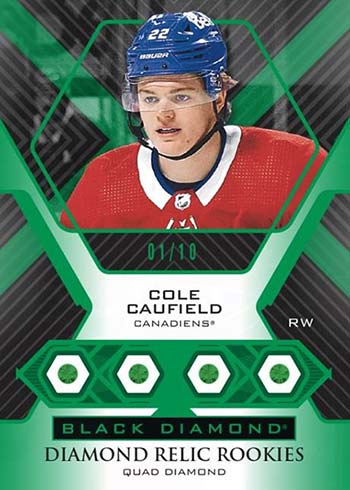 Autographs and Memorabilia Cards
Gemography (/25) is back for another year with each card delivering both a jewel and an autograph. Ruby (/10), Emerald (/5) and Pure Black (1/1) parallels round these out.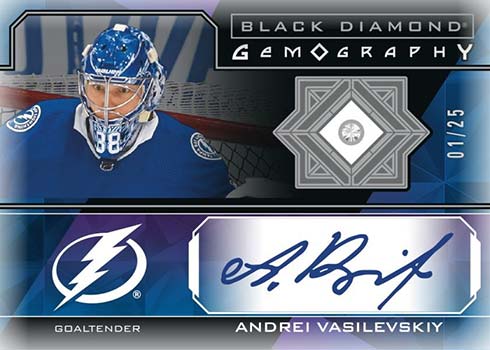 Jewels of the Draft (/99) don't have gems but they do bring an autograph-patch combination with a checklist of rookies. All-Time Jewels of the Draft are a new addition this year and come with veteran players.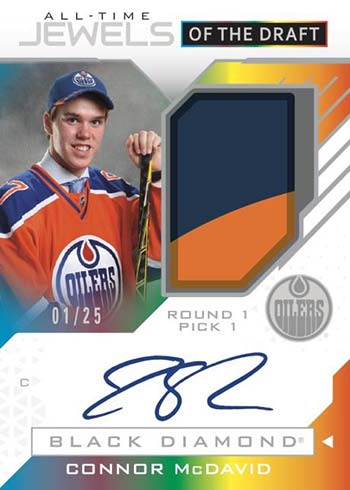 More autographs are available in Silver on Black Signatures, Silver on Black Rookie Signatures (/149 or less), Sparkling Scripts (1:6) and Sparkling Rookie Scripts (1:12).
Rookie Gems (/349) start out as an insert set. Next up are Spectrum parallels (/99) then Pure Black Signatures, These have three levels of rarity with print runs of either 199, 99 or 49. Capping it off are one-of-one Pure Black Spectrum autographs.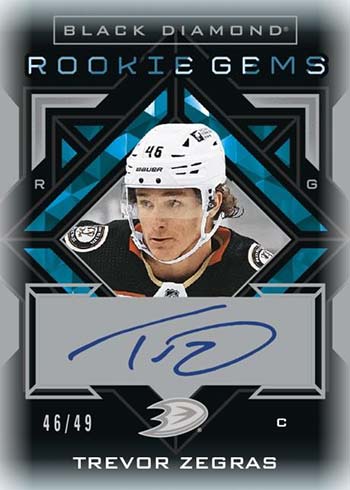 Diamond Mine Relics (1:4) deliver memorabilia. The checklist has additional Dual (1:12) and Triple (1:36) cards. Parallels for all three levels come in the form of Premium swatches. None of these have more than 25 copies.
Additional Inserts
Band of Color is one of the new additions in 2021-22 Black Diamond Hockey. Each has six different colored diamonds that carry the card through a rainbow: red, orange yellow, green, blue and purple. Rookies are numbered to 22 while veterans and legends have 21 copies each.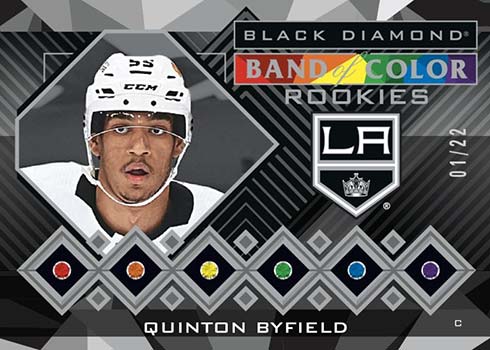 It's past, present and future in Diamond Legends, Diamond Stars and Diamond Futures. Standard inserts in all three come with print runs of 249 copies. On top of these are autograph and autographed memorabilia versions.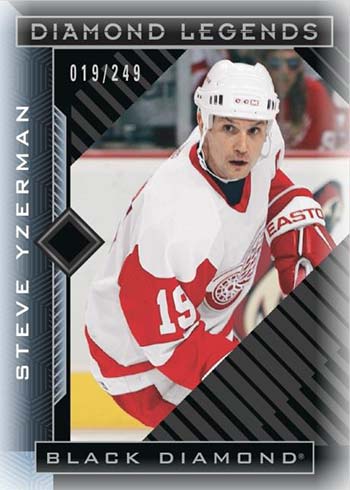 Manufactured patches return in a few forms. Team Logo Jumbo Patches (1:5 packs) double as puzzles. Gold parallels come in Full Team Logo (/15), Alternate Logo (/5) and NHL Shield (1/1).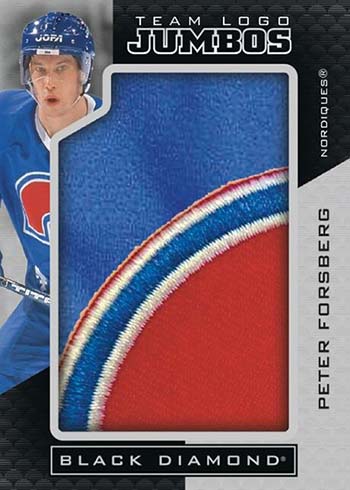 There are also Rookie Team Logo Jumbo Patches (1:3), which have Retro Logo Variants (1:15) of their own. Autograph versions have no more than 99 copies each.
Toronto greats are in Maple League Retired Numbers Patches (/99). Print runs for gold versions, some of which have signatures, match the player's jersey number.
Other returning inserts include Diamond Cutters (1:15), Diamonation (/99) and Run for the Cup (/99).
2021-22 Upper Deck Exquisite Collection Hockey: Part 1
As has been the case for a few years now, Exquisite Collection, one of Upper Deck's top historical brands, is being spread across multiple 2021-22 hockey products.
One card in every 2021-22 Black Diamond pack has one Exquisite-branded card. Tehse come in several forms.
Young players take center stage in several of the themes here. Among them are Exquisite Collection Rookies (/299) and Exquisite Collection Rookie Draft Day (/399). Both of these have Gold (/99) and Gold Spectrum (Rookies /25, Draft Day /draft position). Exquisite Rookies also have Patch (/99) and Gold Patch (/25) versions.
Rookie Jumbo Materials (/10) deliver oversized swatches. Gold (/5) and Gold Spectrum (1/1) parallels deliver more rarities.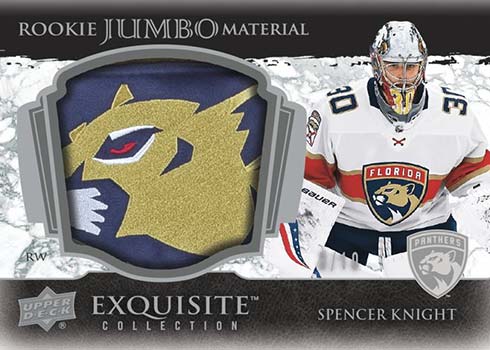 The relics continue with Extra Exquisite Jersey Rookies (/299). Gold parallels for these have just five copies.
Extra Exquisite Jersey carries over to a selection of veterans and legends as well.
Exquisite Collection Moments (/399) and Exquisite Collection Veteran Materials can also be pulled.
Retro-themed Exquisite cards head back to 2007-08 for their design. Base vets and rookies have 299 copies with additional Gold (/99) and Gold Spectrum (/5) parallels also available.
2021-22 Upper Deck Black Diamond Hockey cards at a glance:
Cards per pack: 6
Packs per box: 1
Boxes per case: TBA
Set size: 100 cards + TBA Diamond Relic Rookies
Release date (subject to change): TBA
What to expect in a hobby box:
Autographs or Diamond Relics – 1 Total
Additional Inserts or Diamond Relics – 3 Total
Exquisite Collection – 1
Base Cards or Pure Black Parallels – 1 Total
Recent Black Diamond Hockey releases:
The full 2021-22 Upper Deck Black Diamond Hockey checklist and team set lists will be up as soon as they're available, likely shortly before the product's release.