2019-20 Upper Deck Black Diamond Hockey has a lot of the bling and flash the line is known for. Taking things to the high-end, the checklist mix includes plenty of autographs, memorabilia cards and gem cards.
It's also the home to the first installment of 2019-20 Exquisite Hockey, a bonus set that will carry on in various products throughout the season.
2019-20 Upper Deck Black Diamond Hockey Base Set Basics
The main base set has a total of 70 cards, all numbered 249. These are a mix of veterans (60 cards) plus a small number of retired stars (ten cards). Parallels for these include Pure Black (/99), Pure Black Signatures and Premium Relics.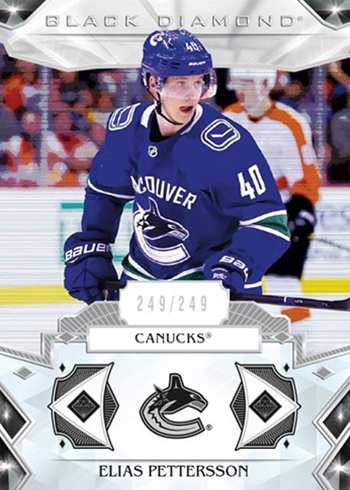 Select cards also have Diamond Relics (/5) and that have anywhere from one to four diamonds embedded in them. These also have one-of-a-kind Pure Black Diamond versions.
The gem theme continues with rookies. Diamond Relic Rookies have 99 copies a piece and as many as four diamonds. Pure Black Diamond (1/1) are the only parallels for these.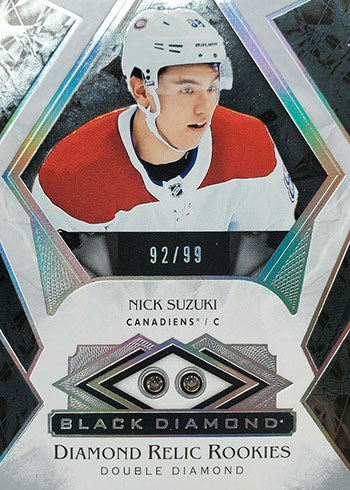 Autographs and Memorabilia Cards
Signature and swatch series in 2019-20 Upper Deck Black Diamond Hockey are a mix of returnees, new additions and revamped sets.
Silver on Black Rookie Signatures (/249 or /99) get their name for their ink color and dark backdrop. Spectrum parallels are numbered to 99 and under. Silver on Black cards are also available for veterans. These are all numbered but to varying quantities.
Gemography (/25) gets a bit of an overhaul. In addition to the autography, these now come with a diamond relic as well.
Jewels of the Draft (/99) is new this year. These use a colorful background for autograph memorabilia cards from rookies.
Also making its Black Diamond debut are Sparkling Scripts autographs. These might not have diamonds in them, but they use the jewel as a dominant design feature.
Rounding out the memorabilia cards in 2019-20 Black Diamond Hockey are Diamond Debut Relics (/349, Premium /49), Diamond Mine Relics (1:4, Premium /30) and Diamonds in the Rough Relics (1:10, Premium /25).
Other Inserts
The 1996-97 Black Diamond Hockey design makes a return for a series of Tribute cards with Rookies (/249), Legends cards honoring Joe Thornton and Patrick Marleau (/249), Active Stars (/99) and Legends (/99). Many of these cards also have autographs and memorabilia versions as well as Diamond (/99 or /25) and one-of-one Pure Black Diamond cards.
Manufactured patch puzzles return in a couple of spots on the 2019-20 Upper Deck Black Diamond Hockey checklist. Rookie Team Logo Jumbo Patches (1:2) and Rookie Team Logo Jumbo Patches Retro (1:8) highlight first-year players. Team Logo Patches (1:15) have Gold Full Team Logo (/15), Gold Full Team Alternate Logo (/15) and Gold NHL Shield (1/1) parallels.
Championship Banners patches return with nods to players who have hoisted the Stanley Cup. Some cards also include autographs.
Base versions of Rookie Gems have 399 copies. Parallels can be found in a few levels: Spectrum (/99), Pure Black Signatures (/199 or /99) and Pure Black Signatures Spectrum (1/1).
Other premium inserts in the product include Diamond Might (/99), Hardware Heroes (/99), Run for the Cup (/99), Diamond Cutters (1:20), Diamond Gallery (1:20) and Hall of Fame Rings (1:6).
2019-20 Upper Deck Exquisite Hockey
Exquisite cards land one per Black Diamond box and come in a separate pack. Sticking with the brand's roots, Exquisite cards reach further to the high-end.
Base Set Veteran Materials come with varying print runs. They also have Gold Spectrum parallels (/3).
Rookie Patch cards have two tiers. Tier 1 is the more common with a print run of 299. This drops all the way down to 99 for Tier 2 cards. Gold Spectrum versions for both are numbered to 25.
Other Exquisite cards in 2019-20 Black Diamond Hockey include Rookie Draft Day (/99), Rookies (Tier 1 – /299, Tier 2 – /99), 2003-04 Exquisite Retro Veterans (/149), and 2005-06 Exquisite Retro (Rookies – /249, Veterans /149).
2019-20 Upper Deck Black Diamond Hockey cards at a glance:
Cards per pack: 5
Packs per box: 1 (plus one 1-card Exquisite bonus pack)
Boxes per case: 10 (two 5-box inner cases)
Set size: 105 cards
Release date: November 27, 2019
Shop for 2019-20 Upper Deck Black Diamond Hockey boxes on eBay:
What to expect in a hobby box:
Autographs, Memorabilia and Premium Inserts – TBA
Exquisite Cards – 1
2019-20 Upper Deck Black Diamond Hockey Checklist
Base
Autographs
Memorabilia
Inserts
Exquisite
Updates
Team Sets