Upper Deck presents the Black Diamond Draft
Collectors who pulled a Black Diamond Draft Card have no idea what they are going to get.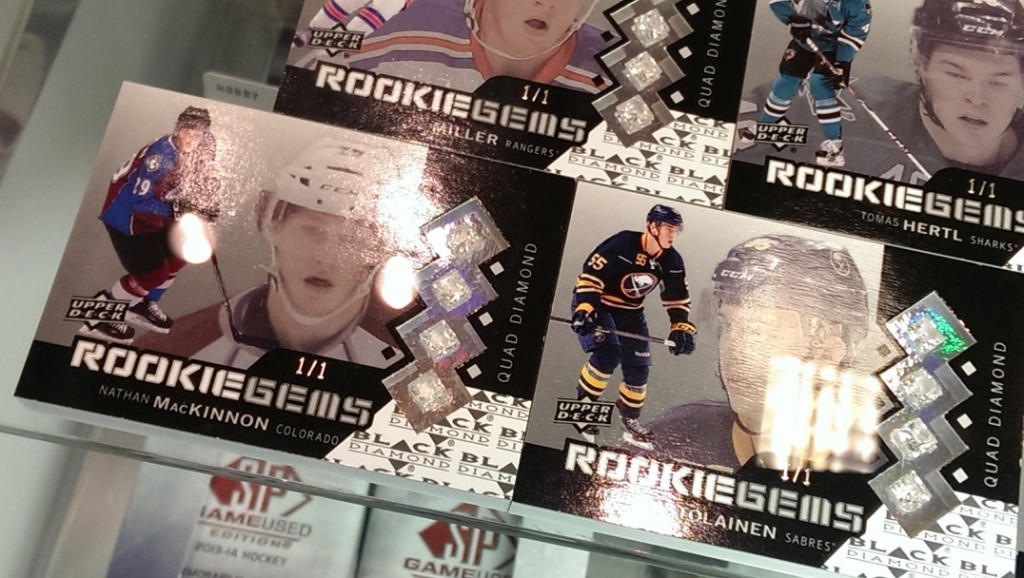 Sure, they know they are getting one of 25 cards – but the players still remains a mystery. Players on the checklist include Nathan MacKinnon, Tomas Hertl, Aleksander Barkov and Sean Monahan.
Upper Deck included cards embedded with diamonds in 2013-14 Black Diamond. The quad diamond variations include four one-karat diamonds. Upper Deck previewed the actual cards at the 2014 Industry Summit.
Those who have pulled the draft cards, and redeemed them, are entered into a draft held April 14 at 5:30 p.m. PT on Breakers.TV. They will be selected ping- pong style for the order. The participants then get to choose the Quad Diamond Rookie card they want based on the cards that are left.
If you are not able to participate in the live draft, a card will be selected for you based on a list of players submitted in the order of they players they want.
One of the draft cards is currently listed on eBay with a Buy It Now of $5,000. However, a recent auction ended with no sale at $3,500.
Fans who pull one of these redemption cards after the event, prior to them expiring, will receive one of the remaining cards at random.