2021 Upper Deck Marvel Black Diamond Checklist and Details
When you click on links to various merchants on this site, like eBay, and make a purchase, this can result in this site earning a commission.
2021 Upper Deck Marvel Black Diamond trading cards are taking the MCU to new high-end heights. While there have been plenty of premium inserts to come from the company over the past decade, they were largely elements in broader products. Here, it's found throughout the checklist.
Boxes come with just one pack of six cards. One card is either an autograph, sketch card or gem card. Another comes under the Exquisite Collection banner, a brand generally reserved for the company's top content.
2021 Upper Deck Marvel Black Diamond Checklist Overview
This product takes an expansive approach. Not limited to one specific film or set of sequels, it covers the entire Infinity Saga from Iron Man through to Endgame.
The base set consists of 99 cards. It takes a character focus, drawing from the vast list of heroes and villains across the MCU. Base versions are numbered to 149 copies.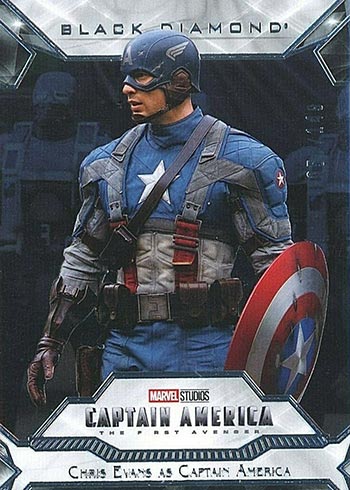 Parallels take on a couple of forms that take the diamond theme to heart. Infinity Stones Diamond Relics, which have 23 copies each, have a colorful array of gems. Diamond parallels are even more rare with just fives copies.
Gold and Red (1/1) parallels include autographs.
Autographs and Memorabilia Cards
Among the actors signing in 2021 Marvel Black Diamond are:
Paul Bettany
Elizabeth Debicki
Winston Duke
Chris Evans
Karen Gillan
Chris Hemsworth
Pom Klementieff
Anthony Mackie
Tim Blake Nelson
Elizabeth Olsen
Georges St-Pierre
Sebastian Stan
Tilda Swinton
These are found in several different themes.
Gemography is an auotgraph-only insert. These also come with a diamond.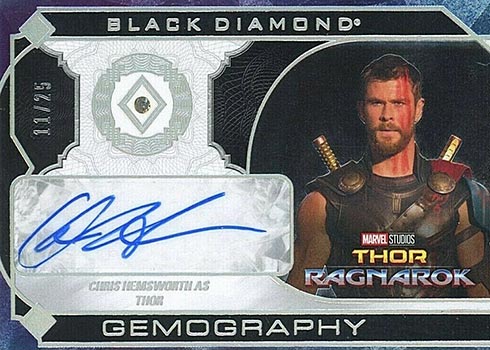 Diamond Plate and Triskelion are among the other places on the checklist with signatures.
For those hunting for memorabilia, there's Diamond Shards. These have between one and three swatches as well as autograph versions.
Additional Inserts
Retro Diamond Relics use designs from past Black Diamond Hockey sets. The number of diamonds embedded in each card varies by character. Some have one, others have as many as four. 2017-18 Retro Diamond Relics are numbered to 17 while 2018-19 Retro Diamond Relics have 18.
On some parts of the 2021 Upper Deck Marvel Black Diamond checklist, the idea of the namesake gems are integrated into the theme. Diamond Facet and Diamond Cutters are two such chase sets. Both integrate acetate into their respective designs. For Diamond Facets, this means autographs for some cards.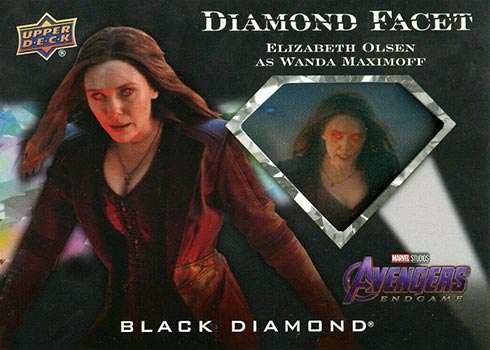 Polished Patches are manufactured patch cards that come in a couple of forms. Single Patch cards stand on their own. Puzzle Patch cards are a pieces of something larger. Autographs are also available.
Marvel Gets Exquisite
Exquisite Collection is like a set within a set. Historically, it's Upper Deck's luxury level line.
The base set for these has its own 50-card checklist. Infinity Stone-inspired parallels come in a number of colors and print runs of 23 copies each.
Black parallels, some of which have autographs, are one-of-ones.
Exquisite cards also have Printing Plates, although they're not traditional single cards. Instead they come as a full set of four matching cards joined together as booklets.
2021 Upper Deck Marvel Black Diamond trading cards at a glance:
Cards per pack: 6
Packs per box: 1
Boxes per case: 10 (two 5-box inner cases)
Set size: 99 cards
Release date: May 12, 2021
Shop for 2021 Upper Deck Marvel Black Diamond boxes on eBay:
What to expect in a hobby box:
Autographs, Sketch Cards or Diamond Cards – 1
Exquisite Collection – 1
2021 Upper Deck Marvel Black Diamond Checklist
Please note that the diamond cards contain lab-created diamonds.