2013-14 Black Diamond Hockey Details
2013-14 Black Diamond Hockey gets more literal with its name. The card company is including relic cards with actual diamonds in them.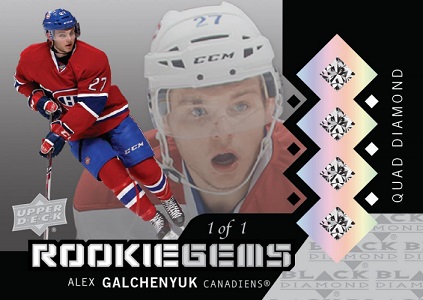 Of course, the Quad Diamond Rookie Gem Relics will be tough to pull, but UD has included them into a new configuration for the December release.
Each box will come with 20 five-card packs, including a bonus UD Ice pack. Collectors should find several Double and Triple Diamond cards in each box with an additional Quad Diamond – and a bonus Quad Diamond card. There will be at least one parallel and two Double Diamond Dual Jersey Puzzles in every box.
Rookies will be easier to pull with three to four Triple Diamond Rookie Gems and at least one Quad Diamond Rookie Gem.
In every case, there should be one Lustrous Rookie, one Hardware Heroes, four PETG Championship Rings and four autographs. Lustrous Stars and Lustrous All-Time Greats will be tougher pulls.
Every year, the UD Ice bonus cards seem to be a big hit on the secondary market, if you pull the right rookie.