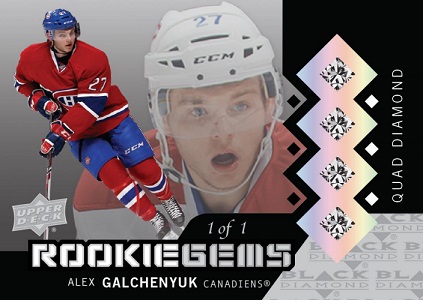 By Susan Lulgjuraj | Beckett Hockey Editor
Upper Deck seems to be taking the name of Black Diamond literal.
For the 2013-14 Black Diamond Hockey release, the card company is including relic cards with actual diamonds in them.
Of course, the Quad Diamond Rookie Gem Relics will be tough to pull, but UD has included them into a new configuration for the December release.
Each box will come with 20 five-card packs, including a bonus UD Ice pack. Collectors should find several Double and Triple Diamond cards in each box with an additional Quad Diamond – and a bonus Quad Diamond card. There will be at least one parallel and two Double Diamond Dual Jersey Puzzles in every box.
Rookies will be easier to pull with three to four Triple Diamond Rookie Gems and at least one Quad Diamond Rookie Gem.
In every case, there should be one Lustrous Rookie, one Hardware Heroes, four PETG Championship Rings and four autographs. Lustrous Stars and Lustrous All-Time Greats will be tougher pulls.
Every year, the UD Ice bonus cards seem to be a big hit on the secondary market, if you pull the right rookie.
Susan Lulgjuraj is an editor of Beckett Hockey. You can email her here with questions, comments or ideas. Follow her on Twitter here. Follow Beckett Media on Facebook and Twitter.
---
| | | | | | | | | | |
| --- | --- | --- | --- | --- | --- | --- | --- | --- | --- |
| Set Name | Card | Subjects | Team City | Team Name | Odds | Serial #'d | Auto | Mem | Rookie |
| Base Set – Single Diamond | 1 | Brad Richards | New York | Rangers | | | | | |
| Base Set – Single Diamond | 2 | Alex Tanguay | Colorado | Avalanche | | | | | |
| Base Set – Single Diamond | 3 | Derek Roy | St. Louis | Blues | | | | | |
| Base Set – Single Diamond | 4 | Max Pacioretty | Montreal | Canadiens | | | | | |
| Base Set – Single Diamond | 5 | Sergei Kostitsyn | Nashville | Predators | | | | | |
| Base Set – Single Diamond | 6 | Ray Whitney | Dallas | Stars | | | | | |
| Base Set – Single Diamond | 7 | Paul Stastny | Colorado | Avalanche | | | | | |
| Base Set – Single Diamond | 8 | Cory Schneider | New Jersey | Devils | | | | | |
| Base Set – Single Diamond | 9 | Nicklas Backstrom | Washington | Capitals | | | | | |
| Base Set – Single Diamond | 10 | Slava Voynov | Los Angeles | Kings | | | | | |
| Base Set – Single Diamond | 11 | Jack Johnson | Columbus | Blue Jackets | | | | | |
| Base Set – Single Diamond | 12 | Jonathan Bernier | Toronto | Maple Leafs | | | | | |
| Base Set – Single Diamond | 13 | Devin Setoguchi | Winnipeg | Jets | | | | | |
| Base Set – Single Diamond | 14 | David Krejci | Boston | Bruins | | | | | |
| Base Set – Single Diamond | 15 | Jim Howard | Detroit | Red Wings | | | | | |
| Base Set – Single Diamond | 16 | Martin Hanzal | Phoenix | Coyotes | | | | | |
| Base Set – Single Diamond | 17 | Mikael Backlund | Calgary | Flames | | | | | |
| Base Set – Single Diamond | 18 | Dustin Jeffrey | Pittsburgh | Penguins | | | | | |
| Base Set – Single Diamond | 19 | Alexander Semin | Carolina | Hurricanes | | | | | |
| Base Set – Single Diamond | 20 | David Backes | St. Louis | Blues | | | | | |
| Base Set – Single Diamond | 21 | Kyle Turris | Ottawa | Senators | | | | | |
| Base Set – Single Diamond | 22 | Sam Gagner | Edmonton | Oilers | | | | | |
| Base Set – Single Diamond | 23 | Teddy Purcell | Tampa Bay | Lightning | | | | | |
| Base Set – Single Diamond | 24 | Michael Ryder | New Jersey | Devils | | | | | |
| Base Set – Single Diamond | 25 | Bobby Ryan | Ottawa | Senators | | | | | |
| Base Set – Single Diamond | 26 | Andrew Ladd | Winnipeg | Jets | | | | | |
| Base Set – Single Diamond | 27 | Raffi Torres | San Jose | Sharks | | | | | |
| Base Set – Single Diamond | 28 | Logan Couture | San Jose | Sharks | | | | | |
| Base Set – Single Diamond | 29 | David Clarkson | Toronto | Maple Leafs | | | | | |
| Base Set – Single Diamond | 30 | Shea Weber | Nashville | Predators | | | | | |
| Base Set – Single Diamond | 31 | Nathan Horton | Columbus | Blue Jackets | | | | | |
| Base Set – Single Diamond | 32 | Steve Ott | Buffalo | Sabres | | | | | |
| Base Set – Single Diamond | 33 | Joe Pavelski | San Jose | Sharks | | | | | |
| Base Set – Single Diamond | 34 | Ryan Suter | Minnesota | Wild | | | | | |
| Base Set – Single Diamond | 35 | Zdeno Chara | Boston | Bruins | | | | | |
| Base Set – Single Diamond | 36 | Wayne Simmonds | Philadelphia | Flyers | | | | | |
| Base Set – Single Diamond | 37 | Ryan O'Reilly | Colorado | Avalanche | | | | | |
| Base Set – Single Diamond | 38 | Jakob Silfverberg | Anaheim | Ducks | | | | | |
| Base Set – Single Diamond | 39 | Jakub Voracek | Philadelphia | Flyers | | | | | |
| Base Set – Single Diamond | 40 | Alexandre Burrows | Vancouver | Canucks | | | | | |
| Base Set – Single Diamond | 41 | Frazer McLaren | Toronto | Maple Leafs | | | | | |
| Base Set – Single Diamond | 42 | Dan Boyle | San Jose | Sharks | | | | | |
| Base Set – Single Diamond | 43 | Kris Versteeg | Florida | Panthers | | | | | |
| Base Set – Single Diamond | 44 | Evgeni Nabokov | New York | Islanders | | | | | |
| Base Set – Single Diamond | 45 | Henrik Sedin | Vancouver | Canucks | | | | | |
| Base Set – Single Diamond | 46 | Patrick Marleau | San Jose | Sharks | | | | | |
| Base Set – Single Diamond | 47 | Jeff Skinner | Carolina | Hurricanes | | | | | |
| Base Set – Single Diamond | 48 | Michael Grabner | New York | Islanders | | | | | |
| Base Set – Single Diamond | 49 | Johan Franzen | Detroit | Red Wings | | | | | |
| Base Set – Single Diamond | 50 | Andrew Shaw | Chicago | Blackhawks | | | | | |
| Base Set – Single Diamond | 51 | Ryan Johansen | Columbus | Blue Jackets | | | | | |
| Base Set – Single Diamond | 52 | Lars Eller | Montreal | Canadiens | | | | | |
| Base Set – Single Diamond | 53 | Tyler Ennis | Buffalo | Sabres | | | | | |
| Base Set – Single Diamond | 54 | Niklas Kronwall | Detroit | Red Wings | | | | | |
| Base Set – Single Diamond | 55 | Ales Hemsky | Edmonton | Oilers | | | | | |
| Base Set – Single Diamond | 56 | Brent Seabrook | Chicago | Blackhawks | | | | | |
| Base Set – Single Diamond | 57 | Mike Ribeiro | Phoenix | Coyotes | | | | | |
| Base Set – Single Diamond | 58 | Tomas Vokoun | Pittsburgh | Penguins | | | | | |
| Base Set – Single Diamond | 59 | Adam Henrique | New Jersey | Devils | | | | | |
| Base Set – Single Diamond | 60 | Justin Williams | Los Angeles | Kings | | | | | |
| Base Set – Single Diamond | 61 | Justin Faulk | Carolina | Hurricanes | | | | | |
| Base Set – Single Diamond | 62 | Jiri Tlusty | Carolina | Hurricanes | | | | | |
| Base Set – Single Diamond | 63 | Mike Fisher | Nashville | Predators | | | | | |
| Base Set – Single Diamond | 64 | Shawn Horcoff | Dallas | Stars | | | | | |
| Base Set – Single Diamond | 65 | Chris Kunitz | Pittsburgh | Penguins | | | | | |
| Base Set – Single Diamond | 66 | Kari Lehtonen | Dallas | Stars | | | | | |
| Base Set – Single Diamond | 67 | Simon Despres | Pittsburgh | Penguins | | | | | |
| Base Set – Single Diamond | 68 | Marian Hossa | Chicago | Blackhawks | | | | | |
| Base Set – Single Diamond | 69 | Cody Hodgson | Buffalo | Sabres | | | | | |
| Base Set – Single Diamond | 70 | Brandon Saad | Chicago | Blackhawks | | | | | |
| Base Set – Single Diamond | 71 | Derek Stepan | New York | Rangers | | | | | |
| Base Set – Single Diamond | 72 | P.A. Parenteau | Colorado | Avalanche | | | | | |
| Base Set – Single Diamond | 73 | Sergei Bobrovsky | Columbus | Blue Jackets | | | | | |
| Base Set – Single Diamond | 74 | Lee Stempniak | Calgary | Flames | | | | | |
| Base Set – Single Diamond | 75 | David Legwand | Nashville | Predators | | | | | |
| Base Set – Single Diamond | 76 | Oliver Ekman-Larsson | Phoenix | Coyotes | | | | | |
| Base Set – Single Diamond | 77 | Jake Muzzin | Los Angeles | Kings | | | | | |
| Base Set – Single Diamond | 78 | Eric Staal | Carolina | Hurricanes | | | | | |
| Base Set – Single Diamond | 79 | Alex Pietrangelo | St. Louis | Blues | | | | | |
| Base Set – Single Diamond | 80 | Evander Kane | Winnipeg | Jets | | | | | |
| Base Set – Single Diamond | 81 | Jonas Hiller | Anaheim | Ducks | | | | | |
| Base Set – Single Diamond | 82 | Tyler Bozak | Toronto | Maple Leafs | | | | | |
| Base Set – Single Diamond | 83 | Saku Koivu | Anaheim | Ducks | | | | | |
| Base Set – Single Diamond | 84 | Matt Duchene | Colorado | Avalanche | | | | | |
| Base Set – Single Diamond | 85 | Jacob Markstrom | Florida | Panthers | | | | | |
| Base Set – Single Diamond | 86 | Martin St. Louis | Tampa Bay | Lightning | | | | | |
| Base Set – Single Diamond | 87 | Ray Emery | Philadelphia | Flyers | | | | | |
| Base Set – Single Diamond | 88 | Matt Moulson | New York | Islanders | | | | | |
| Base Set – Single Diamond | 89 | Craig Anderson | Ottawa | Senators | | | | | |
| Base Set – Single Diamond | 90 | Pascal Dupuis | Pittsburgh | Penguins | | | | | |
| Base Set – Single Diamond | 91 | Jason Pominville | Minnesota | Wild | | | | | |
| Base Set – Single Diamond | 92 | Joe Thornton | San Jose | Sharks | | | | | |
| Base Set – Single Diamond | 93 | Ondrej Pavelec | Winnipeg | Jets | | | | | |
| Base Set – Single Diamond | 94 | Chris Stewart | St. Louis | Blues | | | | | |
| Base Set – Single Diamond | 95 | Jamie Benn | Dallas | Stars | | | | | |
| Base Set – Single Diamond | 96 | Brian Elliott | St. Louis | Blues | | | | | |
| Base Set – Single Diamond | 97 | Blake Wheeler | Winnipeg | Jets | | | | | |
| Base Set – Single Diamond | 98 | James van Riemsdyk | Toronto | Maple Leafs | | | | | |
| Base Set – Single Diamond | 99 | Patrik Elias | New Jersey | Devils | | | | | |
| Base Set – Single Diamond | 100 | Tomas Fleischmann | Florida | Panthers | | | | | |
| Base Set – Double Diamond | 101 | Daniel Sedin | Vancouver | Canucks | 1:3 hobby, 1:4 blaster | | | | |
| Base Set – Double Diamond | 102 | Andy Moog | Montreal | Canadiens | 1:3 hobby, 1:4 blaster | | | | |
| Base Set – Double Diamond | 103 | Antti Niemi | San Jose | Sharks | 1:3 hobby, 1:4 blaster | | | | |
| Base Set – Double Diamond | 104 | Anze Kopitar | Los Angeles | Kings | 1:3 hobby, 1:4 blaster | | | | |
| Base Set – Double Diamond | 105 | Bill Ranford | Edmonton | Oilers | 1:3 hobby, 1:4 blaster | | | | |
| Base Set – Double Diamond | 106 | Brad Marchand | Boston | Bruins | 1:3 hobby, 1:4 blaster | | | | |
| Base Set – Double Diamond | 107 | Braden Holtby | Washington | Capitals | 1:3 hobby, 1:4 blaster | | | | |
| Base Set – Double Diamond | 108 | Brayden Schenn | Philadelphia | Flyers | 1:3 hobby, 1:4 blaster | | | | |
| Base Set – Double Diamond | 109 | Cam Neely | Boston | Bruins | 1:3 hobby, 1:4 blaster | | | | |
| Base Set – Double Diamond | 110 | Roberto Luongo | Vancouver | Canucks | 1:3 hobby, 1:4 blaster | | | | |
| Base Set – Double Diamond | 111 | Daniel Alfredsson | Detroit | Red Wings | 1:3 hobby, 1:4 blaster | | | | |
| Base Set – Double Diamond | 112 | Dave Schultz | Philadelphia | Flyers | 1:3 hobby, 1:4 blaster | | | | |
| Base Set – Double Diamond | 113 | Dion Phaneuf | Toronto | Maple Leafs | 1:3 hobby, 1:4 blaster | | | | |
| Base Set – Double Diamond | 114 | Corey Crawford | Chicago | Blackhawks | 1:3 hobby, 1:4 blaster | | | | |
| Base Set – Double Diamond | 115 | Erik Karlsson | Ottawa | Senators | 1:3 hobby, 1:4 blaster | | | | |
| Base Set – Double Diamond | 116 | Gabriel Landeskog | Colorado | Avalanche | 1:3 hobby, 1:4 blaster | | | | |
| Base Set – Double Diamond | 117 | Grant Fuhr | Edmonton | Oilers | 1:3 hobby, 1:4 blaster | | | | |
| Base Set – Double Diamond | 118 | Steve Mason | Philadelphia | Flyers | 1:3 hobby, 1:4 blaster | | | | |
| Base Set – Double Diamond | 119 | James Neal | Pittsburgh | Penguins | 1:3 hobby, 1:4 blaster | | | | |
| Base Set – Double Diamond | 120 | Jari Kurri | Los Angeles | Kings | 1:3 hobby, 1:4 blaster | | | | |
| Base Set – Double Diamond | 121 | Jarome Iginla | Boston | Bruins | 1:3 hobby, 1:4 blaster | | | | |
| Base Set – Double Diamond | 122 | Jaroslav Halak | St. Louis | Blues | 1:3 hobby, 1:4 blaster | | | | |
| Base Set – Double Diamond | 123 | Jason Spezza | Ottawa | Senators | 1:3 hobby, 1:4 blaster | | | | |
| Base Set – Double Diamond | 124 | Jeff Carter | Los Angeles | Kings | 1:3 hobby, 1:4 blaster | | | | |
| Base Set – Double Diamond | 125 | Jordan Staal | Carolina | Hurricanes | 1:3 hobby, 1:4 blaster | | | | |
| Base Set – Double Diamond | 126 | Kris Letang | Pittsburgh | Penguins | 1:3 hobby, 1:4 blaster | | | | |
| Base Set – Double Diamond | 127 | Larry Robinson | Montreal | Canadiens | 1:3 hobby, 1:4 blaster | | | | |
| Base Set – Double Diamond | 128 | Luc Robitaille | Los Angeles | Kings | 1:3 hobby, 1:4 blaster | | | | |
| Base Set – Double Diamond | 129 | Marc-Andre Fleury | Pittsburgh | Penguins | 1:3 hobby, 1:4 blaster | | | | |
| Base Set – Double Diamond | 130 | Marian Gaborik | Columbus | Blue Jackets | 1:3 hobby, 1:4 blaster | | | | |
| Base Set – Double Diamond | 131 | Markus Naslund | Vancouver | Canucks | 1:3 hobby, 1:4 blaster | | | | |
| Base Set – Double Diamond | 132 | Mike Richards | Los Angeles | Kings | 1:3 hobby, 1:4 blaster | | | | |
| Base Set – Double Diamond | 133 | Milan Hejduk | Colorado | Avalanche | 1:3 hobby, 1:4 blaster | | | | |
| Base Set – Double Diamond | 134 | Dany Heatley | Minnesota | Wild | 1:3 hobby, 1:4 blaster | | | | |
| Base Set – Double Diamond | 135 | Pekka Rinne | Nashville | Predators | 1:3 hobby, 1:4 blaster | | | | |
| Base Set – Double Diamond | 136 | Peter Stastny | Quebec | Nordiques | 1:3 hobby, 1:4 blaster | | | | |
| Base Set – Double Diamond | 137 | Phil Kessel | Toronto | Maple Leafs | 1:3 hobby, 1:4 blaster | | | | |
| Base Set – Double Diamond | 138 | Ron Hextall | Philadelphia | Flyers | 1:3 hobby, 1:4 blaster | | | | |
| Base Set – Double Diamond | 139 | Terry O'Reilly | Boston | Bruins | 1:3 hobby, 1:4 blaster | | | | |
| Base Set – Double Diamond | 140 | Ryan Getzlaf | Anaheim | Ducks | 1:3 hobby, 1:4 blaster | | | | |
| Base Set – Double Diamond | 141 | Ryan Kesler | Vancouver | Canucks | 1:3 hobby, 1:4 blaster | | | | |
| Base Set – Double Diamond | 142 | Ryan Smyth | Edmonton | Oilers | 1:3 hobby, 1:4 blaster | | | | |
| Base Set – Double Diamond | 143 | Corey Perry | Anaheim | Ducks | 1:3 hobby, 1:4 blaster | | | | |
| Base Set – Double Diamond | 144 | Scott Hartnell | Philadelphia | Flyers | 1:3 hobby, 1:4 blaster | | | | |
| Base Set – Double Diamond | 145 | Thomas Vanek | Buffalo | Sabres | 1:3 hobby, 1:4 blaster | | | | |
| Base Set – Double Diamond | 146 | Tony Esposito | Chicago | Blackhawks | 1:3 hobby, 1:4 blaster | | | | |
| Base Set – Double Diamond | 147 | Tuukka Rask | Boston | Bruins | 1:3 hobby, 1:4 blaster | | | | |
| Base Set – Double Diamond | 148 | Vincent Damphousse | Montreal | Canadiens | 1:3 hobby, 1:4 blaster | | | | |
| Base Set – Double Diamond | 149 | Vincent Lecavalier | Philadelphia | Flyers | 1:3 hobby, 1:4 blaster | | | | |
| Base Set – Double Diamond | 150 | Wendel Clark | Toronto | Maple Leafs | 1:3 hobby, 1:4 blaster | | | | |
| Base Set – Triple Diamond | 151 | Bobby Hull | Chicago | Blackhawks | 1:6 hobby, 1:8 blaster | | | | |
| Base Set – Triple Diamond | 152 | Gilbert Perreault | Buffalo | Sabres | 1:6 hobby, 1:8 blaster | | | | |
| Base Set – Triple Diamond | 153 | Carey Price | Montreal | Canadiens | 1:6 hobby, 1:8 blaster | | | | |
| Base Set – Triple Diamond | 154 | Chris Kunitz | Pittsburgh | Penguins | 1:6 hobby, 1:8 blaster | | | | |
| Base Set – Triple Diamond | 155 | Claude Giroux | Philadelphia | Flyers | 1:6 hobby, 1:8 blaster | | | | |
| Base Set – Triple Diamond | 156 | P.K. Subban | Montreal | Canadiens | 1:6 hobby, 1:8 blaster | | | | |
| Base Set – Triple Diamond | 157 | Peter Forsberg | Colorado | Avalanche | 1:6 hobby, 1:8 blaster | | | | |
| Base Set – Triple Diamond | 158 | Doug Gilmour | Toronto | Maple Leafs | 1:6 hobby, 1:8 blaster | | | | |
| Base Set – Triple Diamond | 159 | Guy Lafleur | Montreal | Canadiens | 1:6 hobby, 1:8 blaster | | | | |
| Base Set – Triple Diamond | 160 | Felix Potvin | Toronto | Maple Leafs | 1:6 hobby, 1:8 blaster | | | | |
| Base Set – Triple Diamond | 161 | Jonathan Quick | Los Angeles | Kings | 1:6 hobby, 1:8 blaster | | | | |
| Base Set – Triple Diamond | 162 | Jordan Eberle | Edmonton | Oilers | 1:6 hobby, 1:8 blaster | | | | |
| Base Set – Triple Diamond | 163 | Mikko Koivu | Minnesota | Wild | 1:6 hobby, 1:8 blaster | | | | |
| Base Set – Triple Diamond | 164 | Nicklas Lidstrom | Detroit | Red Wings | 1:6 hobby, 1:8 blaster | | | | |
| Base Set – Triple Diamond | 165 | Patrice Bergeron | Boston | Bruins | 1:6 hobby, 1:8 blaster | | | | |
| Base Set – Triple Diamond | 166 | Paul Coffey | Edmonton | Oilers | 1:6 hobby, 1:8 blaster | | | | |
| Base Set – Triple Diamond | 167 | Pavel Datsyuk | Detroit | Red Wings | 1:6 hobby, 1:8 blaster | | | | |
| Base Set – Triple Diamond | 168 | Phil Esposito | Boston | Bruins | 1:6 hobby, 1:8 blaster | | | | |
| Base Set – Triple Diamond | 169 | Rick Nash | New York | Rangers | 1:6 hobby, 1:8 blaster | | | | |
| Base Set – Triple Diamond | 170 | Rogie Vachon | Los Angeles | Kings | 1:6 hobby, 1:8 blaster | | | | |
| Base Set – Triple Diamond | 171 | Ron Francis | Pittsburgh | Penguins | 1:6 hobby, 1:8 blaster | | | | |
| Base Set – Triple Diamond | 172 | Taylor Hall | Edmonton | Oilers | 1:6 hobby, 1:8 blaster | | | | |
| Base Set – Triple Diamond | 173 | Teemu Selanne | Anaheim | Ducks | 1:6 hobby, 1:8 blaster | | | | |
| Base Set – Triple Diamond | 174 | Tyler Seguin | Dallas | Stars | 1:6 hobby, 1:8 blaster | | | | |
| Base Set – Triple Diamond | 175 | Zach Parise | Minnesota | Wild | 1:6 hobby, 1:8 blaster | | | | |
| Base Set – Triple Diamond Rookie Gems | 176 | Charlie Coyle | Minnesota | Wild | 1:6 hobby, 1:8 blaster | | | | Rookie |
| Base Set – Triple Diamond Rookie Gems | 177 | Jack Campbell | Dallas | Stars | 1:6 hobby, 1:8 blaster | | | | Rookie |
| Base Set – Triple Diamond Rookie Gems | 178 | Drew Shore | Florida | Panthers | 1:6 hobby, 1:8 blaster | | | | Rookie |
| Base Set – Triple Diamond Rookie Gems | 179 | Lucas Lessio | Phoenix | Coyotes | 1:6 hobby, 1:8 blaster | | | | Rookie |
| Base Set – Triple Diamond Rookie Gems | 180 | Eric Gelinas | New Jersey | Devils | 1:6 hobby, 1:8 blaster | | | | Rookie |
| Base Set – Triple Diamond Rookie Gems | 181 | Igor Bobkov | Anaheim | Ducks | 1:6 hobby, 1:8 blaster | | | | Rookie |
| Base Set – Triple Diamond Rookie Gems | 182 | Ryan Murphy | Carolina | Hurricanes | 1:6 hobby, 1:8 blaster | | | | Rookie |
| Base Set – Triple Diamond Rookie Gems | 183 | Beau Bennett | Pittsburgh | Penguins | 1:6 hobby, 1:8 blaster | | | | Rookie |
| Base Set – Triple Diamond Rookie Gems | 184 | Tom Wilson | Washington | Capitals | 1:6 hobby, 1:8 blaster | | | | Rookie |
| Base Set – Triple Diamond Rookie Gems | 185 | Nathan Beaulieu | Montreal | Canadiens | 1:6 hobby, 1:8 blaster | | | | Rookie |
| Base Set – Triple Diamond Rookie Gems | 186 | Carl Soderberg | Boston | Bruins | 1:6 hobby, 1:8 blaster | | | | Rookie |
| Base Set – Triple Diamond Rookie Gems | 187 | Tanner Pearson | Los Angeles | Kings | 1:6 hobby, 1:8 blaster | | | | Rookie |
| Base Set – Triple Diamond Rookie Gems | 188 | Emerson Etem | Anaheim | Ducks | 1:6 hobby, 1:8 blaster | | | | Rookie |
| Base Set – Triple Diamond Rookie Gems | 189 | Frank Corrado | Vancouver | Canucks | 1:6 hobby, 1:8 blaster | | | | Rookie |
| Base Set – Triple Diamond Rookie Gems | 190 | Zach Redmond | Winnipeg | Jets | 1:6 hobby, 1:8 blaster | | | | Rookie |
| Base Set – Triple Diamond Rookie Gems | 191 | Rickard Rakell | Anaheim | Ducks | 1:6 hobby, 1:8 blaster | | | | Rookie |
| Base Set – Triple Diamond Rookie Gems | 192 | Scott Laughton | Philadelphia | Flyers | 1:6 hobby, 1:8 blaster | | | | Rookie |
| Base Set – Triple Diamond Rookie Gems | 193 | Johan Larsson | Buffalo | Sabres | 1:6 hobby, 1:8 blaster | | | | Rookie |
| Base Set – Triple Diamond Rookie Gems | 194 | Austin Watson | Nashville | Predators | 1:6 hobby, 1:8 blaster | | | | Rookie |
| Base Set – Triple Diamond Rookie Gems | 195 | Michael Sgarbossa | Colorado | Avalanche | 1:6 hobby, 1:8 blaster | | | | Rookie |
| Base Set – Triple Diamond Rookie Gems | 196 | Joakim Nordstrom | Chicago | Blackhawks | 1:6 hobby, 1:8 blaster | | | | Rookie |
| Base Set – Triple Diamond Rookie Gems | 197 | Sami Vatanen | Anaheim | Ducks | 1:6 hobby, 1:8 blaster | | | | Rookie |
| Base Set – Triple Diamond Rookie Gems | 198 | Filip Forsberg | Nashville | Predators | 1:6 hobby, 1:8 blaster | | | | Rookie |
| Base Set – Triple Diamond Rookie Gems | 199 | Seth Jones | Nashville | Predators | 1:6 hobby, 1:8 blaster | | | | Rookie |
| Base Set – Triple Diamond Rookie Gems | 200 | Nicklas Jensen | Vancouver | Canucks | 1:6 hobby, 1:8 blaster | | | | Rookie |
| Base Set – Quad Diamond | 201 | Alexander Ovechkin | | All Star Team | 1:13 hobby, 1:24 blaster | | | | |
| Base Set – Quad Diamond | 202 | Bobby Orr | | All Star Team | 1:13 hobby, 1:24 blaster | | | | |
| Base Set – Quad Diamond | 203 | Brett Hull | | All Star Team | 1:13 hobby, 1:24 blaster | | | | |
| Base Set – Quad Diamond | 204 | Dale Hawerchuk | | All Star Team | 1:13 hobby, 1:24 blaster | | | | |
| Base Set – Quad Diamond | 205 | Eric Lindros | | All Star Team | 1:13 hobby, 1:24 blaster | | | | |
| Base Set – Quad Diamond | 206 | Evgeni Malkin | | All Star Team | 1:13 hobby, 1:24 blaster | | | | |
| Base Set – Quad Diamond | 207 | Steve Yzerman | | All Star Team | 1:13 hobby, 1:24 blaster | | | | |
| Base Set – Quad Diamond | 208 | Jean Beliveau | | All Star Team | 1:13 hobby, 1:24 blaster | | | | |
| Base Set – Quad Diamond | 209 | Joe Sakic | | All Star Team | 1:13 hobby, 1:24 blaster | | | | |
| Base Set – Quad Diamond | 210 | John Tavares | | All Star Team | 1:13 hobby, 1:24 blaster | | | | |
| Base Set – Quad Diamond | 211 | Jonathan Toews | | All Star Team | 1:13 hobby, 1:24 blaster | | | | |
| Base Set – Quad Diamond | 212 | Mario Lemieux | | All Star Team | 1:13 hobby, 1:24 blaster | | | | |
| Base Set – Quad Diamond | 213 | Mark Messier | | All Star Team | 1:13 hobby, 1:24 blaster | | | | |
| Base Set – Quad Diamond | 214 | Martin Brodeur | | All Star Team | 1:13 hobby, 1:24 blaster | | | | |
| Base Set – Quad Diamond | 215 | Mats Sundin | | All Star Team | 1:13 hobby, 1:24 blaster | | | | |
| Base Set – Quad Diamond | 216 | Mike Bossy | | All Star Team | 1:13 hobby, 1:24 blaster | | | | |
| Base Set – Quad Diamond | 217 | Dominik Hasek | | All Star Team | 1:13 hobby, 1:24 blaster | | | | |
| Base Set – Quad Diamond | 218 | Patrick Kane | | All Star Team | 1:13 hobby, 1:24 blaster | | | | |
| Base Set – Quad Diamond | 219 | Patrick Roy | | All Star Team | 1:13 hobby, 1:24 blaster | | | | |
| Base Set – Quad Diamond | 220 | Pavel Bure | | All Star Team | 1:13 hobby, 1:24 blaster | | | | |
| Base Set – Quad Diamond | 221 | Ryan Miller | | All Star Team | 1:13 hobby, 1:24 blaster | | | | |
| Base Set – Quad Diamond | 222 | Sidney Crosby | | All Star Team | 1:13 hobby, 1:24 blaster | | | | |
| Base Set – Quad Diamond | 223 | Steven Stamkos | | All Star Team | 1:13 hobby, 1:24 blaster | | | | |
| Base Set – Quad Diamond | 224 | Theoren Fleury | | All Star Team | 1:13 hobby, 1:24 blaster | | | | |
| Base Set – Quad Diamond | 225 | Wayne Gretzky | | All Star Team | 1:13 hobby, 1:24 blaster | | | | |
| Base Set – Quad Diamond Rookie Gems | 226 | Nail Yakupov | Edmonton | Oilers | 1:13 hobby, 1:24 blaster | | | | Rookie |
| Base Set – Quad Diamond Rookie Gems | 227 | Tomas Hertl | San Jose | Sharks | 1:13 hobby, 1:24 blaster | | | | Rookie |
| Base Set – Quad Diamond Rookie Gems | 228 | Elias Lindholm | Carolina | Hurricanes | 1:13 hobby, 1:24 blaster | | | | Rookie |
| Base Set – Quad Diamond Rookie Gems | 229 | Nathan MacKinnon | Colorado | Avalanche | 1:13 hobby, 1:24 blaster | | | | Rookie |
| Base Set – Quad Diamond Rookie Gems | 230 | Morgan Rielly | Toronto | Maple Leafs | 1:13 hobby, 1:24 blaster | | | | Rookie |
| Base Set – Quad Diamond Rookie Gems | 231 | Brendan Gallagher | Montreal | Canadiens | 1:13 hobby, 1:24 blaster | | | | Rookie |
| Base Set – Quad Diamond Rookie Gems | 232 | Cory Conacher | Ottawa | Senators | 1:13 hobby, 1:24 blaster | | | | Rookie |
| Base Set – Quad Diamond Rookie Gems | 233 | Justin Schultz | Edmonton | Oilers | 1:13 hobby, 1:24 blaster | | | | Rookie |
| Base Set – Quad Diamond Rookie Gems | 234 | Mikael Granlund | Minnesota | Wild | 1:13 hobby, 1:24 blaster | | | | Rookie |
| Base Set – Quad Diamond Rookie Gems | 235 | Vladimir Tarasenko | St. Louis | Blues | 1:13 hobby, 1:24 blaster | | | | Rookie |
| Base Set – Quad Diamond Rookie Gems | 236 | Zemgus Girgensons | Buffalo | Sabres | 1:13 hobby, 1:24 blaster | | | | Rookie |
| Base Set – Quad Diamond Rookie Gems | 237 | Alex Galchenyuk | Montreal | Canadiens | 1:13 hobby, 1:24 blaster | | | | Rookie |
| Base Set – Quad Diamond Rookie Gems | 238 | Jonathan Huberdeau | Florida | Panthers | 1:13 hobby, 1:24 blaster | | | | Rookie |
| Base Set – Quad Diamond Rookie Gems | 239 | Jonas Brodin | Minnesota | Wild | 1:13 hobby, 1:24 blaster | | | | Rookie |
| Base Set – Quad Diamond Rookie Gems | 240 | J.T. Miller | New York | Rangers | 1:13 hobby, 1:24 blaster | | | | Rookie |
| Base Set – Quad Diamond Rookie Gems | 241 | Dougie Hamilton | Boston | Bruins | 1:13 hobby, 1:24 blaster | | | | Rookie |
| Base Set – Quad Diamond Rookie Gems | 242 | Boone Jenner | Columbus | Blue Jackets | 1:13 hobby, 1:24 blaster | | | | Rookie |
| Base Set – Quad Diamond Rookie Gems | 243 | Tyler Toffoli | Los Angeles | Kings | 1:13 hobby, 1:24 blaster | | | | Rookie |
| Base Set – Quad Diamond Rookie Gems | 244 | Aleksander Barkov | Florida | Panthers | 1:13 hobby, 1:24 blaster | | | | Rookie |
| Base Set – Quad Diamond Rookie Gems | 245 | Rasmus Ristolainen | Buffalo | Sabres | 1:13 hobby, 1:24 blaster | | | | Rookie |
| Base Set – Quad Diamond Rookie Gems | 246 | Ryan Murray | Columbus | Blue Jackets | 1:13 hobby, 1:24 blaster | | | | Rookie |
| Base Set – Quad Diamond Rookie Gems | 247 | Valeri Nichushkin | Dallas | Stars | 1:13 hobby, 1:24 blaster | | | | Rookie |
| Base Set – Quad Diamond Rookie Gems | 248 | Mikhail Grigorenko | Buffalo | Sabres | 1:13 hobby, 1:24 blaster | | | | Rookie |
| Base Set – Quad Diamond Rookie Gems | 249 | Jacob Trouba | Winnipeg | Jets | 1:13 hobby, 1:24 blaster | | | | Rookie |
| Base Set – Quad Diamond Rookie Gems | 250 | Sean Monahan | Calgary | Flames | 1:13 hobby, 1:24 blaster | | | | Rookie |
| Ruby – Single Diamond | 1 | Brad Richards | New York | Rangers | Random Inserts in Hobby Packs | 50 | | | |
| Ruby – Single Diamond | 2 | Alex Tanguay | Colorado | Avalanche | Random Inserts in Hobby Packs | 50 | | | |
| Ruby – Single Diamond | 3 | Derek Roy | St. Louis | Blues | Random Inserts in Hobby Packs | 50 | | | |
| Ruby – Single Diamond | 4 | Max Pacioretty | Montreal | Canadiens | Random Inserts in Hobby Packs | 50 | | | |
| Ruby – Single Diamond | 5 | Sergei Kostitsyn | Nashville | Predators | Random Inserts in Hobby Packs | 50 | | | |
| Ruby – Single Diamond | 6 | Ray Whitney | Dallas | Stars | Random Inserts in Hobby Packs | 50 | | | |
| Ruby – Single Diamond | 7 | Paul Stastny | Colorado | Avalanche | Random Inserts in Hobby Packs | 50 | | | |
| Ruby – Single Diamond | 8 | Cory Schneider | New Jersey | Devils | Random Inserts in Hobby Packs | 50 | | | |
| Ruby – Single Diamond | 9 | Nicklas Backstrom | Washington | Capitals | Random Inserts in Hobby Packs | 50 | | | |
| Ruby – Single Diamond | 10 | Slava Voynov | Los Angeles | Kings | Random Inserts in Hobby Packs | 50 | | | |
| Ruby – Single Diamond | 11 | Jack Johnson | Columbus | Blue Jackets | Random Inserts in Hobby Packs | 50 | | | |
| Ruby – Single Diamond | 12 | Jonathan Bernier | Toronto | Maple Leafs | Random Inserts in Hobby Packs | 50 | | | |
| Ruby – Single Diamond | 13 | Devin Setoguchi | Winnipeg | Jets | Random Inserts in Hobby Packs | 50 | | | |
| Ruby – Single Diamond | 14 | David Krejci | Boston | Bruins | Random Inserts in Hobby Packs | 50 | | | |
| Ruby – Single Diamond | 15 | Jim Howard | Detroit | Red Wings | Random Inserts in Hobby Packs | 50 | | | |
| Ruby – Single Diamond | 16 | Martin Hanzal | Phoenix | Coyotes | Random Inserts in Hobby Packs | 50 | | | |
| Ruby – Single Diamond | 17 | Mikael Backlund | Calgary | Flames | Random Inserts in Hobby Packs | 50 | | | |
| Ruby – Single Diamond | 18 | Dustin Jeffrey | Pittsburgh | Penguins | Random Inserts in Hobby Packs | 50 | | | |
| Ruby – Single Diamond | 19 | Alexander Semin | Carolina | Hurricanes | Random Inserts in Hobby Packs | 50 | | | |
| Ruby – Single Diamond | 20 | David Backes | St. Louis | Blues | Random Inserts in Hobby Packs | 50 | | | |
| Ruby – Single Diamond | 21 | Kyle Turris | Ottawa | Senators | Random Inserts in Hobby Packs | 50 | | | |
| Ruby – Single Diamond | 22 | Sam Gagner | Edmonton | Oilers | Random Inserts in Hobby Packs | 50 | | | |
| Ruby – Single Diamond | 23 | Teddy Purcell | Tampa Bay | Lightning | Random Inserts in Hobby Packs | 50 | | | |
| Ruby – Single Diamond | 24 | Michael Ryder | New Jersey | Devils | Random Inserts in Hobby Packs | 50 | | | |
| Ruby – Single Diamond | 25 | Bobby Ryan | Ottawa | Senators | Random Inserts in Hobby Packs | 50 | | | |
| Ruby – Single Diamond | 26 | Andrew Ladd | Winnipeg | Jets | Random Inserts in Hobby Packs | 50 | | | |
| Ruby – Single Diamond | 27 | Raffi Torres | San Jose | Sharks | Random Inserts in Hobby Packs | 50 | | | |
| Ruby – Single Diamond | 28 | Logan Couture | San Jose | Sharks | Random Inserts in Hobby Packs | 50 | | | |
| Ruby – Single Diamond | 29 | David Clarkson | Toronto | Maple Leafs | Random Inserts in Hobby Packs | 50 | | | |
| Ruby – Single Diamond | 30 | Shea Weber | Nashville | Predators | Random Inserts in Hobby Packs | 50 | | | |
| Ruby – Single Diamond | 31 | Nathan Horton | Columbus | Blue Jackets | Random Inserts in Hobby Packs | 50 | | | |
| Ruby – Single Diamond | 32 | Steve Ott | Buffalo | Sabres | Random Inserts in Hobby Packs | 50 | | | |
| Ruby – Single Diamond | 33 | Joe Pavelski | San Jose | Sharks | Random Inserts in Hobby Packs | 50 | | | |
| Ruby – Single Diamond | 34 | Ryan Suter | Minnesota | Wild | Random Inserts in Hobby Packs | 50 | | | |
| Ruby – Single Diamond | 35 | Zdeno Chara | Boston | Bruins | Random Inserts in Hobby Packs | 50 | | | |
| Ruby – Single Diamond | 36 | Wayne Simmonds | Philadelphia | Flyers | Random Inserts in Hobby Packs | 50 | | | |
| Ruby – Single Diamond | 37 | Ryan O'Reilly | Colorado | Avalanche | Random Inserts in Hobby Packs | 50 | | | |
| Ruby – Single Diamond | 38 | Jakob Silfverberg | Anaheim | Ducks | Random Inserts in Hobby Packs | 50 | | | |
| Ruby – Single Diamond | 39 | Jakub Voracek | Philadelphia | Flyers | Random Inserts in Hobby Packs | 50 | | | |
| Ruby – Single Diamond | 40 | Alexandre Burrows | Vancouver | Canucks | Random Inserts in Hobby Packs | 50 | | | |
| Ruby – Single Diamond | 41 | Frazer McLaren | Toronto | Maple Leafs | Random Inserts in Hobby Packs | 50 | | | |
| Ruby – Single Diamond | 42 | Dan Boyle | San Jose | Sharks | Random Inserts in Hobby Packs | 50 | | | |
| Ruby – Single Diamond | 43 | Kris Versteeg | Florida | Panthers | Random Inserts in Hobby Packs | 50 | | | |
| Ruby – Single Diamond | 44 | Evgeni Nabokov | New York | Islanders | Random Inserts in Hobby Packs | 50 | | | |
| Ruby – Single Diamond | 45 | Henrik Sedin | Vancouver | Canucks | Random Inserts in Hobby Packs | 50 | | | |
| Ruby – Single Diamond | 46 | Patrick Marleau | San Jose | Sharks | Random Inserts in Hobby Packs | 50 | | | |
| Ruby – Single Diamond | 47 | Jeff Skinner | Carolina | Hurricanes | Random Inserts in Hobby Packs | 50 | | | |
| Ruby – Single Diamond | 48 | Michael Grabner | New York | Islanders | Random Inserts in Hobby Packs | 50 | | | |
| Ruby – Single Diamond | 49 | Johan Franzen | Detroit | Red Wings | Random Inserts in Hobby Packs | 50 | | | |
| Ruby – Single Diamond | 50 | Andrew Shaw | Chicago | Blackhawks | Random Inserts in Hobby Packs | 50 | | | |
| Ruby – Single Diamond | 51 | Ryan Johansen | Columbus | Blue Jackets | Random Inserts in Hobby Packs | 50 | | | |
| Ruby – Single Diamond | 52 | Lars Eller | Montreal | Canadiens | Random Inserts in Hobby Packs | 50 | | | |
| Ruby – Single Diamond | 53 | Tyler Ennis | Buffalo | Sabres | Random Inserts in Hobby Packs | 50 | | | |
| Ruby – Single Diamond | 54 | Niklas Kronwall | Detroit | Red Wings | Random Inserts in Hobby Packs | 50 | | | |
| Ruby – Single Diamond | 55 | Ales Hemsky | Edmonton | Oilers | Random Inserts in Hobby Packs | 50 | | | |
| Ruby – Single Diamond | 56 | Brent Seabrook | Chicago | Blackhawks | Random Inserts in Hobby Packs | 50 | | | |
| Ruby – Single Diamond | 57 | Mike Ribeiro | Phoenix | Coyotes | Random Inserts in Hobby Packs | 50 | | | |
| Ruby – Single Diamond | 58 | Tomas Vokoun | Pittsburgh | Penguins | Random Inserts in Hobby Packs | 50 | | | |
| Ruby – Single Diamond | 59 | Adam Henrique | New Jersey | Devils | Random Inserts in Hobby Packs | 50 | | | |
| Ruby – Single Diamond | 60 | Justin Williams | Los Angeles | Kings | Random Inserts in Hobby Packs | 50 | | | |
| Ruby – Single Diamond | 61 | Justin Faulk | Carolina | Hurricanes | Random Inserts in Hobby Packs | 50 | | | |
| Ruby – Single Diamond | 62 | Jiri Tlusty | Carolina | Hurricanes | Random Inserts in Hobby Packs | 50 | | | |
| Ruby – Single Diamond | 63 | Mike Fisher | Nashville | Predators | Random Inserts in Hobby Packs | 50 | | | |
| Ruby – Single Diamond | 64 | Shawn Horcoff | Dallas | Stars | Random Inserts in Hobby Packs | 50 | | | |
| Ruby – Single Diamond | 65 | Chris Kunitz | Pittsburgh | Penguins | Random Inserts in Hobby Packs | 50 | | | |
| Ruby – Single Diamond | 66 | Kari Lehtonen | Dallas | Stars | Random Inserts in Hobby Packs | 50 | | | |
| Ruby – Single Diamond | 67 | Simon Despres | Pittsburgh | Penguins | Random Inserts in Hobby Packs | 50 | | | |
| Ruby – Single Diamond | 68 | Marian Hossa | Chicago | Blackhawks | Random Inserts in Hobby Packs | 50 | | | |
| Ruby – Single Diamond | 69 | Cody Hodgson | Buffalo | Sabres | Random Inserts in Hobby Packs | 50 | | | |
| Ruby – Single Diamond | 70 | Brandon Saad | Chicago | Blackhawks | Random Inserts in Hobby Packs | 50 | | | |
| Ruby – Single Diamond | 71 | Derek Stepan | New York | Rangers | Random Inserts in Hobby Packs | 50 | | | |
| Ruby – Single Diamond | 72 | P.A. Parenteau | Colorado | Avalanche | Random Inserts in Hobby Packs | 50 | | | |
| Ruby – Single Diamond | 73 | Sergei Bobrovsky | Columbus | Blue Jackets | Random Inserts in Hobby Packs | 50 | | | |
| Ruby – Single Diamond | 74 | Lee Stempniak | Calgary | Flames | Random Inserts in Hobby Packs | 50 | | | |
| Ruby – Single Diamond | 75 | David Legwand | Nashville | Predators | Random Inserts in Hobby Packs | 50 | | | |
| Ruby – Single Diamond | 76 | Oliver Ekman-Larsson | Phoenix | Coyotes | Random Inserts in Hobby Packs | 50 | | | |
| Ruby – Single Diamond | 77 | Jake Muzzin | Los Angeles | Kings | Random Inserts in Hobby Packs | 50 | | | |
| Ruby – Single Diamond | 78 | Eric Staal | Carolina | Hurricanes | Random Inserts in Hobby Packs | 50 | | | |
| Ruby – Single Diamond | 79 | Alex Pietrangelo | St. Louis | Blues | Random Inserts in Hobby Packs | 50 | | | |
| Ruby – Single Diamond | 80 | Evander Kane | Winnipeg | Jets | Random Inserts in Hobby Packs | 50 | | | |
| Ruby – Single Diamond | 81 | Jonas Hiller | Anaheim | Ducks | Random Inserts in Hobby Packs | 50 | | | |
| Ruby – Single Diamond | 82 | Tyler Bozak | Toronto | Maple Leafs | Random Inserts in Hobby Packs | 50 | | | |
| Ruby – Single Diamond | 83 | Saku Koivu | Anaheim | Ducks | Random Inserts in Hobby Packs | 50 | | | |
| Ruby – Single Diamond | 84 | Matt Duchene | Colorado | Avalanche | Random Inserts in Hobby Packs | 50 | | | |
| Ruby – Single Diamond | 85 | Jacob Markstrom | Florida | Panthers | Random Inserts in Hobby Packs | 50 | | | |
| Ruby – Single Diamond | 86 | Martin St. Louis | Tampa Bay | Lightning | Random Inserts in Hobby Packs | 50 | | | |
| Ruby – Single Diamond | 87 | Ray Emery | Philadelphia | Flyers | Random Inserts in Hobby Packs | 50 | | | |
| Ruby – Single Diamond | 88 | Matt Moulson | New York | Islanders | Random Inserts in Hobby Packs | 50 | | | |
| Ruby – Single Diamond | 89 | Craig Anderson | Ottawa | Senators | Random Inserts in Hobby Packs | 50 | | | |
| Ruby – Single Diamond | 90 | Pascal Dupuis | Pittsburgh | Penguins | Random Inserts in Hobby Packs | 50 | | | |
| Ruby – Single Diamond | 91 | Jason Pominville | Minnesota | Wild | Random Inserts in Hobby Packs | 50 | | | |
| Ruby – Single Diamond | 92 | Joe Thornton | San Jose | Sharks | Random Inserts in Hobby Packs | 50 | | | |
| Ruby – Single Diamond | 93 | Ondrej Pavelec | Winnipeg | Jets | Random Inserts in Hobby Packs | 50 | | | |
| Ruby – Single Diamond | 94 | Chris Stewart | St. Louis | Blues | Random Inserts in Hobby Packs | 50 | | | |
| Ruby – Single Diamond | 95 | Jamie Benn | Dallas | Stars | Random Inserts in Hobby Packs | 50 | | | |
| Ruby – Single Diamond | 96 | Brian Elliott | St. Louis | Blues | Random Inserts in Hobby Packs | 50 | | | |
| Ruby – Single Diamond | 97 | Blake Wheeler | Winnipeg | Jets | Random Inserts in Hobby Packs | 50 | | | |
| Ruby – Single Diamond | 98 | James van Riemsdyk | Toronto | Maple Leafs | Random Inserts in Hobby Packs | 50 | | | |
| Ruby – Single Diamond | 99 | Patrik Elias | New Jersey | Devils | Random Inserts in Hobby Packs | 50 | | | |
| Ruby – Single Diamond | 100 | Tomas Fleischmann | Florida | Panthers | Random Inserts in Hobby Packs | 50 | | | |
| Ruby – Double Diamond | 101 | Daniel Sedin | Vancouver | Canucks | Random Inserts in Hobby Packs | 50 | | | |
| Ruby – Double Diamond | 102 | Andy Moog | Montreal | Canadiens | Random Inserts in Hobby Packs | 50 | | | |
| Ruby – Double Diamond | 103 | Antti Niemi | San Jose | Sharks | Random Inserts in Hobby Packs | 50 | | | |
| Ruby – Double Diamond | 104 | Anze Kopitar | Los Angeles | Kings | Random Inserts in Hobby Packs | 50 | | | |
| Ruby – Double Diamond | 105 | Bill Ranford | Edmonton | Oilers | Random Inserts in Hobby Packs | 50 | | | |
| Ruby – Double Diamond | 106 | Brad Marchand | Boston | Bruins | Random Inserts in Hobby Packs | 50 | | | |
| Ruby – Double Diamond | 107 | Braden Holtby | Washington | Capitals | Random Inserts in Hobby Packs | 50 | | | |
| Ruby – Double Diamond | 108 | Brayden Schenn | Philadelphia | Flyers | Random Inserts in Hobby Packs | 50 | | | |
| Ruby – Double Diamond | 109 | Cam Neely | Boston | Bruins | Random Inserts in Hobby Packs | 50 | | | |
| Ruby – Double Diamond | 110 | Roberto Luongo | Vancouver | Canucks | Random Inserts in Hobby Packs | 50 | | | |
| Ruby – Double Diamond | 111 | Daniel Alfredsson | Detroit | Red Wings | Random Inserts in Hobby Packs | 50 | | | |
| Ruby – Double Diamond | 112 | Dave Schultz | Philadelphia | Flyers | Random Inserts in Hobby Packs | 50 | | | |
| Ruby – Double Diamond | 113 | Dion Phaneuf | Toronto | Maple Leafs | Random Inserts in Hobby Packs | 50 | | | |
| Ruby – Double Diamond | 114 | Corey Crawford | Chicago | Blackhawks | Random Inserts in Hobby Packs | 50 | | | |
| Ruby – Double Diamond | 115 | Erik Karlsson | Ottawa | Senators | Random Inserts in Hobby Packs | 50 | | | |
| Ruby – Double Diamond | 116 | Gabriel Landeskog | Colorado | Avalanche | Random Inserts in Hobby Packs | 50 | | | |
| Ruby – Double Diamond | 117 | Grant Fuhr | Edmonton | Oilers | Random Inserts in Hobby Packs | 50 | | | |
| Ruby – Double Diamond | 118 | Steve Mason | Philadelphia | Flyers | Random Inserts in Hobby Packs | 50 | | | |
| Ruby – Double Diamond | 119 | James Neal | Pittsburgh | Penguins | Random Inserts in Hobby Packs | 50 | | | |
| Ruby – Double Diamond | 120 | Jari Kurri | Los Angeles | Kings | Random Inserts in Hobby Packs | 50 | | | |
| Ruby – Double Diamond | 121 | Jarome Iginla | Boston | Bruins | Random Inserts in Hobby Packs | 50 | | | |
| Ruby – Double Diamond | 122 | Jaroslav Halak | St. Louis | Blues | Random Inserts in Hobby Packs | 50 | | | |
| Ruby – Double Diamond | 123 | Jason Spezza | Ottawa | Senators | Random Inserts in Hobby Packs | 50 | | | |
| Ruby – Double Diamond | 124 | Jeff Carter | Los Angeles | Kings | Random Inserts in Hobby Packs | 50 | | | |
| Ruby – Double Diamond | 125 | Jordan Staal | Carolina | Hurricanes | Random Inserts in Hobby Packs | 50 | | | |
| Ruby – Double Diamond | 126 | Kris Letang | Pittsburgh | Penguins | Random Inserts in Hobby Packs | 50 | | | |
| Ruby – Double Diamond | 127 | Larry Robinson | Montreal | Canadiens | Random Inserts in Hobby Packs | 50 | | | |
| Ruby – Double Diamond | 128 | Luc Robitaille | Los Angeles | Kings | Random Inserts in Hobby Packs | 50 | | | |
| Ruby – Double Diamond | 129 | Marc-Andre Fleury | Pittsburgh | Penguins | Random Inserts in Hobby Packs | 50 | | | |
| Ruby – Double Diamond | 130 | Marian Gaborik | Columbus | Blue Jackets | Random Inserts in Hobby Packs | 50 | | | |
| Ruby – Double Diamond | 131 | Markus Naslund | Vancouver | Canucks | Random Inserts in Hobby Packs | 50 | | | |
| Ruby – Double Diamond | 132 | Mike Richards | Los Angeles | Kings | Random Inserts in Hobby Packs | 50 | | | |
| Ruby – Double Diamond | 133 | Milan Hejduk | Colorado | Avalanche | Random Inserts in Hobby Packs | 50 | | | |
| Ruby – Double Diamond | 134 | Dany Heatley | Minnesota | Wild | Random Inserts in Hobby Packs | 50 | | | |
| Ruby – Double Diamond | 135 | Pekka Rinne | Nashville | Predators | Random Inserts in Hobby Packs | 50 | | | |
| Ruby – Double Diamond | 136 | Peter Stastny | Quebec | Nordiques | Random Inserts in Hobby Packs | 50 | | | |
| Ruby – Double Diamond | 137 | Phil Kessel | Toronto | Maple Leafs | Random Inserts in Hobby Packs | 50 | | | |
| Ruby – Double Diamond | 138 | Ron Hextall | Philadelphia | Flyers | Random Inserts in Hobby Packs | 50 | | | |
| Ruby – Double Diamond | 139 | Terry O'Reilly | Boston | Bruins | Random Inserts in Hobby Packs | 50 | | | |
| Ruby – Double Diamond | 140 | Ryan Getzlaf | Anaheim | Ducks | Random Inserts in Hobby Packs | 50 | | | |
| Ruby – Double Diamond | 141 | Ryan Kesler | Vancouver | Canucks | Random Inserts in Hobby Packs | 50 | | | |
| Ruby – Double Diamond | 142 | Ryan Smyth | Edmonton | Oilers | Random Inserts in Hobby Packs | 50 | | | |
| Ruby – Double Diamond | 143 | Corey Perry | Anaheim | Mighty Ducks | Random Inserts in Hobby Packs | 50 | | | |
| Ruby – Double Diamond | 144 | Scott Hartnell | Philadelphia | Flyers | Random Inserts in Hobby Packs | 50 | | | |
| Ruby – Double Diamond | 145 | Thomas Vanek | Buffalo | Sabres | Random Inserts in Hobby Packs | 50 | | | |
| Ruby – Double Diamond | 146 | Tony Esposito | Chicago | Blackhawks | Random Inserts in Hobby Packs | 50 | | | |
| Ruby – Double Diamond | 147 | Tuukka Rask | Boston | Bruins | Random Inserts in Hobby Packs | 50 | | | |
| Ruby – Double Diamond | 148 | Vincent Damphousse | Montreal | Canadiens | Random Inserts in Hobby Packs | 50 | | | |
| Ruby – Double Diamond | 149 | Vincent Lecavalier | Philadelphia | Flyers | Random Inserts in Hobby Packs | 50 | | | |
| Ruby – Double Diamond | 150 | Wendel Clark | Toronto | Maple Leafs | Random Inserts in Hobby Packs | 50 | | | |
| Ruby – Triple Diamond | 151 | Bobby Hull | Chicago | Blackhawks | Random Inserts in Hobby Packs | 50 | | | |
| Ruby – Triple Diamond | 152 | Gilbert Perreault | Buffalo | Sabres | Random Inserts in Hobby Packs | 50 | | | |
| Ruby – Triple Diamond | 153 | Carey Price | Montreal | Canadiens | Random Inserts in Hobby Packs | 50 | | | |
| Ruby – Triple Diamond | 154 | Chris Kunitz | Pittsburgh | Penguins | Random Inserts in Hobby Packs | 50 | | | |
| Ruby – Triple Diamond | 155 | Claude Giroux | Philadelphia | Flyers | Random Inserts in Hobby Packs | 50 | | | |
| Ruby – Triple Diamond | 156 | P.K. Subban | Montreal | Canadiens | Random Inserts in Hobby Packs | 50 | | | |
| Ruby – Triple Diamond | 157 | Peter Forsberg | Colorado | Avalanche | Random Inserts in Hobby Packs | 50 | | | |
| Ruby – Triple Diamond | 158 | Doug Gilmour | Toronto | Maple Leafs | Random Inserts in Hobby Packs | 50 | | | |
| Ruby – Triple Diamond | 159 | Guy Lafleur | Montreal | Canadiens | Random Inserts in Hobby Packs | 50 | | | |
| Ruby – Triple Diamond | 160 | Felix Potvin | Toronto | Maple Leafs | Random Inserts in Hobby Packs | 50 | | | |
| Ruby – Triple Diamond | 161 | Jonathan Quick | Los Angeles | Kings | Random Inserts in Hobby Packs | 50 | | | |
| Ruby – Triple Diamond | 162 | Jordan Eberle | Edmonton | Oilers | Random Inserts in Hobby Packs | 50 | | | |
| Ruby – Triple Diamond | 163 | Mikko Koivu | Minnesota | Wild | Random Inserts in Hobby Packs | 50 | | | |
| Ruby – Triple Diamond | 164 | Nicklas Lidstrom | Detroit | Red Wings | Random Inserts in Hobby Packs | 50 | | | |
| Ruby – Triple Diamond | 165 | Patrice Bergeron | Boston | Bruins | Random Inserts in Hobby Packs | 50 | | | |
| Ruby – Triple Diamond | 166 | Paul Coffey | Edmonton | Oilers | Random Inserts in Hobby Packs | 50 | | | |
| Ruby – Triple Diamond | 167 | Pavel Datsyuk | Detroit | Red Wings | Random Inserts in Hobby Packs | 50 | | | |
| Ruby – Triple Diamond | 168 | Phil Esposito | Boston | Bruins | Random Inserts in Hobby Packs | 50 | | | |
| Ruby – Triple Diamond | 169 | Rick Nash | New York | Rangers | Random Inserts in Hobby Packs | 50 | | | |
| Ruby – Triple Diamond | 170 | Rogie Vachon | Los Angeles | Kings | Random Inserts in Hobby Packs | 50 | | | |
| Ruby – Triple Diamond | 171 | Ron Francis | Pittsburgh | Penguins | Random Inserts in Hobby Packs | 50 | | | |
| Ruby – Triple Diamond | 172 | Taylor Hall | Edmonton | Oilers | Random Inserts in Hobby Packs | 50 | | | |
| Ruby – Triple Diamond | 173 | Teemu Selanne | Anaheim | Ducks | Random Inserts in Hobby Packs | 50 | | | |
| Ruby – Triple Diamond | 174 | Tyler Seguin | Dallas | Stars | Random Inserts in Hobby Packs | 50 | | | |
| Ruby – Triple Diamond | 175 | Zach Parise | Minnesota | Wild | Random Inserts in Hobby Packs | 50 | | | |
| Ruby – Triple Diamond Rookie Gems | 176 | Charlie Coyle | Minnesota | Wild | Random Inserts in Hobby Packs | 150 | | | Rookie |
| Ruby – Triple Diamond Rookie Gems | 177 | Jack Campbell | Dallas | Stars | Random Inserts in Hobby Packs | 150 | | | Rookie |
| Ruby – Triple Diamond Rookie Gems | 178 | Drew Shore | Florida | Panthers | Random Inserts in Hobby Packs | 150 | | | Rookie |
| Ruby – Triple Diamond Rookie Gems | 179 | Lucas Lessio | Phoenix | Coyotes | Random Inserts in Hobby Packs | 150 | | | Rookie |
| Ruby – Triple Diamond Rookie Gems | 180 | Eric Gelinas | New Jersey | Devils | Random Inserts in Hobby Packs | 150 | | | Rookie |
| Ruby – Triple Diamond Rookie Gems | 181 | Igor Bobkov | Anaheim | Ducks | Random Inserts in Hobby Packs | 150 | | | Rookie |
| Ruby – Triple Diamond Rookie Gems | 182 | Ryan Murphy | Carolina | Hurricanes | Random Inserts in Hobby Packs | 150 | | | Rookie |
| Ruby – Triple Diamond Rookie Gems | 183 | Beau Bennett | Pittsburgh | Penguins | Random Inserts in Hobby Packs | 150 | | | Rookie |
| Ruby – Triple Diamond Rookie Gems | 184 | Tom Wilson | Washington | Capitals | Random Inserts in Hobby Packs | 150 | | | Rookie |
| Ruby – Triple Diamond Rookie Gems | 185 | Nathan Beaulieu | Montreal | Canadiens | Random Inserts in Hobby Packs | 150 | | | Rookie |
| Ruby – Triple Diamond Rookie Gems | 186 | Carl Soderberg | Boston | Bruins | Random Inserts in Hobby Packs | 150 | | | Rookie |
| Ruby – Triple Diamond Rookie Gems | 187 | Tanner Pearson | Los Angeles | Kings | Random Inserts in Hobby Packs | 150 | | | Rookie |
| Ruby – Triple Diamond Rookie Gems | 188 | Emerson Etem | Anaheim | Ducks | Random Inserts in Hobby Packs | 150 | | | Rookie |
| Ruby – Triple Diamond Rookie Gems | 189 | Frank Corrado | Vancouver | Canucks | Random Inserts in Hobby Packs | 150 | | | Rookie |
| Ruby – Triple Diamond Rookie Gems | 190 | Zach Redmond | Winnipeg | Jets | Random Inserts in Hobby Packs | 150 | | | Rookie |
| Ruby – Triple Diamond Rookie Gems | 191 | Rickard Rakell | Anaheim | Ducks | Random Inserts in Hobby Packs | 150 | | | Rookie |
| Ruby – Triple Diamond Rookie Gems | 192 | Scott Laughton | Philadelphia | Flyers | Random Inserts in Hobby Packs | 150 | | | Rookie |
| Ruby – Triple Diamond Rookie Gems | 193 | Johan Larsson | Buffalo | Sabres | Random Inserts in Hobby Packs | 150 | | | Rookie |
| Ruby – Triple Diamond Rookie Gems | 194 | Austin Watson | Nashville | Predators | Random Inserts in Hobby Packs | 150 | | | Rookie |
| Ruby – Triple Diamond Rookie Gems | 195 | Michael Sgarbossa | Colorado | Avalanche | Random Inserts in Hobby Packs | 150 | | | Rookie |
| Ruby – Triple Diamond Rookie Gems | 196 | Joakim Nordstrom | Chicago | Blackhawks | Random Inserts in Hobby Packs | 150 | | | Rookie |
| Ruby – Triple Diamond Rookie Gems | 197 | Sami Vatanen | Anaheim | Ducks | Random Inserts in Hobby Packs | 150 | | | Rookie |
| Ruby – Triple Diamond Rookie Gems | 198 | Filip Forsberg | Nashville | Predators | Random Inserts in Hobby Packs | 150 | | | Rookie |
| Ruby – Triple Diamond Rookie Gems | 199 | Seth Jones | Nashville | Predators | Random Inserts in Hobby Packs | 150 | | | Rookie |
| Ruby – Triple Diamond Rookie Gems | 200 | Nicklas Jensen | Vancouver | Canucks | Random Inserts in Hobby Packs | 150 | | | Rookie |
| Ruby – Quad Diamond | 201 | Alexander Ovechkin | | All Star Team | Random Inserts in Hobby Packs | 50 | | | |
| Ruby – Quad Diamond | 202 | Bobby Orr | | All Star Team | Random Inserts in Hobby Packs | 50 | | | |
| Ruby – Quad Diamond | 203 | Brett Hull | | All Star Team | Random Inserts in Hobby Packs | 50 | | | |
| Ruby – Quad Diamond | 204 | Dale Hawerchuk | | All Star Team | Random Inserts in Hobby Packs | 50 | | | |
| Ruby – Quad Diamond | 205 | Eric Lindros | | All Star Team | Random Inserts in Hobby Packs | 50 | | | |
| Ruby – Quad Diamond | 206 | Evgeni Malkin | | All Star Team | Random Inserts in Hobby Packs | 50 | | | |
| Ruby – Quad Diamond | 207 | Steve Yzerman | | All Star Team | Random Inserts in Hobby Packs | 50 | | | |
| Ruby – Quad Diamond | 208 | Jean Beliveau | | All Star Team | Random Inserts in Hobby Packs | 50 | | | |
| Ruby – Quad Diamond | 209 | Joe Sakic | | All Star Team | Random Inserts in Hobby Packs | 50 | | | |
| Ruby – Quad Diamond | 210 | John Tavares | | All Star Team | Random Inserts in Hobby Packs | 50 | | | |
| Ruby – Quad Diamond | 211 | Jonathan Toews | | All Star Team | Random Inserts in Hobby Packs | 50 | | | |
| Ruby – Quad Diamond | 212 | Mario Lemieux | | All Star Team | Random Inserts in Hobby Packs | 50 | | | |
| Ruby – Quad Diamond | 213 | Mark Messier | | All Star Team | Random Inserts in Hobby Packs | 50 | | | |
| Ruby – Quad Diamond | 214 | Martin Brodeur | | All Star Team | Random Inserts in Hobby Packs | 50 | | | |
| Ruby – Quad Diamond | 215 | Mats Sundin | | All Star Team | Random Inserts in Hobby Packs | 50 | | | |
| Ruby – Quad Diamond | 216 | Mike Bossy | | All Star Team | Random Inserts in Hobby Packs | 50 | | | |
| Ruby – Quad Diamond | 217 | Dominik Hasek | | All Star Team | Random Inserts in Hobby Packs | 50 | | | |
| Ruby – Quad Diamond | 218 | Patrick Kane | | All Star Team | Random Inserts in Hobby Packs | 50 | | | |
| Ruby – Quad Diamond | 219 | Patrick Roy | | All Star Team | Random Inserts in Hobby Packs | 50 | | | |
| Ruby – Quad Diamond | 220 | Pavel Bure | | All Star Team | Random Inserts in Hobby Packs | 50 | | | |
| Ruby – Quad Diamond | 221 | Ryan Miller | | All Star Team | Random Inserts in Hobby Packs | 50 | | | |
| Ruby – Quad Diamond | 222 | Sidney Crosby | | All Star Team | Random Inserts in Hobby Packs | 50 | | | |
| Ruby – Quad Diamond | 223 | Steven Stamkos | | All Star Team | Random Inserts in Hobby Packs | 50 | | | |
| Ruby – Quad Diamond | 224 | Theoren Fleury | | All Star Team | Random Inserts in Hobby Packs | 50 | | | |
| Ruby – Quad Diamond | 225 | Wayne Gretzky | | All Star Team | Random Inserts in Hobby Packs | 50 | | | |
| Ruby – Quad Diamond Rookie Gems | 226 | Nail Yakupov | Edmonton | Oilers | Random Inserts in Hobby Packs | 150 | | | Rookie |
| Ruby – Quad Diamond Rookie Gems | 227 | Tomas Hertl | San Jose | Sharks | Random Inserts in Hobby Packs | 150 | | | Rookie |
| Ruby – Quad Diamond Rookie Gems | 228 | Elias Lindholm | Carolina | Hurricanes | Random Inserts in Hobby Packs | 150 | | | Rookie |
| Ruby – Quad Diamond Rookie Gems | 229 | Nathan MacKinnon | Colorado | Avalanche | Random Inserts in Hobby Packs | 150 | | | Rookie |
| Ruby – Quad Diamond Rookie Gems | 230 | Morgan Rielly | Toronto | Maple Leafs | Random Inserts in Hobby Packs | 150 | | | Rookie |
| Ruby – Quad Diamond Rookie Gems | 231 | Brendan Gallagher | Montreal | Canadiens | Random Inserts in Hobby Packs | 150 | | | Rookie |
| Ruby – Quad Diamond Rookie Gems | 232 | Cory Conacher | Ottawa | Senators | Random Inserts in Hobby Packs | 150 | | | Rookie |
| Ruby – Quad Diamond Rookie Gems | 233 | Justin Schultz | Edmonton | Oilers | Random Inserts in Hobby Packs | 150 | | | Rookie |
| Ruby – Quad Diamond Rookie Gems | 234 | Mikael Granlund | Minnesota | Wild | Random Inserts in Hobby Packs | 150 | | | Rookie |
| Ruby – Quad Diamond Rookie Gems | 235 | Vladimir Tarasenko | St. Louis | Blues | Random Inserts in Hobby Packs | 150 | | | Rookie |
| Ruby – Quad Diamond Rookie Gems | 236 | Zemgus Girgensons | Buffalo | Sabres | Random Inserts in Hobby Packs | 150 | | | Rookie |
| Ruby – Quad Diamond Rookie Gems | 237 | Alex Galchenyuk | Montreal | Canadiens | Random Inserts in Hobby Packs | 150 | | | Rookie |
| Ruby – Quad Diamond Rookie Gems | 238 | Jonathan Huberdeau | Florida | Panthers | Random Inserts in Hobby Packs | 150 | | | Rookie |
| Ruby – Quad Diamond Rookie Gems | 239 | Jonas Brodin | Minnesota | Wild | Random Inserts in Hobby Packs | 150 | | | Rookie |
| Ruby – Quad Diamond Rookie Gems | 240 | J.T. Miller | New York | Rangers | Random Inserts in Hobby Packs | 150 | | | Rookie |
| Ruby – Quad Diamond Rookie Gems | 241 | Dougie Hamilton | Boston | Bruins | Random Inserts in Hobby Packs | 150 | | | Rookie |
| Ruby – Quad Diamond Rookie Gems | 242 | Boone Jenner | Columbus | Blue Jackets | Random Inserts in Hobby Packs | 150 | | | Rookie |
| Ruby – Quad Diamond Rookie Gems | 243 | Tyler Toffoli | Los Angeles | Kings | Random Inserts in Hobby Packs | 150 | | | Rookie |
| Ruby – Quad Diamond Rookie Gems | 244 | Aleksander Barkov | Florida | Panthers | Random Inserts in Hobby Packs | 150 | | | Rookie |
| Ruby – Quad Diamond Rookie Gems | 245 | Rasmus Ristolainen | Buffalo | Sabres | Random Inserts in Hobby Packs | 150 | | | Rookie |
| Ruby – Quad Diamond Rookie Gems | 246 | Ryan Murray | Columbus | Blue Jackets | Random Inserts in Hobby Packs | 150 | | | Rookie |
| Ruby – Quad Diamond Rookie Gems | 247 | Valeri Nichushkin | Dallas | Stars | Random Inserts in Hobby Packs | 150 | | | Rookie |
| Ruby – Quad Diamond Rookie Gems | 248 | Mikhail Grigorenko | Buffalo | Sabres | Random Inserts in Hobby Packs | 150 | | | Rookie |
| Ruby – Quad Diamond Rookie Gems | 249 | Jacob Trouba | Winnipeg | Jets | Random Inserts in Hobby Packs | 150 | | | Rookie |
| Ruby – Quad Diamond Rookie Gems | 250 | Sean Monahan | Calgary | Flames | Random Inserts in Hobby Packs | 150 | | | Rookie |
| Emerald – Single Diamond | 1 | Brad Richards | New York | Rangers | Random Inserts in Hobby Packs | 10 | | | |
| Emerald – Single Diamond | 2 | Alex Tanguay | Colorado | Avalanche | Random Inserts in Hobby Packs | 10 | Auto | | |
| Emerald – Single Diamond | 3 | Derek Roy | St. Louis | Blues | Random Inserts in Hobby Packs | 10 | Auto | | |
| Emerald – Single Diamond | 4 | Max Pacioretty | Montreal | Canadiens | Random Inserts in Hobby Packs | 10 | | | |
| Emerald – Single Diamond | 5 | Sergei Kostitsyn | Nashville | Predators | Random Inserts in Hobby Packs | 10 | Auto | | |
| Emerald – Single Diamond | 6 | Ray Whitney | Dallas | Stars | Random Inserts in Hobby Packs | 10 | | | |
| Emerald – Single Diamond | 7 | Paul Stastny | Colorado | Avalanche | Random Inserts in Hobby Packs | 10 | Auto | | |
| Emerald – Single Diamond | 8 | Cory Schneider | New Jersey | Devils | Random Inserts in Hobby Packs | 10 | Auto | | |
| Emerald – Single Diamond | 9 | Nicklas Backstrom | Washington | Capitals | Random Inserts in Hobby Packs | 10 | | | |
| Emerald – Single Diamond | 10 | Slava Voynov | Los Angeles | Kings | Random Inserts in Hobby Packs | 10 | | | |
| Emerald – Single Diamond | 11 | Jack Johnson | Columbus | Blue Jackets | Random Inserts in Hobby Packs | 10 | Auto | | |
| Emerald – Single Diamond | 12 | Jonathan Bernier | Toronto | Maple Leafs | Random Inserts in Hobby Packs | 10 | | | |
| Emerald – Single Diamond | 13 | Devin Setoguchi | Winnipeg | Jets | Random Inserts in Hobby Packs | 10 | Auto | | |
| Emerald – Single Diamond | 14 | David Krejci | Boston | Bruins | Random Inserts in Hobby Packs | 10 | | | |
| Emerald – Single Diamond | 15 | Jim Howard | Detroit | Red Wings | Random Inserts in Hobby Packs | 10 | | | |
| Emerald – Single Diamond | 16 | Martin Hanzal | Phoenix | Coyotes | Random Inserts in Hobby Packs | 10 | Auto | | |
| Emerald – Single Diamond | 17 | Mikael Backlund | Calgary | Flames | Random Inserts in Hobby Packs | 10 | | | |
| Emerald – Single Diamond | 18 | Dustin Jeffrey | Pittsburgh | Penguins | Random Inserts in Hobby Packs | 10 | Auto | | |
| Emerald – Single Diamond | 19 | Alexander Semin | Carolina | Hurricanes | Random Inserts in Hobby Packs | 10 | | | |
| Emerald – Single Diamond | 20 | David Backes | St. Louis | Blues | Random Inserts in Hobby Packs | 10 | Auto | | |
| Emerald – Single Diamond | 21 | Kyle Turris | Ottawa | Senators | Random Inserts in Hobby Packs | 10 | Auto | | |
| Emerald – Single Diamond | 22 | Sam Gagner | Edmonton | Oilers | Random Inserts in Hobby Packs | 10 | Auto | | |
| Emerald – Single Diamond | 23 | Teddy Purcell | Tampa Bay | Lightning | Random Inserts in Hobby Packs | 10 | Auto | | |
| Emerald – Single Diamond | 24 | Michael Ryder | New Jersey | Devils | Random Inserts in Hobby Packs | 10 | Auto | | |
| Emerald – Single Diamond | 25 | Bobby Ryan | Ottawa | Senators | Random Inserts in Hobby Packs | 10 | Auto | | |
| Emerald – Single Diamond | 26 | Andrew Ladd | Winnipeg | Jets | Random Inserts in Hobby Packs | 10 | Auto | | |
| Emerald – Single Diamond | 27 | Raffi Torres | San Jose | Sharks | Random Inserts in Hobby Packs | 10 | | | |
| Emerald – Single Diamond | 28 | Logan Couture | San Jose | Sharks | Random Inserts in Hobby Packs | 10 | Auto | | |
| Emerald – Single Diamond | 29 | David Clarkson | Toronto | Maple Leafs | Random Inserts in Hobby Packs | 10 | Auto | | |
| Emerald – Single Diamond | 30 | Shea Weber | Nashville | Predators | Random Inserts in Hobby Packs | 10 | Auto | | |
| Emerald – Single Diamond | 31 | Nathan Horton | Columbus | Blue Jackets | Random Inserts in Hobby Packs | 10 | | | |
| Emerald – Single Diamond | 32 | Steve Ott | Buffalo | Sabres | Random Inserts in Hobby Packs | 10 | | | |
| Emerald – Single Diamond | 33 | Joe Pavelski | San Jose | Sharks | Random Inserts in Hobby Packs | 10 | Auto | | |
| Emerald – Single Diamond | 34 | Ryan Suter | Minnesota | Wild | Random Inserts in Hobby Packs | 10 | | | |
| Emerald – Single Diamond | 35 | Zdeno Chara | Boston | Bruins | Random Inserts in Hobby Packs | 10 | | | |
| Emerald – Single Diamond | 36 | Wayne Simmonds | Philadelphia | Flyers | Random Inserts in Hobby Packs | 10 | | | |
| Emerald – Single Diamond | 37 | Ryan O'Reilly | Colorado | Avalanche | Random Inserts in Hobby Packs | 10 | | | |
| Emerald – Single Diamond | 38 | Jakob Silfverberg | Anaheim | Ducks | Random Inserts in Hobby Packs | 10 | Auto | | |
| Emerald – Single Diamond | 39 | Jakub Voracek | Philadelphia | Flyers | Random Inserts in Hobby Packs | 10 | Auto | | |
| Emerald – Single Diamond | 40 | Alexandre Burrows | Vancouver | Canucks | Random Inserts in Hobby Packs | 10 | Auto | | |
| Emerald – Single Diamond | 41 | Frazer McLaren | Toronto | Maple Leafs | Random Inserts in Hobby Packs | 10 | Auto | | |
| Emerald – Single Diamond | 42 | Dan Boyle | San Jose | Sharks | Random Inserts in Hobby Packs | 10 | Auto | | |
| Emerald – Single Diamond | 43 | Kris Versteeg | Florida | Panthers | Random Inserts in Hobby Packs | 10 | | | |
| Emerald – Single Diamond | 44 | Evgeni Nabokov | New York | Islanders | Random Inserts in Hobby Packs | 10 | | | |
| Emerald – Single Diamond | 45 | Henrik Sedin | Vancouver | Canucks | Random Inserts in Hobby Packs | 10 | | | |
| Emerald – Single Diamond | 46 | Patrick Marleau | San Jose | Sharks | Random Inserts in Hobby Packs | 10 | Auto | | |
| Emerald – Single Diamond | 47 | Jeff Skinner | Carolina | Hurricanes | Random Inserts in Hobby Packs | 10 | Auto | | |
| Emerald – Single Diamond | 48 | Michael Grabner | New York | Islanders | Random Inserts in Hobby Packs | 10 | Auto | | |
| Emerald – Single Diamond | 49 | Johan Franzen | Detroit | Red Wings | Random Inserts in Hobby Packs | 10 | Auto | | |
| Emerald – Single Diamond | 50 | Andrew Shaw | Chicago | Blackhawks | Random Inserts in Hobby Packs | 10 | Auto | | |
| Emerald – Single Diamond | 51 | Ryan Johansen | Columbus | Blue Jackets | Random Inserts in Hobby Packs | 10 | Auto | | |
| Emerald – Single Diamond | 52 | Lars Eller | Montreal | Canadiens | Random Inserts in Hobby Packs | 10 | Auto | | |
| Emerald – Single Diamond | 53 | Tyler Ennis | Buffalo | Sabres | Random Inserts in Hobby Packs | 10 | Auto | | |
| Emerald – Single Diamond | 54 | Niklas Kronwall | Detroit | Red Wings | Random Inserts in Hobby Packs | 10 | | | |
| Emerald – Single Diamond | 55 | Ales Hemsky | Edmonton | Oilers | Random Inserts in Hobby Packs | 10 | Auto | | |
| Emerald – Single Diamond | 56 | Brent Seabrook | Chicago | Blackhawks | Random Inserts in Hobby Packs | 10 | Auto | | |
| Emerald – Single Diamond | 57 | Mike Ribeiro | Phoenix | Coyotes | Random Inserts in Hobby Packs | 10 | | | |
| Emerald – Single Diamond | 58 | Tomas Vokoun | Pittsburgh | Penguins | Random Inserts in Hobby Packs | 10 | Auto | | |
| Emerald – Single Diamond | 59 | Adam Henrique | New Jersey | Devils | Random Inserts in Hobby Packs | 10 | Auto | | |
| Emerald – Single Diamond | 60 | Justin Williams | Los Angeles | Kings | Random Inserts in Hobby Packs | 10 | Auto | | |
| Emerald – Single Diamond | 61 | Justin Faulk | Carolina | Hurricanes | Random Inserts in Hobby Packs | 10 | Auto | | |
| Emerald – Single Diamond | 62 | Jiri Tlusty | Carolina | Hurricanes | Random Inserts in Hobby Packs | 10 | Auto | | |
| Emerald – Single Diamond | 63 | Mike Fisher | Nashville | Predators | Random Inserts in Hobby Packs | 10 | | | |
| Emerald – Single Diamond | 64 | Shawn Horcoff | Dallas | Stars | Random Inserts in Hobby Packs | 10 | Auto | | |
| Emerald – Single Diamond | 65 | Chris Kunitz | Pittsburgh | Penguins | Random Inserts in Hobby Packs | 10 | Auto | | |
| Emerald – Single Diamond | 66 | Kari Lehtonen | Dallas | Stars | Random Inserts in Hobby Packs | 10 | | | |
| Emerald – Single Diamond | 67 | Simon Despres | Pittsburgh | Penguins | Random Inserts in Hobby Packs | 10 | Auto | | |
| Emerald – Single Diamond | 68 | Marian Hossa | Chicago | Blackhawks | Random Inserts in Hobby Packs | 10 | | | |
| Emerald – Single Diamond | 69 | Cody Hodgson | Buffalo | Sabres | Random Inserts in Hobby Packs | 10 | | | |
| Emerald – Single Diamond | 70 | Brandon Saad | Chicago | Blackhawks | Random Inserts in Hobby Packs | 10 | Auto | | |
| Emerald – Single Diamond | 71 | Derek Stepan | New York | Rangers | Random Inserts in Hobby Packs | 10 | Auto | | |
| Emerald – Single Diamond | 72 | P.A. Parenteau | Colorado | Avalanche | Random Inserts in Hobby Packs | 10 | | | |
| Emerald – Single Diamond | 73 | Sergei Bobrovsky | Columbus | Blue Jackets | Random Inserts in Hobby Packs | 10 | Auto | | |
| Emerald – Single Diamond | 74 | Lee Stempniak | Calgary | Flames | Random Inserts in Hobby Packs | 10 | Auto | | |
| Emerald – Single Diamond | 75 | David Legwand | Nashville | Predators | Random Inserts in Hobby Packs | 10 | | | |
| Emerald – Single Diamond | 76 | Oliver Ekman-Larsson | Phoenix | Coyotes | Random Inserts in Hobby Packs | 10 | Auto | | |
| Emerald – Single Diamond | 77 | Jake Muzzin | Los Angeles | Kings | Random Inserts in Hobby Packs | 10 | | | |
| Emerald – Single Diamond | 78 | Eric Staal | Carolina | Hurricanes | Random Inserts in Hobby Packs | 10 | Auto | | |
| Emerald – Single Diamond | 79 | Alex Pietrangelo | St. Louis | Blues | Random Inserts in Hobby Packs | 10 | | | |
| Emerald – Single Diamond | 80 | Evander Kane | Winnipeg | Jets | Random Inserts in Hobby Packs | 10 | Auto | | |
| Emerald – Single Diamond | 81 | Jonas Hiller | Anaheim | Ducks | Random Inserts in Hobby Packs | 10 | | | |
| Emerald – Single Diamond | 82 | Tyler Bozak | Toronto | Maple Leafs | Random Inserts in Hobby Packs | 10 | Auto | | |
| Emerald – Single Diamond | 83 | Saku Koivu | Anaheim | Ducks | Random Inserts in Hobby Packs | 10 | Auto | | |
| Emerald – Single Diamond | 84 | Matt Duchene | Colorado | Avalanche | Random Inserts in Hobby Packs | 10 | Auto | | |
| Emerald – Single Diamond | 85 | Jacob Markstrom | Florida | Panthers | Random Inserts in Hobby Packs | 10 | Auto | | |
| Emerald – Single Diamond | 86 | Martin St. Louis | Tampa Bay | Lightning | Random Inserts in Hobby Packs | 10 | Auto | | |
| Emerald – Single Diamond | 87 | Ray Emery | Philadelphia | Flyers | Random Inserts in Hobby Packs | 10 | Auto | | |
| Emerald – Single Diamond | 88 | Matt Moulson | New York | Islanders | Random Inserts in Hobby Packs | 10 | | | |
| Emerald – Single Diamond | 89 | Craig Anderson | Ottawa | Senators | Random Inserts in Hobby Packs | 10 | | | |
| Emerald – Single Diamond | 90 | Pascal Dupuis | Pittsburgh | Penguins | Random Inserts in Hobby Packs | 10 | | | |
| Emerald – Single Diamond | 91 | Jason Pominville | Minnesota | Wild | Random Inserts in Hobby Packs | 10 | Auto | | |
| Emerald – Single Diamond | 92 | Joe Thornton | San Jose | Sharks | Random Inserts in Hobby Packs | 10 | Auto | | |
| Emerald – Single Diamond | 93 | Ondrej Pavelec | Winnipeg | Jets | Random Inserts in Hobby Packs | 10 | | | |
| Emerald – Single Diamond | 94 | Chris Stewart | St. Louis | Blues | Random Inserts in Hobby Packs | 10 | | | |
| Emerald – Single Diamond | 95 | Jamie Benn | Dallas | Stars | Random Inserts in Hobby Packs | 10 | Auto | | |
| Emerald – Single Diamond | 96 | Brian Elliott | St. Louis | Blues | Random Inserts in Hobby Packs | 10 | | | |
| Emerald – Single Diamond | 97 | Blake Wheeler | Winnipeg | Jets | Random Inserts in Hobby Packs | 10 | Auto | | |
| Emerald – Single Diamond | 98 | James van Riemsdyk | Toronto | Maple Leafs | Random Inserts in Hobby Packs | 10 | Auto | | |
| Emerald – Single Diamond | 99 | Patrik Elias | New Jersey | Devils | Random Inserts in Hobby Packs | 10 | Auto | | |
| Emerald – Single Diamond | 100 | Tomas Fleischmann | Florida | Panthers | Random Inserts in Hobby Packs | 10 | | | |
| Emerald – Double Diamond | 101 | Daniel Sedin | Vancouver | Canucks | Random Inserts in Hobby Packs | 10 | | | |
| Emerald – Double Diamond | 102 | Andy Moog | Montreal | Canadiens | Random Inserts in Hobby Packs | 10 | Auto | | |
| Emerald – Double Diamond | 103 | Antti Niemi | San Jose | Sharks | Random Inserts in Hobby Packs | 10 | | | |
| Emerald – Double Diamond | 104 | Anze Kopitar | Los Angeles | Kings | Random Inserts in Hobby Packs | 10 | | | |
| Emerald – Double Diamond | 105 | Bill Ranford | Edmonton | Oilers | Random Inserts in Hobby Packs | 10 | | | |
| Emerald – Double Diamond | 106 | Brad Marchand | Boston | Bruins | Random Inserts in Hobby Packs | 10 | | | |
| Emerald – Double Diamond | 107 | Braden Holtby | Washington | Capitals | Random Inserts in Hobby Packs | 10 | | | |
| Emerald – Double Diamond | 108 | Brayden Schenn | Philadelphia | Flyers | Random Inserts in Hobby Packs | 10 | | | |
| Emerald – Double Diamond | 109 | Cam Neely | Boston | Bruins | Random Inserts in Hobby Packs | 10 | Auto | | |
| Emerald – Double Diamond | 110 | Roberto Luongo | Vancouver | Canucks | Random Inserts in Hobby Packs | 10 | | | |
| Emerald – Double Diamond | 111 | Daniel Alfredsson | Detroit | Red Wings | Random Inserts in Hobby Packs | 10 | | | |
| Emerald – Double Diamond | 112 | Dave Schultz | Philadelphia | Flyers | Random Inserts in Hobby Packs | 10 | Auto | | |
| Emerald – Double Diamond | 113 | Dion Phaneuf | Toronto | Maple Leafs | Random Inserts in Hobby Packs | 10 | Auto | | |
| Emerald – Double Diamond | 114 | Corey Crawford | Chicago | Blackhawks | Random Inserts in Hobby Packs | 10 | | | |
| Emerald – Double Diamond | 115 | Erik Karlsson | Ottawa | Senators | Random Inserts in Hobby Packs | 10 | | | |
| Emerald – Double Diamond | 116 | Gabriel Landeskog | Colorado | Avalanche | Random Inserts in Hobby Packs | 10 | | | |
| Emerald – Double Diamond | 117 | Grant Fuhr | Edmonton | Oilers | Random Inserts in Hobby Packs | 10 | Auto | | |
| Emerald – Double Diamond | 118 | Steve Mason | Philadelphia | Flyers | Random Inserts in Hobby Packs | 10 | Auto | | |
| Emerald – Double Diamond | 119 | James Neal | Pittsburgh | Penguins | Random Inserts in Hobby Packs | 10 | | | |
| Emerald – Double Diamond | 120 | Jari Kurri | Los Angeles | Kings | Random Inserts in Hobby Packs | 10 | | | |
| Emerald – Double Diamond | 121 | Jarome Iginla | Boston | Bruins | Random Inserts in Hobby Packs | 10 | Auto | | |
| Emerald – Double Diamond | 122 | Jaroslav Halak | St. Louis | Blues | Random Inserts in Hobby Packs | 10 | | | |
| Emerald – Double Diamond | 123 | Jason Spezza | Ottawa | Senators | Random Inserts in Hobby Packs | 10 | | | |
| Emerald – Double Diamond | 124 | Jeff Carter | Los Angeles | Kings | Random Inserts in Hobby Packs | 10 | Auto | | |
| Emerald – Double Diamond | 125 | Jordan Staal | Carolina | Hurricanes | Random Inserts in Hobby Packs | 10 | Auto | | |
| Emerald – Double Diamond | 126 | Kris Letang | Pittsburgh | Penguins | Random Inserts in Hobby Packs | 10 | | | |
| Emerald – Double Diamond | 127 | Larry Robinson | Montreal | Canadiens | Random Inserts in Hobby Packs | 10 | Auto | | |
| Emerald – Double Diamond | 128 | Luc Robitaille | Los Angeles | Kings | Random Inserts in Hobby Packs | 10 | Auto | | |
| Emerald – Double Diamond | 129 | Marc-Andre Fleury | Pittsburgh | Penguins | Random Inserts in Hobby Packs | 10 | Auto | | |
| Emerald – Double Diamond | 130 | Marian Gaborik | Columbus | Blue Jackets | Random Inserts in Hobby Packs | 10 | Auto | | |
| Emerald – Double Diamond | 131 | Markus Naslund | Vancouver | Canucks | Random Inserts in Hobby Packs | 10 | Auto | | |
| Emerald – Double Diamond | 132 | Mike Richards | Los Angeles | Kings | Random Inserts in Hobby Packs | 10 | Auto | | |
| Emerald – Double Diamond | 133 | Milan Hejduk | Colorado | Avalanche | Random Inserts in Hobby Packs | 10 | Auto | | |
| Emerald – Double Diamond | 134 | Dany Heatley | Minnesota | Wild | Random Inserts in Hobby Packs | 10 | Auto | | |
| Emerald – Double Diamond | 135 | Pekka Rinne | Nashville | Predators | Random Inserts in Hobby Packs | 10 | | | |
| Emerald – Double Diamond | 136 | Peter Stastny | Quebec | Nordiques | Random Inserts in Hobby Packs | 10 | Auto | | |
| Emerald – Double Diamond | 137 | Phil Kessel | Toronto | Maple Leafs | Random Inserts in Hobby Packs | 10 | Auto | | |
| Emerald – Double Diamond | 138 | Ron Hextall | Philadelphia | Flyers | Random Inserts in Hobby Packs | 10 | Auto | | |
| Emerald – Double Diamond | 139 | Terry O'Reilly | Boston | Bruins | Random Inserts in Hobby Packs | 10 | | | |
| Emerald – Double Diamond | 140 | Ryan Getzlaf | Anaheim | Ducks | Random Inserts in Hobby Packs | 10 | | | |
| Emerald – Double Diamond | 141 | Ryan Kesler | Vancouver | Canucks | Random Inserts in Hobby Packs | 10 | Auto | | |
| Emerald – Double Diamond | 142 | Ryan Smyth | Edmonton | Oilers | Random Inserts in Hobby Packs | 10 | Auto | | |
| Emerald – Double Diamond | 143 | Corey Perry | Anaheim | Mighty Ducks | Random Inserts in Hobby Packs | 10 | | | |
| Emerald – Double Diamond | 144 | Scott Hartnell | Philadelphia | Flyers | Random Inserts in Hobby Packs | 10 | Auto | | |
| Emerald – Double Diamond | 145 | Thomas Vanek | Buffalo | Sabres | Random Inserts in Hobby Packs | 10 | | | |
| Emerald – Double Diamond | 146 | Tony Esposito | Chicago | Blackhawks | Random Inserts in Hobby Packs | 10 | Auto | | |
| Emerald – Double Diamond | 147 | Tuukka Rask | Boston | Bruins | Random Inserts in Hobby Packs | 10 | Auto | | |
| Emerald – Double Diamond | 148 | Vincent Damphousse | Montreal | Canadiens | Random Inserts in Hobby Packs | 10 | Auto | | |
| Emerald – Double Diamond | 149 | Vincent Lecavalier | Philadelphia | Flyers | Random Inserts in Hobby Packs | 10 | | | |
| Emerald – Double Diamond | 150 | Wendel Clark | Toronto | Maple Leafs | Random Inserts in Hobby Packs | 10 | Auto | | |
| Emerald – Triple Diamond | 151 | Bobby Hull | Chicago | Blackhawks | Random Inserts in Hobby Packs | 10 | Auto | | |
| Emerald – Triple Diamond | 152 | Gilbert Perreault | Buffalo | Sabres | Random Inserts in Hobby Packs | 10 | Auto | | |
| Emerald – Triple Diamond | 153 | Carey Price | Montreal | Canadiens | Random Inserts in Hobby Packs | 10 | | | |
| Emerald – Triple Diamond | 154 | Chris Kunitz | Pittsburgh | Penguins | Random Inserts in Hobby Packs | 10 | Auto | | |
| Emerald – Triple Diamond | 155 | Claude Giroux | Philadelphia | Flyers | Random Inserts in Hobby Packs | 10 | | | |
| Emerald – Triple Diamond | 156 | P.K. Subban | Montreal | Canadiens | Random Inserts in Hobby Packs | 10 | | | |
| Emerald – Triple Diamond | 157 | Peter Forsberg | Colorado | Avalanche | Random Inserts in Hobby Packs | 10 | | | |
| Emerald – Triple Diamond | 158 | Doug Gilmour | Toronto | Maple Leafs | Random Inserts in Hobby Packs | 10 | Auto | | |
| Emerald – Triple Diamond | 159 | Guy Lafleur | Montreal | Canadiens | Random Inserts in Hobby Packs | 10 | Auto | | |
| Emerald – Triple Diamond | 160 | Felix Potvin | Toronto | Maple Leafs | Random Inserts in Hobby Packs | 10 | | | |
| Emerald – Triple Diamond | 161 | Jonathan Quick | Los Angeles | Kings | Random Inserts in Hobby Packs | 10 | | | |
| Emerald – Triple Diamond | 162 | Jordan Eberle | Edmonton | Oilers | Random Inserts in Hobby Packs | 10 | | | |
| Emerald – Triple Diamond | 163 | Mikko Koivu | Minnesota | Wild | Random Inserts in Hobby Packs | 10 | Auto | | |
| Emerald – Triple Diamond | 164 | Nicklas Lidstrom | Detroit | Red Wings | Random Inserts in Hobby Packs | 10 | Auto | | |
| Emerald – Triple Diamond | 165 | Patrice Bergeron | Boston | Bruins | Random Inserts in Hobby Packs | 10 | | | |
| Emerald – Triple Diamond | 166 | Paul Coffey | Edmonton | Oilers | Random Inserts in Hobby Packs | 10 | | | |
| Emerald – Triple Diamond | 167 | Pavel Datsyuk | Detroit | Red Wings | Random Inserts in Hobby Packs | 10 | Auto | | |
| Emerald – Triple Diamond | 168 | Phil Esposito | Boston | Bruins | Random Inserts in Hobby Packs | 10 | Auto | | |
| Emerald – Triple Diamond | 169 | Rick Nash | New York | Rangers | Random Inserts in Hobby Packs | 10 | Auto | | |
| Emerald – Triple Diamond | 170 | Rogie Vachon | Los Angeles | Kings | Random Inserts in Hobby Packs | 10 | Auto | | |
| Emerald – Triple Diamond | 171 | Ron Francis | Pittsburgh | Penguins | Random Inserts in Hobby Packs | 10 | Auto | | |
| Emerald – Triple Diamond | 172 | Taylor Hall | Edmonton | Oilers | Random Inserts in Hobby Packs | 10 | Auto | | |
| Emerald – Triple Diamond | 173 | Teemu Selanne | Anaheim | Ducks | Random Inserts in Hobby Packs | 10 | | | |
| Emerald – Triple Diamond | 174 | Tyler Seguin | Dallas | Stars | Random Inserts in Hobby Packs | 10 | Auto | | |
| Emerald – Triple Diamond | 175 | Zach Parise | Minnesota | Wild | Random Inserts in Hobby Packs | 10 | Auto | | |
| Emerald – Triple Diamond | 176 | Charlie Coyle | Minnesota | Wild | Random Inserts in Hobby Packs | 25 | | | Rookie |
| Emerald – Triple Diamond | 177 | Jack Campbell | Dallas | Stars | Random Inserts in Hobby Packs | 25 | | | Rookie |
| Emerald – Triple Diamond | 178 | Drew Shore | Florida | Panthers | Random Inserts in Hobby Packs | 25 | | | Rookie |
| Emerald – Triple Diamond | 179 | Lucas Lessio | Phoenix | Coyotes | Random Inserts in Hobby Packs | 25 | | | Rookie |
| Emerald – Triple Diamond | 180 | Eric Gelinas | New Jersey | Devils | Random Inserts in Hobby Packs | 25 | | | Rookie |
| Emerald – Triple Diamond | 181 | Igor Bobkov | Anaheim | Ducks | Random Inserts in Hobby Packs | 25 | | | Rookie |
| Emerald – Triple Diamond | 182 | Ryan Murphy | Carolina | Hurricanes | Random Inserts in Hobby Packs | 25 | | | Rookie |
| Emerald – Triple Diamond | 183 | Beau Bennett | Pittsburgh | Penguins | Random Inserts in Hobby Packs | 25 | Auto | | Rookie |
| Emerald – Triple Diamond | 184 | Tom Wilson | Washington | Capitals | Random Inserts in Hobby Packs | 25 | Auto | | Rookie |
| Emerald – Triple Diamond | 185 | Nathan Beaulieu | Montreal | Canadiens | Random Inserts in Hobby Packs | 25 | | | Rookie |
| Emerald – Triple Diamond | 186 | Carl Soderberg | Boston | Bruins | Random Inserts in Hobby Packs | 25 | | | Rookie |
| Emerald – Triple Diamond | 187 | Tanner Pearson | Los Angeles | Kings | Random Inserts in Hobby Packs | 25 | Auto | | Rookie |
| Emerald – Triple Diamond | 188 | Emerson Etem | Anaheim | Ducks | Random Inserts in Hobby Packs | 25 | | | Rookie |
| Emerald – Triple Diamond | 189 | Frank Corrado | Vancouver | Canucks | Random Inserts in Hobby Packs | 25 | | | Rookie |
| Emerald – Triple Diamond | 190 | Zach Redmond | Winnipeg | Jets | Random Inserts in Hobby Packs | 25 | | | Rookie |
| Emerald – Triple Diamond | 191 | Rickard Rakell | Anaheim | Ducks | Random Inserts in Hobby Packs | 25 | | | Rookie |
| Emerald – Triple Diamond | 192 | Scott Laughton | Philadelphia | Flyers | Random Inserts in Hobby Packs | 25 | Auto | | Rookie |
| Emerald – Triple Diamond | 193 | Johan Larsson | Buffalo | Sabres | Random Inserts in Hobby Packs | 25 | | | Rookie |
| Emerald – Triple Diamond | 194 | Austin Watson | Nashville | Predators | Random Inserts in Hobby Packs | 25 | Auto | | Rookie |
| Emerald – Triple Diamond | 195 | Michael Sgarbossa | Colorado | Avalanche | Random Inserts in Hobby Packs | 25 | | | Rookie |
| Emerald – Triple Diamond | 196 | Joakim Nordstrom | Chicago | Blackhawks | Random Inserts in Hobby Packs | 25 | | | Rookie |
| Emerald – Triple Diamond | 197 | Sami Vatanen | Anaheim | Ducks | Random Inserts in Hobby Packs | 25 | | | Rookie |
| Emerald – Triple Diamond | 198 | Filip Forsberg | Nashville | Predators | Random Inserts in Hobby Packs | 25 | | | Rookie |
| Emerald – Triple Diamond | 199 | Seth Jones | Nashville | Predators | Random Inserts in Hobby Packs | 25 | | | Rookie |
| Emerald – Triple Diamond | 200 | Nicklas Jensen | Vancouver | Canucks | Random Inserts in Hobby Packs | 25 | Auto | | Rookie |
| Emerald – Quad Diamond | 201 | Alexander Ovechkin | | All Star Team | Random Inserts in Hobby Packs | 10 | Auto | | |
| Emerald – Quad Diamond | 202 | Bobby Orr | | All Star Team | Random Inserts in Hobby Packs | 10 | Auto | | |
| Emerald – Quad Diamond | 203 | Brett Hull | | All Star Team | Random Inserts in Hobby Packs | 10 | Auto | | |
| Emerald – Quad Diamond | 204 | Dale Hawerchuk | | All Star Team | Random Inserts in Hobby Packs | 10 | | | |
| Emerald – Quad Diamond | 205 | Eric Lindros | | All Star Team | Random Inserts in Hobby Packs | 10 | Auto | | |
| Emerald – Quad Diamond | 206 | Evgeni Malkin | | All Star Team | Random Inserts in Hobby Packs | 10 | | | |
| Emerald – Quad Diamond | 207 | Steve Yzerman | | All Star Team | Random Inserts in Hobby Packs | 10 | Auto | | |
| Emerald – Quad Diamond | 208 | Jean Beliveau | | All Star Team | Random Inserts in Hobby Packs | 10 | Auto | | |
| Emerald – Quad Diamond | 209 | Joe Sakic | | All Star Team | Random Inserts in Hobby Packs | 10 | Auto | | |
| Emerald – Quad Diamond | 210 | John Tavares | | All Star Team | Random Inserts in Hobby Packs | 10 | Auto | | |
| Emerald – Quad Diamond | 211 | Jonathan Toews | | All Star Team | Random Inserts in Hobby Packs | 10 | Auto | | |
| Emerald – Quad Diamond | 212 | Mario Lemieux | | All Star Team | Random Inserts in Hobby Packs | 10 | Auto | | |
| Emerald – Quad Diamond | 213 | Mark Messier | | All Star Team | Random Inserts in Hobby Packs | 10 | Auto | | |
| Emerald – Quad Diamond | 214 | Martin Brodeur | | All Star Team | Random Inserts in Hobby Packs | 10 | Auto | | |
| Emerald – Quad Diamond | 215 | Mats Sundin | | All Star Team | Random Inserts in Hobby Packs | 10 | Auto | | |
| Emerald – Quad Diamond | 216 | Mike Bossy | | All Star Team | Random Inserts in Hobby Packs | 10 | Auto | | |
| Emerald – Quad Diamond | 217 | Dominik Hasek | | All Star Team | Random Inserts in Hobby Packs | 10 | Auto | | |
| Emerald – Quad Diamond | 218 | Patrick Kane | | All Star Team | Random Inserts in Hobby Packs | 10 | Auto | | |
| Emerald – Quad Diamond | 219 | Patrick Roy | | All Star Team | Random Inserts in Hobby Packs | 10 | Auto | | |
| Emerald – Quad Diamond | 220 | Pavel Bure | | All Star Team | Random Inserts in Hobby Packs | 10 | Auto | | |
| Emerald – Quad Diamond | 221 | Ryan Miller | | All Star Team | Random Inserts in Hobby Packs | 10 | | | |
| Emerald – Quad Diamond | 222 | Sidney Crosby | | All Star Team | Random Inserts in Hobby Packs | 10 | Auto | | |
| Emerald – Quad Diamond | 223 | Steven Stamkos | | All Star Team | Random Inserts in Hobby Packs | 10 | Auto | | |
| Emerald – Quad Diamond | 224 | Theoren Fleury | | All Star Team | Random Inserts in Hobby Packs | 10 | Auto | | |
| Emerald – Quad Diamond | 225 | Wayne Gretzky | | All Star Team | Random Inserts in Hobby Packs | 10 | Auto | | |
| Emerald – Quad Diamond | 227 | Tomas Hertl | San Jose | Sharks | Random Inserts in Hobby Packs | 25 | Auto | | Rookie |
| Emerald – Quad Diamond | 229 | Nathan MacKinnon | Colorado | Avalanche | Random Inserts in Hobby Packs | 25 | Auto | | Rookie |
| Emerald – Quad Diamond | 230 | Morgan Rielly | Toronto | Maple Leafs | Random Inserts in Hobby Packs | 25 | Auto | | Rookie |
| Emerald – Quad Diamond | 231 | Brendan Gallagher | Montreal | Canadiens | Random Inserts in Hobby Packs | 25 | Auto | | Rookie |
| Emerald – Quad Diamond | 232 | Cory Conacher | Ottawa | Senators | Random Inserts in Hobby Packs | 25 | Auto | | Rookie |
| Emerald – Quad Diamond | 233 | Justin Schultz | Edmonton | Oilers | Random Inserts in Hobby Packs | 25 | Auto | | Rookie |
| Emerald – Quad Diamond | 235 | Vladimir Tarasenko | St. Louis | Blues | Random Inserts in Hobby Packs | 25 | | | Rookie |
| Emerald – Quad Diamond | 236 | Zemgus Girgensons | Buffalo | Sabres | Random Inserts in Hobby Packs | 25 | | | Rookie |
| Emerald – Quad Diamond | 237 | Alex Galchenyuk | Montreal | Canadiens | Random Inserts in Hobby Packs | 25 | Auto | | Rookie |
| Emerald – Quad Diamond | 238 | Jonathan Huberdeau | Florida | Panthers | Random Inserts in Hobby Packs | 25 | Auto | | Rookie |
| Emerald – Quad Diamond | 239 | Jonas Brodin | Minnesota | Wild | Random Inserts in Hobby Packs | 25 | | | Rookie |
| Emerald – Quad Diamond | 240 | J.T. Miller | New York | Rangers | Random Inserts in Hobby Packs | 25 | | | Rookie |
| Emerald – Quad Diamond | 241 | Dougie Hamilton | Boston | Bruins | Random Inserts in Hobby Packs | 25 | Auto | | Rookie |
| Emerald – Quad Diamond | 242 | Boone Jenner | Columbus | Blue Jackets | Random Inserts in Hobby Packs | 25 | Auto | | Rookie |
| Emerald – Quad Diamond | 243 | Tyler Toffoli | Los Angeles | Kings | Random Inserts in Hobby Packs | 25 | Auto | | Rookie |
| Emerald – Quad Diamond | 244 | Aleksander Barkov | Florida | Panthers | Random Inserts in Hobby Packs | 25 | Auto | | Rookie |
| Emerald – Quad Diamond | 245 | Rasmus Ristolainen | Buffalo | Sabres | Random Inserts in Hobby Packs | 25 | | | Rookie |
| Emerald – Quad Diamond | 246 | Ryan Murray | Columbus | Blue Jackets | Random Inserts in Hobby Packs | 25 | Auto | | Rookie |
| Emerald – Quad Diamond | 248 | Mikhail Grigorenko | Buffalo | Sabres | Random Inserts in Hobby Packs | 25 | Auto | | Rookie |
| Emerald – Quad Diamond | 250 | Sean Monahan | Calgary | Flames | Random Inserts in Hobby Packs | 25 | Auto | | Rookie |
| Sapphire – Single Diamond | 1 | Brad Richards | New York | Rangers | Random Inserts in Hobby Packs | 1 | | | |
| Sapphire – Single Diamond | 2 | Alex Tanguay | Colorado | Avalanche | Random Inserts in Hobby Packs | 1 | Auto | | |
| Sapphire – Single Diamond | 3 | Derek Roy | St. Louis | Blues | Random Inserts in Hobby Packs | 1 | Auto | | |
| Sapphire – Single Diamond | 4 | Max Pacioretty | Montreal | Canadiens | Random Inserts in Hobby Packs | 1 | | | |
| Sapphire – Single Diamond | 5 | Sergei Kostitsyn | Nashville | Predators | Random Inserts in Hobby Packs | 1 | Auto | | |
| Sapphire – Single Diamond | 6 | Ray Whitney | Dallas | Stars | Random Inserts in Hobby Packs | 1 | | | |
| Sapphire – Single Diamond | 7 | Paul Stastny | Colorado | Avalanche | Random Inserts in Hobby Packs | 1 | Auto | | |
| Sapphire – Single Diamond | 8 | Cory Schneider | New Jersey | Devils | Random Inserts in Hobby Packs | 1 | Auto | | |
| Sapphire – Single Diamond | 9 | Nicklas Backstrom | Washington | Capitals | Random Inserts in Hobby Packs | 1 | | | |
| Sapphire – Single Diamond | 10 | Slava Voynov | Los Angeles | Kings | Random Inserts in Hobby Packs | 1 | | | |
| Sapphire – Single Diamond | 11 | Jack Johnson | Columbus | Blue Jackets | Random Inserts in Hobby Packs | 1 | Auto | | |
| Sapphire – Single Diamond | 12 | Jonathan Bernier | Toronto | Maple Leafs | Random Inserts in Hobby Packs | 1 | | | |
| Sapphire – Single Diamond | 13 | Devin Setoguchi | Winnipeg | Jets | Random Inserts in Hobby Packs | 1 | Auto | | |
| Sapphire – Single Diamond | 14 | David Krejci | Boston | Bruins | Random Inserts in Hobby Packs | 1 | | | |
| Sapphire – Single Diamond | 15 | Jim Howard | Detroit | Red Wings | Random Inserts in Hobby Packs | 1 | | | |
| Sapphire – Single Diamond | 16 | Martin Hanzal | Phoenix | Coyotes | Random Inserts in Hobby Packs | 1 | Auto | | |
| Sapphire – Single Diamond | 17 | Mikael Backlund | Calgary | Flames | Random Inserts in Hobby Packs | 1 | | | |
| Sapphire – Single Diamond | 18 | Dustin Jeffrey | Pittsburgh | Penguins | Random Inserts in Hobby Packs | 1 | Auto | | |
| Sapphire – Single Diamond | 19 | Alexander Semin | Carolina | Hurricanes | Random Inserts in Hobby Packs | 1 | | | |
| Sapphire – Single Diamond | 20 | David Backes | St. Louis | Blues | Random Inserts in Hobby Packs | 1 | Auto | | |
| Sapphire – Single Diamond | 21 | Kyle Turris | Ottawa | Senators | Random Inserts in Hobby Packs | 1 | Auto | | |
| Sapphire – Single Diamond | 22 | Sam Gagner | Edmonton | Oilers | Random Inserts in Hobby Packs | 1 | Auto | | |
| Sapphire – Single Diamond | 23 | Teddy Purcell | Tampa Bay | Lightning | Random Inserts in Hobby Packs | 1 | Auto | | |
| Sapphire – Single Diamond | 24 | Michael Ryder | New Jersey | Devils | Random Inserts in Hobby Packs | 1 | Auto | | |
| Sapphire – Single Diamond | 25 | Bobby Ryan | Ottawa | Senators | Random Inserts in Hobby Packs | 1 | Auto | | |
| Sapphire – Single Diamond | 26 | Andrew Ladd | Winnipeg | Jets | Random Inserts in Hobby Packs | 1 | Auto | | |
| Sapphire – Single Diamond | 27 | Raffi Torres | San Jose | Sharks | Random Inserts in Hobby Packs | 1 | | | |
| Sapphire – Single Diamond | 28 | Logan Couture | San Jose | Sharks | Random Inserts in Hobby Packs | 1 | Auto | | |
| Sapphire – Single Diamond | 29 | David Clarkson | Toronto | Maple Leafs | Random Inserts in Hobby Packs | 1 | Auto | | |
| Sapphire – Single Diamond | 30 | Shea Weber | Nashville | Predators | Random Inserts in Hobby Packs | 1 | Auto | | |
| Sapphire – Single Diamond | 31 | Nathan Horton | Columbus | Blue Jackets | Random Inserts in Hobby Packs | 1 | | | |
| Sapphire – Single Diamond | 32 | Steve Ott | Buffalo | Sabres | Random Inserts in Hobby Packs | 1 | | | |
| Sapphire – Single Diamond | 33 | Joe Pavelski | San Jose | Sharks | Random Inserts in Hobby Packs | 1 | Auto | | |
| Sapphire – Single Diamond | 34 | Ryan Suter | Minnesota | Wild | Random Inserts in Hobby Packs | 1 | | | |
| Sapphire – Single Diamond | 35 | Zdeno Chara | Boston | Bruins | Random Inserts in Hobby Packs | 1 | | | |
| Sapphire – Single Diamond | 36 | Wayne Simmonds | Philadelphia | Flyers | Random Inserts in Hobby Packs | 1 | | | |
| Sapphire – Single Diamond | 37 | Ryan O'Reilly | Colorado | Avalanche | Random Inserts in Hobby Packs | 1 | | | |
| Sapphire – Single Diamond | 38 | Jakob Silfverberg | Anaheim | Ducks | Random Inserts in Hobby Packs | 1 | Auto | | |
| Sapphire – Single Diamond | 39 | Jakub Voracek | Philadelphia | Flyers | Random Inserts in Hobby Packs | 1 | Auto | | |
| Sapphire – Single Diamond | 40 | Alexandre Burrows | Vancouver | Canucks | Random Inserts in Hobby Packs | 1 | Auto | | |
| Sapphire – Single Diamond | 41 | Frazer McLaren | Toronto | Maple Leafs | Random Inserts in Hobby Packs | 1 | Auto | | |
| Sapphire – Single Diamond | 42 | Dan Boyle | San Jose | Sharks | Random Inserts in Hobby Packs | 1 | Auto | | |
| Sapphire – Single Diamond | 43 | Kris Versteeg | Florida | Panthers | Random Inserts in Hobby Packs | 1 | | | |
| Sapphire – Single Diamond | 44 | Evgeni Nabokov | New York | Islanders | Random Inserts in Hobby Packs | 1 | | | |
| Sapphire – Single Diamond | 45 | Henrik Sedin | Vancouver | Canucks | Random Inserts in Hobby Packs | 1 | | | |
| Sapphire – Single Diamond | 46 | Patrick Marleau | San Jose | Sharks | Random Inserts in Hobby Packs | 1 | Auto | | |
| Sapphire – Single Diamond | 47 | Jeff Skinner | Carolina | Hurricanes | Random Inserts in Hobby Packs | 1 | Auto | | |
| Sapphire – Single Diamond | 48 | Michael Grabner | New York | Islanders | Random Inserts in Hobby Packs | 1 | Auto | | |
| Sapphire – Single Diamond | 49 | Johan Franzen | Detroit | Red Wings | Random Inserts in Hobby Packs | 1 | Auto | | |
| Sapphire – Single Diamond | 50 | Andrew Shaw | Chicago | Blackhawks | Random Inserts in Hobby Packs | 1 | Auto | | |
| Sapphire – Single Diamond | 51 | Ryan Johansen | Columbus | Blue Jackets | Random Inserts in Hobby Packs | 1 | Auto | | |
| Sapphire – Single Diamond | 52 | Lars Eller | Montreal | Canadiens | Random Inserts in Hobby Packs | 1 | Auto | | |
| Sapphire – Single Diamond | 53 | Tyler Ennis | Buffalo | Sabres | Random Inserts in Hobby Packs | 1 | Auto | | |
| Sapphire – Single Diamond | 54 | Niklas Kronwall | Detroit | Red Wings | Random Inserts in Hobby Packs | 1 | | | |
| Sapphire – Single Diamond | 55 | Ales Hemsky | Edmonton | Oilers | Random Inserts in Hobby Packs | 1 | Auto | | |
| Sapphire – Single Diamond | 56 | Brent Seabrook | Chicago | Blackhawks | Random Inserts in Hobby Packs | 1 | Auto | | |
| Sapphire – Single Diamond | 57 | Mike Ribeiro | Phoenix | Coyotes | Random Inserts in Hobby Packs | 1 | | | |
| Sapphire – Single Diamond | 58 | Tomas Vokoun | Pittsburgh | Penguins | Random Inserts in Hobby Packs | 1 | Auto | | |
| Sapphire – Single Diamond | 59 | Adam Henrique | New Jersey | Devils | Random Inserts in Hobby Packs | 1 | Auto | | |
| Sapphire – Single Diamond | 60 | Justin Williams | Los Angeles | Kings | Random Inserts in Hobby Packs | 1 | Auto | | |
| Sapphire – Single Diamond | 61 | Justin Faulk | Carolina | Hurricanes | Random Inserts in Hobby Packs | 1 | Auto | | |
| Sapphire – Single Diamond | 62 | Jiri Tlusty | Carolina | Hurricanes | Random Inserts in Hobby Packs | 1 | Auto | | |
| Sapphire – Single Diamond | 63 | Mike Fisher | Nashville | Predators | Random Inserts in Hobby Packs | 1 | | | |
| Sapphire – Single Diamond | 64 | Shawn Horcoff | Dallas | Stars | Random Inserts in Hobby Packs | 1 | Auto | | |
| Sapphire – Single Diamond | 65 | Chris Kunitz | Pittsburgh | Penguins | Random Inserts in Hobby Packs | 1 | Auto | | |
| Sapphire – Single Diamond | 66 | Kari Lehtonen | Dallas | Stars | Random Inserts in Hobby Packs | 1 | | | |
| Sapphire – Single Diamond | 67 | Simon Despres | Pittsburgh | Penguins | Random Inserts in Hobby Packs | 1 | Auto | | |
| Sapphire – Single Diamond | 68 | Marian Hossa | Chicago | Blackhawks | Random Inserts in Hobby Packs | 1 | | | |
| Sapphire – Single Diamond | 69 | Cody Hodgson | Buffalo | Sabres | Random Inserts in Hobby Packs | 1 | | | |
| Sapphire – Single Diamond | 70 | Brandon Saad | Chicago | Blackhawks | Random Inserts in Hobby Packs | 1 | Auto | | |
| Sapphire – Single Diamond | 71 | Derek Stepan | New York | Rangers | Random Inserts in Hobby Packs | 1 | Auto | | |
| Sapphire – Single Diamond | 72 | P.A. Parenteau | Colorado | Avalanche | Random Inserts in Hobby Packs | 1 | | | |
| Sapphire – Single Diamond | 73 | Sergei Bobrovsky | Columbus | Blue Jackets | Random Inserts in Hobby Packs | 1 | Auto | | |
| Sapphire – Single Diamond | 74 | Lee Stempniak | Calgary | Flames | Random Inserts in Hobby Packs | 1 | Auto | | |
| Sapphire – Single Diamond | 75 | David Legwand | Nashville | Predators | Random Inserts in Hobby Packs | 1 | | | |
| Sapphire – Single Diamond | 76 | Oliver Ekman-Larsson | Phoenix | Coyotes | Random Inserts in Hobby Packs | 1 | Auto | | |
| Sapphire – Single Diamond | 77 | Jake Muzzin | Los Angeles | Kings | Random Inserts in Hobby Packs | 1 | | | |
| Sapphire – Single Diamond | 78 | Eric Staal | Carolina | Hurricanes | Random Inserts in Hobby Packs | 1 | Auto | | |
| Sapphire – Single Diamond | 79 | Alex Pietrangelo | St. Louis | Blues | Random Inserts in Hobby Packs | 1 | | | |
| Sapphire – Single Diamond | 80 | Evander Kane | Winnipeg | Jets | Random Inserts in Hobby Packs | 1 | Auto | | |
| Sapphire – Single Diamond | 81 | Jonas Hiller | Anaheim | Ducks | Random Inserts in Hobby Packs | 1 | | | |
| Sapphire – Single Diamond | 82 | Tyler Bozak | Toronto | Maple Leafs | Random Inserts in Hobby Packs | 1 | Auto | | |
| Sapphire – Single Diamond | 83 | Saku Koivu | Anaheim | Ducks | Random Inserts in Hobby Packs | 1 | Auto | | |
| Sapphire – Single Diamond | 84 | Matt Duchene | Colorado | Avalanche | Random Inserts in Hobby Packs | 1 | Auto | | |
| Sapphire – Single Diamond | 85 | Jacob Markstrom | Florida | Panthers | Random Inserts in Hobby Packs | 1 | Auto | | |
| Sapphire – Single Diamond | 86 | Martin St. Louis | Tampa Bay | Lightning | Random Inserts in Hobby Packs | 1 | Auto | | |
| Sapphire – Single Diamond | 87 | Ray Emery | Philadelphia | Flyers | Random Inserts in Hobby Packs | 1 | Auto | | |
| Sapphire – Single Diamond | 88 | Matt Moulson | New York | Islanders | Random Inserts in Hobby Packs | 1 | | | |
| Sapphire – Single Diamond | 89 | Craig Anderson | Ottawa | Senators | Random Inserts in Hobby Packs | 1 | | | |
| Sapphire – Single Diamond | 90 | Pascal Dupuis | Pittsburgh | Penguins | Random Inserts in Hobby Packs | 1 | | | |
| Sapphire – Single Diamond | 91 | Jason Pominville | Minnesota | Wild | Random Inserts in Hobby Packs | 1 | Auto | | |
| Sapphire – Single Diamond | 92 | Joe Thornton | San Jose | Sharks | Random Inserts in Hobby Packs | 1 | Auto | | |
| Sapphire – Single Diamond | 93 | Ondrej Pavelec | Winnipeg | Jets | Random Inserts in Hobby Packs | 1 | | | |
| Sapphire – Single Diamond | 94 | Chris Stewart | St. Louis | Blues | Random Inserts in Hobby Packs | 1 | | | |
| Sapphire – Single Diamond | 95 | Jamie Benn | Dallas | Stars | Random Inserts in Hobby Packs | 1 | Auto | | |
| Sapphire – Single Diamond | 96 | Brian Elliott | St. Louis | Blues | Random Inserts in Hobby Packs | 1 | | | |
| Sapphire – Single Diamond | 97 | Blake Wheeler | Winnipeg | Jets | Random Inserts in Hobby Packs | 1 | Auto | | |
| Sapphire – Single Diamond | 98 | James van Riemsdyk | Toronto | Maple Leafs | Random Inserts in Hobby Packs | 1 | Auto | | |
| Sapphire – Single Diamond | 99 | Patrik Elias | New Jersey | Devils | Random Inserts in Hobby Packs | 1 | Auto | | |
| Sapphire – Single Diamond | 100 | Tomas Fleischmann | Florida | Panthers | Random Inserts in Hobby Packs | 1 | | | |
| Sapphire – Double Diamond | 101 | Daniel Sedin | Vancouver | Canucks | Random Inserts in Hobby Packs | 1 | | | |
| Sapphire – Double Diamond | 102 | Andy Moog | Montreal | Canadiens | Random Inserts in Hobby Packs | 1 | Auto | | |
| Sapphire – Double Diamond | 103 | Antti Niemi | San Jose | Sharks | Random Inserts in Hobby Packs | 1 | | | |
| Sapphire – Double Diamond | 104 | Anze Kopitar | Los Angeles | Kings | Random Inserts in Hobby Packs | 1 | | | |
| Sapphire – Double Diamond | 105 | Bill Ranford | Edmonton | Oilers | Random Inserts in Hobby Packs | 1 | | | |
| Sapphire – Double Diamond | 106 | Brad Marchand | Boston | Bruins | Random Inserts in Hobby Packs | 1 | | | |
| Sapphire – Double Diamond | 107 | Braden Holtby | Washington | Capitals | Random Inserts in Hobby Packs | 1 | | | |
| Sapphire – Double Diamond | 108 | Brayden Schenn | Philadelphia | Flyers | Random Inserts in Hobby Packs | 1 | | | |
| Sapphire – Double Diamond | 109 | Cam Neely | Boston | Bruins | Random Inserts in Hobby Packs | 1 | Auto | | |
| Sapphire – Double Diamond | 110 | Roberto Luongo | Vancouver | Canucks | Random Inserts in Hobby Packs | 1 | | | |
| Sapphire – Double Diamond | 111 | Daniel Alfredsson | Detroit | Red Wings | Random Inserts in Hobby Packs | 1 | | | |
| Sapphire – Double Diamond | 112 | Dave Schultz | Philadelphia | Flyers | Random Inserts in Hobby Packs | 1 | Auto | | |
| Sapphire – Double Diamond | 113 | Dion Phaneuf | Toronto | Maple Leafs | Random Inserts in Hobby Packs | 1 | Auto | | |
| Sapphire – Double Diamond | 114 | Corey Crawford | Chicago | Blackhawks | Random Inserts in Hobby Packs | 1 | | | |
| Sapphire – Double Diamond | 115 | Erik Karlsson | Ottawa | Senators | Random Inserts in Hobby Packs | 1 | | | |
| Sapphire – Double Diamond | 116 | Gabriel Landeskog | Colorado | Avalanche | Random Inserts in Hobby Packs | 1 | | | |
| Sapphire – Double Diamond | 117 | Grant Fuhr | Edmonton | Oilers | Random Inserts in Hobby Packs | 1 | Auto | | |
| Sapphire – Double Diamond | 118 | Steve Mason | Philadelphia | Flyers | Random Inserts in Hobby Packs | 1 | Auto | | |
| Sapphire – Double Diamond | 119 | James Neal | Pittsburgh | Penguins | Random Inserts in Hobby Packs | 1 | | | |
| Sapphire – Double Diamond | 120 | Jari Kurri | Los Angeles | Kings | Random Inserts in Hobby Packs | 1 | | | |
| Sapphire – Double Diamond | 121 | Jarome Iginla | Boston | Bruins | Random Inserts in Hobby Packs | 1 | Auto | | |
| Sapphire – Double Diamond | 122 | Jaroslav Halak | St. Louis | Blues | Random Inserts in Hobby Packs | 1 | | | |
| Sapphire – Double Diamond | 123 | Jason Spezza | Ottawa | Senators | Random Inserts in Hobby Packs | 1 | | | |
| Sapphire – Double Diamond | 124 | Jeff Carter | Los Angeles | Kings | Random Inserts in Hobby Packs | 1 | Auto | | |
| Sapphire – Double Diamond | 125 | Jordan Staal | Carolina | Hurricanes | Random Inserts in Hobby Packs | 1 | Auto | | |
| Sapphire – Double Diamond | 126 | Kris Letang | Pittsburgh | Penguins | Random Inserts in Hobby Packs | 1 | | | |
| Sapphire – Double Diamond | 127 | Larry Robinson | Montreal | Canadiens | Random Inserts in Hobby Packs | 1 | Auto | | |
| Sapphire – Double Diamond | 128 | Luc Robitaille | Los Angeles | Kings | Random Inserts in Hobby Packs | 1 | Auto | | |
| Sapphire – Double Diamond | 129 | Marc-Andre Fleury | Pittsburgh | Penguins | Random Inserts in Hobby Packs | 1 | Auto | | |
| Sapphire – Double Diamond | 130 | Marian Gaborik | Columbus | Blue Jackets | Random Inserts in Hobby Packs | 1 | Auto | | |
| Sapphire – Double Diamond | 131 | Markus Naslund | Vancouver | Canucks | Random Inserts in Hobby Packs | 1 | Auto | | |
| Sapphire – Double Diamond | 132 | Mike Richards | Los Angeles | Kings | Random Inserts in Hobby Packs | 1 | Auto | | |
| Sapphire – Double Diamond | 133 | Milan Hejduk | Colorado | Avalanche | Random Inserts in Hobby Packs | 1 | Auto | | |
| Sapphire – Double Diamond | 134 | Dany Heatley | Minnesota | Wild | Random Inserts in Hobby Packs | 1 | Auto | | |
| Sapphire – Double Diamond | 135 | Pekka Rinne | Nashville | Predators | Random Inserts in Hobby Packs | 1 | | | |
| Sapphire – Double Diamond | 136 | Peter Stastny | Quebec | Nordiques | Random Inserts in Hobby Packs | 1 | Auto | | |
| Sapphire – Double Diamond | 137 | Phil Kessel | Toronto | Maple Leafs | Random Inserts in Hobby Packs | 1 | Auto | | |
| Sapphire – Double Diamond | 138 | Ron Hextall | Philadelphia | Flyers | Random Inserts in Hobby Packs | 1 | Auto | | |
| Sapphire – Double Diamond | 139 | Terry O'Reilly | Boston | Bruins | Random Inserts in Hobby Packs | 1 | | | |
| Sapphire – Double Diamond | 140 | Ryan Getzlaf | Anaheim | Ducks | Random Inserts in Hobby Packs | 1 | | | |
| Sapphire – Double Diamond | 141 | Ryan Kesler | Vancouver | Canucks | Random Inserts in Hobby Packs | 1 | Auto | | |
| Sapphire – Double Diamond | 142 | Ryan Smyth | Edmonton | Oilers | Random Inserts in Hobby Packs | 1 | Auto | | |
| Sapphire – Double Diamond | 143 | Corey Perry | Anaheim | Mighty Ducks | Random Inserts in Hobby Packs | 1 | | | |
| Sapphire – Double Diamond | 144 | Scott Hartnell | Philadelphia | Flyers | Random Inserts in Hobby Packs | 1 | Auto | | |
| Sapphire – Double Diamond | 145 | Thomas Vanek | Buffalo | Sabres | Random Inserts in Hobby Packs | 1 | | | |
| Sapphire – Double Diamond | 146 | Tony Esposito | Chicago | Blackhawks | Random Inserts in Hobby Packs | 1 | Auto | | |
| Sapphire – Double Diamond | 147 | Tuukka Rask | Boston | Bruins | Random Inserts in Hobby Packs | 1 | Auto | | |
| Sapphire – Double Diamond | 148 | Vincent Damphousse | Montreal | Canadiens | Random Inserts in Hobby Packs | 1 | Auto | | |
| Sapphire – Double Diamond | 149 | Vincent Lecavalier | Philadelphia | Flyers | Random Inserts in Hobby Packs | 1 | | | |
| Sapphire – Double Diamond | 150 | Wendel Clark | Toronto | Maple Leafs | Random Inserts in Hobby Packs | 1 | Auto | | |
| Sapphire – Triple Diamond | 151 | Bobby Hull | Chicago | Blackhawks | Random Inserts in Hobby Packs | 1 | Auto | | |
| Sapphire – Triple Diamond | 152 | Gilbert Perreault | Buffalo | Sabres | Random Inserts in Hobby Packs | 1 | Auto | | |
| Sapphire – Triple Diamond | 153 | Carey Price | Montreal | Canadiens | Random Inserts in Hobby Packs | 1 | | | |
| Sapphire – Triple Diamond | 154 | Chris Kunitz | Pittsburgh | Penguins | Random Inserts in Hobby Packs | 1 | Auto | | |
| Sapphire – Triple Diamond | 155 | Claude Giroux | Philadelphia | Flyers | Random Inserts in Hobby Packs | 1 | | | |
| Sapphire – Triple Diamond | 156 | P.K. Subban | Montreal | Canadiens | Random Inserts in Hobby Packs | 1 | | | |
| Sapphire – Triple Diamond | 157 | Peter Forsberg | Colorado | Avalanche | Random Inserts in Hobby Packs | 1 | | | |
| Sapphire – Triple Diamond | 158 | Doug Gilmour | Toronto | Maple Leafs | Random Inserts in Hobby Packs | 1 | Auto | | |
| Sapphire – Triple Diamond | 159 | Guy Lafleur | Montreal | Canadiens | Random Inserts in Hobby Packs | 1 | Auto | | |
| Sapphire – Triple Diamond | 160 | Felix Potvin | Toronto | Maple Leafs | Random Inserts in Hobby Packs | 1 | | | |
| Sapphire – Triple Diamond | 161 | Jonathan Quick | Los Angeles | Kings | Random Inserts in Hobby Packs | 1 | | | |
| Sapphire – Triple Diamond | 162 | Jordan Eberle | Edmonton | Oilers | Random Inserts in Hobby Packs | 1 | | | |
| Sapphire – Triple Diamond | 163 | Mikko Koivu | Minnesota | Wild | Random Inserts in Hobby Packs | 1 | Auto | | |
| Sapphire – Triple Diamond | 164 | Nicklas Lidstrom | Detroit | Red Wings | Random Inserts in Hobby Packs | 1 | Auto | | |
| Sapphire – Triple Diamond | 165 | Patrice Bergeron | Boston | Bruins | Random Inserts in Hobby Packs | 1 | | | |
| Sapphire – Triple Diamond | 166 | Paul Coffey | Edmonton | Oilers | Random Inserts in Hobby Packs | 1 | | | |
| Sapphire – Triple Diamond | 167 | Pavel Datsyuk | Detroit | Red Wings | Random Inserts in Hobby Packs | 1 | Auto | | |
| Sapphire – Triple Diamond | 168 | Phil Esposito | Boston | Bruins | Random Inserts in Hobby Packs | 1 | Auto | | |
| Sapphire – Triple Diamond | 169 | Rick Nash | New York | Rangers | Random Inserts in Hobby Packs | 1 | Auto | | |
| Sapphire – Triple Diamond | 170 | Rogie Vachon | Los Angeles | Kings | Random Inserts in Hobby Packs | 1 | Auto | | |
| Sapphire – Triple Diamond | 171 | Ron Francis | Pittsburgh | Penguins | Random Inserts in Hobby Packs | 1 | Auto | | |
| Sapphire – Triple Diamond | 172 | Taylor Hall | Edmonton | Oilers | Random Inserts in Hobby Packs | 1 | Auto | | |
| Sapphire – Triple Diamond | 173 | Teemu Selanne | Anaheim | Ducks | Random Inserts in Hobby Packs | 1 | | | |
| Sapphire – Triple Diamond | 174 | Tyler Seguin | Dallas | Stars | Random Inserts in Hobby Packs | 1 | Auto | | |
| Sapphire – Triple Diamond | 175 | Zach Parise | Minnesota | Wild | Random Inserts in Hobby Packs | 1 | Auto | | |
| Sapphire – Triple Diamond | 176 | Charlie Coyle | Minnesota | Wild | Random Inserts in Hobby Packs | 5 | | | Rookie |
| Sapphire – Triple Diamond | 177 | Jack Campbell | Dallas | Stars | Random Inserts in Hobby Packs | 5 | | | Rookie |
| Sapphire – Triple Diamond | 178 | Drew Shore | Florida | Panthers | Random Inserts in Hobby Packs | 5 | | | Rookie |
| Sapphire – Triple Diamond | 179 | Lucas Lessio | Phoenix | Coyotes | Random Inserts in Hobby Packs | 5 | | | Rookie |
| Sapphire – Triple Diamond | 180 | Eric Gelinas | New Jersey | Devils | Random Inserts in Hobby Packs | 5 | | | Rookie |
| Sapphire – Triple Diamond | 181 | Igor Bobkov | Anaheim | Ducks | Random Inserts in Hobby Packs | 5 | | | Rookie |
| Sapphire – Triple Diamond | 182 | Ryan Murphy | Carolina | Hurricanes | Random Inserts in Hobby Packs | 5 | | | Rookie |
| Sapphire – Triple Diamond | 183 | Beau Bennett | Pittsburgh | Penguins | Random Inserts in Hobby Packs | 5 | Auto | | Rookie |
| Sapphire – Triple Diamond | 184 | Tom Wilson | Washington | Capitals | Random Inserts in Hobby Packs | 5 | Auto | | Rookie |
| Sapphire – Triple Diamond | 185 | Nathan Beaulieu | Montreal | Canadiens | Random Inserts in Hobby Packs | 5 | | | Rookie |
| Sapphire – Triple Diamond | 186 | Carl Soderberg | Boston | Bruins | Random Inserts in Hobby Packs | 5 | | | Rookie |
| Sapphire – Triple Diamond | 187 | Tanner Pearson | Los Angeles | Kings | Random Inserts in Hobby Packs | 5 | Auto | | Rookie |
| Sapphire – Triple Diamond | 188 | Emerson Etem | Anaheim | Ducks | Random Inserts in Hobby Packs | 5 | | | Rookie |
| Sapphire – Triple Diamond | 189 | Frank Corrado | Vancouver | Canucks | Random Inserts in Hobby Packs | 5 | | | Rookie |
| Sapphire – Triple Diamond | 190 | Zach Redmond | Winnipeg | Jets | Random Inserts in Hobby Packs | 5 | | | Rookie |
| Sapphire – Triple Diamond | 191 | Rickard Rakell | Anaheim | Ducks | Random Inserts in Hobby Packs | 5 | | | Rookie |
| Sapphire – Triple Diamond | 192 | Scott Laughton | Philadelphia | Flyers | Random Inserts in Hobby Packs | 5 | Auto | | Rookie |
| Sapphire – Triple Diamond | 193 | Johan Larsson | Buffalo | Sabres | Random Inserts in Hobby Packs | 5 | | | Rookie |
| Sapphire – Triple Diamond | 194 | Austin Watson | Nashville | Predators | Random Inserts in Hobby Packs | 5 | Auto | | Rookie |
| Sapphire – Triple Diamond | 195 | Michael Sgarbossa | Colorado | Avalanche | Random Inserts in Hobby Packs | 5 | | | Rookie |
| Sapphire – Triple Diamond | 196 | Joakim Nordstrom | Chicago | Blackhawks | Random Inserts in Hobby Packs | 5 | | | Rookie |
| Sapphire – Triple Diamond | 197 | Sami Vatanen | Anaheim | Ducks | Random Inserts in Hobby Packs | 5 | | | Rookie |
| Sapphire – Triple Diamond | 198 | Filip Forsberg | Nashville | Predators | Random Inserts in Hobby Packs | 5 | | | Rookie |
| Sapphire – Triple Diamond | 199 | Seth Jones | Nashville | Predators | Random Inserts in Hobby Packs | 5 | | | Rookie |
| Sapphire – Triple Diamond | 200 | Nicklas Jensen | Vancouver | Canucks | Random Inserts in Hobby Packs | 5 | Auto | | Rookie |
| Sapphire – Quad Diamond | 201 | Alexander Ovechkin | | All Star Team | Random Inserts in Hobby Packs | 1 | Auto | | |
| Sapphire – Quad Diamond | 202 | Bobby Orr | | All Star Team | Random Inserts in Hobby Packs | 1 | Auto | | |
| Sapphire – Quad Diamond | 203 | Brett Hull | | All Star Team | Random Inserts in Hobby Packs | 1 | Auto | | |
| Sapphire – Quad Diamond | 204 | Dale Hawerchuk | | All Star Team | Random Inserts in Hobby Packs | 1 | | | |
| Sapphire – Quad Diamond | 205 | Eric Lindros | | All Star Team | Random Inserts in Hobby Packs | 1 | Auto | | |
| Sapphire – Quad Diamond | 206 | Evgeni Malkin | | All Star Team | Random Inserts in Hobby Packs | 1 | | | |
| Sapphire – Quad Diamond | 207 | Steve Yzerman | | All Star Team | Random Inserts in Hobby Packs | 1 | Auto | | |
| Sapphire – Quad Diamond | 208 | Jean Beliveau | | All Star Team | Random Inserts in Hobby Packs | 1 | Auto | | |
| Sapphire – Quad Diamond | 209 | Joe Sakic | | All Star Team | Random Inserts in Hobby Packs | 1 | Auto | | |
| Sapphire – Quad Diamond | 210 | John Tavares | | All Star Team | Random Inserts in Hobby Packs | 1 | Auto | | |
| Sapphire – Quad Diamond | 211 | Jonathan Toews | | All Star Team | Random Inserts in Hobby Packs | 1 | Auto | | |
| Sapphire – Quad Diamond | 212 | Mario Lemieux | | All Star Team | Random Inserts in Hobby Packs | 1 | Auto | | |
| Sapphire – Quad Diamond | 213 | Mark Messier | | All Star Team | Random Inserts in Hobby Packs | 1 | Auto | | |
| Sapphire – Quad Diamond | 214 | Martin Brodeur | | All Star Team | Random Inserts in Hobby Packs | 1 | Auto | | |
| Sapphire – Quad Diamond | 215 | Mats Sundin | | All Star Team | Random Inserts in Hobby Packs | 1 | Auto | | |
| Sapphire – Quad Diamond | 216 | Mike Bossy | | All Star Team | Random Inserts in Hobby Packs | 1 | Auto | | |
| Sapphire – Quad Diamond | 217 | Dominik Hasek | | All Star Team | Random Inserts in Hobby Packs | 1 | Auto | | |
| Sapphire – Quad Diamond | 218 | Patrick Kane | | All Star Team | Random Inserts in Hobby Packs | 1 | Auto | | |
| Sapphire – Quad Diamond | 219 | Patrick Roy | | All Star Team | Random Inserts in Hobby Packs | 1 | Auto | | |
| Sapphire – Quad Diamond | 220 | Pavel Bure | | All Star Team | Random Inserts in Hobby Packs | 1 | Auto | | |
| Sapphire – Quad Diamond | 221 | Ryan Miller | | All Star Team | Random Inserts in Hobby Packs | 1 | | | |
| Sapphire – Quad Diamond | 222 | Sidney Crosby | | All Star Team | Random Inserts in Hobby Packs | 1 | Auto | | |
| Sapphire – Quad Diamond | 223 | Steven Stamkos | | All Star Team | Random Inserts in Hobby Packs | 1 | Auto | | |
| Sapphire – Quad Diamond | 224 | Theoren Fleury | | All Star Team | Random Inserts in Hobby Packs | 1 | Auto | | |
| Sapphire – Quad Diamond | 225 | Wayne Gretzky | | All Star Team | Random Inserts in Hobby Packs | 1 | Auto | | |
| Sapphire – Quad Diamond | 227 | Tomas Hertl | San Jose | Sharks | Random Inserts in Hobby Packs | 5 | Auto | | Rookie |
| Sapphire – Quad Diamond | 229 | Nathan MacKinnon | Colorado | Avalanche | Random Inserts in Hobby Packs | 5 | Auto | | Rookie |
| Sapphire – Quad Diamond | 230 | Morgan Rielly | Toronto | Maple Leafs | Random Inserts in Hobby Packs | 5 | Auto | | Rookie |
| Sapphire – Quad Diamond | 231 | Brendan Gallagher | Montreal | Canadiens | Random Inserts in Hobby Packs | 5 | Auto | | Rookie |
| Sapphire – Quad Diamond | 232 | Cory Conacher | Ottawa | Senators | Random Inserts in Hobby Packs | 5 | Auto | | Rookie |
| Sapphire – Quad Diamond | 233 | Justin Schultz | Edmonton | Oilers | Random Inserts in Hobby Packs | 5 | Auto | | Rookie |
| Sapphire – Quad Diamond | 235 | Vladimir Tarasenko | St. Louis | Blues | Random Inserts in Hobby Packs | 5 | | | Rookie |
| Sapphire – Quad Diamond | 236 | Zemgus Girgensons | Buffalo | Sabres | Random Inserts in Hobby Packs | 5 | | | Rookie |
| Sapphire – Quad Diamond | 237 | Alex Galchenyuk | Montreal | Canadiens | Random Inserts in Hobby Packs | 5 | Auto | | Rookie |
| Sapphire – Quad Diamond | 238 | Jonathan Huberdeau | Florida | Panthers | Random Inserts in Hobby Packs | 5 | Auto | | Rookie |
| Sapphire – Quad Diamond | 239 | Jonas Brodin | Minnesota | Wild | Random Inserts in Hobby Packs | 5 | | | Rookie |
| Sapphire – Quad Diamond | 240 | J.T. Miller | New York | Rangers | Random Inserts in Hobby Packs | 5 | | | Rookie |
| Sapphire – Quad Diamond | 241 | Dougie Hamilton | Boston | Bruins | Random Inserts in Hobby Packs | 5 | Auto | | Rookie |
| Sapphire – Quad Diamond | 242 | Boone Jenner | Columbus | Blue Jackets | Random Inserts in Hobby Packs | 5 | Auto | | Rookie |
| Sapphire – Quad Diamond | 243 | Tyler Toffoli | Los Angeles | Kings | Random Inserts in Hobby Packs | 5 | Auto | | Rookie |
| Sapphire – Quad Diamond | 244 | Aleksander Barkov | Florida | Panthers | Random Inserts in Hobby Packs | 5 | Auto | | Rookie |
| Sapphire – Quad Diamond | 245 | Rasmus Ristolainen | Buffalo | Sabres | Random Inserts in Hobby Packs | 5 | | | Rookie |
| Sapphire – Quad Diamond | 246 | Ryan Murray | Columbus | Blue Jackets | Random Inserts in Hobby Packs | 5 | Auto | | Rookie |
| Sapphire – Quad Diamond | 248 | Mikhail Grigorenko | Buffalo | Sabres | Random Inserts in Hobby Packs | 5 | Auto | | Rookie |
| Sapphire – Quad Diamond | 250 | Sean Monahan | Calgary | Flames | Random Inserts in Hobby Packs | 5 | Auto | | Rookie |
| Quad Diamond Rookie Gems Relics | DD | Diamond Draft Redemption | | | Random Inserts in Hobby Packs | 25 Total Cards | | | |
| Championship Rings – All-Time Greats | ATG-19 | Wayne Gretzky | Edmonton | Oilers | 1:210 Hobby, 1:210 Blaster | | | | |
| Championship Rings – All-Time Greats | ATG-20 | Steve Yzerman | Detroit | Red Wings | 1:210 Hobby, 1:210 Blaster | | | | |
| Championship Rings – All-Time Greats | ATG-21 | Grant Fuhr | Edmonton | Oilers | 1:210 Hobby, 1:210 Blaster | | | | |
| Championship Rings – All-Time Greats | ATG-22 | Ron Francis | Pittsburgh | Penguins | 1:210 Hobby, 1:210 Blaster | | | | |
| Championship Rings – All-Time Greats | ATG-23 | Mike Bossy | New York | Islanders | 1:210 Hobby, 1:210 Blaster | | | | |
| Championship Rings – All-Time Greats | ATG-24 | Bobby Hull | Chicago | Blackhawks | 1:210 Hobby, 1:210 Blaster | | | | |
| Championship Rings – All-Time Greats | ATG-25 | Martin Brodeur | New Jersey | Devils | 1:210 Hobby, 1:210 Blaster | | | | |
| Championship Rings – All-Time Greats | ATG-26 | Andy Moog | Edmonton | Oilers | 1:210 Hobby, 1:210 Blaster | | | | |
| Championship Rings – All-Time Greats | ATG-27 | Mark Messier | New York | Rangers | 1:210 Hobby, 1:210 Blaster | | | | |
| Championship Rings – 2012-13 Stanley Cup Champs | CRB-1 | Andrew Shaw | Chicago | Blackhawks | 1:158 Hobby, 1:158 Blaster | | | | |
| Championship Rings – 2012-13 Stanley Cup Champs | CRB-2 | Ben Smith | Chicago | Blackhawks | 1:158 Hobby, 1:158 Blaster | | | | |
| Championship Rings – 2012-13 Stanley Cup Champs | CRB-3 | Brandon Bollig | Chicago | Blackhawks | 1:158 Hobby, 1:158 Blaster | | | | |
| Championship Rings – 2012-13 Stanley Cup Champs | CRB-4 | Brandon Saad | Chicago | Blackhawks | 1:158 Hobby, 1:158 Blaster | | | | |
| Championship Rings – 2012-13 Stanley Cup Champs | CRB-5 | Brent Seabrook | Chicago | Blackhawks | 1:158 Hobby, 1:158 Blaster | | | | |
| Championship Rings – 2012-13 Stanley Cup Champs | CRB-6 | Bryan Bickell | Chicago | Blackhawks | 1:158 Hobby, 1:158 Blaster | | | | |
| Championship Rings – 2012-13 Stanley Cup Champs | CRB-7 | Corey Crawford | Chicago | Blackhawks | 1:158 Hobby, 1:158 Blaster | | | | |
| Championship Rings – 2012-13 Stanley Cup Champs | CRB-8 | Daniel Carcillo | Chicago | Blackhawks | 1:158 Hobby, 1:158 Blaster | | | | |
| Championship Rings – 2012-13 Stanley Cup Champs | CRB-9 | Dave Bolland | Chicago | Blackhawks | 1:158 Hobby, 1:158 Blaster | | | | |
| Championship Rings – 2012-13 Stanley Cup Champs | CRB-10 | Duncan Keith | Chicago | Blackhawks | 1:158 Hobby, 1:158 Blaster | | | | |
| Championship Rings – 2012-13 Stanley Cup Champs | CRB-11 | Jamal Mayers | Chicago | Blackhawks | 1:158 Hobby, 1:158 Blaster | | | | |
| Championship Rings – 2012-13 Stanley Cup Champs | CRB-12 | Johnny Oduya | Chicago | Blackhawks | 1:158 Hobby, 1:158 Blaster | | | | |
| Championship Rings – 2012-13 Stanley Cup Champs | CRB-13 | Jonathan Toews | Chicago | Blackhawks | 1:158 Hobby, 1:158 Blaster | | | | |
| Championship Rings – 2012-13 Stanley Cup Champs | CRB-14 | Marcus Kruger | Chicago | Blackhawks | 1:158 Hobby, 1:158 Blaster | | | | |
| Championship Rings – 2012-13 Stanley Cup Champs | CRB-15 | Marian Hossa | Chicago | Blackhawks | 1:158 Hobby, 1:158 Blaster | | | | |
| Championship Rings – 2012-13 Stanley Cup Champs | CRB-16 | Michael Frolik | Chicago | Blackhawks | 1:158 Hobby, 1:158 Blaster | | | | |
| Championship Rings – 2012-13 Stanley Cup Champs | CRB-17 | Michal Handzus | Chicago | Blackhawks | 1:158 Hobby, 1:158 Blaster | | | | |
| Championship Rings – 2012-13 Stanley Cup Champs | CRB-18 | Michal Rozsival | Chicago | Blackhawks | 1:158 Hobby, 1:158 Blaster | | | | |
| Championship Rings – 2012-13 Stanley Cup Champs | CRB-19 | Nick Leddy | Chicago | Blackhawks | 1:158 Hobby, 1:158 Blaster | | | | |
| Championship Rings – 2012-13 Stanley Cup Champs | CRB-20 | Niklas Hjalmarsson | Chicago | Blackhawks | 1:158 Hobby, 1:158 Blaster | | | | |
| Championship Rings – 2012-13 Stanley Cup Champs | CRB-21 | Patrick Kane | Chicago | Blackhawks | 1:158 Hobby, 1:158 Blaster | | | | |
| Championship Rings – 2012-13 Stanley Cup Champs | CRB-22 | Patrick Sharp | Chicago | Blackhawks | 1:158 Hobby, 1:158 Blaster | | | | |
| Championship Rings – 2012-13 Stanley Cup Champs | CRB-23 | Ray Emery | Chicago | Blackhawks | 1:158 Hobby, 1:158 Blaster | | | | |
| Championship Rings – 2012-13 Stanley Cup Champs | CRB-24 | Viktor Stalberg | Chicago | Blackhawks | 1:158 Hobby, 1:158 Blaster | | | | |
| Double Diamond Jerseys | 1984-BH | Brett Hull | St. Louis | Blues | Group F 1:97 (Overall 1:10 Hobby, 1:48 Blaster) | | | Jsy | |
| Double Diamond Jerseys | 1984-LR | Luc Robitaille | Los Angeles | Kings | Group D 1:262 (Overall 1:10 Hobby, 1:48 Blaster) | | | Jsy | |
| Double Diamond Jerseys | 1984-ML | Mario Lemieux | Pittsburgh | Penguins | Group D 1:262 (Overall 1:10 Hobby, 1:48 Blaster) | | | Jsy | |
| Double Diamond Jerseys | 1984-PR | Patrick Roy | Montreal | Canadiens | Group C 1:1,177 (Overall 1:10 Hobby, 1:48 Blaster) | | | Jsy | |
| Double Diamond Jerseys | ALLSTAR-BH | Brett Hull | | All Star Team | Group B 1:2,074 (Overall 1:10 Hobby, 1:48 Blaster) | | | Jsy | |
| Double Diamond Jerseys | ALLSTAR-JJ | Jaromir Jagr | | All Star Team | Group F 1:97 (Overall 1:10 Hobby, 1:48 Blaster) | | | Jsy | |
| Double Diamond Jerseys | ALLSTAR-MB | Martin Brodeur | | All Star Team | Group F 1:97 (Overall 1:10 Hobby, 1:48 Blaster) | | | Jsy | |
| Double Diamond Jerseys | ALLSTAR-ML | Mario Lemieux | | All Star Team | Group D 1:262 (Overall 1:10 Hobby, 1:48 Blaster) | | | Jsy | |
| Double Diamond Jerseys | ALLSTAR-PR | Patrick Roy | | All Star Team | Group D 1:262 (Overall 1:10 Hobby, 1:48 Blaster) | | | Jsy | |
| Double Diamond Jerseys | ALLSTAR-WG | Wayne Gretzky | | All Star Team | Group B 1:2,074 (Overall 1:10 Hobby, 1:48 Blaster) | | | Jsy | |
| Double Diamond Jerseys | BEES-BP | Brad Park | Boston | Bruins | Group G 1:30 (Overall 1:10 Hobby, 1:48 Blaster) | | | Jsy | |
| Double Diamond Jerseys | BEES-BR | Bill Ranford | Boston | Bruins | Group B 1:2,074 (Overall 1:10 Hobby, 1:48 Blaster) | | | Jsy | |
| Double Diamond Jerseys | BEES-CN | Cam Neely | Boston | Bruins | Group H 1:21 (Overall 1:10 Hobby, 1:48 Blaster) | | | Jsy | |
| Double Diamond Jerseys | BEES-GM | Glen Murray | Boston | Bruins | Group H 1:21 (Overall 1:10 Hobby, 1:48 Blaster) | | | Jsy | |
| Double Diamond Jerseys | BEES-PE | Phil Esposito | Boston | Bruins | Group D 1:262 (Overall 1:10 Hobby, 1:48 Blaster) | | | Jsy | |
| Double Diamond Jerseys | BEES-RB | Ray Bourque | Boston | Bruins | Group G 1:30 (Overall 1:10 Hobby, 1:48 Blaster) | | | Jsy | |
| Double Diamond Jerseys | BRUINS-DH | Dougie Hamilton | Boston | Bruins | Group H 1:21 (Overall 1:10 Hobby, 1:48 Blaster) | | | Jsy | Rookie |
| Double Diamond Jerseys | BRUINS-PB | Patrice Bergeron | Boston | Bruins | Group G 1:30 (Overall 1:10 Hobby, 1:48 Blaster) | | | Jsy | |
| Double Diamond Jerseys | BRUINS-TR | Tuukka Rask | Boston | Bruins | Group C 1:1,177 (Overall 1:10 Hobby, 1:48 Blaster) | | | Jsy | |
| Double Diamond Jerseys | BRUINS-ZC | Zdeno Chara | Boston | Bruins | Group G 1:30 (Overall 1:10 Hobby, 1:48 Blaster) | | | Jsy | |
| Double Diamond Jerseys | BUFF-CH | Cody Hodgson | Buffalo | Sabres | Group G 1:30 (Overall 1:10 Hobby, 1:48 Blaster) | | | Jsy | |
| Double Diamond Jerseys | BUFF-MG | Mikhail Grigorenko | Buffalo | Sabres | Group G 1:30 (Overall 1:10 Hobby, 1:48 Blaster) | | | Jsy | Rookie |
| Double Diamond Jerseys | BUFF-RM | Ryan Miller | Buffalo | Sabres | Group G 1:30 (Overall 1:10 Hobby, 1:48 Blaster) | | | Jsy | |
| Double Diamond Jerseys | BUFF-TV | Thomas Vanek | Buffalo | Sabres | Group B 1:2,074 (Overall 1:10 Hobby, 1:48 Blaster) | | | Jsy | |
| Double Diamond Jerseys | DALL-JB | Jamie Benn | Dallas | Stars | Group F 1:97 (Overall 1:10 Hobby, 1:48 Blaster) | | | Jsy | |
| Double Diamond Jerseys | DALL-JC | Jack Campbell | Dallas | Stars | Group H 1:21 (Overall 1:10 Hobby, 1:48 Blaster) | | | Jsy | Rookie |
| Double Diamond Jerseys | DALL-JO | Jamie Oleksiak | Dallas | Stars | Group G 1:30 (Overall 1:10 Hobby, 1:48 Blaster) | | | Jsy | Rookie |
| Double Diamond Jerseys | DALL-KL | Kari Lehtonen | Dallas | Stars | Group H 1:21 (Overall 1:10 Hobby, 1:48 Blaster) | | | Jsy | |
| Double Diamond Jerseys | EDM-DD | Devan Dubnyk | Edmonton | Oilers | Group H 1:21 (Overall 1:10 Hobby, 1:48 Blaster) | | | Jsy | |
| Double Diamond Jerseys | EDM-JE | Jordan Eberle | Edmonton | Oilers | Group G 1:30 (Overall 1:10 Hobby, 1:48 Blaster) | | | Jsy | |
| Double Diamond Jerseys | EDM-JS | Justin Schultz | Edmonton | Oilers | Group H 1:21 (Overall 1:10 Hobby, 1:48 Blaster) | | | Jsy | Rookie |
| Double Diamond Jerseys | EDM-NY | Nail Yakupov | Edmonton | Oilers | Group G 1:30 (Overall 1:10 Hobby, 1:48 Blaster) | | | Jsy | Rookie |
| Double Diamond Jerseys | EDM-RN | Ryan Nugent-Hopkins | Edmonton | Oilers | Group E 1:217 (Overall 1:10 Hobby, 1:48 Blaster) | | | Jsy | |
| Double Diamond Jerseys | EDM-TH | Taylor Hall | Edmonton | Oilers | Group H 1:21 (Overall 1:10 Hobby, 1:48 Blaster) | | | Jsy | |
| Double Diamond Jerseys | LAK-AK | Anze Kopitar | Los Angeles | Kings | Group F 1:97 (Overall 1:10 Hobby, 1:48 Blaster) | | | Jsy | |
| Double Diamond Jerseys | LAK-DB | Dustin Brown | Los Angeles | Kings | Group F 1:97 (Overall 1:10 Hobby, 1:48 Blaster) | | | Jsy | |
| Double Diamond Jerseys | LAK-DD | Drew Doughty | Los Angeles | Kings | Group E 1:217 (Overall 1:10 Hobby, 1:48 Blaster) | | | Jsy | |
| Double Diamond Jerseys | LAK-JQ | Jonathan Quick | Los Angeles | Kings | Group D 1:262 (Overall 1:10 Hobby, 1:48 Blaster) | | | Jsy | |
| Double Diamond Jerseys | LBBR-CP | Carey Price | Montreal | Canadiens | Group G 1:30 (Overall 1:10 Hobby, 1:48 Blaster) | | | Jsy | |
| Double Diamond Jerseys | LBBR-LR | Larry Robinson | Montreal | Canadiens | Group F 1:97 (Overall 1:10 Hobby, 1:48 Blaster) | | | Jsy | |
| Double Diamond Jerseys | LBBR-PK | P.K. Subban | Montreal | Canadiens | Group G 1:30 (Overall 1:10 Hobby, 1:48 Blaster) | | | Jsy | |
| Double Diamond Jerseys | LBBR-PR | Patrick Roy | Montreal | Canadiens | Group C 1:1,177 (Overall 1:10 Hobby, 1:48 Blaster) | | | Jsy | |
| Double Diamond Jerseys | NET- CP | Carey Price | Montreal | Canadiens | Group G 1:30 (Overall 1:10 Hobby, 1:48 Blaster) | | | Jsy | |
| Double Diamond Jerseys | NET- MB | Martin Brodeur | New Jersey | Devils | Group D 1:262 (Overall 1:10 Hobby, 1:48 Blaster) | | | Jsy | |
| Double Diamond Jerseys | NET- PR | Pekka Rinne | Nashville | Predators | Group G 1:30 (Overall 1:10 Hobby, 1:48 Blaster) | | | Jsy | |
| Double Diamond Jerseys | NET- RM | Ryan Miller | Buffalo | Sabres | Group F 1:97 (Overall 1:10 Hobby, 1:48 Blaster) | | | Jsy | |
| Double Diamond Jerseys | NYR-HL | Henrik Lundqvist | New York | Rangers | Group D 1:262 (Overall 1:10 Hobby, 1:48 Blaster) | | | Jsy | |
| Double Diamond Jerseys | NYR-JT | J.T. Miller | New York | Rangers | Group H 1:21 (Overall 1:10 Hobby, 1:48 Blaster) | | | Jsy | Rookie |
| Double Diamond Jerseys | NYR-RC | Ryan Callahan | New York | Rangers | Group B 1:2,074 (Overall 1:10 Hobby, 1:48 Blaster) | | | Jsy | |
| Double Diamond Jerseys | NYR-RN | Rick Nash | New York | Rangers | Group G 1:30 (Overall 1:10 Hobby, 1:48 Blaster) | | | Jsy | |
| Double Diamond Jerseys | PENS-BB | Beau Bennett | Pittsburgh | Penguins | Group H 1:21 (Overall 1:10 Hobby, 1:48 Blaster) | | | Jsy | Rookie |
| Double Diamond Jerseys | PENS-EM | Evgeni Malkin | Pittsburgh | Penguins | Group E 1:217 (Overall 1:10 Hobby, 1:48 Blaster) | | | Jsy | |
| Double Diamond Jerseys | PENS-JN | James Neal | Pittsburgh | Penguins | Group G 1:30 (Overall 1:10 Hobby, 1:48 Blaster) | | | Jsy | |
| Double Diamond Jerseys | PENS-KL | Kris Letang | Pittsburgh | Penguins | Group E 1:217 (Overall 1:10 Hobby, 1:48 Blaster) | | | Jsy | |
| Double Diamond Jerseys | PENS-MF | Marc-Andre Fleury | Pittsburgh | Penguins | Group F 1:97 (Overall 1:10 Hobby, 1:48 Blaster) | | | Jsy | |
| Double Diamond Jerseys | PENS-ML | Mario Lemieux | Pittsburgh | Penguins | Group D 1:262 (Overall 1:10 Hobby, 1:48 Blaster) | | | Jsy | |
| Double Diamond Jerseys | PHI-CG | Claude Giroux | Philadelphia | Flyers | Group F 1:97 (Overall 1:10 Hobby, 1:48 Blaster) | | | Jsy | |
| Double Diamond Jerseys | PHI-EL | Eric Lindros | Philadelphia | Flyers | Group D 1:262 (Overall 1:10 Hobby, 1:48 Blaster) | | | Jsy | |
| Double Diamond Jerseys | PHI-PF | Peter Forsberg | Philadelphia | Flyers | Group G 1:30 (Overall 1:10 Hobby, 1:48 Blaster) | | | Jsy | |
| Double Diamond Jerseys | PHI-SH | Scott Hartnell | Philadelphia | Flyers | Group C 1:1,177 (Overall 1:10 Hobby, 1:48 Blaster) | | | Jsy | |
| Double Diamond Jerseys | PHI-SL | Scott Laughton | Philadelphia | Flyers | Group H 1:21 (Overall 1:10 Hobby, 1:48 Blaster) | | | Jsy | Rookie |
| Double Diamond Jerseys | PHI-WS | Wayne Simmonds | Philadelphia | Flyers | Group G 1:30 (Overall 1:10 Hobby, 1:48 Blaster) | | | Jsy | |
| Double Diamond Jerseys | RFWD-AG | Alex Galchenyuk | Montreal | Canadiens | Group H 1:21 (Overall 1:10 Hobby, 1:48 Blaster) | | | Jsy | Rookie |
| Double Diamond Jerseys | RFWD-JH | Jonathan Huberdeau | Florida | Panthers | Group H 1:21 (Overall 1:10 Hobby, 1:48 Blaster) | | | Jsy | Rookie |
| Double Diamond Jerseys | RFWD-NY | Nail Yakupov | Edmonton | Oilers | Group G 1:30 (Overall 1:10 Hobby, 1:48 Blaster) | | | Jsy | Rookie |
| Double Diamond Jerseys | RFWD-VT | Vladimir Tarasenko | St. Louis | Blues | Group G 1:30 (Overall 1:10 Hobby, 1:48 Blaster) | | | Jsy | Rookie |
| Double Diamond Jerseys | ROOK-BG | Brendan Gallagher | Montreal | Canadiens | Group H 1:21 (Overall 1:10 Hobby, 1:48 Blaster) | | | Jsy | Rookie |
| Double Diamond Jerseys | ROOKD-DH | Dougie Hamilton | Boston | Bruins | Group H 1:21 (Overall 1:10 Hobby, 1:48 Blaster) | | | Jsy | Rookie |
| Double Diamond Jerseys | ROOK-DH | Dougie Hamilton | Boston | Bruins | Group H 1:21 (Overall 1:10 Hobby, 1:48 Blaster) | | | Jsy | Rookie |
| Double Diamond Jerseys | ROOKD-JS | Justin Schultz | Edmonton | Oilers | Group H 1:21 (Overall 1:10 Hobby, 1:48 Blaster) | | | Jsy | Rookie |
| Double Diamond Jerseys | ROOKD-JT | Jarred Tinordi | Montreal | Canadiens | Group H 1:21 (Overall 1:10 Hobby, 1:48 Blaster) | | | Jsy | Rookie |
| Double Diamond Jerseys | ROOKD-NB | Nathan Beaulieu | Montreal | Canadiens | Group H 1:21 (Overall 1:10 Hobby, 1:48 Blaster) | | | Jsy | Rookie |
| Double Diamond Jerseys | ROOK-JH | Jonathan Huberdeau | Florida | Panthers | Group H 1:21 (Overall 1:10 Hobby, 1:48 Blaster) | | | Jsy | Rookie |
| Double Diamond Jerseys | ROOK-JO | Jamie Oleksiak | Dallas | Stars | Group H 1:21 (Overall 1:10 Hobby, 1:48 Blaster) | | | Jsy | Rookie |
| Double Diamond Jerseys | ROOK-MP | Mark Pysyk | Buffalo | Sabres | Group H 1:21 (Overall 1:10 Hobby, 1:48 Blaster) | | | Jsy | Rookie |
| Double Diamond Jerseys | ROOK-NB | Nathan Beaulieu | Montreal | Canadiens | Group H 1:21 (Overall 1:10 Hobby, 1:48 Blaster) | | | Jsy | Rookie |
| Double Diamond Jerseys | STAR-AO | Alexander Ovechkin | Washington | Capitals | Group E 1:217 (Overall 1:10 Hobby, 1:48 Blaster) | | | Jsy | |
| Double Diamond Jerseys | STAR-CG | Claude Giroux | Philadelphia | Flyers | Group A 1:76,730 (Overall 1:10 Hobby, 1:48 Blaster) | | | Jsy | |
| Double Diamond Jerseys | STAR-IK | Ilya Kovalchuk | New Jersey | Devils | Group G 1:30 (Overall 1:10 Hobby, 1:48 Blaster) | | | Jsy | |
| Double Diamond Jerseys | STAR-JT | Jonathan Toews | Chicago | Blackhawks | Group G 1:30 (Overall 1:10 Hobby, 1:48 Blaster) | | | Jsy | |
| Double Diamond Jerseys | STAR-RG | Ryan Getzlaf | Anaheim | Ducks | Group D 1:262 (Overall 1:10 Hobby, 1:48 Blaster) | | | Jsy | |
| Double Diamond Jerseys | STL-CS | Chris Stewart | St. Louis | Blues | Group H 1:21 (Overall 1:10 Hobby, 1:48 Blaster) | | | Jsy | |
| Double Diamond Jerseys | STL-JH | Jaroslav Halak | St. Louis | Blues | Group F 1:97 (Overall 1:10 Hobby, 1:48 Blaster) | | | Jsy | |
| Double Diamond Jerseys | STL-PB | Patrik Berglund | St. Louis | Blues | Group D 1:262 (Overall 1:10 Hobby, 1:48 Blaster) | | | Jsy | |
| Double Diamond Jerseys | STL-VT | Vladimir Tarasenko | St. Louis | Blues | Group G 1:30 (Overall 1:10 Hobby, 1:48 Blaster) | | | Jsy | Rookie |
| Double Diamond Jerseys | TOR-DP | Dion Phaneuf | Toronto | Maple Leafs | Group G 1:30 (Overall 1:10 Hobby, 1:48 Blaster) | | | Jsy | |
| Double Diamond Jerseys | TOR-NK | Nikolai Kulemin | Toronto | Maple Leafs | Group D 1:262 (Overall 1:10 Hobby, 1:48 Blaster) | | | Jsy | |
| Double Diamond Jerseys | TOR-PK | Phil Kessel | Toronto | Maple Leafs | Group G 1:30 (Overall 1:10 Hobby, 1:48 Blaster) | | | Jsy | |
| Double Diamond Jerseys | VAN-HS | Henrik Sedin | Vancouver | Canucks | Group F 1:97 (Overall 1:10 Hobby, 1:48 Blaster) | | | Jsy | |
| Double Diamond Jerseys | VAN-JS | Jordan Schroeder | Vancouver | Canucks | Group H 1:21 (Overall 1:10 Hobby, 1:48 Blaster) | | | Jsy | Rookie |
| Double Diamond Jerseys | VAN-RL | Roberto Luongo | Vancouver | Canucks | Group G 1:30 (Overall 1:10 Hobby, 1:48 Blaster) | | | Jsy | |
| Double Diamond Jerseys | WINGS-DB | Damien Brunner | Detroit | Red Wings | Group H 1:21 (Overall 1:10 Hobby, 1:48 Blaster) | | | Jsy | Rookie |
| Double Diamond Jerseys | WINGS-JF | Johan Franzen | Detroit | Red Wings | Group E 1:217 (Overall 1:10 Hobby, 1:48 Blaster) | | | Jsy | |
| Double Diamond Jerseys | WINGS-JH | Jim Howard | Detroit | Red Wings | Group G 1:30 (Overall 1:10 Hobby, 1:48 Blaster) | | | Jsy | |
| Double Diamond Jerseys | WINGS-NK | Niklas Kronwall | Detroit | Red Wings | Group E 1:217 (Overall 1:10 Hobby, 1:48 Blaster) | | | Jsy | |
| Double Diamond Jerseys | WINGS-PV | Pavel Datsyuk | Detroit | Red Wings | Group E 1:217 (Overall 1:10 Hobby, 1:48 Blaster) | | | Jsy | |
| Double Diamond Jerseys | WINGS-ZT | Henrik Zetterberg | Detroit | Red Wings | Group E 1:217 (Overall 1:10 Hobby, 1:48 Blaster) | | | Jsy | |
| Double Diamond Jersey Auto | 1984-BH | Brett Hull | St. Louis | Blues | Random Inserts in Hobby Packs | 5 | Auto | Jsy | |
| Double Diamond Jersey Auto | 1984-LR | Luc Robitaille | Los Angeles | Kings | Random Inserts in Hobby Packs | 5 | Auto | Jsy | |
| Double Diamond Jersey Auto | 1984-ML | Mario Lemieux | Pittsburgh | Penguins | Random Inserts in Hobby Packs | 5 | Auto | Jsy | |
| Double Diamond Jersey Auto | 1984-PR | Patrick Roy | Montreal | Canadiens | Random Inserts in Hobby Packs | 5 | Auto | Jsy | |
| Double Diamond Jersey Auto | ALLSTAR-BH | Brett Hull | | All Star Team | Random Inserts in Hobby Packs | 5 | Auto | Jsy | |
| Double Diamond Jersey Auto | ALLSTAR-JJ | Jaromir Jagr | | All Star Team | Random Inserts in Hobby Packs | 5 | Auto | Jsy | |
| Double Diamond Jersey Auto | ALLSTAR-MB | Martin Brodeur | | All Star Team | Random Inserts in Hobby Packs | 5 | Auto | Jsy | |
| Double Diamond Jersey Auto | ALLSTAR-ML | Mario Lemieux | | All Star Team | Random Inserts in Hobby Packs | 5 | Auto | Jsy | |
| Double Diamond Jersey Auto | ALLSTAR-PR | Patrick Roy | | All Star Team | Random Inserts in Hobby Packs | 5 | Auto | Jsy | |
| Double Diamond Jersey Auto | ALLSTAR-WG | Wayne Gretzky | | All Star Team | Random Inserts in Hobby Packs | 5 | Auto | Jsy | |
| Double Diamond Jersey Auto | BEES-BP | Brad Park | Boston | Bruins | Random Inserts in Hobby Packs | 5 | Auto | Jsy | |
| Double Diamond Jersey Auto | BEES-BR | Bill Ranford | Boston | Bruins | Random Inserts in Hobby Packs | 5 | Auto | Jsy | |
| Double Diamond Jersey Auto | BEES-CN | Cam Neely | Boston | Bruins | Random Inserts in Hobby Packs | 5 | Auto | Jsy | |
| Double Diamond Jersey Auto | BEES-GM | Glen Murray | Boston | Bruins | Random Inserts in Hobby Packs | 5 | Auto | Jsy | |
| Double Diamond Jersey Auto | BEES-PE | Phil Esposito | Boston | Bruins | Random Inserts in Hobby Packs | 5 | Auto | Jsy | |
| Double Diamond Jersey Auto | BEES-RB | Ray Bourque | Boston | Bruins | Random Inserts in Hobby Packs | 5 | Auto | Jsy | |
| Double Diamond Jersey Auto | BRUINS-DH | Dougie Hamilton | Boston | Bruins | Random Inserts in Hobby Packs | 5 | Auto | Jsy | Rookie |
| Double Diamond Jersey Auto | BRUINS-TR | Tuukka Rask | Boston | Bruins | Random Inserts in Hobby Packs | 5 | Auto | Jsy | |
| Double Diamond Jersey Auto | BUFF-MG | Mikhail Grigorenko | Buffalo | Sabres | Random Inserts in Hobby Packs | 5 | Auto | Jsy | Rookie |
| Double Diamond Jersey Auto | BUFF-RM | Ryan Miller | Buffalo | Sabres | Random Inserts in Hobby Packs | 5 | Auto | Jsy | |
| Double Diamond Jersey Auto | BUFF-TV | Thomas Vanek | Buffalo | Sabres | Random Inserts in Hobby Packs | 5 | Auto | Jsy | |
| Double Diamond Jersey Auto | DALL-JB | Jamie Benn | Dallas | Stars | Random Inserts in Hobby Packs | 5 | Auto | Jsy | |
| Double Diamond Jersey Auto | DALL-JO | Jamie Oleksiak | Dallas | Stars | Random Inserts in Hobby Packs | 5 | Auto | Jsy | Rookie |
| Double Diamond Jersey Auto | EDM-DD | Devan Dubnyk | Edmonton | Oilers | Random Inserts in Hobby Packs | 5 | Auto | Jsy | |
| Double Diamond Jersey Auto | EDM-JS | Justin Schultz | Edmonton | Oilers | Random Inserts in Hobby Packs | 5 | Auto | Jsy | Rookie |
| Double Diamond Jersey Auto | EDM-RN | Ryan Nugent-Hopkins | Edmonton | Oilers | Random Inserts in Hobby Packs | 5 | Auto | Jsy | |
| Double Diamond Jersey Auto | EDM-TH | Taylor Hall | Edmonton | Oilers | Random Inserts in Hobby Packs | 5 | Auto | Jsy | |
| Double Diamond Jersey Auto | LAK-AK | Anze Kopitar | Los Angeles | Kings | Random Inserts in Hobby Packs | 5 | Auto | Jsy | |
| Double Diamond Jersey Auto | LAK-DB | Dustin Brown | Los Angeles | Kings | Random Inserts in Hobby Packs | 5 | Auto | Jsy | |
| Double Diamond Jersey Auto | LBBR-CP | Carey Price | Montreal | Canadiens | Random Inserts in Hobby Packs | 5 | Auto | Jsy | |
| Double Diamond Jersey Auto | LBBR-LR | Larry Robinson | Montreal | Canadiens | Random Inserts in Hobby Packs | 5 | Auto | Jsy | |
| Double Diamond Jersey Auto | LBBR-PK | P.K. Subban | Montreal | Canadiens | Random Inserts in Hobby Packs | 5 | Auto | Jsy | |
| Double Diamond Jersey Auto | LBBR-PR | Patrick Roy | Montreal | Canadiens | Random Inserts in Hobby Packs | 5 | Auto | Jsy | |
| Double Diamond Jersey Auto | NET- CP | Carey Price | Montreal | Canadiens | Random Inserts in Hobby Packs | 5 | Auto | Jsy | |
| Double Diamond Jersey Auto | NET- MB | Martin Brodeur | New Jersey | Devils | Random Inserts in Hobby Packs | 5 | Auto | Jsy | |
| Double Diamond Jersey Auto | NET- PR | Pekka Rinne | Nashville | Predators | Random Inserts in Hobby Packs | 5 | Auto | Jsy | |
| Double Diamond Jersey Auto | NET- RM | Ryan Miller | Buffalo | Sabres | Random Inserts in Hobby Packs | 5 | Auto | Jsy | |
| Double Diamond Jersey Auto | NYR-HL | Henrik Lundqvist | New York | Rangers | Random Inserts in Hobby Packs | 5 | Auto | Jsy | |
| Double Diamond Jersey Auto | NYR-RN | Rick Nash | New York | Rangers | Random Inserts in Hobby Packs | 5 | Auto | Jsy | |
| Double Diamond Jersey Auto | PENS-BB | Beau Bennett | Pittsburgh | Penguins | Random Inserts in Hobby Packs | 5 | Auto | Jsy | Rookie |
| Double Diamond Jersey Auto | PENS-EM | Evgeni Malkin | Pittsburgh | Penguins | Random Inserts in Hobby Packs | 5 | Auto | Jsy | |
| Double Diamond Jersey Auto | PENS-MF | Marc-Andre Fleury | Pittsburgh | Penguins | Random Inserts in Hobby Packs | 5 | Auto | Jsy | |
| Double Diamond Jersey Auto | PENS-ML | Mario Lemieux | Pittsburgh | Penguins | Random Inserts in Hobby Packs | 5 | Auto | Jsy | |
| Double Diamond Jersey Auto | PHI-CG | Claude Giroux | Philadelphia | Flyers | Random Inserts in Hobby Packs | 5 | Auto | Jsy | |
| Double Diamond Jersey Auto | PHI-EL | Eric Lindros | Philadelphia | Flyers | Random Inserts in Hobby Packs | 5 | Auto | Jsy | |
| Double Diamond Jersey Auto | PHI-SH | Scott Hartnell | Philadelphia | Flyers | Random Inserts in Hobby Packs | 5 | Auto | Jsy | |
| Double Diamond Jersey Auto | PHI-SL | Scott Laughton | Philadelphia | Flyers | Random Inserts in Hobby Packs | 5 | Auto | Jsy | Rookie |
| Double Diamond Jersey Auto | RFWD-AG | Alex Galchenyuk | Montreal | Canadiens | Random Inserts in Hobby Packs | 5 | Auto | Jsy | Rookie |
| Double Diamond Jersey Auto | RFWD-JH | Jonathan Huberdeau | Florida | Panthers | Random Inserts in Hobby Packs | 5 | Auto | Jsy | Rookie |
| Double Diamond Jersey Auto | ROOK-BG | Brendan Gallagher | Montreal | Canadiens | Random Inserts in Hobby Packs | 5 | Auto | Jsy | Rookie |
| Double Diamond Jersey Auto | ROOKD-DH | Dougie Hamilton | Boston | Bruins | Random Inserts in Hobby Packs | 5 | Auto | Jsy | Rookie |
| Double Diamond Jersey Auto | ROOK-DH | Dougie Hamilton | Boston | Bruins | Random Inserts in Hobby Packs | 5 | Auto | Jsy | Rookie |
| Double Diamond Jersey Auto | ROOKD-JS | Justin Schultz | Edmonton | Oilers | Random Inserts in Hobby Packs | 5 | Auto | Jsy | Rookie |
| Double Diamond Jersey Auto | ROOKD-JT | Jarred Tinordi | Montreal | Canadiens | Random Inserts in Hobby Packs | 5 | Auto | Jsy | Rookie |
| Double Diamond Jersey Auto | ROOKD-NB | Nathan Beaulieu | Montreal | Canadiens | Random Inserts in Hobby Packs | 5 | Auto | Jsy | Rookie |
| Double Diamond Jersey Auto | ROOK-JH | Jonathan Huberdeau | Florida | Panthers | Random Inserts in Hobby Packs | 5 | Auto | Jsy | Rookie |
| Double Diamond Jersey Auto | ROOK-JO | Jamie Oleksiak | Dallas | Stars | Random Inserts in Hobby Packs | 5 | Auto | Jsy | Rookie |
| Double Diamond Jersey Auto | ROOK-MP | Mark Pysyk | Buffalo | Sabres | Random Inserts in Hobby Packs | 5 | Auto | Jsy | Rookie |
| Double Diamond Jersey Auto | ROOK-NB | Nathan Beaulieu | Montreal | Canadiens | Random Inserts in Hobby Packs | 5 | Auto | Jsy | Rookie |
| Double Diamond Jersey Auto | STAR-AO | Alexander Ovechkin | Washington | Capitals | Random Inserts in Hobby Packs | 5 | Auto | Jsy | |
| Double Diamond Jersey Auto | STAR-CG | Claude Giroux | Philadelphia | Flyers | Random Inserts in Hobby Packs | 5 | Auto | Jsy | |
| Double Diamond Jersey Auto | STAR-JT | Jonathan Toews | Chicago | Blackhawks | Random Inserts in Hobby Packs | 5 | Auto | Jsy | |
| Double Diamond Jersey Auto | STL-CS | Chris Stewart | St. Louis | Blues | Random Inserts in Hobby Packs | 5 | Auto | Jsy | |
| Double Diamond Jersey Auto | STL-JH | Jaroslav Halak | St. Louis | Blues | Random Inserts in Hobby Packs | 5 | Auto | Jsy | |
| Double Diamond Jersey Auto | STL-PB | Patrik Berglund | St. Louis | Blues | Random Inserts in Hobby Packs | 5 | Auto | Jsy | |
| Double Diamond Jersey Auto | TOR-DP | Dion Phaneuf | Toronto | Maple Leafs | Random Inserts in Hobby Packs | 5 | Auto | Jsy | |
| Double Diamond Jersey Auto | TOR-NK | Nikolai Kulemin | Toronto | Maple Leafs | Random Inserts in Hobby Packs | 5 | Auto | Jsy | |
| Double Diamond Jersey Auto | TOR-PK | Phil Kessel | Toronto | Maple Leafs | Random Inserts in Hobby Packs | 5 | Auto | Jsy | |
| Double Diamond Jersey Auto | VAN-HS | Henrik Sedin | Vancouver | Canucks | Random Inserts in Hobby Packs | 5 | Auto | Jsy | |
| Double Diamond Jersey Auto | VAN-JS | Jordan Schroeder | Vancouver | Canucks | Random Inserts in Hobby Packs | 5 | Auto | Jsy | Rookie |
| Double Diamond Jersey Auto | WINGS-JF | Johan Franzen | Detroit | Red Wings | Random Inserts in Hobby Packs | 5 | Auto | Jsy | |
| Double Diamond Jersey Auto | WINGS-PV | Pavel Datsyuk | Detroit | Red Wings | Random Inserts in Hobby Packs | 5 | Auto | Jsy | |
| Gemography | GEM-AB | Adam Burish | San Jose | Sharks | Group E 1:123 (Overall 1:100 Hobby, 1:1,200 Blaster) | | Auto | | |
| Gemography | GEM-AK | Arturs Kulda | Winnipeg | Jets | Group E 1:123 (Overall 1:100 Hobby, 1:1,200 Blaster) | | Auto | | |
| Gemography | GEM-AL | Anders Lindback | Tampa Bay | Lightning | Group E 1:123 (Overall 1:100 Hobby, 1:1,200 Blaster) | | Auto | | |
| Gemography | GEM-AO | Alexander Ovechkin | Washington | Capitals | Group A 1:8,906 (Overall 1:100 Hobby, 1:1,200 Blaster) | | Auto | | |
| Gemography | GEM-BO | Bobby Orr | Boston | Bruins | Group C 1:2,748 (Overall 1:100 Hobby, 1:1,200 Blaster) | | Auto | | |
| Gemography | GEM-BS | Brandon Saad | Chicago | Blackhawks | Group E 1:123 (Overall 1:100 Hobby, 1:1,200 Blaster) | | Auto | | |
| Gemography | GEM-CS | Clayton Stoner | Minnesota | Wild | Group E 1:123 (Overall 1:100 Hobby, 1:1,200 Blaster) | | Auto | | |
| Gemography | GEM-DJ | Dustin Jeffrey | Pittsburgh | Penguins | Group E 1:123 (Overall 1:100 Hobby, 1:1,200 Blaster) | | Auto | | |
| Gemography | GEM-DP | Daniel Paille | Boston | Bruins | Group E 1:123 (Overall 1:100 Hobby, 1:1,200 Blaster) | | Auto | | |
| Gemography | GEM-EG | Erik Gudbranson | Florida | Panthers | Group D 1:811 (Overall 1:100 Hobby, 1:1,200 Blaster) | | Auto | | |
| Gemography | GEM-EN | Evgeni Nabokov | New York | Islanders | Group A 1:8,906 (Overall 1:100 Hobby, 1:1,200 Blaster) | | Auto | | |
| Gemography | GEM-FB | Fabian Brunnstrom | Detroit | Red Wings | Group D 1:811 (Overall 1:100 Hobby, 1:1,200 Blaster) | | Auto | | |
| Gemography | GEM-FM | Frazer McLaren | Toronto | Maple Leafs | Group E 1:123 (Overall 1:100 Hobby, 1:1,200 Blaster) | | Auto | | |
| Gemography | GEM-JT | John Tavares | New York | Islanders | Group B 1:6,412 (Overall 1:100 Hobby, 1:1,200 Blaster) | | Auto | | |
| Gemography | GEM-KE | Keaton Ellerby | Los Angeles | Kings | Group E 1:123 (Overall 1:100 Hobby, 1:1,200 Blaster) | | Auto | | |
| Gemography | GEM-ML | Mario Lemieux | Pittsburgh | Penguins | Group A 1:8,906 (Overall 1:100 Hobby, 1:1,200 Blaster) | | Auto | | |
| Gemography | GEM-MS | Mats Sundin | Toronto | Maple Leafs | Group A 1:8,906 (Overall 1:100 Hobby, 1:1,200 Blaster) | | Auto | | |
| Gemography | GEM-PB | Pavel Bure | Vancouver | Canucks | Group A 1:8,906 (Overall 1:100 Hobby, 1:1,200 Blaster) | | Auto | | |
| Gemography | GEM-PO | Patrick O'Sullivan | Phoenix | Coyotes | Group D 1:811 (Overall 1:100 Hobby, 1:1,200 Blaster) | | Auto | | |
| Gemography | GEM-PP | Paul Postma | Winnipeg | Jets | Group E 1:123 (Overall 1:100 Hobby, 1:1,200 Blaster) | | Auto | | |
| Gemography | GEM-RE | Ray Emery | Philadelphia | Flyers | Group E 1:123 (Overall 1:100 Hobby, 1:1,200 Blaster) | | Auto | | |
| Gemography | GEM-RM | Ryan McDonagh | New York | Rangers | Group E 1:123 (Overall 1:100 Hobby, 1:1,200 Blaster) | | Auto | | |
| Gemography | GEM-SA | Michael Sauer | New York | Rangers | Group E 1:123 (Overall 1:100 Hobby, 1:1,200 Blaster) | | Auto | | |
| Gemography | GEM-SC | Sidney Crosby | Pittsburgh | Penguins | Group A 1:8,906 (Overall 1:100 Hobby, 1:1,200 Blaster) | | Auto | | |
| Gemography | GEM-SK | Sergei Kostitsyn | Nashville | Predators | Group E 1:123 (Overall 1:100 Hobby, 1:1,200 Blaster) | | Auto | | |
| Gemography | GEM-SS | Steven Stamkos | Tampa Bay | Lightning | Group B 1:6,412 (Overall 1:100 Hobby, 1:1,200 Blaster) | | Auto | | |
| Gemography | GEM-TK | Tim Kennedy | Phoenix | Coyotes | Group E 1:123 (Overall 1:100 Hobby, 1:1,200 Blaster) | | Auto | | |
| Gemography | GEM-TR | Tuukka Rask | Boston | Bruins | Group C 1:2,748 (Overall 1:100 Hobby, 1:1,200 Blaster) | | Auto | | |
| Gemography | GEM-WG | Wayne Gretzky | Los Angeles | Kings | Group B 1:6,412 (Overall 1:100 Hobby, 1:1,200 Blaster) | | Auto | | |
| Gemography | GEM-ZK | Zenon Konopka | Minnesota | Wild | Group D 1:811 (Overall 1:100 Hobby, 1:1,200 Blaster) | | Auto | | |
| Hardware Heroes | HH-AL | Alexander Ovechkin | Washington | Capitals | Random Inserts in Hobby Packs | 100 | | | |
| Hardware Heroes | HH-AO | Alexander Ovechkin | Washington | Capitals | Random Inserts in Hobby Packs | 100 | | | |
| Hardware Heroes | HH-BO | Bobby Orr | Boston | Bruins | Random Inserts in Hobby Packs | 100 | | | |
| Hardware Heroes | HH-CC | Corey Crawford | Chicago | Blackhawks | Random Inserts in Hobby Packs | 100 | | | |
| Hardware Heroes | HH-DK | Duncan Keith | Chicago | Blackhawks | Random Inserts in Hobby Packs | 100 | | | |
| Hardware Heroes | HH-HZ | Henrik Zetterberg | Detroit | Red Wings | Random Inserts in Hobby Packs | 100 | | | |
| Hardware Heroes | HH-JH | Jonathan Huberdeau | Florida | Panthers | Random Inserts in Hobby Packs | 100 | | | Rookie |
| Hardware Heroes | HH-JT | Jonathan Toews | Chicago | Blackhawks | Random Inserts in Hobby Packs | 100 | | | |
| Hardware Heroes | HH-KA | Patrick Kane | Chicago | Blackhawks | Random Inserts in Hobby Packs | 100 | | | |
| Hardware Heroes | HH-MB | Martin Brodeur | New Jersey | Devils | Random Inserts in Hobby Packs | 100 | | | |
| Hardware Heroes | HH-PB | Pavel Bure | Vancouver | Canucks | Random Inserts in Hobby Packs | 100 | | | |
| Hardware Heroes | HH-PC | Paul Coffey | Edmonton | Oilers | Random Inserts in Hobby Packs | 100 | | | |
| Hardware Heroes | HH-PF | Peter Forsberg | Colorado | Avalanche | Random Inserts in Hobby Packs | 100 | | | |
| Hardware Heroes | HH-PK | P.K. Subban | Montreal | Canadiens | Random Inserts in Hobby Packs | 100 | | | |
| Hardware Heroes | HH-PR | Patrick Roy | Montreal | Canadiens | Random Inserts in Hobby Packs | 100 | | | |
| Hardware Heroes | HH-SB | Sergei Bobrovsky | Columbus | Blue Jackets | Random Inserts in Hobby Packs | 100 | | | |
| Hardware Heroes | HH-SC | Sidney Crosby | Pittsburgh | Penguins | Random Inserts in Hobby Packs | 100 | | | |
| Hardware Heroes | HH-ZC | Zdeno Chara | Boston | Bruins | Random Inserts in Hobby Packs | 100 | | | |
| Lustrous –  Rookies | L1 | Nathan MacKinnon | Colorado | Avalanche | 1:240 Hobby | | | | Rookie |
| Lustrous –  Rookies | L2 | Justin Schultz | Edmonton | Oilers | 1:240 Hobby | | | | Rookie |
| Lustrous –  Rookies | L3 | Seth Jones | Nashville | Predators | 1:240 Hobby | | | | Rookie |
| Lustrous –  Rookies | L4 | Jonathan Huberdeau | Florida | Panthers | 1:240 Hobby | | | | Rookie |
| Lustrous –  Rookies | L5 | Cory Conacher | Ottawa | Senators | 1:240 Hobby | | | | Rookie |
| Lustrous –  Rookies | L6 | Nail Yakupov | Edmonton | Oilers | 1:240 Hobby | | | | Rookie |
| Lustrous –  Rookies | L7 | Damien Brunner | New Jersey | Devils | 1:240 Hobby | | | | Rookie |
| Lustrous –  Rookies | L8 | Tyler Toffoli | Los Angeles | Kings | 1:240 Hobby | | | | Rookie |
| Lustrous –  Rookies | L9 | Brendan Gallagher | Montreal | Canadiens | 1:240 Hobby | | | | Rookie |
| Lustrous –  Rookies | L10 | Dougie Hamilton | Boston | Bruins | 1:240 Hobby | | | | Rookie |
| Lustrous –  Rookies | L11 | Vladimir Tarasenko | St. Louis | Blues | 1:240 Hobby | | | | Rookie |
| Lustrous –  Rookies | L12 | Alex Galchenyuk | Montreal | Canadiens | 1:240 Hobby | | | | Rookie |
| Lustrous –  Stars | L13 | Sidney Crosby | Pittsburgh | Penguins | 1:720 Hobby | | | | |
| Lustrous –  Stars | L14 | Alexander Ovechkin | Washington | Capitals | 1:720 Hobby | | | | |
| Lustrous –  Stars | L15 | Steven Stamkos | Tampa Bay | Lightning | 1:720 Hobby | | | | |
| Lustrous –  Stars | L16 | Jonathan Toews | Chicago | Blackhawks | 1:720 Hobby | | | | |
| Lustrous –  Stars | L17 | John Tavares | New York | Islanders | 1:720 Hobby | | | | |
| Lustrous –  Stars | L18 | Patrice Bergeron | Boston | Bruins | 1:720 Hobby | | | | |
| Lustrous –  Stars | L19 | Henrik Lundqvist | New York | Rangers | 1:720 Hobby | | | | |
| Lustrous –  Stars | L20 | Phil Kessel | Toronto | Maple Leafs | 1:720 Hobby | | | | |
| Lustrous –  Greats | L21 | Wayne Gretzky | Los Angeles | Kings | 1:1,440 Hobby | | | | |
| Lustrous –  Greats | L22 | Bobby Orr | Boston | Bruins | 1:1,440 Hobby | | | | |
| Lustrous –  Greats | L23 | Dominik Hasek | Detroit | Red Wings | 1:1,440 Hobby | | | | |
| Lustrous –  Greats | L24 | Bobby Hull | Chicago | Blackhawks | 1:1,440 Hobby | | | | |
| Black Diamond Autographed Buybacks | 194 | Sidney Crosby '09-10 Quad | Pittsburgh | Penguins | Random Inserts in Hobby Packs | 5 | Auto | | |
| Black Diamond Autographed Buybacks | 118 | Tuukka Rask '10-11 Double | Boston | Bruins | Random Inserts in Hobby Packs | 12 | Auto | | |
| Ice Regular Cards | 1 | Corey Perry | Anaheim | Ducks | Four per Ice Bonus Pack | | | | |
| Ice Regular Cards | 2 | Brad Marchand | Boston | Bruins | Four per Ice Bonus Pack | | | | |
| Ice Regular Cards | 3 | Tyler Ennis | Buffalo | Sabres | Four per Ice Bonus Pack | | | | |
| Ice Regular Cards | 4 | Patrick Kane | Chicago | Blackhawks | Four per Ice Bonus Pack | | | | |
| Ice Regular Cards | 5 | Matt Duchene | Colorado | Avalanche | Four per Ice Bonus Pack | | | | |
| Ice Regular Cards | 6 | Sergei Bobrovsky | Columbus | Blue Jackets | Four per Ice Bonus Pack | | | | |
| Ice Regular Cards | 7 | Pavel Datsyuk | Detroit | Red Wings | Four per Ice Bonus Pack | | | | |
| Ice Regular Cards | 8 | Jordan Eberle | Edmonton | Oilers | Four per Ice Bonus Pack | | | | |
| Ice Regular Cards | 9 | Anze Kopitar | Los Angeles | Kings | Four per Ice Bonus Pack | | | | |
| Ice Regular Cards | 10 | Ryan Suter | Minnesota | Wild | Four per Ice Bonus Pack | | | | |
| Ice Regular Cards | 11 | P.K. Subban | Montreal | Canadiens | Four per Ice Bonus Pack | | | | |
| Ice Regular Cards | 12 | Pekka Rinne | Nashville | Predators | Four per Ice Bonus Pack | | | | |
| Ice Regular Cards | 13 | Martin Brodeur | New Jersey | Devils | Four per Ice Bonus Pack | | | | |
| Ice Regular Cards | 14 | John Tavares | New York | Islanders | Four per Ice Bonus Pack | | | | |
| Ice Regular Cards | 15 | Derek Stepan | New York | Rangers | Four per Ice Bonus Pack | | | | |
| Ice Regular Cards | 16 | Erik Karlsson | Ottawa | Senators | Four per Ice Bonus Pack | | | | |
| Ice Regular Cards | 17 | Jakub Voracek | Philadelphia | Flyers | Four per Ice Bonus Pack | | | | |
| Ice Regular Cards | 18 | Shane Doan | Phoenix | Coyotes | Four per Ice Bonus Pack | | | | |
| Ice Regular Cards | 19 | Evgeni Malkin | Pittsburgh | Penguins | Four per Ice Bonus Pack | | | | |
| Ice Regular Cards | 20 | Logan Couture | San Jose | Sharks | Four per Ice Bonus Pack | | | | |
| Ice Regular Cards | 21 | Alexander Steen | St. Louis | Blues | Four per Ice Bonus Pack | | | | |
| Ice Regular Cards | 22 | Martin St. Louis | Tampa Bay | Lightning | Four per Ice Bonus Pack | | | | |
| Ice Regular Cards | 23 | Alexandre Burrows | Vancouver | Canucks | Four per Ice Bonus Pack | | | | |
| Ice Regular Cards | 24 | Mike Green | Washington | Capitals | Four per Ice Bonus Pack | | | | |
| Ice Regular Cards | 25 | Evander Kane | Winnipeg | Jets | Four per Ice Bonus Pack | | | | |
| Ice Premieres Level 4 | 51 | Chris Brown | Phoenix | Coyotes | One per Ice Bonus Pack | 999 | | | Rookie |
| Ice Premieres Level 4 | 52 | Danny DeKeyser | Detroit | Red Wings | One per Ice Bonus Pack | 999 | | | Rookie |
| Ice Premieres Level 4 | 53 | Johan Larsson | Buffalo | Sabres | One per Ice Bonus Pack | 999 | | | Rookie |
| Ice Premieres Level 4 | 54 | Connor Carrick | Washington | Capitals | One per Ice Bonus Pack | 999 | | | Rookie |
| Ice Premieres Level 4 | 55 | Austin Watson | Nashville | Predators | One per Ice Bonus Pack | 999 | | | Rookie |
| Ice Premieres Level 4 | 56 | Zach Redmond | Winnipeg | Jets | One per Ice Bonus Pack | 999 | | | Rookie |
| Ice Premieres Level 4 | 57 | Anton Belov | Edmonton | Oilers | One per Ice Bonus Pack | 999 | | | Rookie |
| Ice Premieres Level 4 | 58 | Justin Fontaine | Minnesota | Wild | One per Ice Bonus Pack | 999 | | | Rookie |
| Ice Premieres Level 4 | 59 | Jean-Gabriel Pageau | Ottawa | Senators | One per Ice Bonus Pack | 999 | | | Rookie |
| Ice Premieres Level 4 | 60 | Brock Nelson | New York | Islanders | One per Ice Bonus Pack | 999 | | | Rookie |
| Ice Premieres Level 4 | 61 | Joakim Nordstrom | Chicago | Blackhawks | One per Ice Bonus Pack | 999 | | | Rookie |
| Ice Premieres Level 4 | 62 | Drew LeBlanc | Chicago | Blackhawks | One per Ice Bonus Pack | 999 | | | Rookie |
| Ice Premieres Level 3 | 87 | Damien Brunner | New Jersey | Devils | One per Ice Bonus Pack | 499 | | | Rookie |
| Ice Premieres Level 3 | 88 | Ryan Murphy | Carolina | Hurricanes | One per Ice Bonus Pack | 499 | | | Rookie |
| Ice Premieres Level 3 | 89 | Rickard Rakell | Anaheim | Ducks | One per Ice Bonus Pack | 499 | | | Rookie |
| Ice Premieres Level 3 | 90 | Lucas Lessio | Phoenix | Coyotes | One per Ice Bonus Pack | 499 | | | Rookie |
| Ice Premieres Level 3 | 91 | Mathew Dumba | Minnesota | Wild | One per Ice Bonus Pack | 499 | | | Rookie |
| Ice Premieres Level 3 | 92 | Olli Maatta | Pittsburgh | Penguins | One per Ice Bonus Pack | 499 | | | Rookie |
| Ice Premieres Level 3 | 93 | Tom Wilson | Washington | Capitals | One per Ice Bonus Pack | 499 | | | Rookie |
| Ice Premieres Level 3 | 94 | Jarred Tinordi | Montreal | Canadiens | One per Ice Bonus Pack | 499 | | | Rookie |
| Ice Premieres Level 3 | 95 | Viktor Fasth | Anaheim | Ducks | One per Ice Bonus Pack | 499 | | | Rookie |
| Ice Premieres Level 3 | 96 | Zemgus Girgensons | Buffalo | Sabres | One per Ice Bonus Pack | 499 | | | Rookie |
| Ice Premieres Level 3 | 97 | Jonas Brodin | Minnesota | Wild | One per Ice Bonus Pack | 499 | | | Rookie |
| Ice Premieres Level 3 | 98 | Nathan Beaulieu | Montreal | Canadiens | One per Ice Bonus Pack | 499 | | | Rookie |
| Ice Premieres Level 2 | 105 | J.T. Miller | New York | Rangers | One per Ice Bonus Pack | 249 | | | Rookie |
| Ice Premieres Level 2 | 106 | Petr Mrazek | Detroit | Red Wings | One per Ice Bonus Pack | 249 | | | Rookie |
| Ice Premieres Level 2 | 107 | Morgan Rielly | Toronto | Maple Leafs | One per Ice Bonus Pack | 249 | | | Rookie |
| Ice Premieres Level 2 | 108 | Emerson Etem | Anaheim | Ducks | One per Ice Bonus Pack | 249 | | | Rookie |
| Ice Premieres Level 2 | 109 | Boone Jenner | Columbus | Blue Jackets | One per Ice Bonus Pack | 249 | | | Rookie |
| Ice Premieres Level 2 | 110 | Mikael Granlund | Minnesota | Wild | One per Ice Bonus Pack | 249 | | | Rookie |
| Ice Premieres Level 2 | 111 | Tyler Toffoli | Los Angeles | Kings | One per Ice Bonus Pack | 249 | | | Rookie |
| Ice Premieres Level 2 | 112 | Rasmus Ristolainen | Buffalo | Sabres | One per Ice Bonus Pack | 249 | | | Rookie |
| Ice Premieres Level 2 | 113 | Cory Conacher | Ottawa | Senators | One per Ice Bonus Pack | 249 | | | Rookie |
| Ice Premieres Level 2 | 114 | Jacob Trouba | Winnipeg | Jets | One per Ice Bonus Pack | 249 | | | Rookie |
| Ice Premieres Level 1 | 121 | Mikhail Grigorenko | Buffalo | Sabres | One per Ice Bonus Pack | 99 | | | Rookie |
| Ice Premieres Level 1 | 122 | Justin Schultz | Edmonton | Oilers | One per Ice Bonus Pack | 99 | | | Rookie |
| Ice Premieres Level 1 | 123 | Nathan MacKinnon | Colorado | Avalanche | One per Ice Bonus Pack | 99 | | | Rookie |
| Ice Premieres Level 1 | 124 | Vladimir Tarasenko | St. Louis | Blues | One per Ice Bonus Pack | 99 | | | Rookie |
| Ice Premieres Level 1 | 125 | Sean Monahan | Calgary | Flames | One per Ice Bonus Pack | 99 | | | Rookie |
| Ice Premieres Level 1 | 126 | Jonathan Huberdeau | Florida | Panthers | One per Ice Bonus Pack | 99 | | | Rookie |
| Ice Premieres Level 1 | 127 | Brendan Gallagher | Montreal | Canadiens | One per Ice Bonus Pack | 99 | | | Rookie |
| Ice Premieres Level 1 | 128 | Nail Yakupov | Edmonton | Oilers | One per Ice Bonus Pack | 99 | | | Rookie |