2018-19 Upper Deck Black Diamond Hockey Checklist, Team Set Lists and Details
2018-19 Upper Deck Black Diamond Hockey is sticking with the quality over quantity approach it adopted three years earlier. That means a big focus on autographs, memorabilia, premium-style inserts and cards with diamonds embedded in them.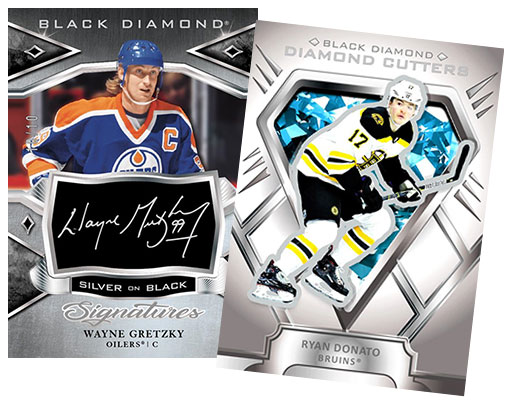 Exquisite bonus packs also return, adding a set within a set kind of element.
2018-19 Upper Deck Black Diamond Hockey Overview
2018-19 Upper Deck Black Diamond Hockey starts with a 50 card shell set. Lending itself to the product's high-end nature, base versions have 249 copies each. Parallels come in several levels. Pure Black (/99) are the only ones that aren't autographs or memorabilia. Other parallels include Pure Black Signatures (varied numbering) and Relics (/149).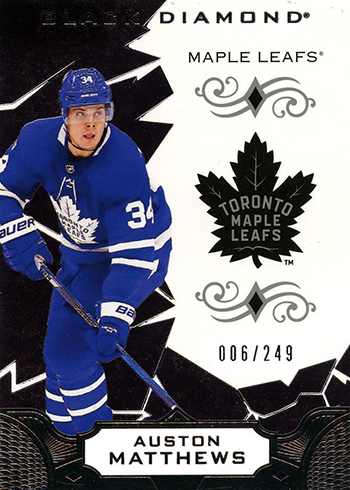 Taking a more literal approach to the brand name are Diamond Relics with anywhere from one to four gems embedded into the card. Base versions have five copies while Pure Black parallels are one-of-ones.
Diamond Relic Rookies (/99) return. The concept is similar to the veterans in that the main feature is the fact that actual diamonds are a part of the card's design. Cards take a tiered approach to the number of diamonds, ranging from one to four. These also have Pure Black (1/1) parallels.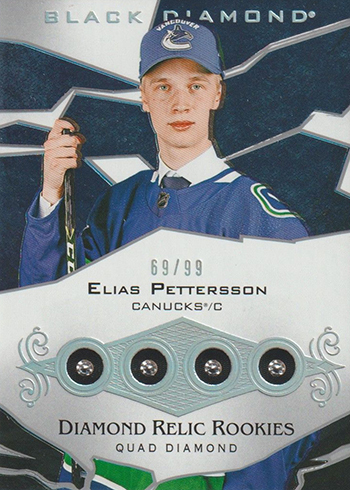 Similar to Maurice Richard in 2017-18 Black Diamond, Patrick Roy appears on a special Diamond Relic Rookies Retro card (/33).
Rookie Hits
2018-19 Upper Deck Black Diamond Hockey is the first set of the season to feature an extensive mix of autographs and memorabilia cards from the year's rookie class. This means players making their debut at the start of the season and not just carryover rookies from 2017-18.
Rookies Gems (/399) start as an insert set. But Pure Black Signatures versions add the signature. These have two tiers with either 199 or 199 copies.
Silver on Black Rookie Signatures (/249 or /99) add more first-year ink. These are true to their name with a silver signature cast against a dark backdrop.
Though the regular versions aren't signed, Rookie Team Logo Jumbo Patches (1:2 packs) do have a couple of different types of autographed parallels: Alternate Logo (/99 or /49) and NHL Shield Logo (/5).
On the strictly memorabilia side, Diamond Debut Relics have 299 copies as well as Premium parallels (/49). Making things bigger are Rookie Booklet Relics (/199) and their Autograph Patch (/99) parallels.
Veteran and Retired Player Autographs and Premium Inserts
2017-18 Upper Deck Black Diamond Hockey goes beyond just rookies for the premium content. Veterans and retired players are present on the checklist as well. This includes more Silver on Black Signatures, which use the same concept as the rookie version.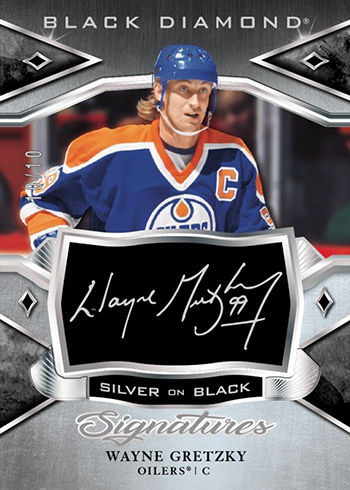 More autographs can be found in Gemography (1:6).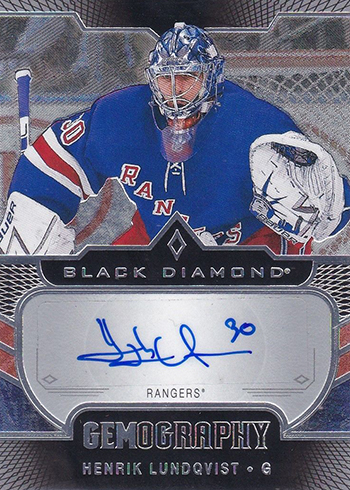 Diamond Mine Relics (1:5) bring the swatches. Patch parallels are also available.
Inserts are all done with premium styles. That might not mean memorabilia worn by players or used in a game but they are something different from what's found in a lot of other products.
Championship Banners return. All are serial numbered and select cards have Gold Autograph parallels.
Hall of Fame Rings have a replica recreation of a ring embedded in the card. Base versions are 1:6 packs while Gold parallels are 1:13. Numbered Gold Autograph versions are also randomly inserted.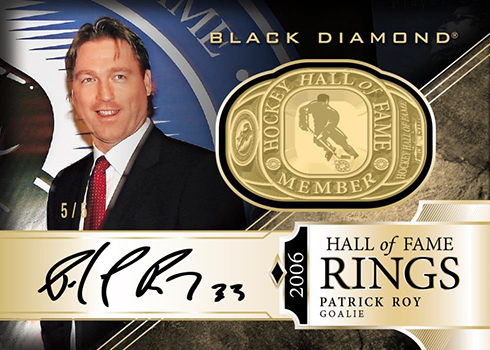 Manufactured patches are used for Team Logo Jumbo (1:5 packs). Parallels include Gold Full Team Logo (/15), Gold Full Team Alternate Logo (/5) and Gold NHL Shield Logo (1/1).
Among the other premium inserts in 2018-19 Upper Deck Black Diamond Hockey are Diamond Cutters (1:25), Run for the Cup Silver (/99), Hardware Heroes (/99) and Diamond Might (/99).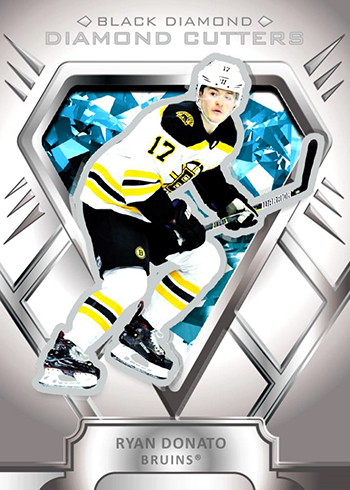 2018-19 Upper Deck Exquisite Collection Hockey – Part 1
Once again, Upper Deck's luxury Exquisite Collection line isn't a standalone hockey product. Rather, it's a bonus of sorts spread across multiple 2018-19 hockey products.
The first batch of 2018-19 Upper Deck Exquisite Collection Hockey cards are in Black Diamond. Each box has a separate single-card Exquisite pack. It might be a base card. Or it could be a memorabilia card.
Like Black Diamond, first-year players get a lot of the attention on the checklist. Exquisite Rookie Patch cards comes in two tiers numbered to 299 and 99. There are also Gold Spectrum (/25) parallels.
Exquisite Rookie Jumbo Material (/10) cards have bigger swatches. One-of-one NHL Shield versions are also available.
Taking a more basic approach are Exquisite Rookies (/299 or /199) and Exquisite Rookie Draft Day (/99).
The landmark 2003-04 Exquisite design is revisited with Retro Rookies (/225) and Retro Veterans (/99). Both have Gold Spectrum parallels (Rookies – /25, Veterans – /10).
Wrapping up the first round of Exquisite are numbered Base Set Veteran Materials and their tough Gold Spectrum (/3) versions.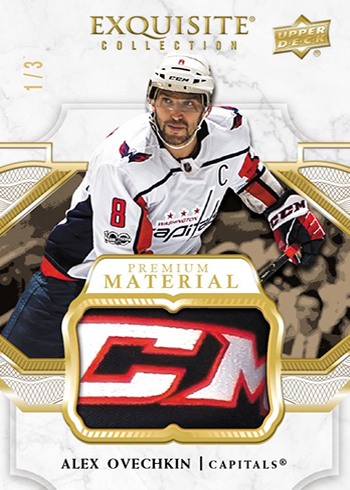 2018-19 Upper Deck Black Diamond Hockey at a glance:
Cards per pack: Black Diamond – 5, Exquisite – 1
Packs per box: Black Diamond – 1, Exquisite – 1
Boxes per case: 10 (two 5-box inner cases)
Set size: 90 cards
Release date: November 28, 2018
2018-19 Upper Deck Black Diamond Hockey Checklist
Base
Parallels
Autographs
Memorabilia
Inserts
Updates
Exquisite
Team Sets