Canadian Kid Collector of the Week: Brendan from Ottawa, ON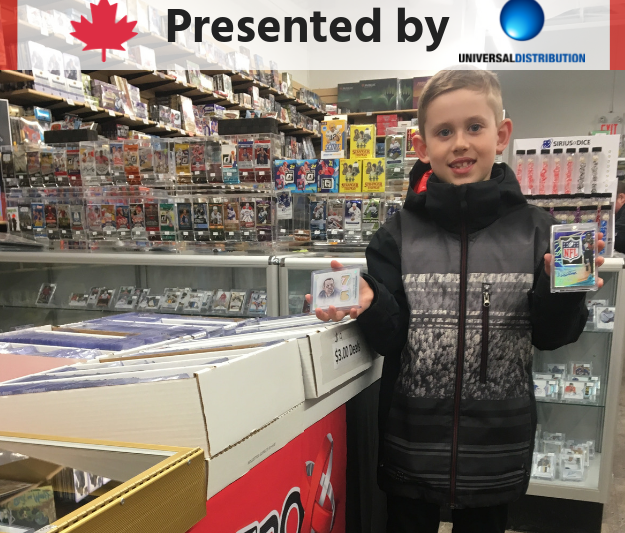 Our Canadian Kid Collector of the Week feature focuses on kids from the Great White North who is deeply involved with the Hobby. Most collectors got involved when they were young and have fond memories of their early years, so we wanted to highlight kids who are just getting their start in collecting.
Canadian Kid of the Week is brought to you by 
Universal Distribution
, Canada's premier distributor of CCG's, sportscards and non-sportscards, trading card games, role-playing games, comics, toys, figurines and more.
This week we talked to 8-year-old  Brendan from Ottawa. His favorite local card shop is
Out of the Box Cards
.
BM: How did you get involved in the Hobby?
Brendan: I liked going to the card store with my dad and looking at his cards so I started collecting them myself.
BM: How long have you been collecting?
Brendan: I started when I was about 5-years-old so I've been collecting for 3 and a half years.
BM: What do you collect: baseball, basketball, hockey, football, non-sport, other?
Brendan: I started out collecting only hockey, but I recently started collecting football.
BM: What is the first card you remember?
Brendan: The Connor McDavid Autograph Rookie Card from Ice that my dad pulled from a pack I got him for Father's Day. It was so exciting for both of us!
BM: What is the best card you've ever pulled?
Brendan: I pulled a Dede Westbrook Rookie Auto Patch Shield from Panini Phoenix. It looked so cool that it really got me into collecting football cards.
BM: What's your dream card, the one you really really want right now?
Brendan: An old Newsy Lalonde Card. He was a hockey and lacrosse player from the early 1900s for the Montreal Canadiens and other teams.
BM: What is something you think that the Hobby could be doing to get more kids your age involved?
Brendan: More advertising to kids. More kid giveaways at card shows would give kids an opportunity to see how cool the cards can be.
BM: What's your favorite part about going to your local card shop?
Brendan: Opening packs and boxes. And, just hanging out at the store. It's a great place to spend time talking sports and cards.