3 Big Early 2019 Topps Heritage Baseball Sales – Beckett Pricing Insider
This edition of the Beckett Pricing Insider is sponsored by MVP Sports Collectibles.
The 2019 baseball card season is picking up steam. Topps Series 1 and Topps Heritage are out and Donruss arrives this week. Far and away the hottest product at the moment is 2019 Topps Heritage.
In less than a week, over 600 cards have already sold online for more than $50. Heritage isn't a set that's all about the autographs and memorabilia, but they are out there. With so many big sales, it's tough to pick just three. But let's take a look at a few of the more impressive sales from the product thus far.
2019 Topps Heritage Clubhouse Collection Dual Autograph Relics #CCDARMO Mike Trout/Shohei Ohtani /10 – $1,025
This is just a sweet card. Two on-card signatures and serial-numbered to 10, it has to be one of the most desirable cards in the entire product. Trout and Ohtani appear together on two other cards in 2019 Heritage – this card's one-of-one Patch parallel of this card and a Real One Dual Autographs card serial numbered to 25.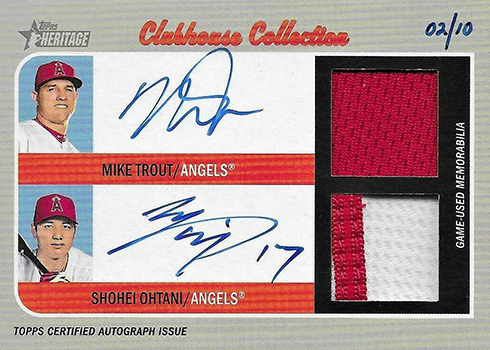 2019 Topps Heritage Real One Autographs Red Ink #ROAAJ Aaron Judge /70 – $725
Even considering how popular Aaron Judge remains among collectors, this seems like a really strong sale for an autograph card numbered to 70. Sales like this also show just how popular these Real One Autographs – and especially the Red Ink versions – have become with collectors since 2001.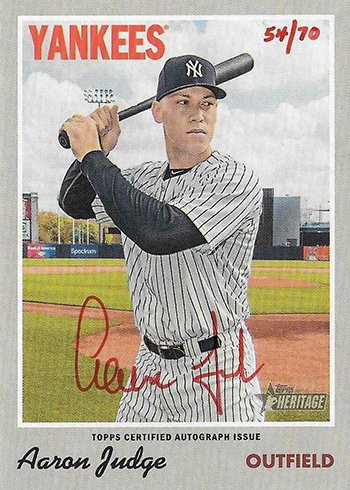 2019 Topps Heritage Clubhouse Collection Triple Relics Patch #CCTRYBB Carl Yastrzemski/Mookie Betts/Andrew Benintendi 1/1 – $670
Two of today's Red Sox stars with an all-time great. This is the Patch parallel to the Clubhouse Collection Triple Relics card, which is serial numbered to 25. These three – along with David Ortiz – appeared on quad-memorabilia card in 2017 Topps Heritage. Serial numbered to 10, the last sale we have in our system for that card was in May at $91.