Canadian Kid Collector of the Week: Ethan from Newfoundland and Labrador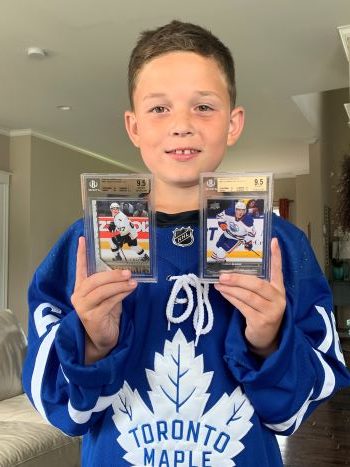 Our Canadian Kid Collector of the Week feature focuses on kids from the Great White North who is deeply involved with the Hobby. Most collectors got involved when they were young and have fond memories of their early years, so we wanted to highlight kids who are just getting their start in collecting.
Canadian Kid of the Week is brought to you by Universal Distribution, Canada's premier distributor of CCG's, sportscards and non-sportscards, trading card games, role-playing games, comics, toys, figurines and more.
This week we talked to 9-year-old Ethan from Newfoundland and Labrador.
Name: Ethan Button
Age: 9
City: Conception Bay south, Newfoundland and Labrador, Canada
BM: How did you get involved in the Hobby?
EB: I got involved into the hobby after my dad showed me his card collection from when he was a kid. I instantly liked looking at the hockey cards and wanted to start collecting them myself.
BM: How long have you been collecting?
EB: I have been collecting hockey cards for almost 2 years.
BM: What do you collect: baseball, basketball, hockey, football, non-sport, other?
EB: I only collect hockey cards but I have some interest in collecting baseball cards.
BM: What is the first card you remember?
EB: The first cards I remember were the Wayne Gretzky and Mario Lemieux rookie cards that my dad showed me.
BM: What is the best card you've ever pulled?
EB: The best card I ever pulled was an Austin Matthews Young Guns card from an Upper Deck double pack that I found next to the cashier at Walmart.
BM: What's your dream card, the one you really really want right now?
EB: My dream cards would be Bobby Orr 1966 Topps Rookie Card and Alex Faulkner (the first Newfoundlander to ever make it to the NHL) 1963 Parkhurst rookie card.
BM: What is something you think that the Hobby could be doing to get more kids your age involved?
EB: I think that it is very expensive to buy hockey cards. If cards were not as expensive more kids may start collecting them. I think that upper deck could work with other companies that sell kids food or clothes and when you purchase those items a card could come with it.
BM: What's your favorite part about going to buy cards?
EB: My favorite part of going to buy cards is opening a hobby box of cards and hoping I will get a really nice pull. However, I have not had any luck to date with hobby boxes.