2022 Topps Stadium Club Baseball Features Fantastic Photography
Some sets are about flashy inserts. Others are big into high-end elements. 2022 Topps Stadium Club Baseball is centered on photography. That's not to say there aren't chase elements, but the primary focus is on capturing baseball through a photographer's lens and the drama that can come with it.
As has been the case for years, hobby boxes aren't without their inserts. This includes the promise of two autographs per box.
2022 Topps Stadium Club Baseball Checklist Overview
Three hundred cards make up the base set. Collectors will find a mix of current stars, rookies and some greats from the past.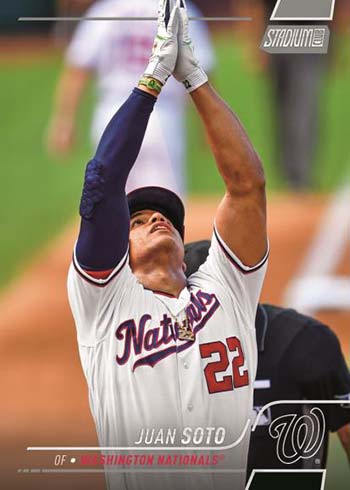 To stress the image element, it's a fairly minimalist design. Despite the lack of borders to do color changes on, there are still lots of parallels. These include:
Red Foil
Black Foil
Black and White (hobby only)
Members Only – 1 per case
Photographer's Proof – 1:2 cases
Blue Foil – /50
Rainbow Foilboard – /25
First Day Issue – 10 copies each
Gold Rainbow Foil – 1/1 (hobby only)
Variations are back in a couple of forms for some cards. Image Variations switch up the photos. According to Topps, these have 200 copies each.
Design Variations, which also have a print run of 200, use the 1991 Stadium Club design. Rookie Design Variations, which are limited to 92, are rooted in the brand's sophomore 1992 release. For both of the Design Variations sets, autographs are available for some players.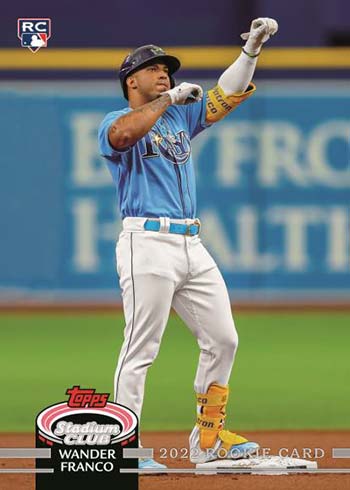 Autographs
Base Autographs offer a signed spin on the main set's design. This is where most of 2022 Stadium Club Baseball's ink can be found. Signatures are on-card. Parallels include Red Foil (/50), Black Foil (/25), Rainbow Foilboard (/10) and Gold Rainbow (1/1). Both Rainbow Foilboard and Gold Rainbow are exclusive to hobby packs.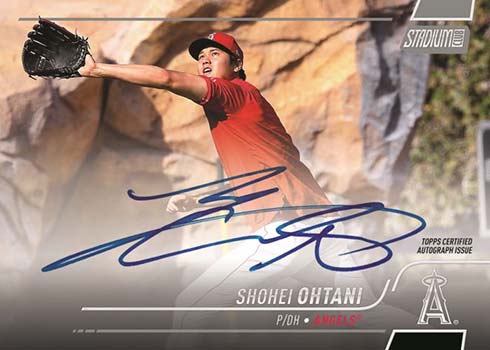 A couple of autograph inserts with a deep history with the brand are also back. Lone Star Signatures top out at 25 copies each with Orange (/5) and Gold Rainbow (1/1) versions also available. Co-Signers come with two on-card autographs and have no more than ten copies. One-of-one Gold Rainbow are the only parallels.
Additional Inserts
Despite having a standalone release over the past couple of years, Chrome inserts continue to be offered as an insert. Landing one per hobby box, these offer a shiny spin on 90 cards. Refractors fall approximately every fourth box. Orange (/25), Pearl White (/30), case-hit Gold Minted, and hobby-only Superfractors (1/1) are in packs as well. Autographs are numbered to 10 and under. These have their own Superfractors.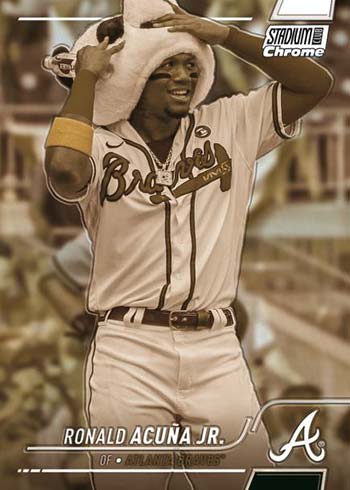 Beam Team, one of the most iconic insert sets to spin out of Stadium Club, return. This year, they're tough, landing just one per hobby case. Parallels are also tough with a Red version about every tenth case, which are joined by numbered Black (/25), Orange (/10) and Gold Rainbow (1/1).
Triumvirates are one per hobby box. Although individual cards stand on their own, each is actually part of a three-card puzzle.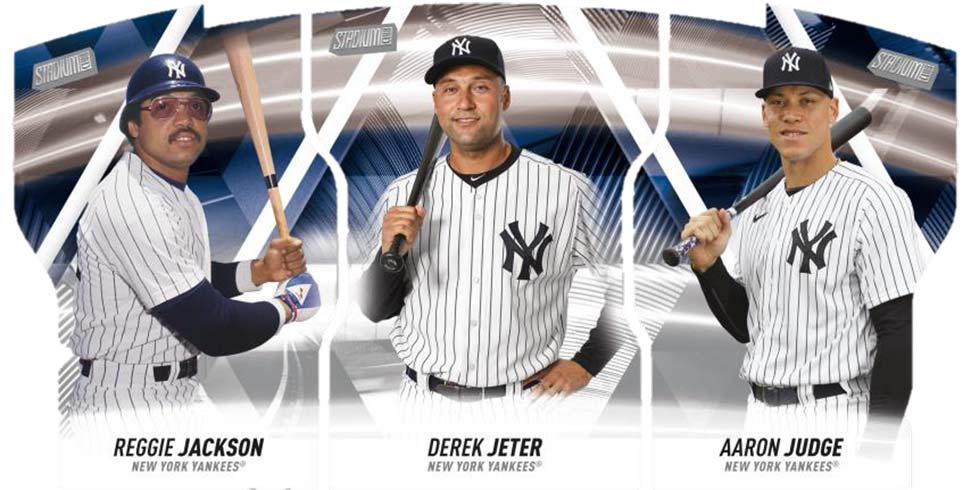 Team of the Future, which appeared in 1994-95 Stadium Club Basketball, makes its baseball debut. The design is different this time around.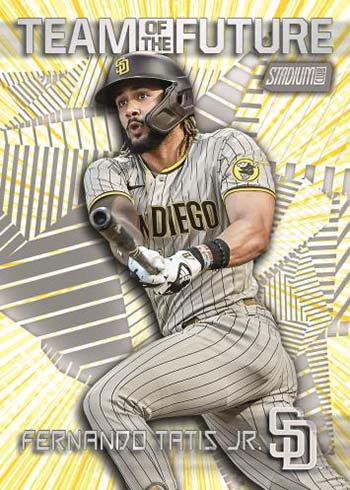 Another '90s Stadium Club insert set appearing on the diamond for the first time is Dynasty and Destiny. The set previously appeared in football (1994), basketball (1994-95) and hockey (1994-95).
Other insert sets in 2022 Topps Stadium Club Baseball include Power Zone and case-hit Instavision.
All regular inserts sets outside of Beam Team have a similar mix of parallels: Red (one per case), Black (/99), Orange (/50) and Gold Rainbow (1/1).
Beam Team, Power Zone and Team of the Future also have autographs for select cards. None have more than 25 copies.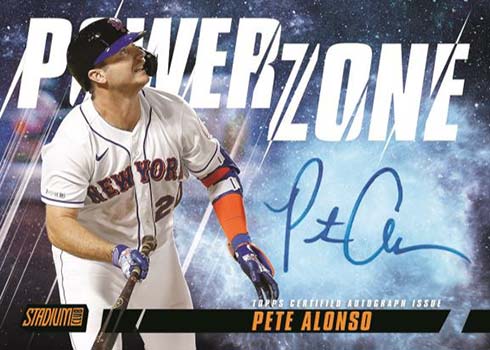 Box Loaders
Hobby boxes have one additional card that's not in regular packs. Oversized Base Card Variations are available for 50 cards. These offer a larger take on base cards.
A small number have on-card autographs as well.
2022 Topps Stadium Club Baseball at a glance:
Cards per pack: Hobby – 8
Packs per box: Hobby – 16
Boxes per case: Hobby – 16
Set size: 300 cards
Release date (subject to change): July 6, 2022
What to expect in a hobby box:
Autographs – 2
Chrome – 1
Triumvirates – 1
Box Loaders – 1
Recent Topps Stadium Club Baseball releases:
The full 2022 Topps Stadium Club Baseball checklist and team set lists will be up as soon as they're available, likely shortly before the product's release.