Dr. Dre, Snoop Dogg Star on Their First Official Trading Card Together
Dr. Dre and Snoop Dogg are no strangers to collaboration, particularly when it comes to making music together. Now, they're on their first trading card as a duo to commemorate the 30th anniversary of Dre's first solo album, The Chronic.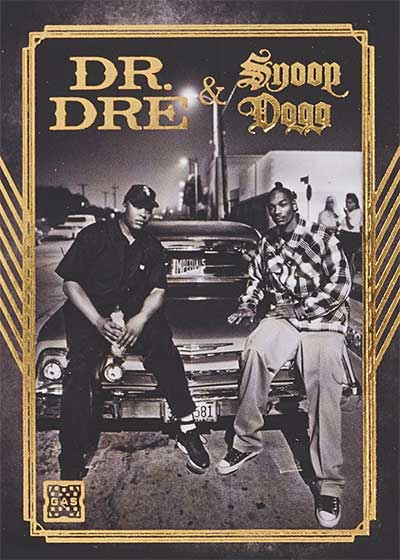 GAS Trading Cards is slated to release a deluxe trading card with the pair. It drops on Thursday, December 8 exclusively on NTWRK with a couple of different versions.
The standard option, which costs $75, includes a regular version of the card. Details include gold foil stamping, gold edges and extremely thick 130 pt. stock. The card itself is already in a one-touch holder, but it also comes inside a tin that can be used to display it.
Four levels of parallels are randomly inserted in the product run as bonus cards: Stadium Lights Foil (/50), Silver Rain Foil (/20), X Foil (/10) and Cosmic Foil (1/1).
There's also a Cracked Ice version of the card that's sold separately. It costs $100 and is numbered to 100 copies.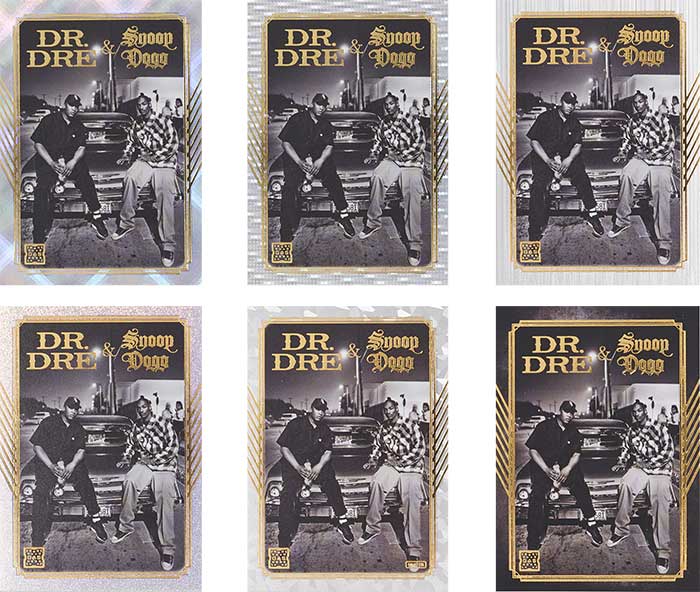 The photo on the card was taken by Mark Seliger.
The Chronic is not only one of the top-selling albums of the 1990s, but it's widely regarded as one of the most influential, helping gansta rap achieve mainstream status. Snoop Dogg appeared on the album. Shortly after, Dre would produce Snoop Dogg's first solo studio album, Doggystyle.
Both artists have appeared on other trading cards before, just not together. For Dr. Dre, there are multiple N.W.A. cards in 1991 Premier Cards The Rap Pack. Snoop Dogg's notable appearances include a 1995 Panini Smash Hits sticker and both cards and autographs in 2014 Topps Allen & Ginter. Snoop Dogg was also one of the featured artists in Topps Project70. Here he was responsible for creating trading cards, though, not starring on them.
The 2022 GAS card is fully licensed by both Dr. Dre and Snoop Dogg.
2022 GAS Dr. Dre and Snoop Dogg Checklist
Parallels:
Cracked Ice – /100
Stadium Lights Foil – /50
Silver Rain Foil – /20
X Foil – /10
Cosmic Foil – 1/1
DS1 Dr. Dre / Snoop Dogg