2021 Topps Stadium Club Baseball Checklist, Team Set Lists and Details
When you click on links to various merchants on this site, like eBay, and make a purchase, this can result in this site earning a commission.
2021 Topps Stadium Club Baseball isn't changing from the foundation it laid 30 years ago. Photography remains the focus. Like the other sets since its revival, there's lots of other elements surrounding it to bring it more in line with modern sets. At the hobby level, that means the inclusion of two autographs per box plus a variety of other inserts and parallels.

2021 Topps Stadium Club Baseball Checklist Overview
The base set consists of 300 cards. Veterans, retired stars and rookies all populate the checklist. As for the cards themselves, it's another year of full-bleed designs. Text is kept to a minimum so as not to distract from the action-packed and emotional photography that the product revolves around.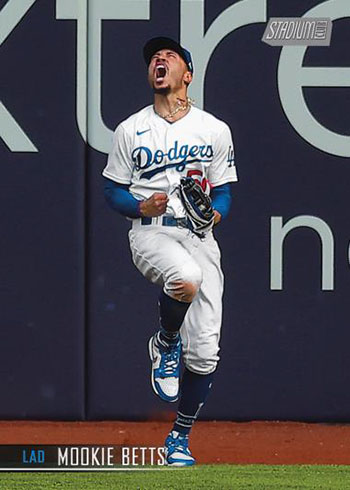 Parallels available in hobby packs include:
Red Foil
Black Foil
Black and White
Blue Foil (/50)
30 Years of Stadium Club (30 copies each)
Rainbow Foilboard (/25)
First Day Issue (ten copies each)
Members Only (one per case)
Photographer's Proof (every other case)
Gold Rainbow Foil (1/1)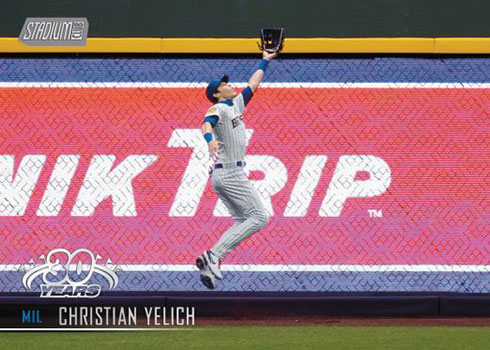 Gold Rainbow Foil and Black and White cards are hobby exclusives.
Stadium Club Chrome returns as a partial parallel set. A total of 90 cards get the chromium treatment. Although they land one per box, the size of the set means that there shouldn't be large print runs for individual cards.
Additional Chrome parallels include Refractors (1:4 hobby boxes), Orange (/99), Pearl White (/30), Gold Minted (one per case), and Superfractors (1/1).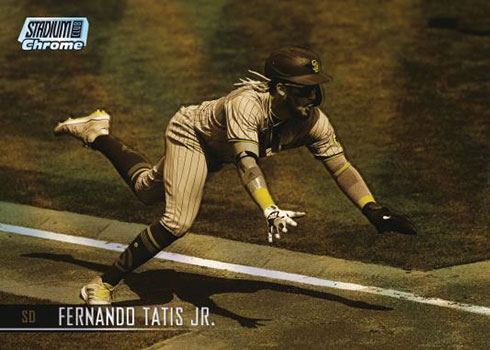 Some Chrome cards also have autograph versions that have no more than 25 copies each plus a one-of-one Superfractor.
Variation short prints are back. But it's more than the usual photo swaps. In addition to these, there are Design and Rookie Design Variations that switch out the layout for some from Stadium Club's early days.
Autographs and Inserts
Base Autographs are the main signature component in 2021 Topps Stadium Club Baseball. These take the base set's design and add on-card ink. Parallels come in Red Foil (/50), Black Foil (/25), Rainbow Foilboard (/10), and Gold Rainbow (1/1).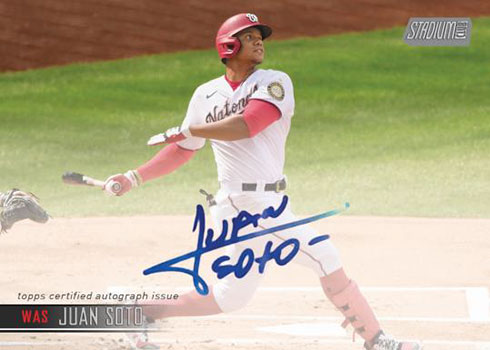 Lone Star Signatures, a Stadium Club staple, return with a new batch of on-card autographs. These are on the tough side with base versions numbered to 25. Orange (/5) and Gold Rainbow (1/1) parallels are also available.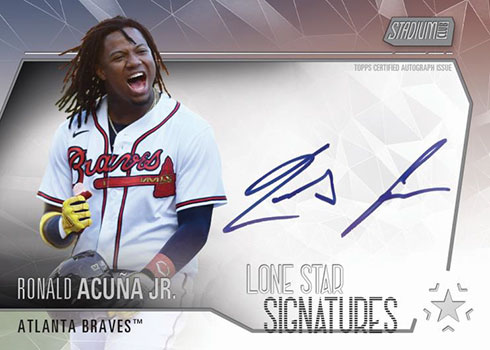 Other Inserts
2021 Topps Stadium Club Baseball has a half-dozen additional insert sets that mix themes and designs from the brand's past.
Combining to land one per hobby box, Triumvirates are die-cut chromium cards. The idea behind them is three players can be put together like a small puzzle.
Virtual Reality gets its inspiration from 1995, which included potential stats for a full 1994 season had it not been shortened due to a labor dispute. This time around, the cards hypothesize what stats might have looked like if 2020 went as originally planned.
Superstar Duos is a double-sided set of cards with two different players. These are based on a 1993 set.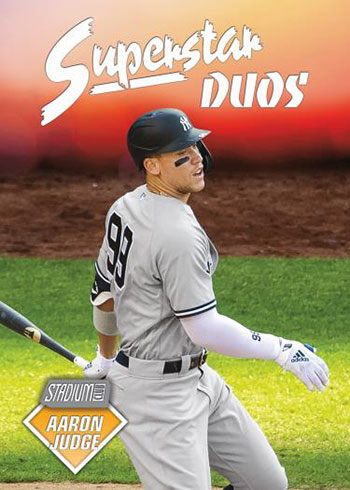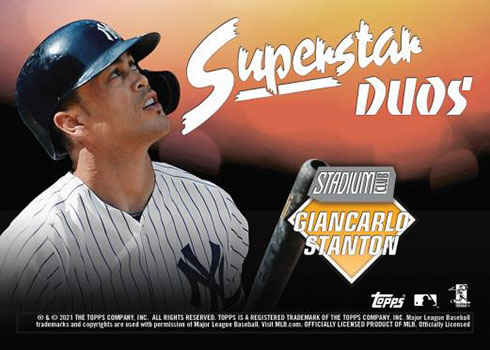 With three decades having past since Stadium Club's 1991 debut, Stadium Club Greats is a set of reprints of memorable cards from the line's history.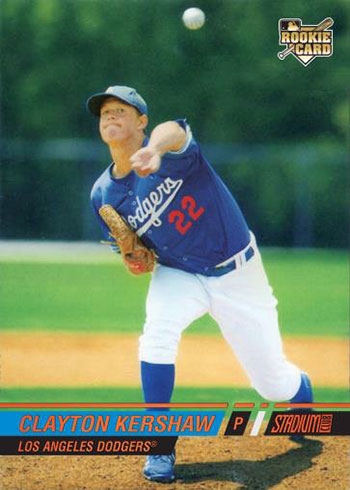 Triumvirates, Virtual Reality, Superstar Duos and Stadium Club Greats all have Red, Black (/99), Orange (/50) and Gold Rainbow (1/1) parallels. Autographs are also available for select Superstar Duos (/10), Stadium Club Greats (/15) and Virtual Reality (/10) cards.
Rounding out the inserts are two long-standing Stadium Club staples.
First up is Beam Team, which are one per case. Instavision may not have the same holograms they originally did back in the '90s, but they do take a different approach by embedding a Refractor photo inside of the card. Both of these have additional Red, Black (/25), Orange (/10) and Gold Rainbow (1/1) parallels.
Every hobby box comes with a boxloader card. These blow up 50 key base cards. Some also have autographs (/10 or less).
2021 Topps Stadium Club Baseball at a glance:
Cards per pack: Hobby – 8
Packs per box: Hobby – 16
Boxes per case: Hobby – 16
Set size: 300 cards
Release date: June 25, 2021
Shop for 2021 Topps Stadium Club Baseball boxes on eBay:
What to expect in a hobby box:
Autographs – 2
Chrome – 1
Triumvirates – 1
Oversized Base Variation Boxloaders – 1
2021 Topps Stadium Club Baseball Checklist
You can also download a customizable spreadsheet copy of the checklist:
Please note that print runs for cards without serial numbers have not been announced.