2022 Topps Gypsy Queen Baseball Checklist, Team Set Lists and Details
2022 Topps Gypsy Queen Baseball is a little bit steam punk. It's the result of taking its original inspiration in old tobacco sets and leaning a little more into modern designs. It's still a little quirky, but unlike Allen & Ginter, it's all baseball.
Hobby boxes continue to deliver a pair of autographs.
2022 Topps Gypsy Queen Baseball Checklist Overview
The main base set has 300 cards. There's definitely something old-fashioned about its approach. But the cipher wheel and other design embellishments give it a definite steam punk aesthetic making it a little different from past years.
Parallels include:
Missing Nameplate
Burnt Umber – /399
Indigo – /250
Turquoise – /199
Blue – /150
Mauve – 75
Black and White – /50 (hobby only)
Ruby Red Foil – /10
Black – 1/1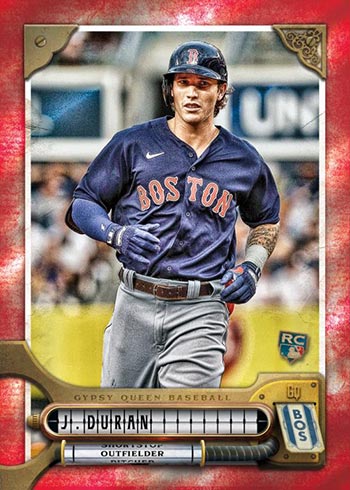 The base set does have short prints, which combine to fall 1:24 hobby packs or approximately one per box. Parallels for these are limited to Missing Nameplate, Blue (/150) and Black (1/1).
Variations take on multiple forms. Standard Image Variations are exclusive to hobby packs. Jackie Robinson Day Variations, which show players wearing #42 or with commemorative patches on their uniforms, are also available. In both instances, one-of-one Black parallels can also be found. Autograph versions for select variations also have Black and White (/42) and Black (1/1) parallels.
Autographs
Gypsy Queen Autographs are where the majority of the product's signatures come from. These adapt the base set design with the added ink. Parallels include Indigo (/150), Blue (/99), hobby-exclusive Black and White (/50), and Black (1/1).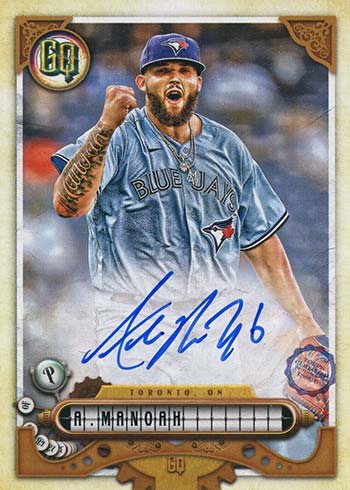 Mini Rookie Autographs return. All of these have serial numbers including Black and White (/50) and Black (1/1) parallels.
New in 2022 Topps Gypsy Queen Baseball are Astrological Chrome Autographs. Base versions have 99 copies and integrate zodiac signs into the card. One-of-one Superfractors are also part of the chase with these.
Signature memorabilia inserts include Autograph Garments (/50), Pull-Up Sock Autograph Relics (/10) and Auto Patch Book Cards (/20).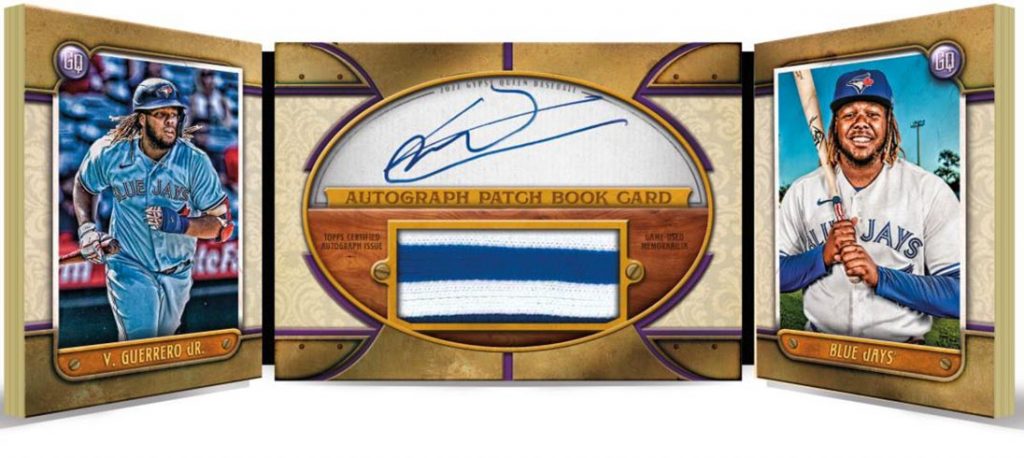 Autograph Lineup Cards (1/1) return. Instead of a traditional piece of game-used gear, these have the player's name cut from a lineup card.
Inserts
2022 Gypsy Queen has a pair of new insert themes.
Sticking with the brand's namesake are Crystal Gazing Die-Cuts (1:12 packs). Shaped like a crystal ball, the set focuses on young players with bright futures. It's really a more distinct approach to the Fortune Teller Minis the brand had been using for several years before this.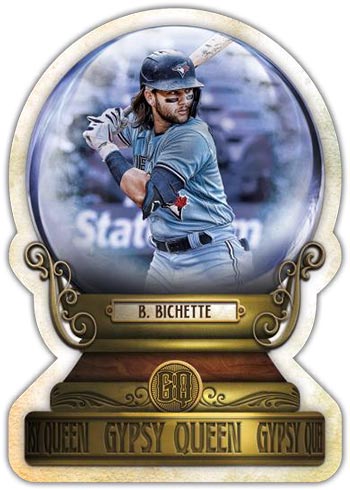 Gypsy Gems Minis (1:6 packs) use foil and the zodiac signs as the primary design elements to highlight players' birthstones.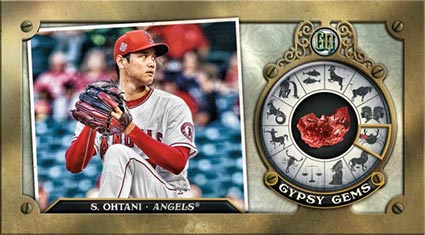 Both of these insert sets have Indigo (/250) and Black (1/1) parallels as well. Select Gypsy Gems also have numbered autographs and additional Black (1/1) versions.
For the fourth consecutive year, Gypsy Queen Chrome cards are part of the checklist. Exclusive to hobby boxes, each of these packs has three special cards. Refractors parallels make a rainbow in Indigo (/150), Blue (/99), Gold (/50), Red (/5) and Superfractors (1/1).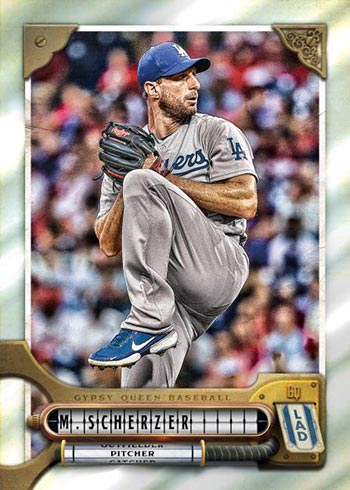 Autographs have 25 copies each plus a one-of-one Superfractor.
2022 Topps Gypsy Queen Baseball cards at a glance:
Cards per pack: Hobby – 8
Packs per box: Hobby – 24
Boxes per case: Hobby – 10
Set size: 300
Release date (subject to change): May 20, 2022
Shop for 2022 Topps Gypsy Queen Baseball boxes on eBay:
What to expect in a hobby box:
Autographs – 2
Crystal Gazing Die-Cut – 2
Gypsy Gems Minis – 4
Base Short Prints – 1
2022 Topps Gypsy Queen Baseball Checklist
You can also download a customizable spreadsheet copy of the checklist:
Please note that print runs for cards without serial numbers have not been announced.
Recent Gypsy Queen Baseball releases: