2019 Topps Gypsy Queen Baseball Checklist, Team Set Lists and Details
When you click on links to various merchants on this site, like eBay, and make a purchase, this can result in this site earning a commission.
Variety with an old-time spin features prominently in 2019 Topps Gypsy Queen Baseball. Taken as a whole the checklist covers a lot of ground with base cards, inserts, parallels, autographs and more. As has been the case for a while now, it's like a baseball-only answer to the quirks of Allen & Ginter for those who aren't fond of inserts of pets or cards of world history weirdness.
2019 Topps Gypsy Queen Baseball Base Set Basics
The main part of the set clocks in at 300 cards covering veterans and rookies. Retired players are also on the base set checklist as short prints. These add another 20 cards, taking it to #320.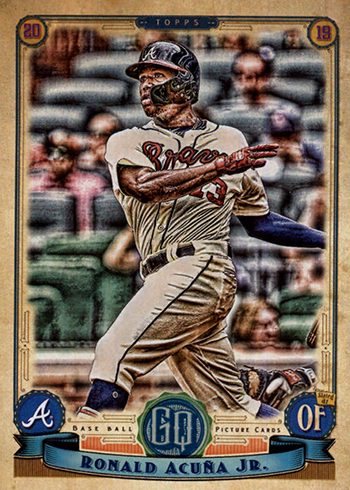 As with 2018 Gypsy Queen, the design is much more colorful than many of the early years for the brand.
Parallels come in a few different forms, and not all of them are changes in the border color. These start with Missing Nameplate versions. Others include Indigo (/250), hobby-exclusive Black and White (/50), Red (/10) and Black (1/1).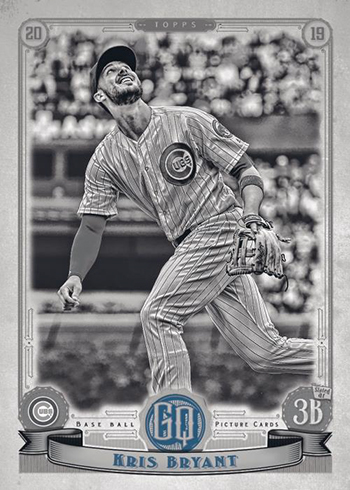 Variations have long been a thing in Gypsy Queen and its variety. This set is no different. Jackie Robinson Day Variations come with photos of players wearing a tribute jersey with '42' on the back. New to 2019 Topps Gypsy Queen Baseball are Players Weekend Variations and 4th of July Variations. These also have different images featuring special jerseys. Select Jackie Robinson Day cards also have autograph versions that have Black and White (/42) and Black (1/1) parallels.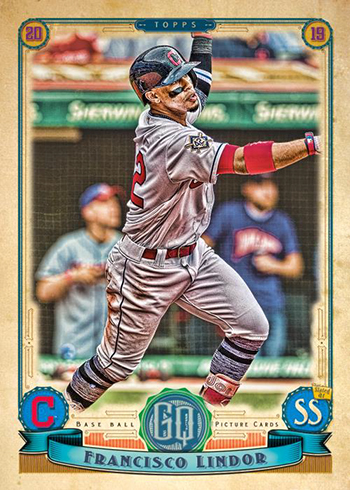 Inserts
Mini cards used to be a huge part of Gypsy Queen, offering up a full parallel of the base set and more. While that's not the case anymore, the shrunken cards aren't gone entirely. Fortune Teller Minis return, offering up predictions for things that might happen over the course of the season. Parallels include Indigo (/250), Green (/99) and Black (1/1). Some cards come with autographs.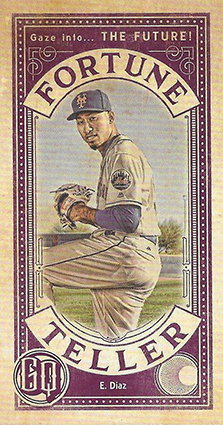 Tarot of the Diamond are also back for another year. These mimic tarot cards, only with a MLB spin. Parallel versions for these are Indigo (/250) and Black (1/1).
Autographs and Memorabilia Cards
2019 Topps Gypsy Queen Baseball hobby boxes come with a pair of autographs. On-card signatures are a major focus throughout much of the checklist.
Gypsy Queen Autographs make of the majority of the signed cards in the product. As with the past, signers are a fairly broad mix of veterans, rookies and retired players. Among the autograph parallels are Indigo (/150), hobby-exclusive Black and White (/50) and Black (1/1).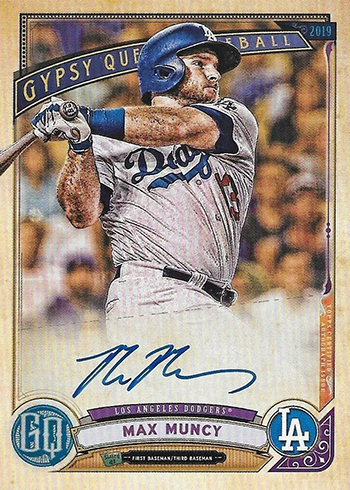 Mini Rookie Autographs (/99) are another place to find the tobacco card dimensions. Black and White (/50) and Black (1/1) are the lone parallels for this somewhat tough set of inserts.
2019 Topps Gypsy Queen Baseball has a handful of tough autographed memorabilia sets. These include Autograph Garments (/50), which take a fairly standard approach with a piece of jersey or bat to go along with the on-card signature.
Scarce Pull-Up Sock Autograph Relics return. Limited to ten copies each (plus one-of-one Black versions), these hard-signed cards come with a colorful swatch from special socks.
Autograph Patch Book Cards (/20) open up to showcase three panels. The signature is on-card and the memorabilia piece is of the multi-color variety.
Bases Around the League Autograph Relics (/20) have pieces of bases used from Opening Day games in 2018.
Cards combining original art and patches have been part of Gypsy Queen for a while. They're back in 2019, although with a bit of a thematic twist. Power Performers Portrait Art Patch Originals all have artwork done directly on the card. The one-of-ones also have a multi-color swatch.
Box Toppers
Collectors can find box topper cards in 2019 Topps Gypsy Queen Baseball hobby boxes. It's a change from the Glassworks cards of the past couple of years, though. Instead the bonus cards come in the form of three-card GQ Chrome packs.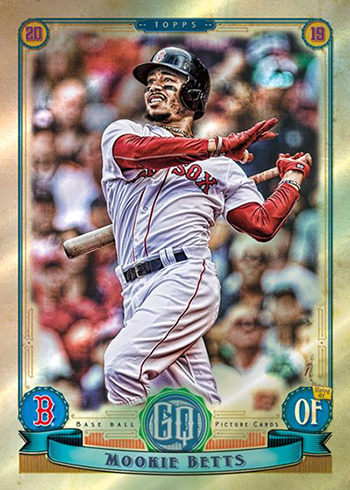 And being Chrome, there are Refractors as well. These include Indigo Refractors (/150), Gold Refractors (/50), Red Refractors (/5) and Superfractors (1/1). Autographs (/25) are also randomly inserted in GQ Chrome box topper packs.
2019 Topps Gypsy Queen Baseball at a glance:
Cards per pack: 8
Packs per box: 24
Boxes per case: 10
Set size: 320 cards
Release date: March 27, 2019
What to expect in a hobby box: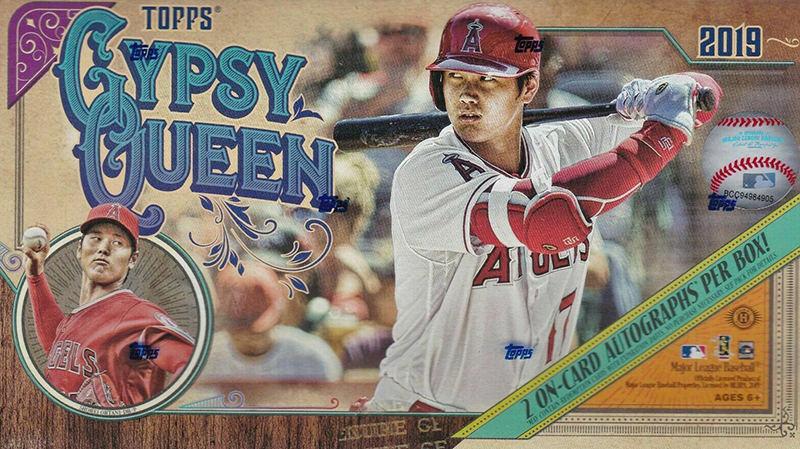 2019 Topps Gypsy Queen Baseball Checklist
Base
Autographs
Memorabilia
Inserts
Team Sets