2021 Topps Gypsy Queen Baseball Checklist, Team Set Lists and Details
2021 Topps Gypsy Queen Baseball manages to evoke some of the sensibilities of old tobacco cards the line is based on. At the same time, it works in lots of modern elements to give it a contemporary feel as well. And it's not just the hits and other inserts.
This is the way Gypsy Queen has been for a few years now. Also sticking with the line's recent releases is the configuration that, on the hobby side, includes a pair of autographs in every box.

2021 Topps Gypsy Queen Baseball Checklist Overview
The main base set kicks off with 300 cards covering the league. That does mean Rookie Cards. The parallel lineup includes several traditional colors like Indigo (/250), Turquoise (/199), Blue (/150), hobby-only Black and White (/50), Red (/10) and Black (1/1). Joining them are a couple of new colors, Sepia (/99) and Mauve (/75). There's also Green, which are one per blaster pack and not available in hobby.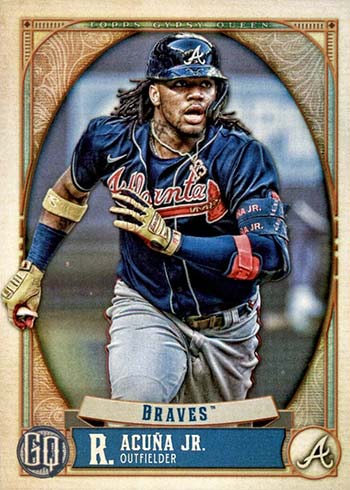 Gypsy Queen often gets a little sneaky with their parallels as well, opting for more than just colors. That's evident once again with the return of Missing Nameplate versions that scrub the player's name from the front. There are also Team Script Font Swap that use a different style of writing for the team name on the front, and Bazooka Back.
Short prints, which expand the base set, are one per hobby box. These add 21 additional cards to the checklist including a specially numbered Jarred Kelenic. For these cards, the number of parallels is significantly smaller: Missing Nameplate, Team Script Font Swap, Bazooka Back, Blue (/150) and Black (1/1).
And then there are the variations. Among the themes are three that showcase players in uniforms from special games: Jackie Robinson Day, the combined Roberto Clemente Day/Negro League Centennial, and Mask Up. For all three of these, images are different.
Autographs and Inserts
Gypsy Queen Autographs are where the bulk of the products signatures come from. Parallels come in Indigo (/150), Blue (/99), Black and White (/50) and Black (1/1).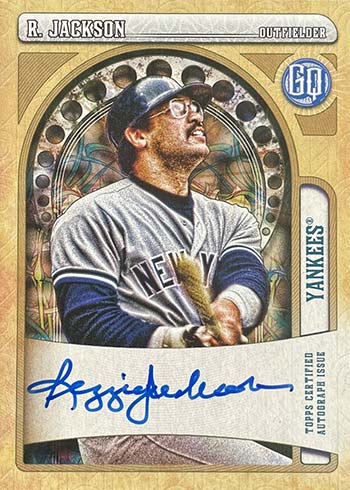 Rookie Minis Autograph (/99) cover some of the players who made their debut during the shortened 2020 season.
Some of the more premium signature elements in the product include Autograph Garments (/50), Auto Patch Book Cards (/20), Pull-Up Sock Auto Relics (/10), and Autographed Lineup Cards (1/1).
A couple of additional inserts further expand the 2021 Topps Gypsy Queen Baseball checklist.
Captains Minis (1:6 hobby packs) showcase a top player from every MLB team. As the name suggests, these adopt a mini card format. Parallels include Indigo (/250) and Black (1/1) with some also getting autograph versions.
Tarot of the Diamond (1:8 hobby packs) returns, using tarot cards as an inspiration to highlight the attributes of some of baseball's top players. Indigo (/250) and Black (1/1) versions join the base inserts.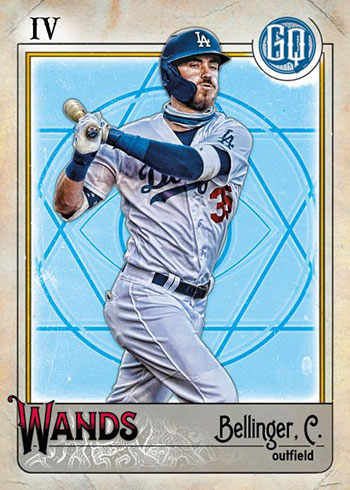 New for 2021 are Tarot of the Diamond Art Variations. These are all one-of-ones featuring original artwork done directly on the cards. These appear to replace the art patch cards that have appeared in Gypsy Queen in the past.
Gypsy Queen Chrome Box Toppers
2021 Gypsy Queen hobby boxes actually have 25 packs inside them. One of them is a special box topper pack with three GQ Chrome cards. These essentially take base cards and give them the customary Chrome shine and metal feel.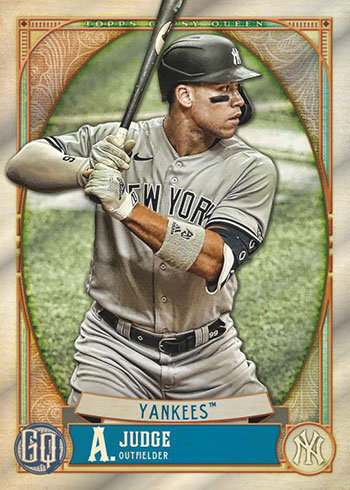 Refractor parallels include Indigo (/150), Blue (/99), Gold (/50), Red (/25) and Superfractors (1/1).
Autographs are also randomly inserted, albeit in small numbers. These have 25 copies each plus a one-of-one Superfractor.
2021 Topps Gypsy Queen Baseball cards at a glance:
Cards per pack: Hobby – 8, Blaster – 7
Packs per box: Hobby – 24, Blaster -7
Boxes per case: Hobby – 10
Set size: 321 cards
Release date: July 16, 2021
Shop for 2021 Topps Gypsy Queen Baseball boxes on eBay:
What to expect in a 2021 Topps Gypsy Queen Baseball hobby box:
Autographs – 2
Captains Minis – 4
Tarot of the Diamond – 3
Base Short Prints – 1
Gypsy Queen Chrome – 3 (box topper bonus pack)
What to expect in a 2021 Topps Gypsy Queen Baseball blaster box:
2021 Topps Gypsy Queen Baseball Checklist
You can also download a customizable spreadsheet copy of the checklist:
Please note that print runs for cards without serial numbers have not been announced.