First look: 2014 Topps Gypsy Queen baseball cards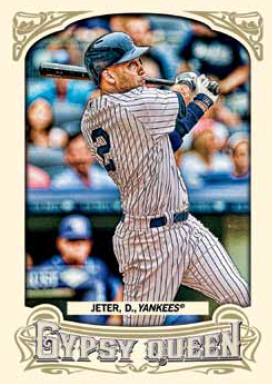 By Chris Olds | Beckett Baseball Editor
The Queen is back once again next year.
Topps unveiled the first glimpses at 2014 Topps Gypsy Queen on Friday as the retro-styled throwback set will return for its fourth year on April 9. Each 24-pack hobby box will include two autographs and two Relics along with a box-topper of mini parallel cards as well.
What will be new in this one? Button cards with as many as three game-used buttons embedded into the card — what might be a hobby first — along with inked buttons and mini cards with pennies embedded into them as well. Also new will be Clear minis — 1/1 acetate cards that are among a few new parallel inclusions.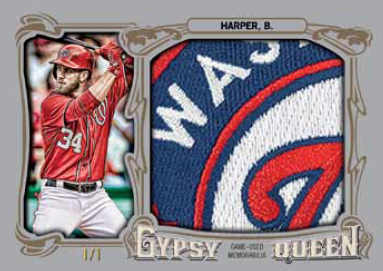 The base set on this one consists of 350 cards that included 50 short-prints. There also will be a limited number of base card variations to chase. Each card will have several parallels — and a few new inclusions here — with Framed and Silver-Framed cards for only 100 cards in the set. Printing plates will be made for all cards, while there will be minis, Black minis (/199), Sepia (/50), mini-box variations, mini printing plates, mini pennies cards (1/1s only found in the box-toppers), Wood (/5) and 1/1 Leather, Clear and Graphite minis, too.
Two new inserts are among the more standard offerings this year with N174s joining the mix along with Debut All-Stars cards, a set that notes players' big-league debuts. Also returning will be Dealing Aces, Collisions at the Plate and Glove Stories. All of these can also be found as printing plates. There will be Hometown Flags manufactured Relics to be found — noting the state or country where he was born — with those cards limited to just five.
On the Relic side, there will be standard Relics one per hobby box and mini Relics also one per box. The standards will have Black, Gold and Silver jumbo versions — each limited to 25, 10 and one copy respectively. The Minis will have Black (/10) and Silver (/5) versions only.
The mini button cards that were introduced this year are back for 2014 but only found in the mini box-toppers. These will be limited to just three copies apiece — the same as the duals, which will showcase buttons from two players. Also back and 1/1s are Art Patch cards (sketch cards with a piece of game-used memorabilia embedded into them) and Bat Barrels. Triple-button cards will be 1/1s showcasing three players.
Among the autograph offerings will be standard autos that have four parallels — all new inclusions this year. They will be Red (/49), Gold (/25), Green (/10) and 1/1 Purple cards.  Also new will be Around the Horn Pop-Up Book cards, which will be signed and limited to 25.  There also will be signed minis only found in the box-toppers.
For autographed Relics, tehre will be five sets to chase and none will be more than 25 copies per card. Button autos will be limited to three, auto Relics will be limited to 25, dual auto Relics to 10, triples limited to five and mini auto Relic books will also be to five — but only found in the box-toppers.
A preliminary checklist was not released.
Chris Olds is the editor of Beckett Baseball and Beckett Sports Card Monthly magazines. Have a comment, question or idea? Send an email to him at colds@beckett.com. Follow him on Twitter by clicking here.