First look: 2013 Topps Gypsy Queen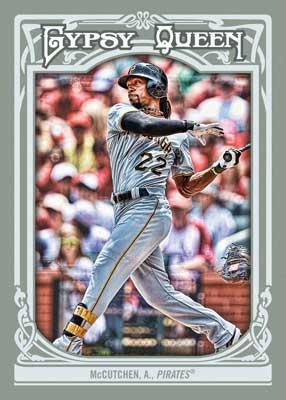 By Chris Olds | Beckett Baseball Editor
The gypsies will return in 2013.
Topps revealed the first glimpses at its third installment of the retro-styled Gypsy Queen baseball card line on Friday, and it's one that showed promise of some new-inclusions compared to the sophomore effort.
Among the new higher-end inclusions? Patch Relics, button mini Relics, mini booklets and more.
Set to arrive on April 3, GQ will include two autographs, two Relics and a 10-card mini parallel box-topper box in every 24-pack hobby box. The base set will consist of 300 cards capped by 50 short-printed cards found one in every four packs. In addition, there will be variations in the base set that were not disclosed by the company.
Loading ...
—
As always, the minis are but one part of the spectacle here with standard mini parallels found one per pack. Meanwhile, there are six parallels of every card — Black (/199), Green (/99), Sepia (/50), Wood (/5) and 1/1 printing plates and Leather versions to be found. In addition, there will be 100 mini-box variation cards only found in the box-toppers.
New for 2013 will be button Relics — a mini card with a button from a game-used jersey embedded into it — and bat barrel nameplates to be found. The nameplates will be 1/1s, while the buttons will be limited to just three copies and only found in the box-topper boxes. Players on the prelim button checklist include Felix Hernandez, Andrew McCutchen, Cliff Lee, Stephen Strasburg and Yu Darvish, while Don Mattingly, Will Middlebrooks and Carlton Fisk are slated for barrels.
Among the inked offerings will be standard autograph cards and autographed Relics as well as dual autographed Relics. The signed Relics will be limited to 25 or fewer copies while there was no announced quantity for standard sigs. Among the players appearing on the preliminary autograph checklist are Nolan Ryan, Willie Mays, Cal Ripken Jr., Mark Trumbo and Anthony Rizzo.
Also to be found are autographed minis — limited to just 10 and only found in the mini boxes — while there also will be triple autographed Relics also limited to 10. Mini signers on the prelim list include Ken Griffey Jr., Billy Williams, Freddie Freeman and Starling Marte. Meanwhile, autograph Relic subjects include R.A. Dickey, Will Clark, Yoenis Cespedes, David Freese, Matt Moore, Ryan Braun, Paul  Molitor, Mike Schmidt, Evan Longoria, Buster Posey, Williams, Ernie Banks, Ryne Sandberg, Jered Weaver, Albert Pujols and C.J. Wilson.
Over on the Relics side, there will be a standard offering of bat and jersey cards (one per box) with a new inclusion being Black parallells limited to just 25 copies and including a jumbo swatch. Mini Relics also will be found one per box with their Black parallels limited to 10 and featuring patches for some players.
As with the original release last year, there will be art patch cards — a sketch card on a previously blank Relic — while a new option for 2013 will be a mini auto Relic book — one side with a signature the other with a memorabilia piece. These will be limited to just five copies and only be found in the box-toppers. Slated on autograph books are Johnny Bench, Robinson Cano, Prince Fielder, Nolan Ryan and Alex Rodriguez.
Among the insert cards will be No-Hitters cards — a selection of pitchers with no-nos from the past — Dealing Aces (a set found with four suits), Sliding Stars, Glove Stories, Collisions at the Plate and printing plates for those cards. Also to be found are Hometown Currency (coin) parallels, Silver- (1/1) and Blue-framed parallels and also printing plates for those cards. The Currency Relics will include some big names — Roberto Clemente, Babe Ruth, Derek Jeter, Pujols and Ted Williams to name a few.
In addition, there will be an interactive portion with Topps selecting collectors from its Facebook page to appear as a Gypsy Queen and a Gypsy King in the product. They will autograph 25 cards to be found by fellow collectors.
Chris Olds is the editor of Beckett Baseball magazine. Have a comment, question or idea? Send an email to him at colds@beckett.com. Follow him on Twitter by clicking here.