2021 Topps Garbage Pail Kids Bizarre Holidays Celebrates Weirdness
Apparently, every day has something worth celebrating. Don't expect to find many of the major days in 2021 Topps Garbage Pail Kids Bizarre Holidays. But you will find cards for days that encourage you to eat specific foods, celebrate the world's creatures, and visit strange and wonderful places.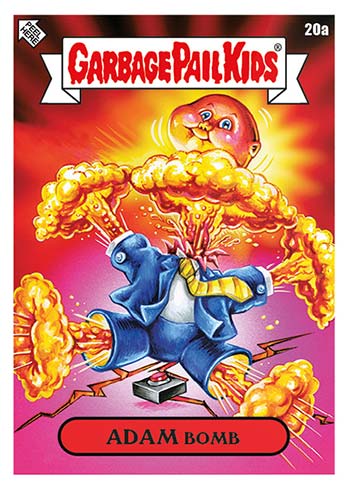 The set carries off from where the 2020 Bizarre Holidays left off. Each week a new set of five cards are released on the Topps website. They're available for seven days before the next cards drop. Print runs are based on what's ordered each week. This means that overall production numbers vary.
Weekly sets also include one parallel.
At the start of each month, the checklist resets back to a new #1 and a different parallel color.
2021 Topps Garbage Pail Kids Bizarre Holidays at a glance:
Cards per weekly set: 5 + 1 parallel
Release date: December 29, 2020
January
2021 Topps Garbage Pail Kids Bizarre Holidays Checklist – January
Parallels:
Week 1
Available: December 29
Print Run: 429 sets
Holidays:
Festival of Sleep Day (January 3)
Fruitcake Toss Day (January 3)
Humiliation Day (January 3)
National Spaghetti Day (January 4)
National Bird Day (January 5)
1A DOVER Slept
1B Tired TIM
2a Toss ROSS
2b KATY Cake
3a Upset CHET
3b Humiliated HENRY
4A LEONARDO Loogie
4B Stuffed STEFANO
5A Bird Brain BRAD
5B Flipped FLOYD
Week 2
Available: January 5
Print Run: 450 sets
Holidays:
Old Rock Day (January 7)
Bubble Bath Day (January 8)
Peculiar People Day (January 10)
Houseplant Appreciation Day (January 10)
Step in a Puddle and Splash Your Friends Day (January 11)
6A Wrinkly RANDY
6B Rockin' ROBERT
7A BETTY Bubbles
7B Bathing BAYLEY
8A Bizarre LARS
8B Odd ROD
9A HOWIE Houseplant
9B Growing GROVER
10A Stomping STANLEY
10B Drenched DRAKE
Week 3
Available: January 12
Print Run: 491 sets
Holidays:
National Rubber Duckie Day (January 13)
Dress Up Your Pet Day (January 14)
Appreciate a Dragon Day (January 16)
National Tin Can Day (January 19)
National Popcorn Day (January 19)
11A Fowl RAOUL
11B MACK Quack
12A Dressy BESSIE
12B Fancy FRANCINE
13A Scorched SCARLET
13B Crispy CRISPEN
14A Uncanny ANDY
14B SEAN Cannery
15A Popped CORNELIUS
15B Hot Buttered BILL
Week 4
Available: January 19
Print Run: 736 sets
Holidays:
Penguin Awareness Day (January 20)
Squirrel Appreciation Day (January 21)
Global Belly Laugh Day (January 24)
Bubble Wrap Appreciation Day (January 25)
Opposite Day (January 25)
16A Pen GWEN
16B Tuxedo TOM
17A MERL Squirrel
17B RAY Entree
18A Laugh ABEL
18B Tongue in CHICO
19A Popped POPPY
19B BUBBA Bubble
20A ADAM Bomb
20B Bursting BERT
Week 5
Available: January 26
Print Run: 703 sets
Holidays:
Spouse's Day (January 26)
Punch the Clock Day (January 27)
National Kazoo Day (January 28)
National Puzzle Day (January 29)
Backward Day (January 31)
21A NICK At Night
21B Nighty NICOLE
22A Punchy PAULY
22B Clocked In CARL
23A CORNELIUS Kazoo
23B NICHOLAS Nose-Flute
24A Puzzled PAUL
24B Jigsaw JERRY
25A Invered OTTO
25B About-Face ATA
February
2021 Topps Garbage Pail Kids Bizarre Holidays Checklist – February
Parallels:
Week 1
Available: February 2
Print Run: 505 sets
Holidays:
Spunky Old Broads Day (February 1)
Thank a Mailman Day (February 4)
Bubble Gum Day (February 5)
National Weatherman's Day (February 5)
Kite Flying Day (February 8)
1A Broad MAUDE
1B Spunky STELLA
2A Thanks PHIL
2B Mail Munch MITCH
3A JOE Blow
3B BRAD Zooka
4A Stormy STAN
4B Meteorologist MAT
5A FRANK N Stein
5B Shocked SKYLER
Week 2
Available: February 9
Print Run: 509 sets
Holidays:
Toothache Day (Feruary 9)
Umbrella Day (February 10)
National Lost Penny Day (February 12)
Get a Different Name Day (February 13)
National Organ Donor Day (February 14)
6A Toothache JAKE
6B Sore SAL
7A Rainy DANA
7B Unbrella BRIAN
8A Escaping ABE
8B Losing LINCOLN
9A Acne AMY
9B Acne AMY
10A Donor DWAYNE
10B Emptied EARL
Week 3
Available: February 16
Print Run: 555 sets
Holidays:
National Gum Drop Day (February 15)
National Battery Day (February 18)
Love Your Pet Day (February 20)
Card Reading Day (February 21)
National Margarita Day (February 22)
11A Gum Drop JILL
11B Gummy GWEN
12A Battery BRADLEY
12B Charged CHARLES
13A ROCKY Bark
13B CLARK Kennal
14A BETH Death
14B TARA Tarot
15A Frozen FLORA
15B Sour PRIS
Week 4
Available: February 23
Print Run: 652 sets
Holidays:
Tennis Day (February 24)
Carnival Day (February 26)
Polar Bear Day (February 27)
No Brainer Day (February 27)
National Tooth Fairy Day (February 28)
16A HEATHER Doubles
16B MOLLY Volley
17A Carny VAL
17B WINONA A Prize!
18A PAUL R. Bear
18B EAT N. Igloo
19A ADAM Bomb
19B No Brainer BILLY
20A RUTH Fairy
20B Toothy TESSA
March
2021 Topps Garbage Pail Kids Bizarre Holidays Checklist – March
Parallels:
Week 1
Available: March 2
Print Run: 529 sets
Holidays:
National Pig Day (March 1)
Old Stuff Day (March 2)
Multiple Personality Day (March 5)
Frozen Food Day (March 6)
National Cereal Day (March 7)
1A Bacon BAILEY
1B Sizzlin' SAM
2A BRANDON'S Bargains
2B Worn by WINSTON
3A Spin FLYNN
3B NEIL Wheel
4A Frigid BRIDGET
4B Chilly MILLIE
5A Cereal BO
5B JESS Add Milk
Week 2
Available: March 9
Print Run: 547 sets
Holidays:
Panic Day (March 9)
Smart and Sexy Day (March 13)
Ear Muff Day (March 13)
National Potato Chip Day (March 14)
Buzzards Day (March 15)
6A Riot RYAN
6B Chasing CHAD
7A Vexed VELMA
7B Dazzling DAPHNE
8A Ear Muff DUFF
8B Erie AARON
9A Potato CHIP
9B DICK Tater
10A BUZZ Buzzard
10B CAEDEN Carrion
Week 3
Available: March 16
Print Run: TBA
Holidays:
Giant Panda Bear Day (March 16)
Corned Beef and Cabbage Day (March 17)
Poultry Day (March 19)
Extraterrestrial Abductions Day (March 20)
Fragrance Day (March 21)
11A King LING-LING
11B Go LILITH
12A Corned Beef BIFF
12B Cabbage PAT
13A Plucked PAT
13B Poultry PAUL
14A Abducting IAN
14B Chasing CHASE
15A P.U. PENELOPE
15B Ode de DEE