Topps revisits old cards through books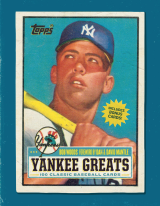 By Susan Lulgjuraj | Contributing Editor
Topps is taking collectors on a tour through its history with a series of books dedicated to trading cards.
The latest book visits the 100 greatest cards in New York Yankees history. Yankee Greats by author Bob Woods features baseball cards from players such as Joe DiMaggio to Derek Jeter. Woods includes only Topps cards in this book.
"From The Topps Company's first baseball card set, the quirky "Red and Blue" cards, to their latest series, millions of fans have been able to celebrate the game and players through the familiar photos-on-cardboard format," a press release from the publisher said.
The book is scheduled to come out June 1 and costs about $20, depending on the retail location.
In addition to what should be stunning photos, there are four cards on 2012 Topps design included with the book. The subjects are Mickey Mantle, Yogi Berra, Reggie Jackson and Paul O'Neill. These cards could only be found in the book.
This isn't Topps' first foray into the book world. Besides doing Wacky Packages books several years ago, Topps recently put out a Garbage Pail Kids books looking at the iconic history of the cards. All cards in Series 1 through 5 are published in this book. The book was released on April 1.
And like the Yankees book, there are four previously unreleased stickers found only in the pink book.
There is a Mars Attacks book planned for October. In much of the same format, the books features a compilation of the 1962 set.
Susan Lulgjuraj is a contributing editor for Beckett Media. You can email Susan here. Follow her on Twitter here.