The Weeknd Gets a Rookie Card (and Some Autographs)
To help commemorate his song "Blinding Lights" being crowned the top song of all-time on Billboard's Hot 100, The Weeknd is getting his first trading cards. They're also helping launch a new card company.
2021 The Infinite The Weeknd x Billboard Blinding Lights has a modest five-card checklist. Each includes images from the music video and notes its Billboard chart stats. Appearing on the Hot 100 for 90 weeks — almost two years — it has dethroned "The Twist" by Chubby Checker.
The set is done in partnership with both The Weeknd and Billboard.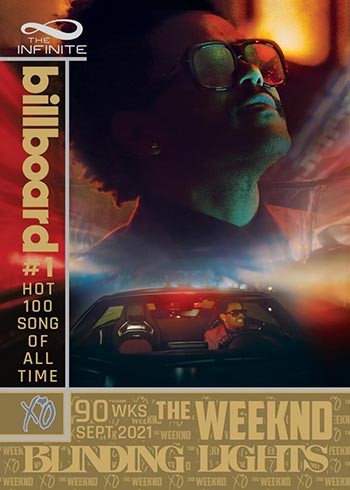 Cards come in several different tiers. The first, #BB-BL1, isn't serial numbered. From there, the rest are. The second card has 500 copies and #BB-BL3 has 100.
The final two cards are both autographs, numbered to 10 and 1 respectively.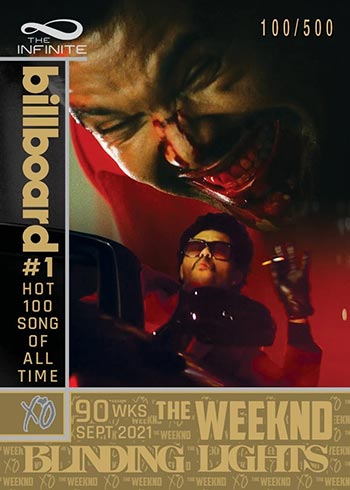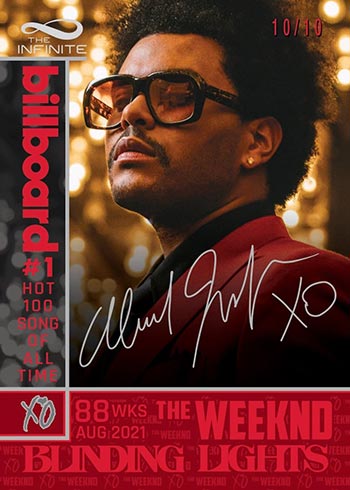 This is a premium product with each single-card pack running $100 through The Weeknd's online shop, which reaches the muscian's fanbase versus existing card collectors.
Cards come with thick 120 pt. stock with each using two types of foil.
This is the first product from The Infinite, a company that will be focusing solely on the music industry. It's a creation of Karvin Cheung, a veteran in sports card development. He's has helped develop and introduce both the Upper Deck Exquisite Collection and Panini Immaculate brands.
"I always saw how athletes memories were kept alive through trading cards and thought why not musicians?" he said. "The idea has always burned inside to create trading cards for iconic artists and use it as an opportunity to tell their story."
2021 The Infinite The Weeknd x Billboard Blinding Lights trading cards at a glance:
Cards per pack: 1
Set size: 5 cards
Release date: November 23, 2021 (set for February delivery)
2021 The Infinite The Weeknd x Billboard Blinding Lights Checklist
Base Set
5 cards.
BB-BL1
BB-BL2 /500
BB-BL3 /100
BB-BL4A Autograph – /10
BB-BL5A Autograph – 1/1