While Topps might be the most famous place to find Star Wars trading cards, they're not the only ones. 1978 General Mills Star Wars is one of the first oddball sets to come from the franchise available to North American fans and collectors.
1978 General Mills Star Wars has one of the cleanest designs for a set of trading cards featuring Luke, Leia, Han, Darth Vader and company. White borders and iconic photos make for a straightforward look. The color of the inner frame varies by the three different checklist groupings.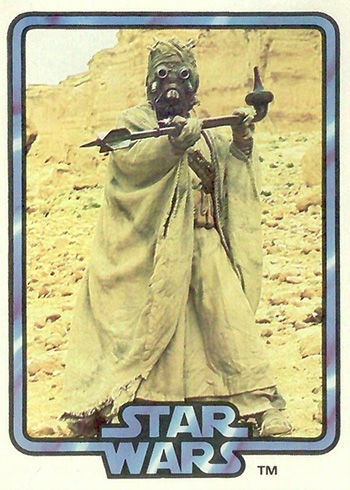 Backs have a short caption and not much else.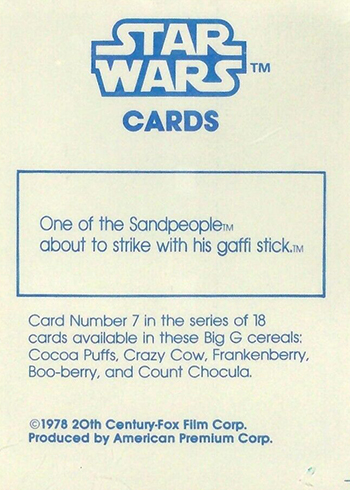 This is a slightly oversized set with cards measuring 4 1/2 by 3 1/4 inches.
Card Distribution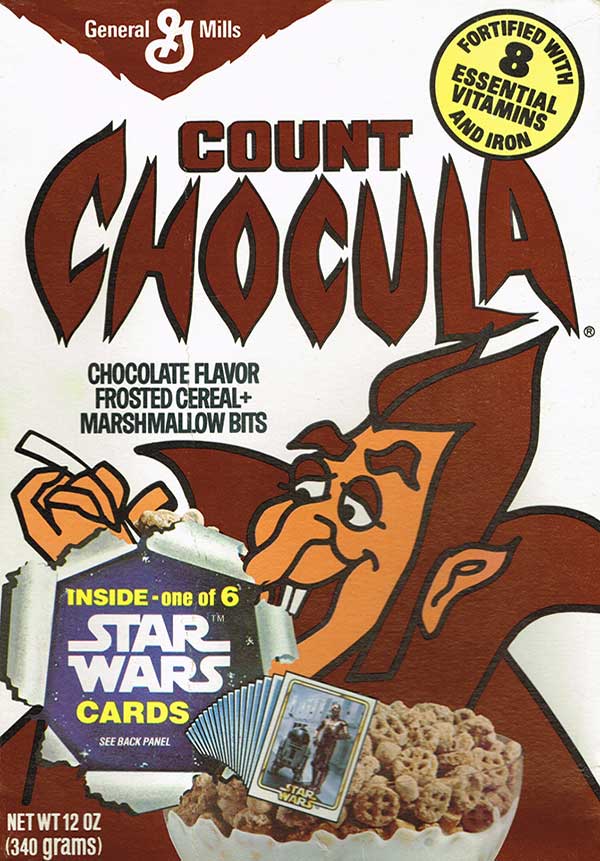 Releasing after the movie had already established itself as a phenomenon, the checklist isn't a big one but it did take some work (and a lot of cereal) to complete if you went about it in its purest form. The General Mills set has 18 cards with just one per specially marked box. And even then, the distribution meant you'd have to try at least three different cereals as cards were divided into three different groupings. The first six cards were in Count Chocula, Boo-Berry and Frankenberry. For #7-12 you'd have to go for Crazy Cow. The final six were exclusive to Cocoa Puffs.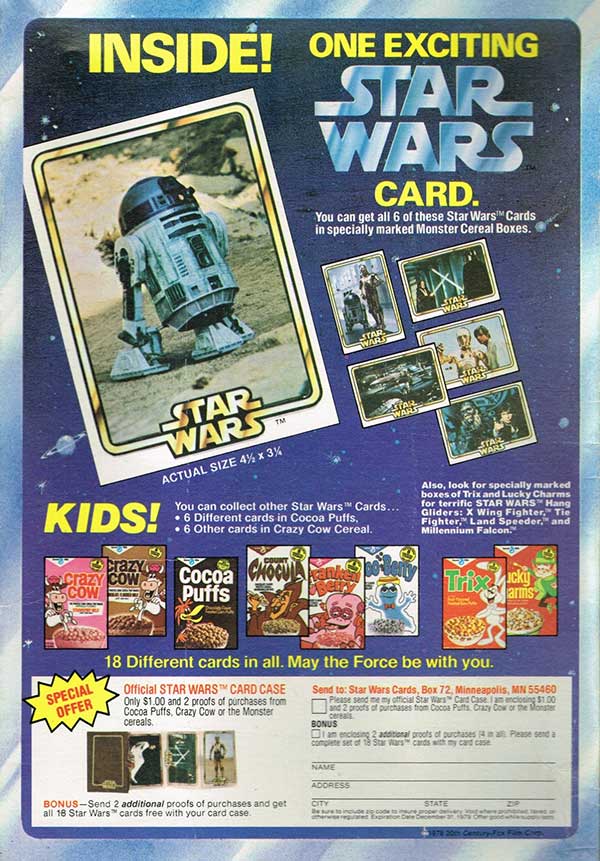 However, there was an easier way to go about the set. A mail-in offer promised not only a full set of 18 cards but a custom wallet album to house them in. And while this may have helped some cards maintain solid grades, this isn't the easiest set to find today. It's not overly expensive but both sets and singles aren't as widely available as a lot of other mainstream Star Wars cards.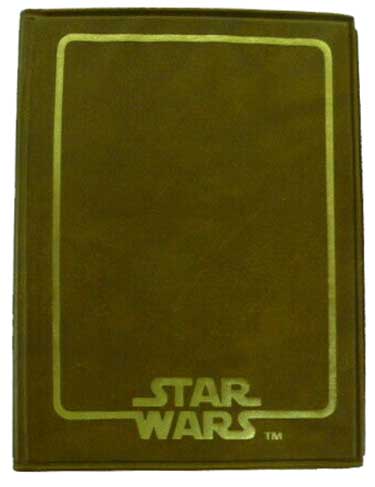 Buy 1978 General Mills Star Wars trading cards on:
1978 General Mills Star Wars Checklist
18 cards.
1 Deep in the Rebel Base…
2 Artoo-Detoo
3 Obi-Wan Kenobi and Darth Vader
4 R2-D2 and C-3PO
5 Han Solo and Chewbacca
6 See-Threepio
7 One of the Sandpeople…
8 Ben Kenobi and Luke
9 Luke's X-Wing Fighter
10 Luke Skywalker
11 Han Solo
12 Luke Skywalker
13 Princess Leia Organa
14 A Rebel Squadron
15 Lord Darth Vader
16 Imperial Stormtroopers
17 The Jawas
18 Princess Leia and C-3PO