2019-20 Panini Mosaic Basketball brought about some big changes. After being an online-exclusive with a somewhat small rainbow, this time it got a full release. Hobby, several retail configurations and a couple other box types all combine for a massive rainbow that's got color, some background designs and even a peacock pattern.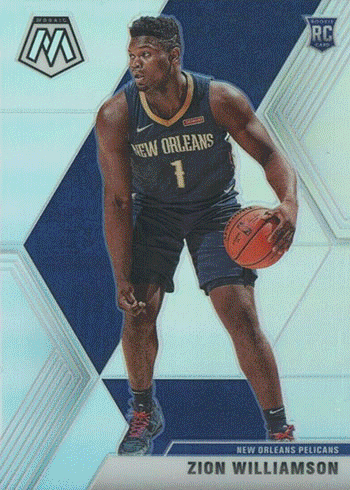 All 300 cards in the base set have 28 additional parallels. That's not quite to the level of the 2019-20 Panini Prizm Basketball rainbow, but it's in the ballpark. Some rookies and stars have multiple cards in the base set as well thanks to subsets. For player collectors, that means lots of potential pages in a binder.
Virtually all of the 2019-20 Panini Mosaic Basketball parallels have the standard Mosaic background pattern in addition to the color. But there are some exceptions. Basic Silver cards are like regular Prizms. All Fast Break parallels have a background that's dotted with lots of circles.
Not all of the parallels are in all pack types. There are some that are in multiple configurations, but most are exclusives to certain packs or boxes.
2019-20 Panini Mosaic Basketball Parallels Gallery
The following gallery includes all of the Prizms found in 2019-20 Panini Mosaic Basketball as well as what pack and box types they're found in. For versions that don't have serial numbers, they're arranged alphabetically. Print runs have not been released for these. For parallels with serial numbers, cards are listed by quantities.
---
---
---
---
---
---
---
---
---
---
---
---
---
---
---
---
---
---
---
---
---
---
---
---
---
---
---
---
---