2020 Rittenhouse Star Trek: TOS Archives and Inscriptions Checklist and Details
2020 Rittenhouse Star Treak: TOS Archives and Inscriptions continues with the company's recent string of sets where inscribed autographs play a central role. However, this time around, it's also creating a major adjustment to its base set.
2020 Rittenhouse Star Trek: TOS Archives and Inscriptions Base Set Basics
At its most basic, the base set has 98 cards. Each is of a different character with quotes prominently featured.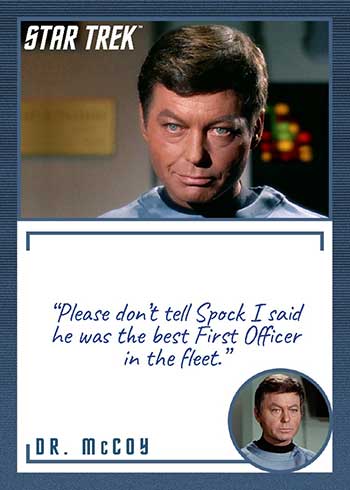 But there's another level to the base set that gives collectors a chance to chase things at an entirely different level. Every base card has multiple variations, each with a different quote. This opens things up where some may choose to go for a massive master set. Others may want to chase all of the quotes of a particular card.
"There will likely be an average of 15 to 18 variations per base card/character, so this will make collecting base cards more exciting," said Rittenhouse's Steve Charendoff. "It will also make the base cards a bit more valuable than usual since there will likely be only a few hundred of each variation made rather than several thousand."
Autographs and Inserts
Every box of 2020 Rittenhouse Star Trek TOS: Archives and Inscriptions has two autographs.
One of those is guaranteed to live up to the set's name and feature an inscription — a short note, quote or character name to go with the signature. Inscription autograph signers include several from the main cast such as William Shatner (Captain Kirk), Nichelle Nichols (Uhara), George Takei (Sulu) and Walter Koenig (Chekov).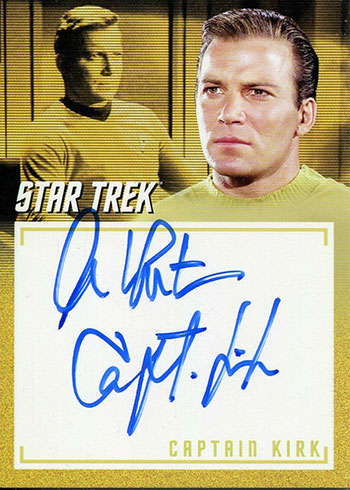 Outside of the inscriptions, additional autographs include more from the Classic Autographs design. A new William Shatner is part of the line, this one showing him from the episode, "The Paradise Syndrome."
Cut Signatures continue to expand with cards from Arnold Moss and Angelique Pettyjohn. Both passed away before the first Star Trek autograph cards released and neither have appeared on licensed Star Trek cut signatures prior to this set.
Among Archives and Inscriptions' other inserts is a 44-card set dedicated to the season one episode "The City of Forever." It breaks things down scene by scene, doing so with great detail. Landing 1:12 packs, they're two per box.
Two other insert sets expand on past releases. There's also 18 TOS Heroes and Villains Expansion cards (1:24 packs). Another installment of Laser Cut Villains cards were planned for packs but were switched to a set redemption due to COVID-19.
Sketch cards can also be found at a rate of 1:576 packs.
There's also the customary binder that comes with an exclusive promo card.
Incentives
Not all of the cards in Archives and Inscriptions are available in packs. Some are exclusive incentives aimed at those buying in bulk from Rittenhouse.
The six-case incentive is a Dual Autograph with ink from Walter Koenig and Bonnie Beecher. The next level up is a Black Border Autograph of Joan Collins that's a nine-case incentive.
Finally, there's a special Archive Box available to those ordering 18 cases. These have a set of four Printing Plates for one of the base cards as well as a Silver Signature card from Teri Garr not found elsewhere.
2020 Rittenhouse Star Trek TOS: Archives and Inscriptions trading cards at a glance:
Cards per pack: 5
Packs per box: 24
Boxes per case: 12
Set size: 98 cards
Release date: April 29, 2020
What to expect in a hobby box:
Inscription Autographs – 1
Additional Autographs – 1
The City on the Edge of Forever – 2
TOS Heroes & Villains Expansion – 1
TOS Laser Cut Villains Expansion – 2
2020 Rittenhouse Star Trek: TOS Archives and Inscriptions Checklist
Base
Autographs
Inscriptions
Inserts
Promos