2020 Rittenhouse Star Trek Discovery Season 2 Checklist and Details
2020 Rittenhouse Star Trek Discovery Season 2 trading cards take a deep dive into the shows second batch of episodes. Besides offering a comprehensive look at every show, the checklist has several inserts that go even further. Autographs and memorabilia are in every hobby box, combining for three total hits.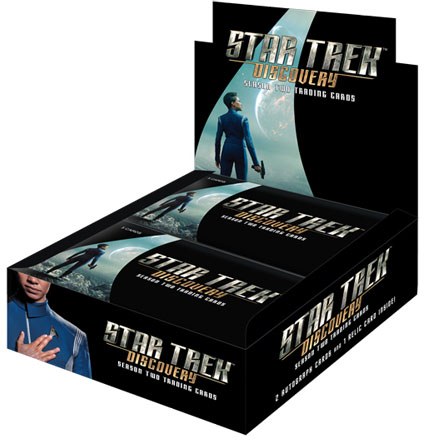 2020 Rittenhouse Star Trek Discovery Season 2 Checklist Overview
The base set anchors the release. Consisting of 84 cards, it works out to six per episode. That means recaps and images from key story points, developments and other plot points.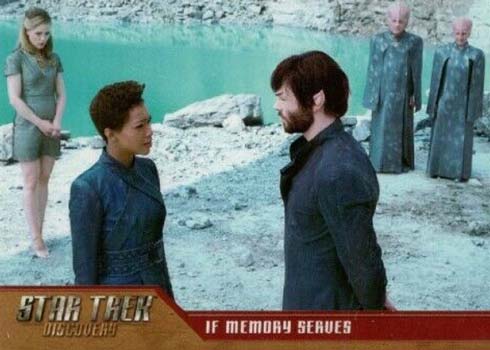 Autographs, which combine to land two per box, come in a few different forms. Besides the regular Full-Bleed design, Inscriptions, Dual Autographs and Autograph Relics are also possible.
Sonequa Martin-Green (Michael Burnham), the show's lead, is among the signers on the checklist. Other regulars and key names include Ethan Peck (Spock), Michelle Yeoh (Phillipa Georgiou), Mary Wiseman (Sylvia Tilly) and Doug Jones (Taru). Comedienne Tig Notaro and Mia Kirschner are among the notable actors to get their first autograph cards.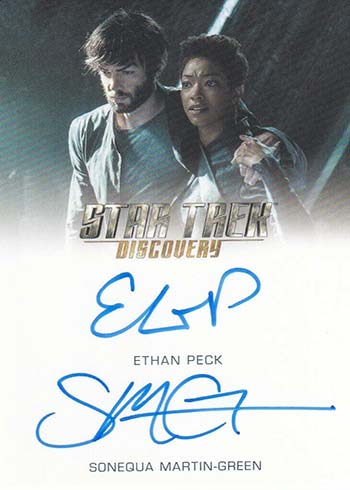 In additional to the pair of autographs, boxes also have a Relic with a piece of memorabilia from the show.
Some of the other inserts use different materials to give them not only a different sort or look but feel as well. Nine Character Cards (1:96 packs) are done on acetate. Metal stock is the basis for both Expressions of Heroism (/150) and Starfleet's Finest Painted Portraits (ten cards, /50).
Nine Stickers are tough, landing 1:144 packs.
Storyboard Art (1:12) and Short Trek Episode Cards (1:8 packs) are the largest insert sets in 2020 Rittenhouse Star Trek Discovery Season 2. Each has 27 cards. Storyboard Art cards cover the show's first two seasons.
The Opening Sequence Artwork cards that started in the Season 1 set get three expansion cards. These are among the tougher inserts, falling 1:96 packs.
Sketch cards are randomly inserted. These have original art from Bill Crabb, Jason Davies, Louise Draper, Javier Gonzalez, Kevin Graham, Charles Hall, Jason Saldajeno and Huy Truong.
Incentives
Not all cards are available in packs. A Dual Autograph with signatures from Mary Wiseman and Bahia Watson is available to those dealers ordering six cases. An exclusive Sonequa Martin-Green Autograph Relic is the nine-case incentive. Finally, there's a special Archive Box for those buying 18 cases.
2020 Rittenhouse Star Trek Discovery Season 2 trading cards at a glance:
Cards per pack: 5
Packs per box: 24
Boxes per case: 12
Set size: 84 cards
Release date: December 18, 2020
Shop for 2020 Rittenhouse Star Trek Discovery Season 2 boxes on eBay:
What to expect in a hobby box:
Autographs – 2
Relic Cards – 1
Character/Quote – 1
Short Trek – 3
Storyboard Art – 2
2020 Rittenhouse Star Trek Discovery Season 2 Checklist
Base
Autographs
Memorabilia
Inserts
Promo Cards