2019 Rittenhouse Star Trek Discovery Season 1 is the first full set of trading cards dedicated to the latest show from the franchise. Having extensively covered all things Trek for years, Rittenhouse offers up something that's fresh with its content but should also offer up some continuity and comfort for long-time collectors.
Boxes deliver a pair of autographs plus a handful of other inserts.
2019 Rittenhouse Star Trek Discovery Season 1 Trading Cards Base Set Overview
This first set of Star Trek Discovery trading cards has 15 episodes to draw from. The series is a prequel to the original series. It bypassed traditional television to originally air in the United States through the CBS All Access service.
The base set has 90 cards. That's six cards for each of the 15 episodes. Images from the show and a synopsis combine to offer a summary of key storylines and plot points.
Autographs and Inserts
The autograph checklist has several of the show's main cast members including Sonequa Martin-Smith who plays the lead, Michael Burnham. Other signatures include Michelle Yeoh (Captain Philippa Georgiou), Jason Isaacs (Captain Gabriel Lorca), Doug Jones (Saru) and Shazad Latif (Lieutenant Ash Tyler).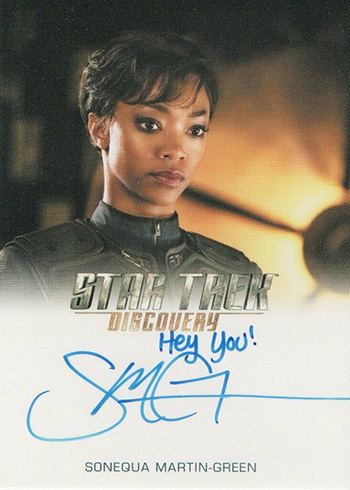 Another notable name getting his first certified autograph card is Rainn Wilson. While he was a guest star as Harry Mudd in Discovery, Wilson is best known for playing Dwight Schrute in The Office.
Dual autographs Wardrobe Relics are also available.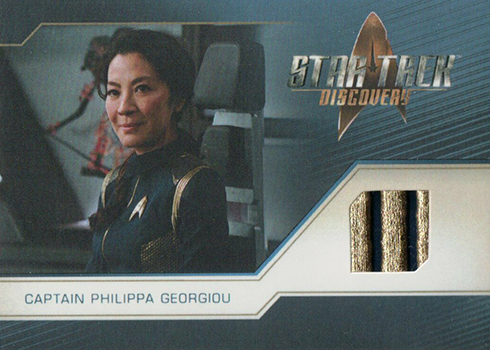 2019 Rittenhouse Star Trek Discovery Season 1 has a handful of other thematic inserts: Behind the Scenes (1:12 packs), Character Cards (1:24), Opening Credits/Artwork (1:24), and the case hit Mirror Universe (1:288).
Incentives
Those buying in bulk from Rittenhouse can also get exclusives not available in regular packs.
These start with a pair of Poster case toppers. One has the Discovery crew while the other spotlights the Klingons.
Mary Wiseman, who plays Sylvia Tilly, is on an autograph relic reserved for those purchasing six cases. A nine case-incentive dual autograph is signed by Martin-Green and Isaacs.
Finally, there's a special Archive Box for the 18-case incentive.
2019 Rittenhouse Star Trek Discovery Season 1 trading cards at a glance:
Cards per pack: 5
Packs per box: 24
Boxes per case: 12
Set size: 90 cards
Release date: March 27, 2019
What to expect in a hobby box:
Autographs – 2
Behind the Scenes – 2
Character Cards – 1
Opening Credits/Artwork – 1
2019 Rittenhouse Star Trek Discovery Season 1 Checklist
Base
Autographs
Memorabilia
Inserts
Promo Cards