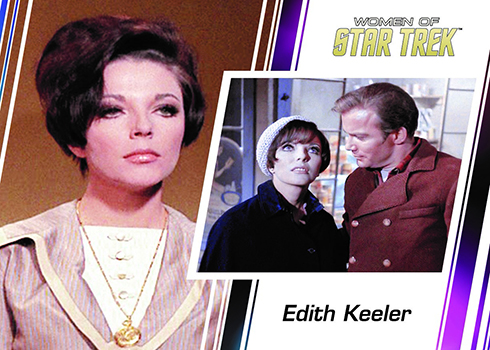 By Ryan Cracknell | Hobby Editor
Star Trek may have celebrated its golden anniversary in 2016, but five decades is a big deal. So much so, the celebration carries on to 2017 Rittenhouse Women of Star Trek 50th Anniversary. Besides, 51st Anniversary sounds strange.
The product delves into the ladies from all five of the shows.
The 2017 Rittenhouse Women of Star Trek 50th Anniversary base set has 100 cards. It covers the original series, The Next Generation, Deep Space Nine, Voyager and Enterprise. All are done on holo-foil stock.
Base cards also have serial-numbered Metal parallels.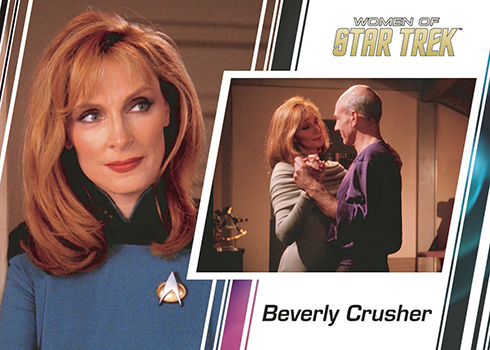 Autographs land three per box. Lead names include Whoopi Goldberg, Marina Sirtis, Teri Garr, Kristanna Lokken, Adrienne Barbeau and Yvonne Craig. After all these years and hundreds of different signers, big name debuts still come along. Here, it's 1984 Miss America, singer and actress Vanessa Williams.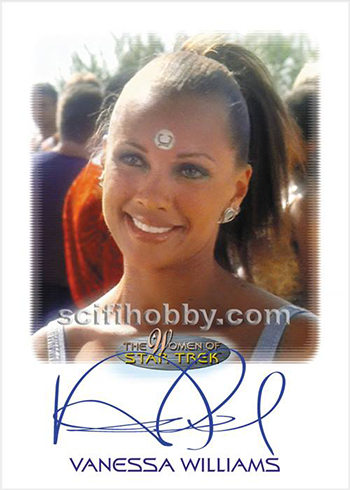 Costume cards make up a fourth box hit. Swatches come from multiple shows.
Sketch cards are also randomly inserted as case hits. Artists lending their talents to the set include Mick and Matt Glebe, Dan Bergen, Warren Martineck, Emily Tester, Chris Meeks, Veronica O'Connell, Mike James and Brad Utterstrom.
Additional inserts include Star Trek Women in Command (nine cards), Quotable Women of Star Trek (18 cards) and Women of Star Trek Gold Metal (18 cards).
As with other Rittenhouse products, there are case incentives as well. Those ordering six cases from the card maker receive an exclusive Legends of Star Trek Nichelle Nichols autograph. The nine-case incentive is a Base Sketch Card from Charles Hall. An Archive Box is available with an 18-case purchase. Included in each is a Teri Garr autograph not available in packs as well as a set of four matching Printing Plates.
2017 Rittenhouse Women of Star Trek 50th Anniversary at a glance:
Packs per box: 24
Cards per pack: 5
Boxes per case: 12
Set size: 100 cards
Release date: July 26, 2017
What to expect in a hobby box:
• Autographs – 3
• Costume Cards – 1
2017 Rittenhouse Women of Star Trek 50th Anniversary Trading Cards Checklist
Base
Autographs
Memorabilia
Inserts
Promos
Comments? Questions? Contact Ryan Cracknell on Twitter @tradercracks.