Christian Slater signs for Rittenhouse's forthcoming Star Trek set — but not for cash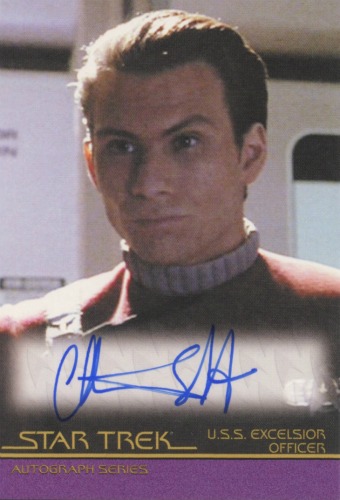 By Susan Lulgjuraj | Contributing Editor
Collectors and fans could be found anywhere. From your neighbor who finds World War II antiques to a barista at your local coffee shop with an immense Star Wars collection.
Even celebrities have collections such as Christian Slater, the actor most known for his 1990s movies such as Pump Up the Volume, Gleaming the Cube, True Romance and Heathers.
Apparently, Slater is a huge Star Trek fan — and that's from before he appeared in Star Trek VI: The Undiscovered Country in 1991.
Even with his star power and stint as a communications officer on the U.S.S. Excelsior, Slater has never signed for a card company. He did, however, have six total cut signatures in 2009 Upper Deck Spectrum.
But Rittenhouse Archives has changed all of that.
Rittenhouse – known for its non-sports products – got Slater to sign for its upcoming card product Classic Star Trek Movies: Heroes and Villains. Slater is one of 20 autographs in the set, which includes William Shatner and Leonard Nimoy – Capt. James T. Kirk and Mr. Spock, in case you didn't know.
However, Slater didn't get cash for his signing. According to Rittenhouse President Steven M. Charendoff, the company traded him Star Trek cards for his signature.
"We gave him really good value, and I think we got really good value in return," Charendoff said. "It was fun to make a swap with him. I can't think of another actor we've ever done that with before."
Star Trek's release is scheduled for Nov. 16. There are two autograph cards per premium pack, which retails for $50. Each pack comes with nine cards, part of the 54-card base set along with several inserts.
"It was very cool to deal with someone, particularly of his stature, who was so appreciative of Star Trek and the Star Trek cards we make," Charendoff said, "and who wanted to start his own collection."
Susan Lulgjuraj is a contributing editor for Beckett Media. You can email Susan here. Follow her on Twitter here.