2021 Bowman Platinum Baseball Checklist, Team Set Lists and Details
If you were wondering whether there'd be a 2021 Bowman Platinum Baseball, it's happening. Sticking with recent years, it is only at retail. It's not known if it's a Walmart-exclusive again, but that is where you will want to start searching in the wild.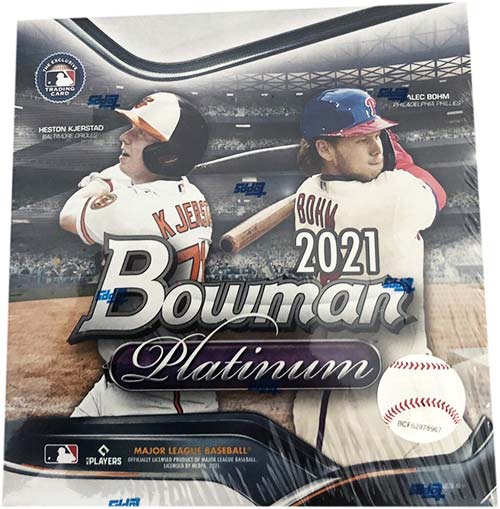 True to Bowman form, there's a base set that has current MLB players and a separate checklist for Top Prospects. Each has 100 cards. For both, parallels include Foilboard, Aqua Ice Foilboard, Pink, Blue, Green, Green Icy Foil, Gold, Orange, Red and FoilFractors. Blaster boxes have four total Ice Foil parallels.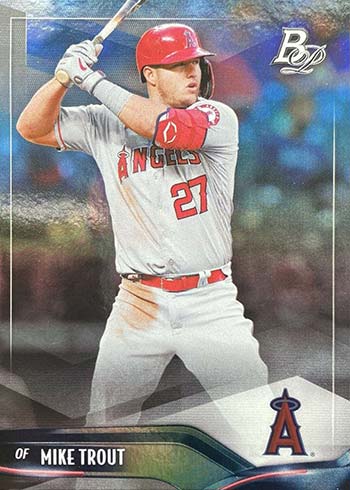 Five base cards also have tough Image Variations.
Autographs combine to land two per hobby-style Mega Boxes. The majority of these are in the form of Top Prospects Autographs. Base versions are 1:14 packs with additional Pink, Blue, Green, Ice Pattern Foilboard, Orange, Red and FoilFractor versions.
Platinum Pieces Autographs bring a signature memorabilia component to the checklist, albeit a tough one as far as odds go.
Platinum Pedigree (1:49,808) and Platinum Patches (1:15,073) are other available relics.
Considering its place as a retail release, 2021 Bowman Platinum Baseball has a fairly robust insert lineup. Collectors can expect to find multiple Meteoric, Precious Elements and Renowned Rookies in each Mega Box. These also have Purple, Green, Orange and FoilFractor parallels.
After that, things get a lot tougher with Platinum Etchings (1:267 mega packs) and Platinum Die-Cuts (1:1,346).
2021 Bowman Platinum Baseball cards at a glance:
Cards per pack: Mega Box – 5, Blaster – 8
Packs per box: Mega Box – 20, Blaster – 4
Set size: 100 cards
Release date (subject to change): October, 2021
Shop for 2021 Bowman Platinum Baseball boxes on eBay:
What to expect in a mega box:
Autographs – 2
Meteoric – 2
Precious Elements – 4
Renowned Rookies – 4
What to expect in a blaster box:
2021 Bowman Platinum Baseball Checklist
You can also download a customizable spreadsheet copy of the checklist:
Please note that print runs for cards without serial numbers have not been announced.
Recent Bowman Platinum Baseball releases: