2019 Bowman Platinum Baseball Checklist, Team Set Lists and Details
2019 Bowman Platinum Baseball cards bring the prospect- and foil-heavy line back for another run as a Walmart exclusive. As in the past, there are multiple configurations each with their own set up and exclusives. Twenty-pack Monster Boxes are the closest to a traditional hobby box. These come with two autographs.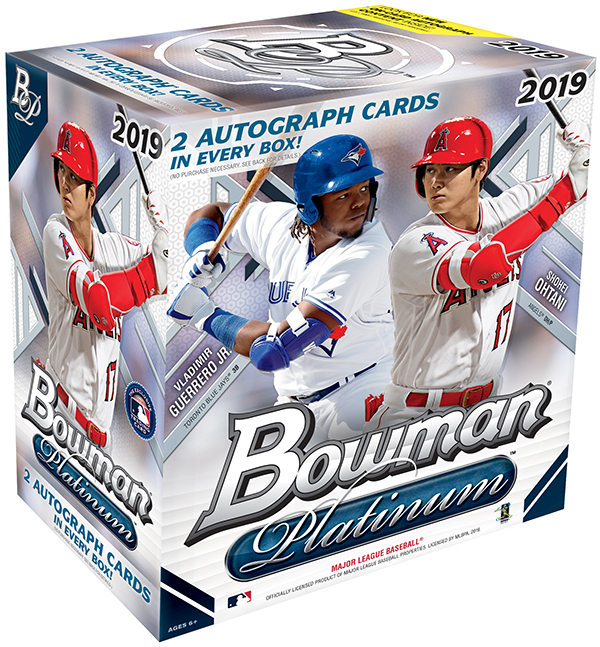 2019 Bowman Platinum Baseball Base Set Basics and Prospects
The main base set has 100 cards. Although it consists primarily of star players, quite a few rookies are also included.
However, four of the year's biggest rookies are variations. Vladimir Guerrero Jr., Pete Alonso, Fernando Tatis Jr. and Eloy Jimenez are all short prints. That said, these four cards don't appear to be particularly rare. They also share spots on the checklist with other players. Ten additional variations are also part of the lineup. These ten are tough, landing 1:660 monster packs and 1:825 blaster packs.
Similar to other Bowman products, there's also a section of similar cards for up-and-coming players. 2019 Bowman Platinum Baseball has 100 Top Prospects inserts that include the likes of Wander Franco, Victor Victor Mesa and Joey Bart.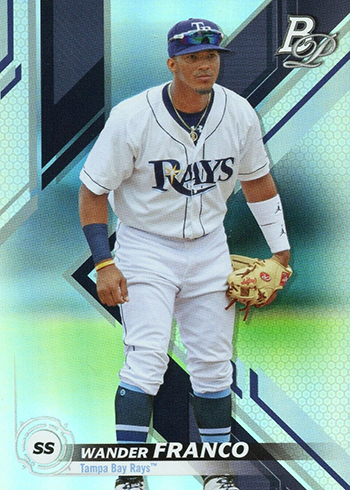 Autographs, Memorabilia Cards and Other Inserts
As far as signatures go, Top Prospects Autographs take up the biggest part of the checklist. These are like the Platinum equivalent of Chrome Autographs found in the main Bowman lines. A total of 69 players have signatures here, many of which rank among the game's key minor leaguers and young stars.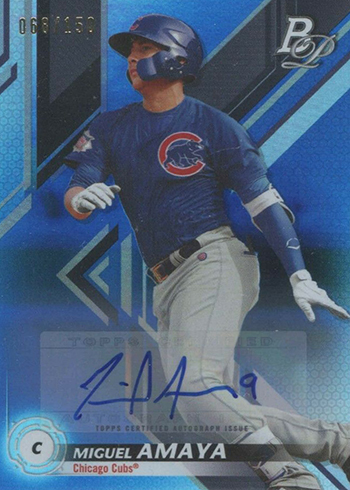 The majority of other autographs are essentially upgraded versions of other insert set. However, there are a couple of others. Platinum Cut Autographs are back for another year. These get their name not for have cut signatures. Rather, it's their die-cut design.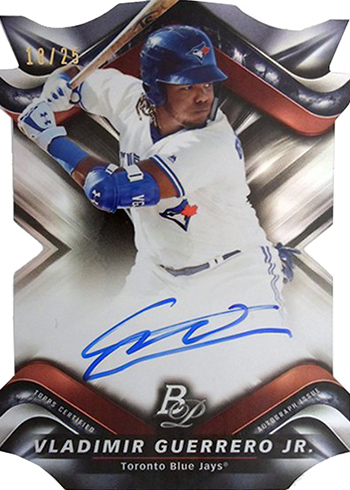 Refined Autographs and Platinum Pieces Autograph Relics are also available.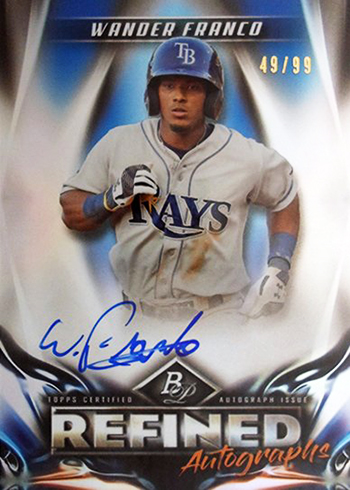 The only unsigned relics in the product are Platinum Patches. However, select cards have autograph versions as well.
Prismatic Prodigies, Prolific Power, Platinum Presence and Renowned Rookies are among the other inserts in 2019 Bowman Platinum Baseball. Select cards in all of these have autographs.
Finally, there are ten Topps Gallery Previews inserts that look ahead to the forthcoming release likely to follow later in the year. If 2019 Topps Gallery Baseball follows suit from the past couple of years, it will also be a Walmart-only release.
2019 Bowman Platinum Baseball cards at a glance:
Cards per pack: Monster Box – 5, Blaster – 4
Packs per box: Monster Box – 20, Blaster – 4
Set size: 100 cards
Release date: July 1, 2019
Buy 2019 Bowman Platinum Baseball boxes on eBay:
What to expect in a monster box:
2019 Bowman Platinum Baseball Checklist
Base
Autographs
Memorabilia
Inserts
Team Sets