2021 Topps Fire Baseball Returns to Target – Checklist, Team Set Lists and Details
2021 Topps Fire Baseball is happening and it's primarily available at Target. At this point, not a lot is known as far as specifics. Typical for the line, collectors can expect bold designs throughout the checklist.
There are a couple of configurations. Hobby boxes, which have 20 packs of six cards, promise a pair of autographs. There are also blasters that have seven packs plus a special four-card bonus pack.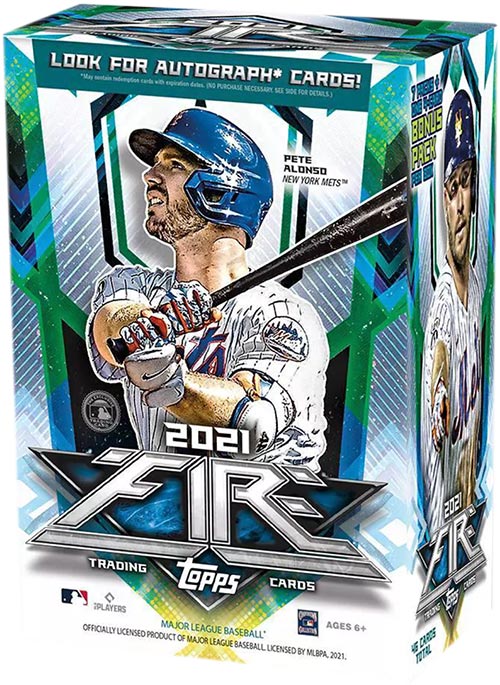 2021 Topps Fire Baseball Checklist Overview
The base set has 200 total cards. This keeps it in line with last year. Although it's most current players, there are some retired superstars mixed in as well. With more than 60 RCs, rookies make a major presence.
Parallels are not yet known. Typically, there are several including some that are exclusive to certain pack types.
The main set's design makes the jump over to Base Autographs. This is where most of product's signatures come from. With 75 players, the checklist is fairly extensive.
Scorching Sigs is another place for single autographs. The condensed 17-card checklist here is mostly rookies and superstars.
Dual and Triple Autographs are also randomly inserted in packs.
2021 Topps Fire Baseball has five additional insert sets. Smoke and Mirrors, and Flame Throwers both cover pitchers. We Have Liftoff spotlights power hitters.
Rounding out the checklist are Rookie Ignition and Fired Up.
2021 Topps Fire Baseball cards at a glance:
Cards per pack: Hobby – 6, Blaster – 6
Packs per box: Hobby – 20, Blaster – 7 plus one four-card bonus pack
Boxes per case: Hobby – 12
Set size: 200 cards
Release date (subject to change): September 8, 2021
Shop for 2021 Topps Fire Baseball boxes on eBay:
What to expect in a hobby box:
2021 Topps Fire Baseball Checklist
You can also download a customizable spreadsheet copy of the checklist:
Please note that print runs for cards without serial numbers have not been announced.
Recent Topps Fire Baseball releases: